Sunday, July 11, 2010
This was a day at sea as we sailed towards Vancouver and past Vancouver Island. After 3 days of waking up early and losing an hour because we changed to Pacific Time at 2 am, we decided to sleep in and then had breakfast at the buffet. At 11:30 am, while we were still in Horizon Court, they opened the Dessert Buffet. Today was Island Princess' 7th birthday and they had a birthday cake for her along with a ton of gorgeous and yummy looking cakes and desserts! (It's such a coincidence that it was Island Princess' birthday. It was also Voyager of the Seas birthday during our last cruise! We must have good nose for ship birthdays!)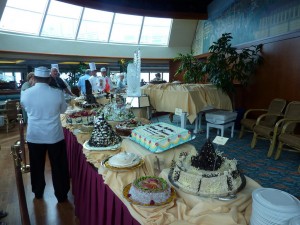 Dessert Buffet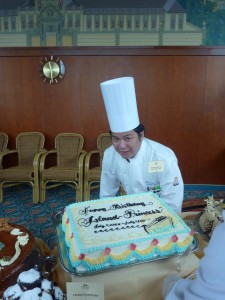 Island Princess' Birthday Cake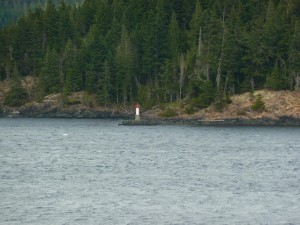 Sailing past Vancouver Island
We went to the Photo Gallery, sorted through all our photos, and bought 4 total in addition to buying the photo book deal. By the way, if you want a professional photo of you at Glacier Bay or Hubbard Glacier, you need to be out on the top decks. The ship photographers only hang out there. We didn't even know they'd be taking pictures and would have liked to go out there briefly to get a photo done.
We packed for a couple of hours and then went to afternoon tea, followed by some time in the hot tub. They had some reindeer chili at the Lido Pool so we tried some of that too. I played some video poker in the casino and actually came out ahead! I won $7.50!! We had sent out some laundry the day before using the all-you-can-fit-in-a-bag special and it arrived when we got back to the room. We went to dinner at 6:30 pm and this night we had very slow service. We weren't out until around 9 pm and hurriedly finished packing so we could set out the luggage at 10 pm for pickup. We also went to the Internet Cafe to check into our flight and print our boarding passes.
Make sure you ask for a print out of your onboard account in the morning of this day. We did and found out they had not given us credit for pre-paying for our internet package so essentially, we were paying for it twice! They said they couldn't correct it until 11 pm this evening because "the night manager handles refunds and credits". If we found out on the morning of disembarkation, we may have been out of luck on getting it corrected until we got home.
See my thorough review on Island Princess for more detailed opinions on the ship.
+ See all Island Princess photos
+ Read more about Alaska Cruise 2010


Disclaimer: We may earn a commission for products purchased through some links in this article.