After a yearlong absence due to the pandemic, the SeaWorld San Diego Seven Seas Food Festival is back and happening now! SeaWorld San Diego is inviting guests to sip and sample their way around the seven seas at their annual outdoor dining event. This year's festival features more than 125 offerings, including 25 unique international foods to sample, over 75 craft beers, and 25 cocktails and wines to choose from.
The Festival runs from March 5 to May 2, 2021 from noon until closing on select days. The days are usually Friday, Saturday and Sunday each week, but check their calendar to confirm.
As you eat and drink your way around the park, you will also find live music, animal exhibits, and of course, SeaWorld's famous animal presentations. The nights at the Seven Seas Food Festival wind down with a live Polynesian dance performance and fireworks displays on select nights.
Note: SeaWorld San Diego is currently operating as a licensed and accredited zoo. Beginning April 12, 2021, SeaWorld San Diego will resume operations as a theme park. Check their website for the latest information.
How to Attend the SeaWorld San Diego Seven Seas Food Festival
All visitors to SeaWorld need a valid ticket, Annual Pass or Fun Card for entry. Currently, new ticket purchases are date specific. Annual Pass and Fun Card holders must also make a reservation for their day of visit. The Seven Seas Food Festival is a separate purchase from the cost of admission. To participate, guests can either purchase a Seven Seas Food & Drink Sampler Lanyard or purchase items a la carte.
The festival includes 16 different locations around the park to sample food and drinks.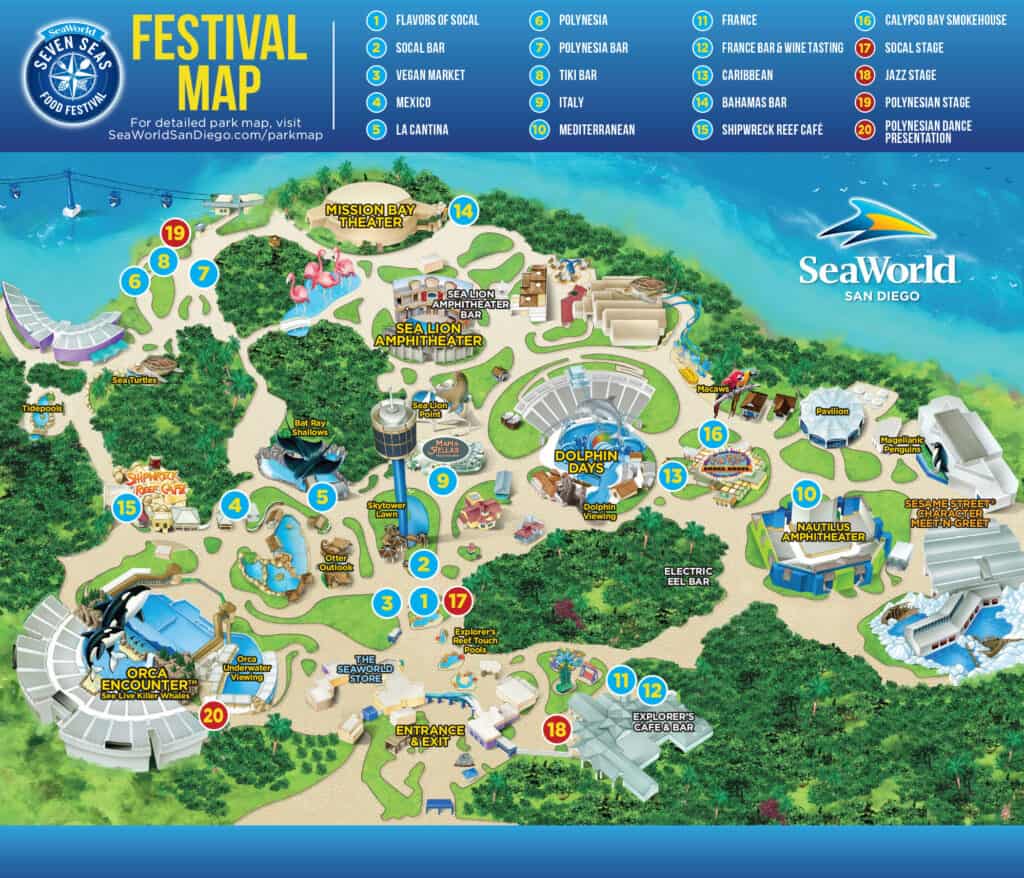 Seven Seas Food & Drink Sampler Lanyards
SeaWorld San Diego is offering two sampler lanyard options as follows:
10 item Sampler Lanyard cost is $60
15 item Sampler Lanyard cost is $75
Annual Passholders purchasing the 15 item lanyard will get an additional 3 items for free, for a total of 18 items to sample.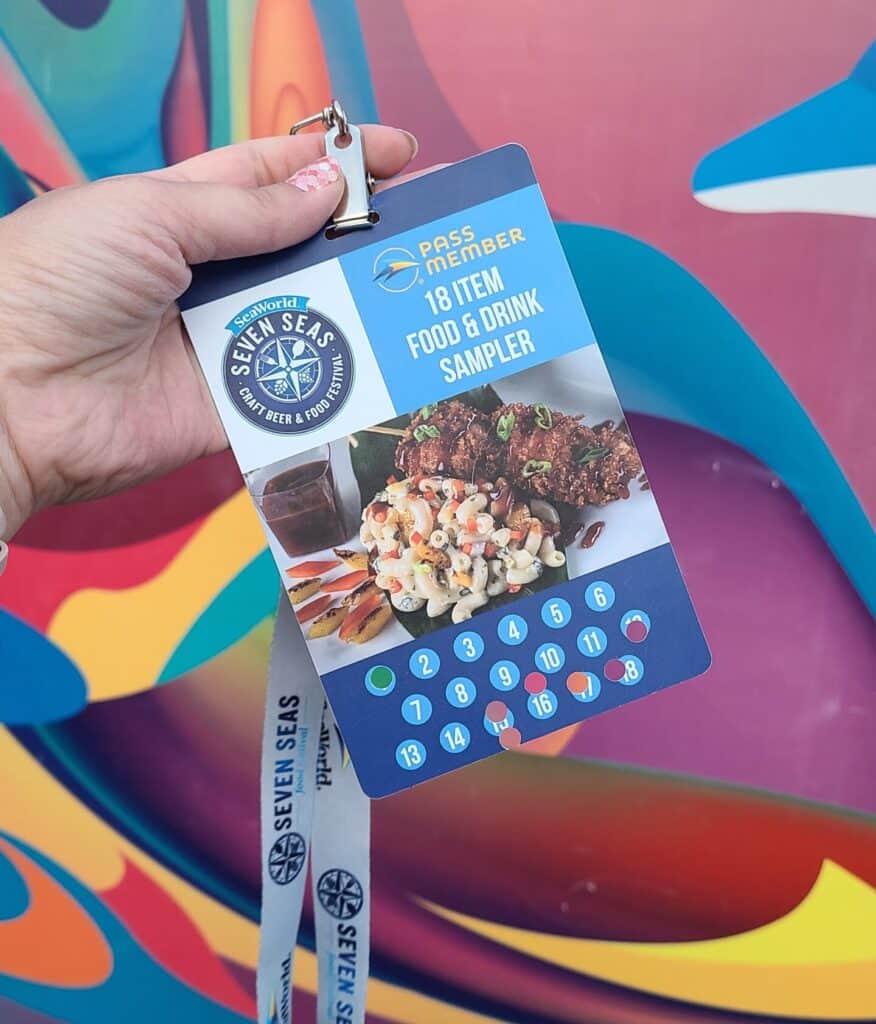 Food Tasting Menus at SeaWorld San Diego Seven Seas Food Festival
Flavors of SoCal – California Hand Roll, Lobster White Cheddar Kraft Mac n Cheese, San Diego Craft Brews and Stone Fruit Frosé
Mexico – Beef Barbacoa Taco, Brisket Nachos, Mexican Roasted Corn, Frozen Margarita, Micheladas (Traditional or Mango), Chamangorita, SeaGlass Chardonnay and SeaGlass Cabernet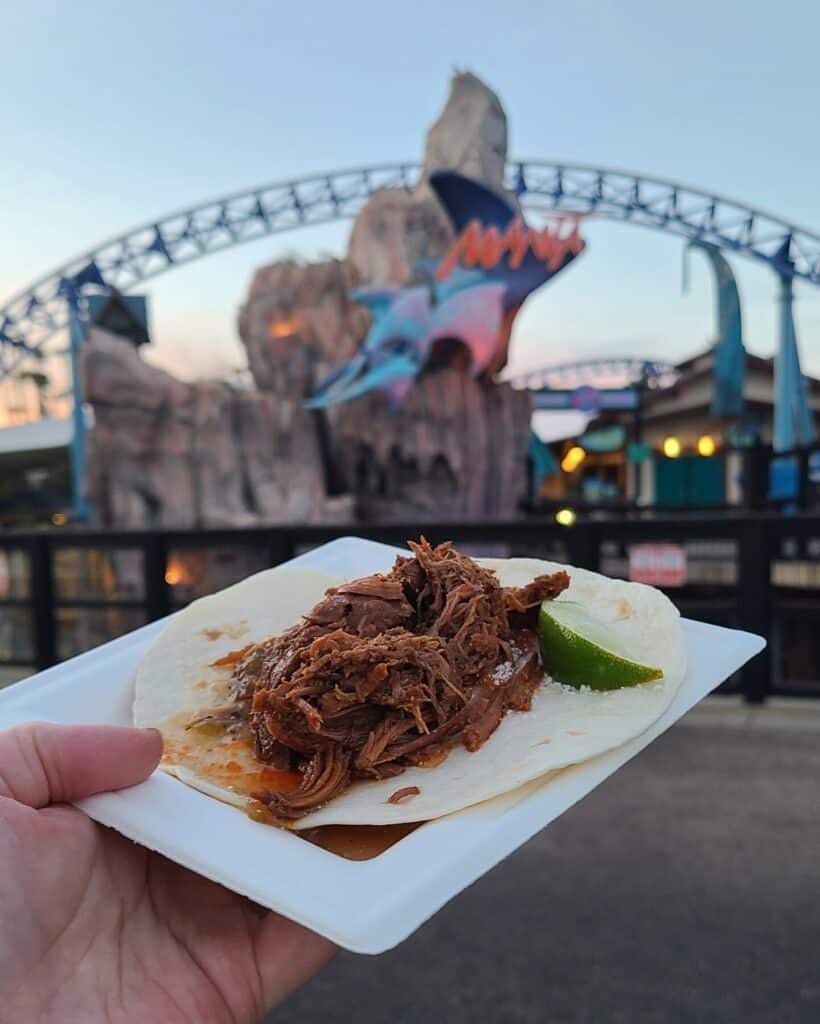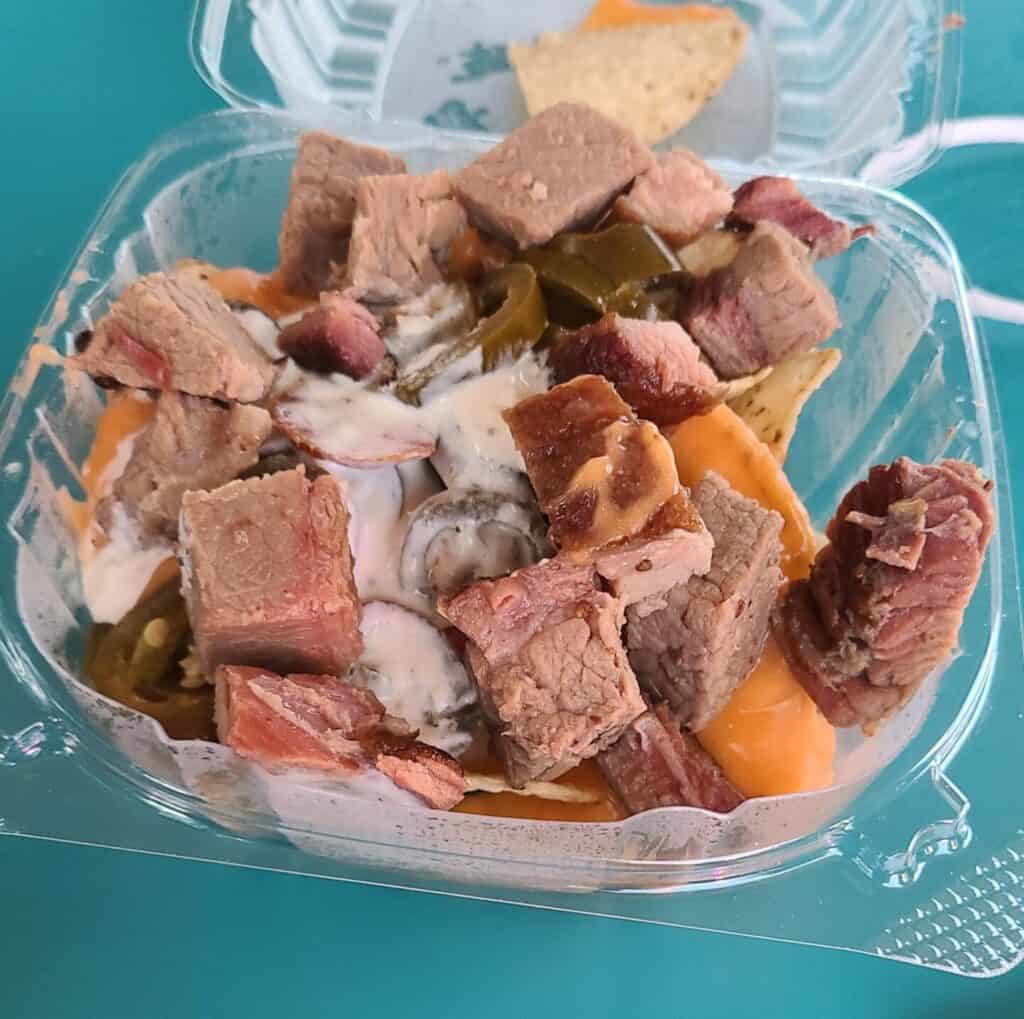 Polynesia – Spicy Poke Bowl, BBQ Kalua Pork Sandwich, Tropical Cheesecake, Hawaiian Hard Seltzer, Cutwater Frozen Margarita Popsicles (Lime, Pineapple, Mango, Strawberry) , Hawaiian Pineapple Express, and Blue Hawaiian
Italy – Caprese Salad, Fontina Cheese Meatballs, Mama's Rigatoni, Tiramisu
Mediterranean – Lamb Slider, Hummus & Parmesan Garlic Fries, Greek Yogurt & Honey, Sweet Beignets, and Santorini POM Cocktail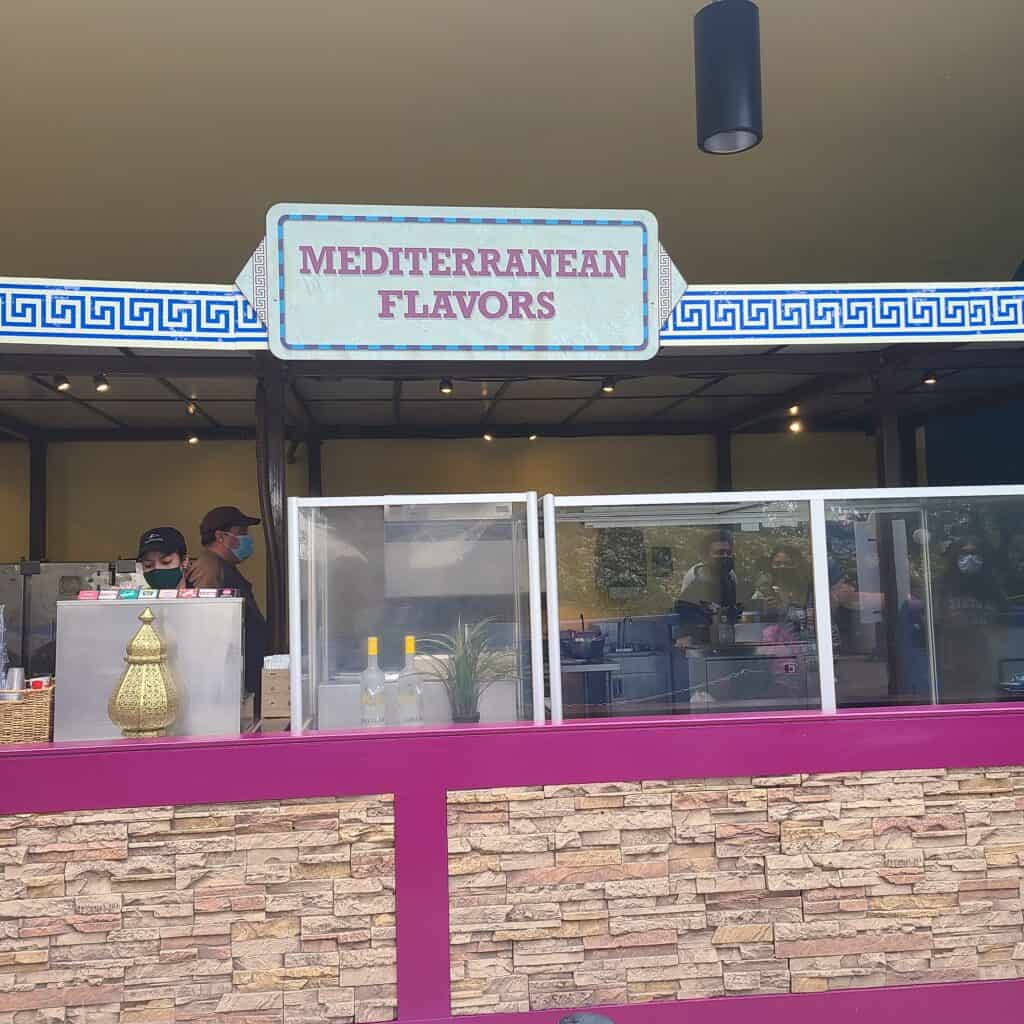 France –  Goat Cheese Croquettes, Grilled Lamb Chop, Golden Dusted Chocolate Mousse and Macaroon, French Kiss Cocktail and Sparkling St Tropez
Caribbean -Jerk Chicken Slider, Smoked Jamaican Ribs, Key Lime Pie, Caribbean Sunrise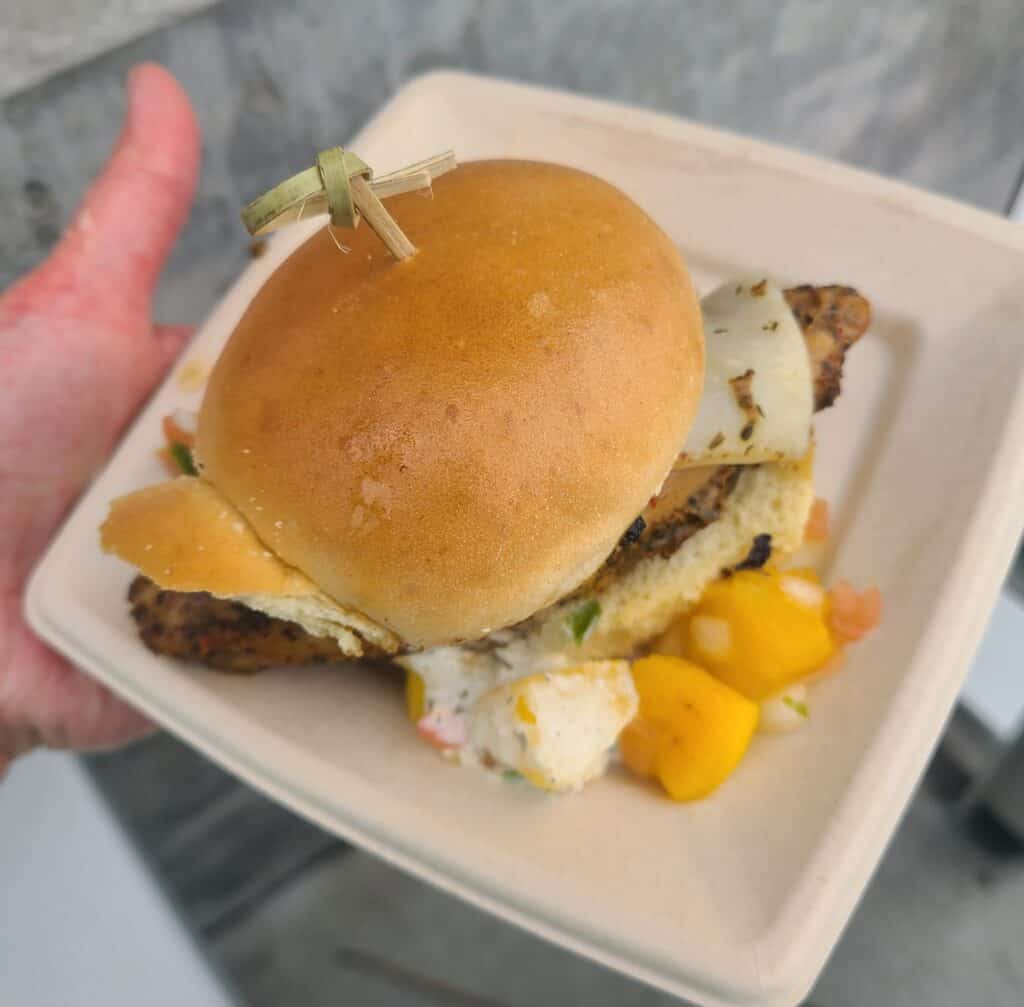 Vegan Market – Impossible™ Meat Slider, Jack Fruit Sloppy Joes, Cutwater Frozen Margarita Popsicles (Lime, Pineapple, Mango, Strawberry) and Main & Vine Wine Spritzers (Cucumber Watermelon & Pink Grapefruit)
Restaurants – Lanyards are valid at these restaurant locations
Shipwreck Reef Café – Grilled Bacon Cheeseburger (Impossible Burger available upon request), Kickin' Fried Shrimp, Hot Honeyracha Chicken Wings, and Honey-Hoisin Glazed Salmon
Calypso Bay Smokehouse – St. Louis BBQ Ribs, Fried Green Tomato Slider, Quartered BBQ Chicken, and BBQ Brisket Tacos
Craft Beer Selections
Featured Local Breweries:
AleSmith Brewing Company, San Diego
Ballast Point Brewing & Spirits, San Diego
Belching Beaver, Vista
Bitter Brothers, San Diego
Boochcraft, Chula Vista
Duck Foot Brewing Co, San Diego
Firestone Walker, Paso Robles
Golden Road Brewing, Los Angeles
Green Flash Brewing Co, San Diego
Julian Beer Co, Julian
Karl Strauss, San Diego
Kern River, Kernville
Mike Hess, San Diego
Mikkeller Brewing, San Diego
Mother Earth Brew Company, Vista
Novo Brazil Brewing Co, Chula Vista
Pizza Port, San Diego
Refuge Brewery, Temecula
Societe Brewing Co, San Diego
SouthNorte Beer Co, Baja California
Stone Brewing Company, Escondido
Thorn Brewing, San Diego
Featured Domestic & International Breweries:
Brasserie d'Achouffee, Belgium
Braveheart Brewing, OR
Boulevard Brewing Co, Kansas City, MO
Elysian Brewing Co, Seattle, WA
Kona Brewing Co, Kailua-Kona, HI
Maui Brewing Co, Maui, HI
New Belgium Brewing, Fort Collins, CO
Ommegang Brewery, Cooperstown, NY
Sierra Nevada Brewing Co, Fletcher, NC
Animal Exhibits
Both indoor and outdoor animal exhibits are open while SeaWorld San Diego is operating as a licensed zoo. The following animals are currently on view:
Beluga whales
Walruses
Northern sea otters
Orcas
Dolphins
Penguins
Sharks
Flamingos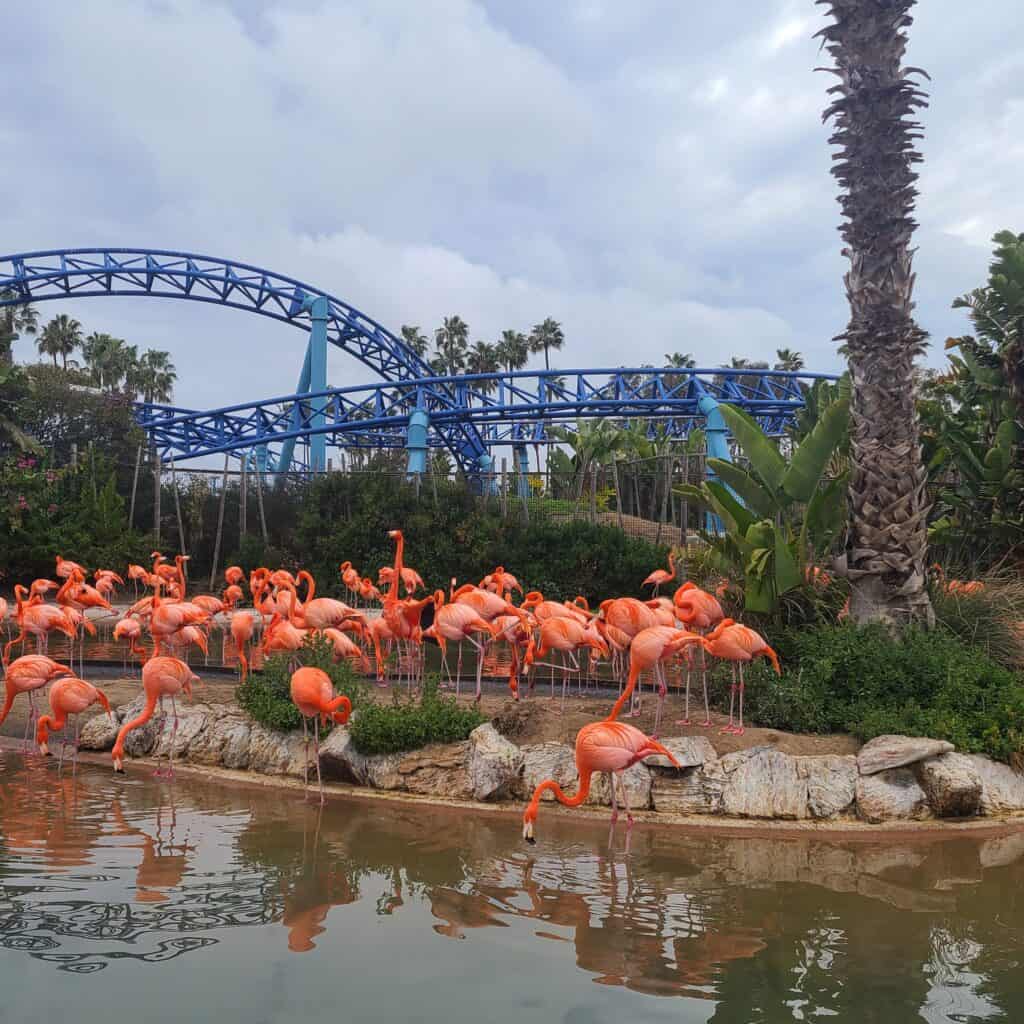 Sea lions
Sea turtles and more
Entertainment Offerings
SeaWorld's beloved animal shows will wow visitors and all of the favorites are currently being performed, including:
Sea Lions Live
Orca Encounter
Dolphin Days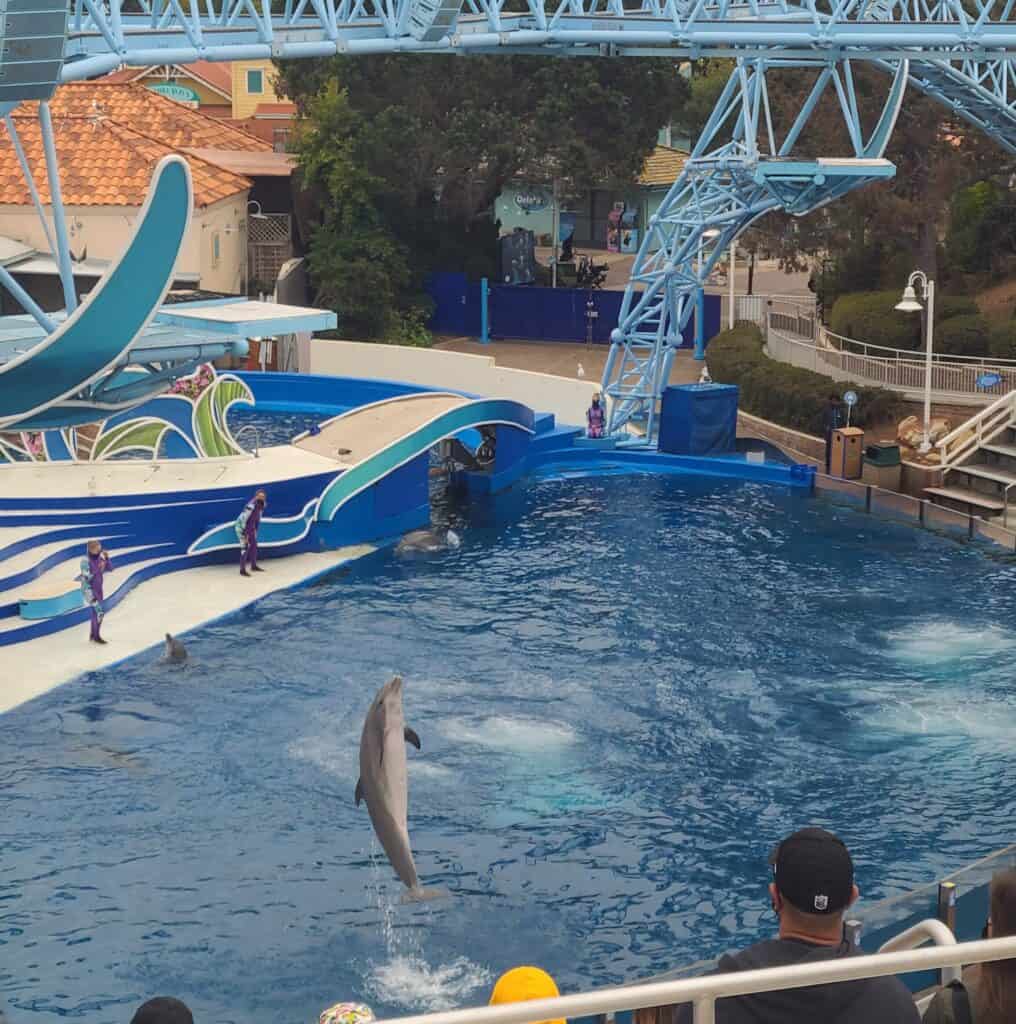 The Seven Seas Food Festival features additional entertainment offerings including:
Live music at the Jazz Stage
Live music at the Polynesian Stage
Live music at the SoCal Stage
Polynesian Fire Dancing
Fireworks  (Daily from March 26 to April 11, then every Friday and Saturday)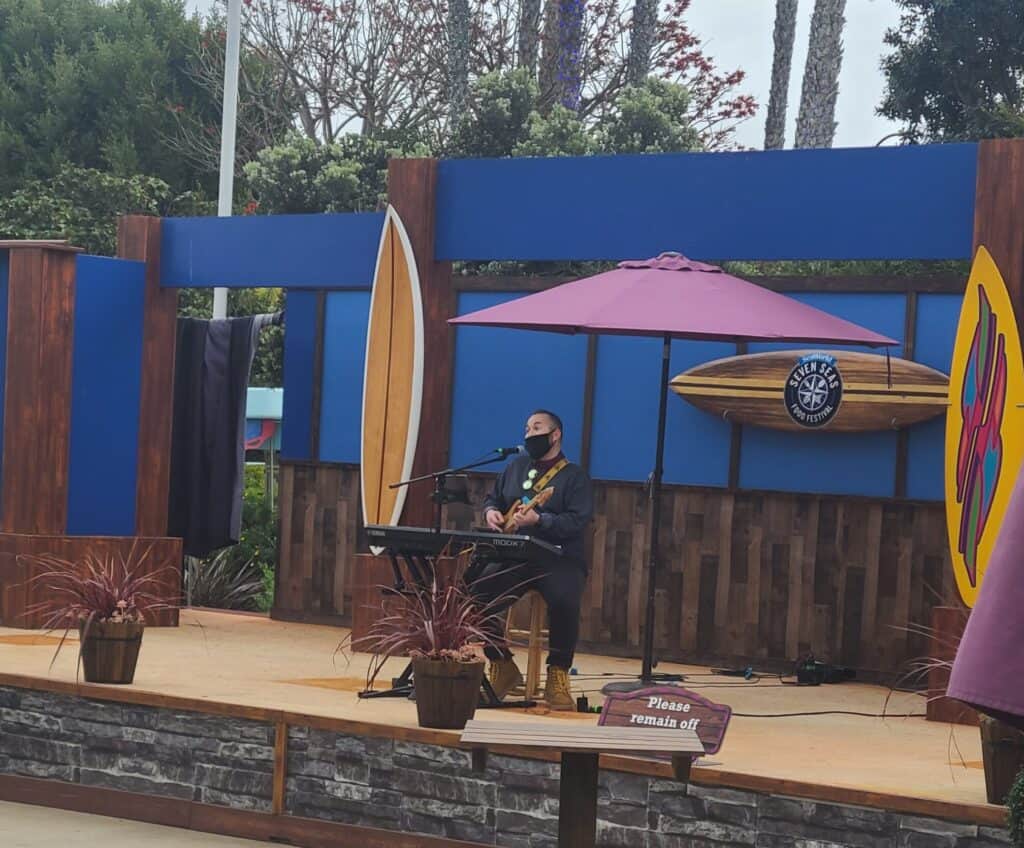 After a one year hiatus, the Seven Seas Food Festival at SeaWorld San Diego is back and better than ever, giving visitors a chance to taste their way around the globe and visit with the beloved animals. There is so much to eat, drink and see.


Disclaimer: We may earn a commission for products purchased through some links in this article.