When Virgin Voyages launched in 2021, they promised a different kind of cruise line and they kept their word. From sophisticated dining to casual fare, their inaugural ship Scarlet Lady has over 20 eateries to choose from and they are all included in your cruise fare! Virgin has definitely changed the game when it comes to cruise line cuisine, creating a memorable, world-class dining experience with every plate that comes out of the galley.
Six of the restaurants onboard Scarlet Lady accept reservations, which can be booked prior to your cruise. If you're like me, you get major FOMO with not being able to try a restaurant that you are really interested in so you'll want to snag those dinner reservations when you can.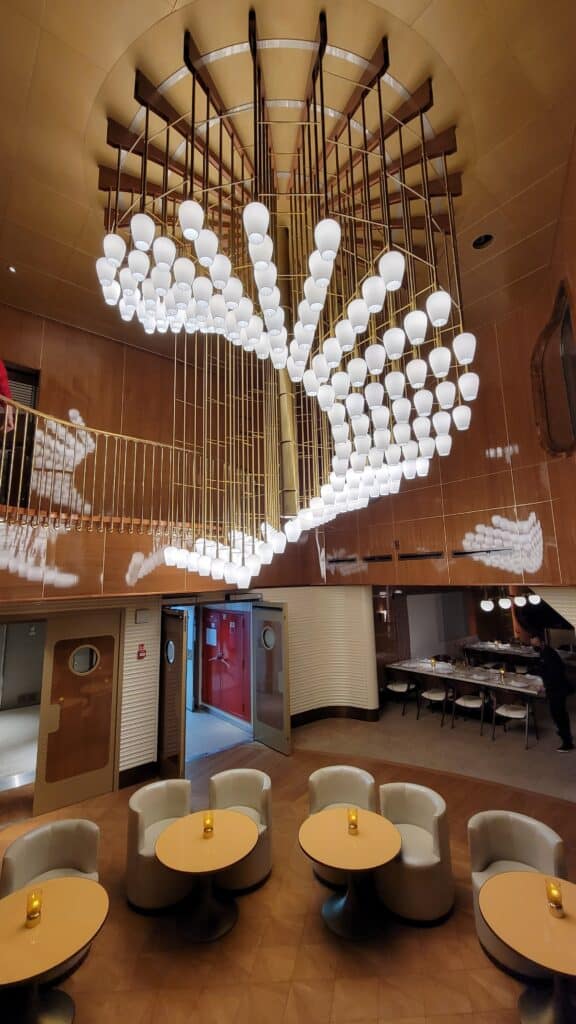 Today, I am rounding up my favorite restaurants to help you decide which ones to put on your "must eat" list!
I'm ranking the 6 restaurants aboard Scarlet Lady that accept reservations so you can save a table at your "must-trys" before your first Virgin Voyages cruise. We sailed on the 5-night Dominican Daze itinerary so we were fortunate enough to have dinner at every restaurant that accepted reservations at least once, with the exception of Pink Agave.
How does dining work on Virgin Voyages?
Unlike other cruise lines, Virgin Voyages do not offer set dining times, assigned tables, or a main dining room. You are invited to have dinner at any of their 6 reservations-accepted restaurants, as well as The Galley. There are no dress codes and no formal nights.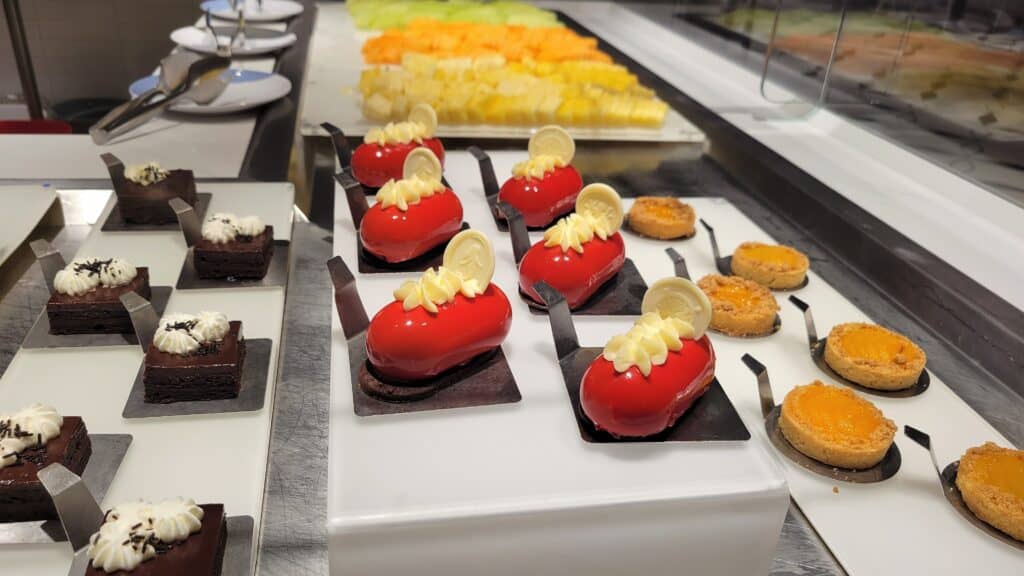 Reservations are recommended for dinner and are available at some of the restaurants for breakfast and lunch as well. Walk-ups are also available at all of the restaurants on a space-available basis. Based on how fast reservations booked up for my sailing, I believe the most popular restaurants are The Wake, Extra Virgin, and Gunbae so I would highly recommend snagging a table for these restaurants in advance if you want to try them.
The Galley is Virgin Voyages' alternative to the traditional cruise buffet. More on it later.
Is all food included on Virgin Voyages?
Say goodbye to extra charges because food, including room service, is included in your cruise fare with the exception of a few specialty menu items at some of the restaurants. Several restaurants also have an alcohol pairing option, which is an extra charge.
Plus, good news for those with dietary restrictions! This brand-new, adults-only line was built from the ground up with inclusivity in mind. Vegans, vegetarians, and those with gluten allergies are all considered here, no matter where you choose to eat onboard (though some restaurants are able to accommodate better than others).
How many restaurants are on Scarlet Lady?
Scarlet Lady has over 20 eateries with a wide variety of dining options, including six main restaurants where reservations are accepted.
Do I need restaurant reservations on Scarlet Lady?
There's no need to plan ahead for breakfast and lunch at most restaurants, but reservations are recommended for dinner at all of the restaurants. If you are planning to sail with a group of friends and have access to the best tables, you may want to make sure everyone does their bookings in advance.
Not sure what you want? That's okay! You can make your restaurant reservations after boarding, but keep in mind that the cruise ship will be busy during peak hours (dinner time) so popular places may fill up quickly or require a wait before seating. Reservations can be made in the Virgin Voyages mobile app.
Pink Agave
Pink Agave transports diners to the vibrant streets of Mexico City through bold lighting and the restaurant's authentic Mexican specialties, including tlayudas, memelas, sopes, tortas, esquites, tamales, and a wide selection of mezcals. The restaurant was designed by Tom Dixon, who also designed the Rockstar-exclusive Richard's Rooftop and Rockstar Suites.
Sadly, Pink Agave was the only restaurant we did not try while onboard Scarlet Lady. We heard great things about it from other passengers so we are looking forward to dining there on our next cruise.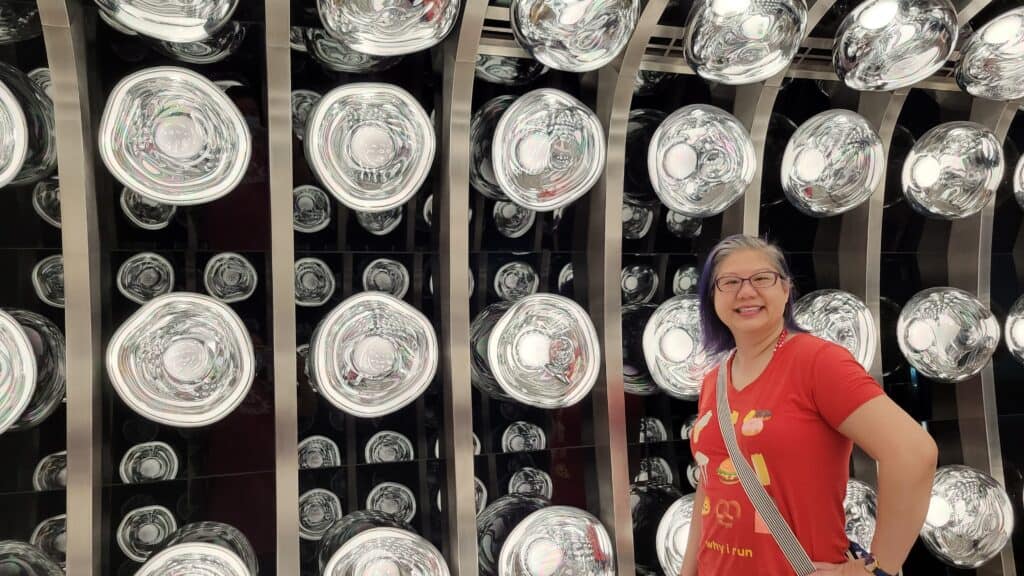 Even if you don't get a chance to eat here, make sure to stop by when it's not mealtime to grab a photo of the Instagram-worthy light tunnel at the entrance.
Razzle Dazzle
Razzle Dazzle is touted as being the primary healthy and vegetarian-friendly restaurant onboard. The menu is filled with light and plant-based twists on classic comfort food. While Razzle Dazzle is vegetarian-forward, it's not vegetarian exclusive and meat lovers will be happy to know that it offers something for everyone through the fun naughty or nice versions of menu items.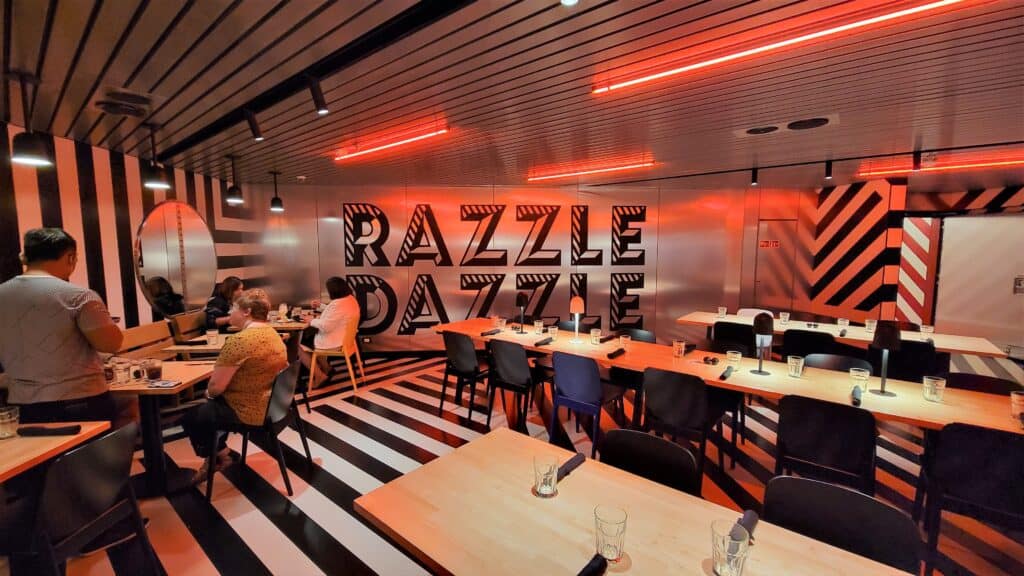 Despite being a very avid meat eater, Razzle Dazzle was Chris' favorite restaurant overall. The bacon was just phenomenal. I'm pretty picky when it comes to the crispiness of my bacon and Razzle Dazzle did not disappoint. Their bacon was served in a cup and was the perfect crispiness.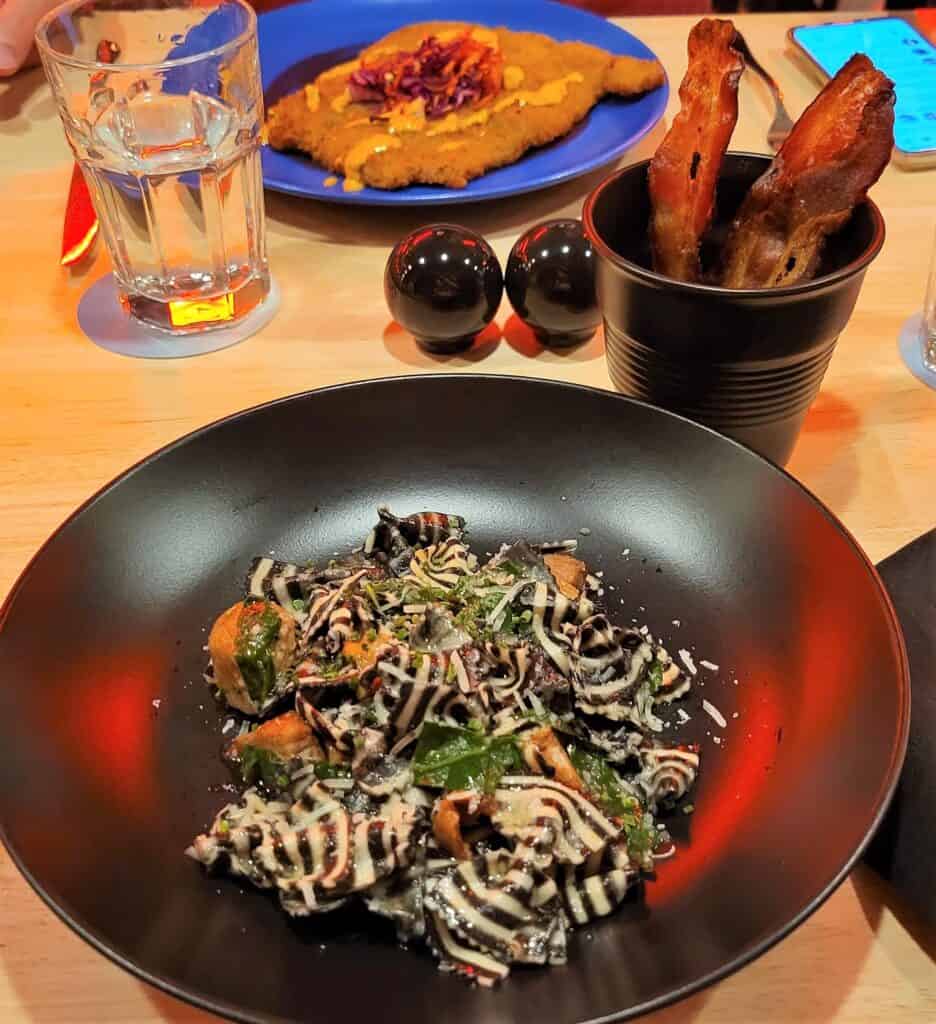 The Black Garlic Bowtie Pasta was very good and the Pretzel Pork Schnitzel was perfectly battered and fried. And the desserts… wow! The Rainbow Churros with a scoop of ube ice cream had the perfect balance. The Razzle Cake made of chocolate mousse and toffee crunch was also delicious. We heard others rave about the Milk and Cookies as well but we were too full. They're on our list for next time.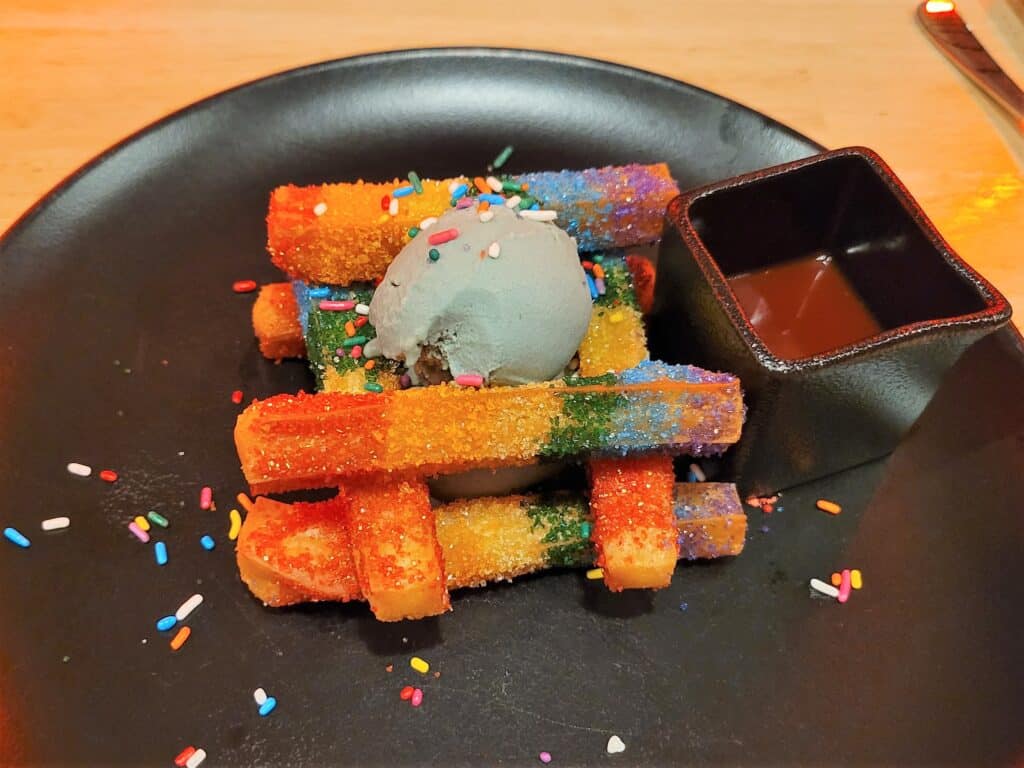 The Test Kitchen
Test Kitchen, inspired by Auguste Escoffier's Ma Cuisine, is one of the buzziest spots on Scarlet Lady. Unlike other restaurants on the ship, there is a fixed tasting menu and only two seatings per night so make your reservations as early as possible!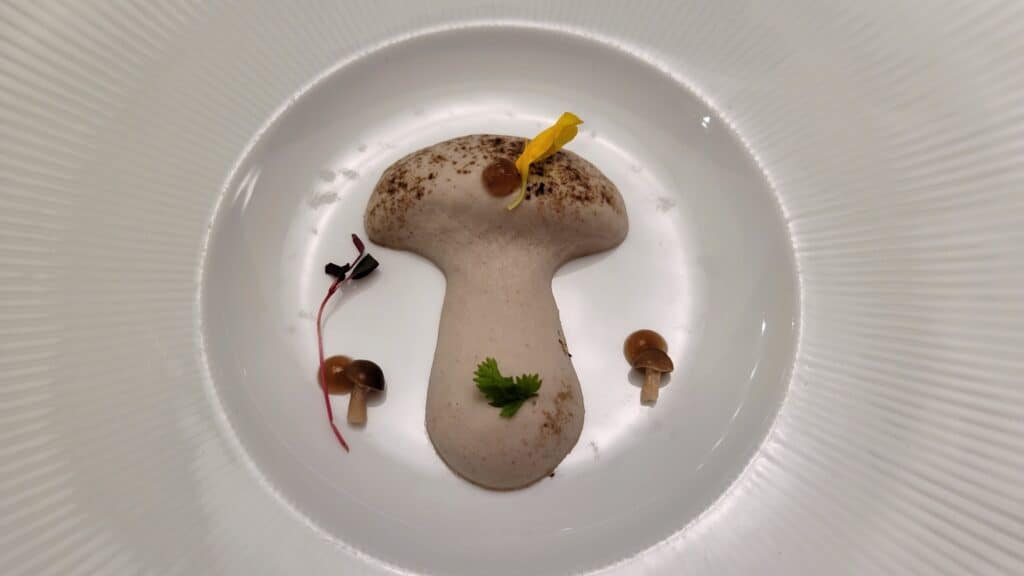 This restaurant bills itself as a laboratory eatery where education and experimentation come together to make its seasonal menu. Adventurous eaters with a taste for exploration will find the food both playful and inventive.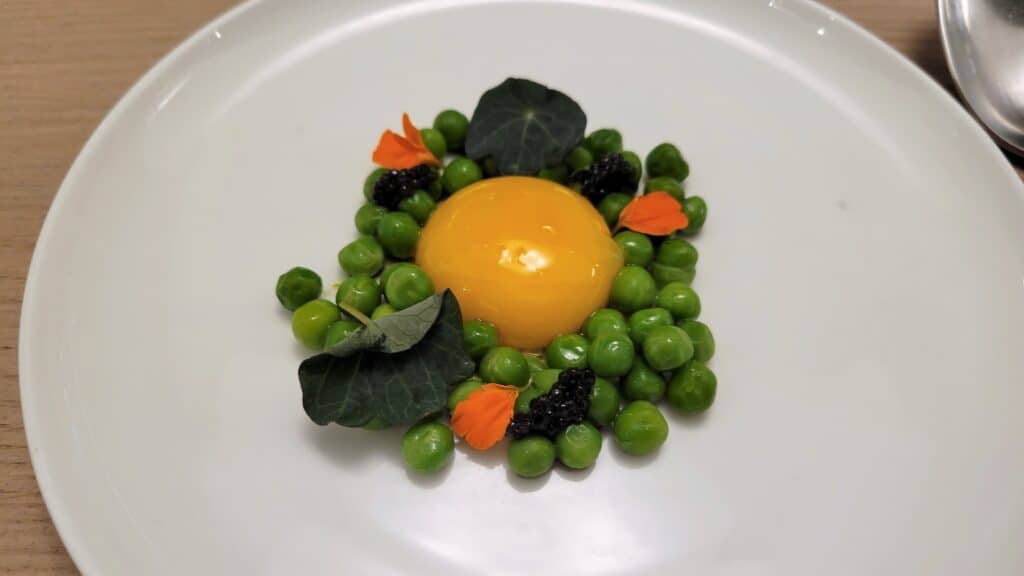 Since it is a tasting menu, you aren't expected to finish nor enjoy everything you're served so don't feel bad if you don't clean your plate of the blue cheese ice cream because I certainly didn't.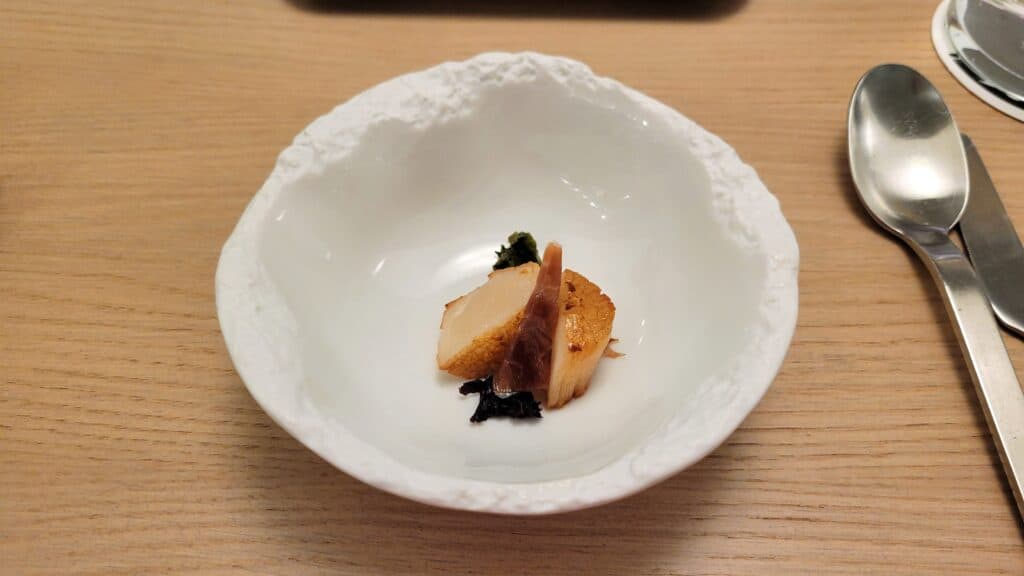 Even though I didn't love everything I tried, I would still say Test Kitchen was my personal favorite restaurant because of the innovative dining experience.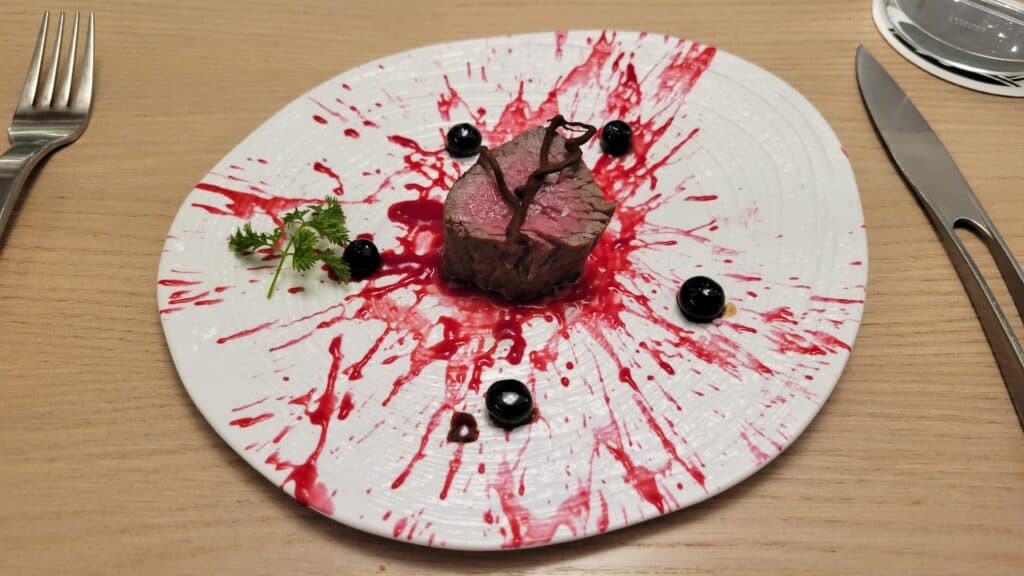 The surprises along the way are what make this restaurant interesting so I don't want to give away too much but the scallops and the chocolate dessert were fantastic!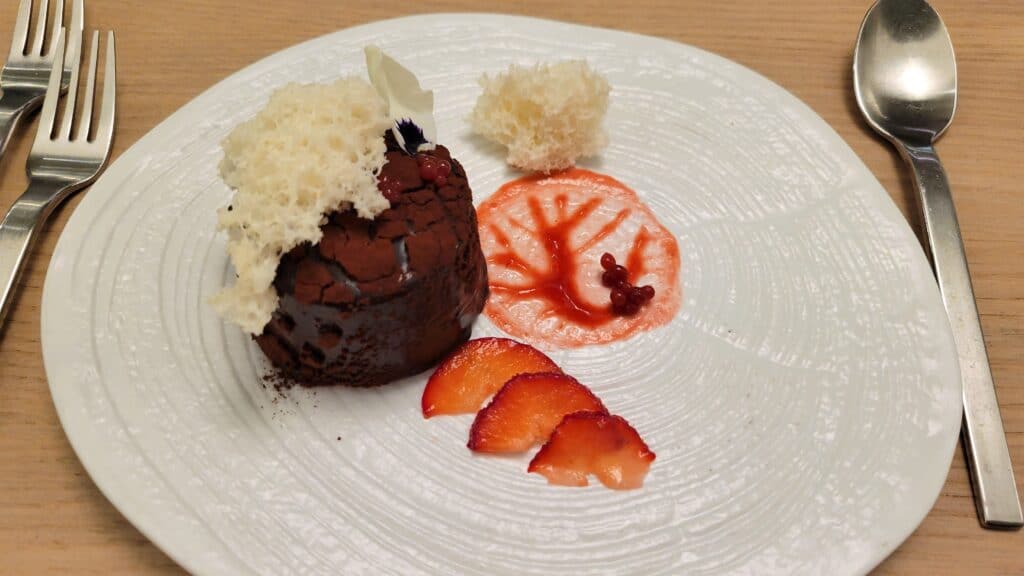 Make sure to spend a little time exploring the bustling restaurant after dinner and appreciate the touches they made with the science lab theme.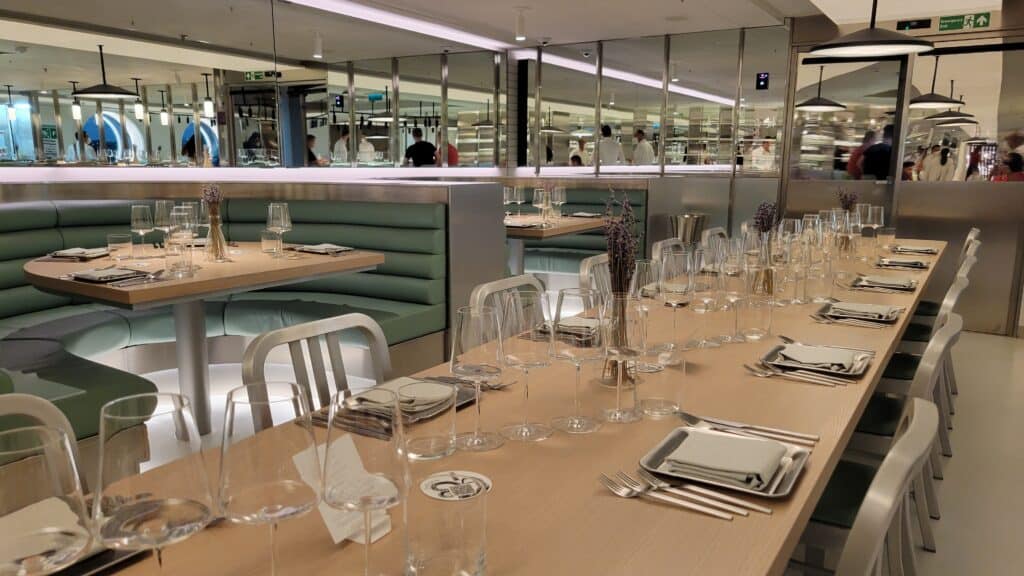 It did seem like many passengers skipped Test Kitchen because they were scared of the concept and they don't consider themselves adventurous eaters. If you too are hesitant, keep in mind that cruises are the best opportunity to try new food! If you don't like something you order, you can always order something else without an extra cost. So bring an open mind and an empty stomach!
The Wake
The Wake is a sophisticated take on an old steakhouse. For an added cost, guests can also order premium menu items. This restaurant has an upscale vibe so we purposely chose to eat here on Scarlet Night in our dressier clothes.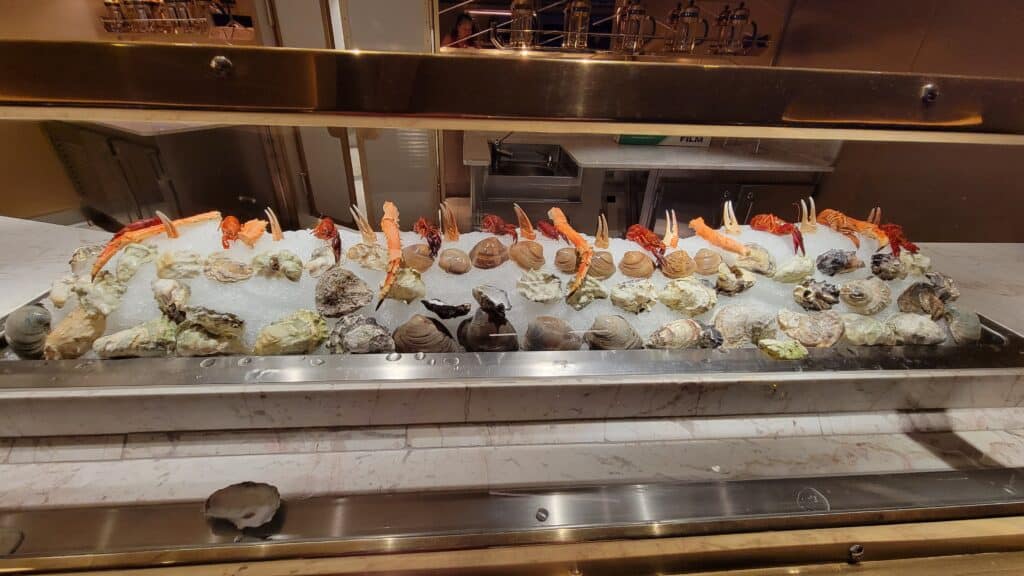 This was the only restaurant that I recall having an upcharge for premium food items. Other restaurants on the ship had an extra charge for alcohol pairings or cocktails but I don't remember any other ones having upcharges for certain dishes (though I could be wrong). The raw bar combos and the aged tomahawk steak have an additional cost.
I ordered the $40 Grand Plateau, which is essentially a seafood tower of lobster tail, oysters, clams, shrimp, mussels, and snow crab claws. I absolutely love shellfish and I have to say that this entrée lacked luster. Everything was poached and came with 3 different dips but I don't know if I would recommend it unless you can't find anything else on the menu you would like.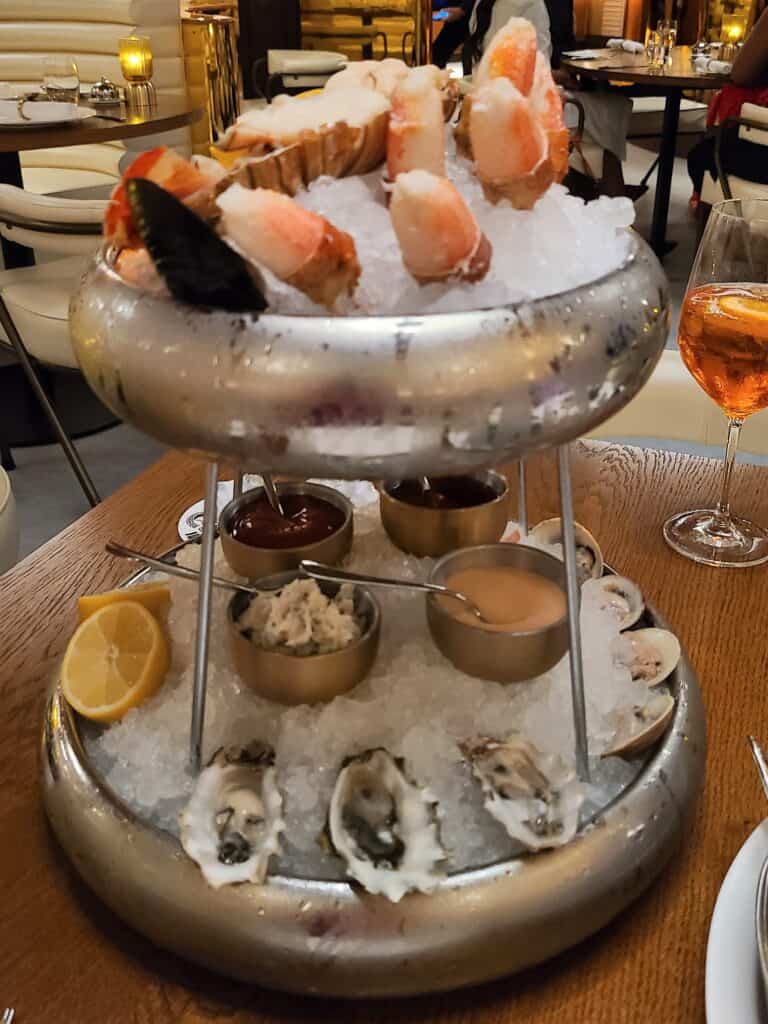 Other than that, the appetizer, sides, and desserts were amazing! The bone marrow was so good and served with these Texas-sized pieces of the most buttery and crispy slices of toast. It was fat-on-fat and delicious.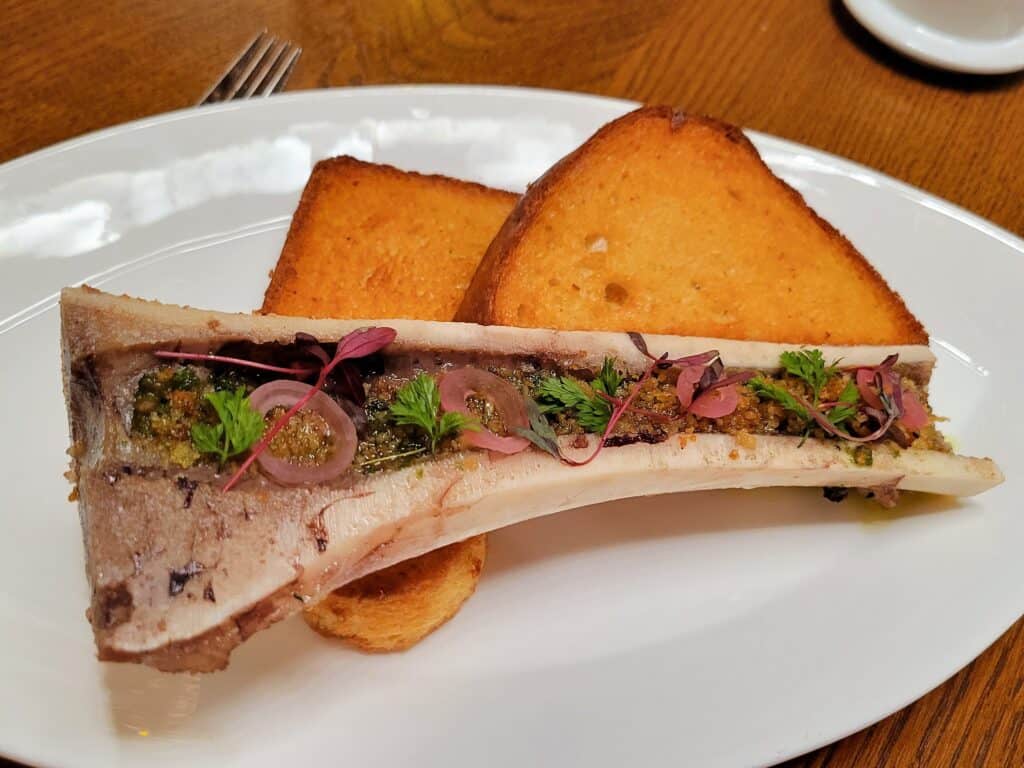 Chris loves steak and was disappointed that they don't serve ribeye steak. The only options were hangar steak, filet, New York strip, or $65 upcharge tomahawk. His favorite is ribeye, of course. However, the whole roasted garlic served with the steak was a big highlight! He spread it on each bite of steak like butter and I had some of it on bread.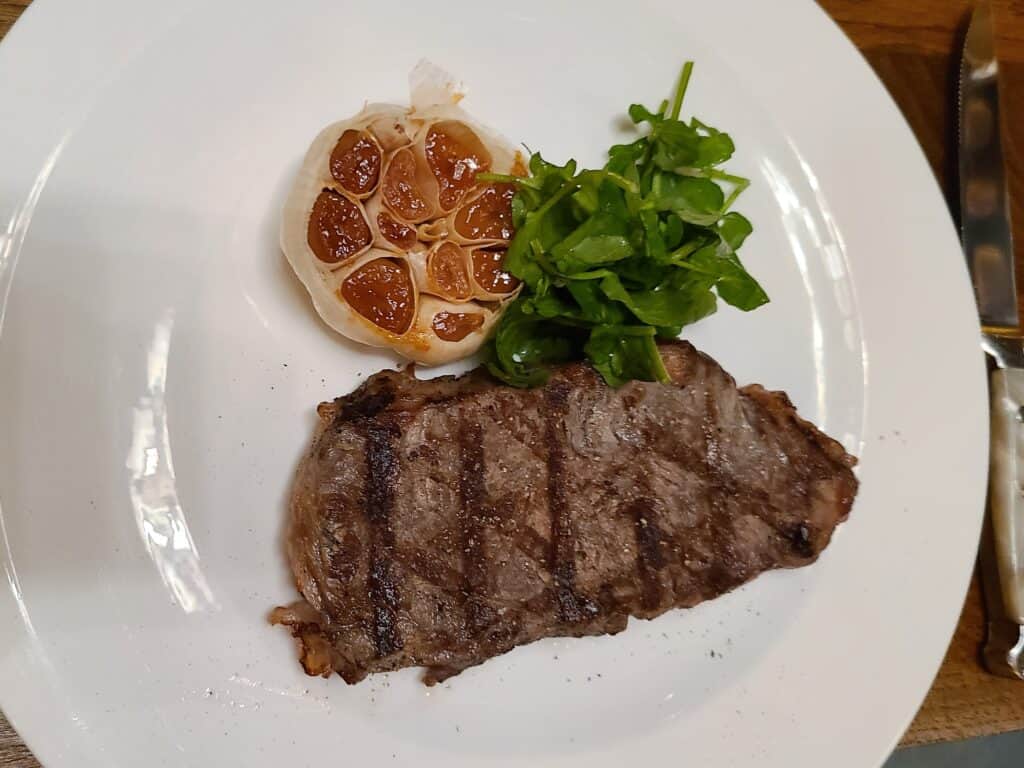 Do not miss out on the lemon cheesecake! Chris loves cheesecake and said it was the best dessert he had on the whole cruise.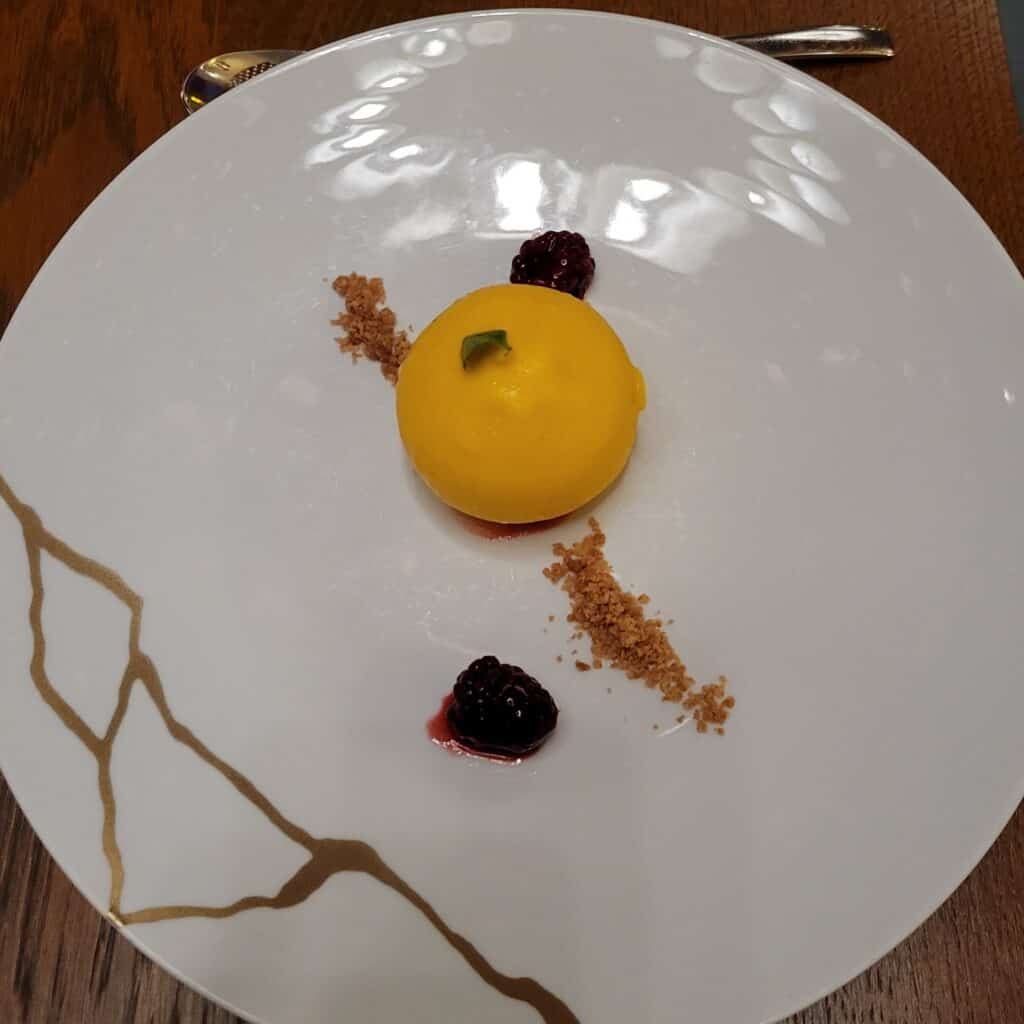 I'm not a fan of cheesecake so I was thrilled to see Baked Alaska on the menu! Baked Alaska is one of my favorite desserts on cruise ships and this one did not disappoint. It was absolutely delicious!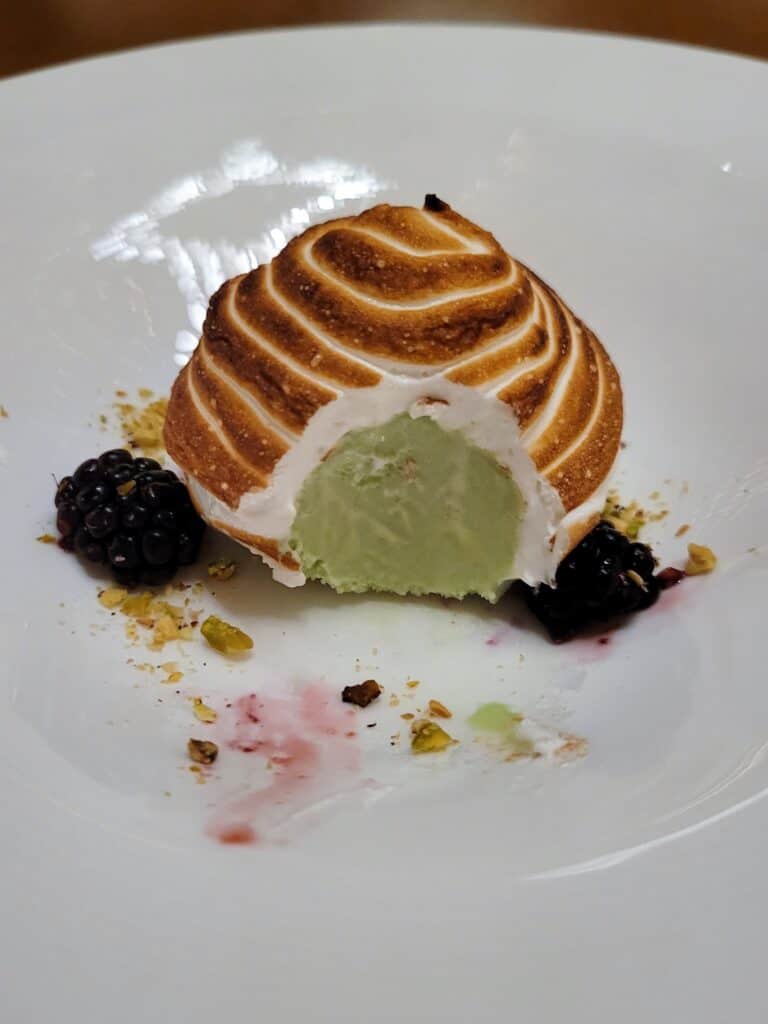 Extra Virgin
I think there must be some maritime law that every cruise ship must have an Italian restaurant. Given that they are a dime a dozen in the cruise industry, I wasn't super excited about eating at Extra Virgin but it turned out to be a great experience.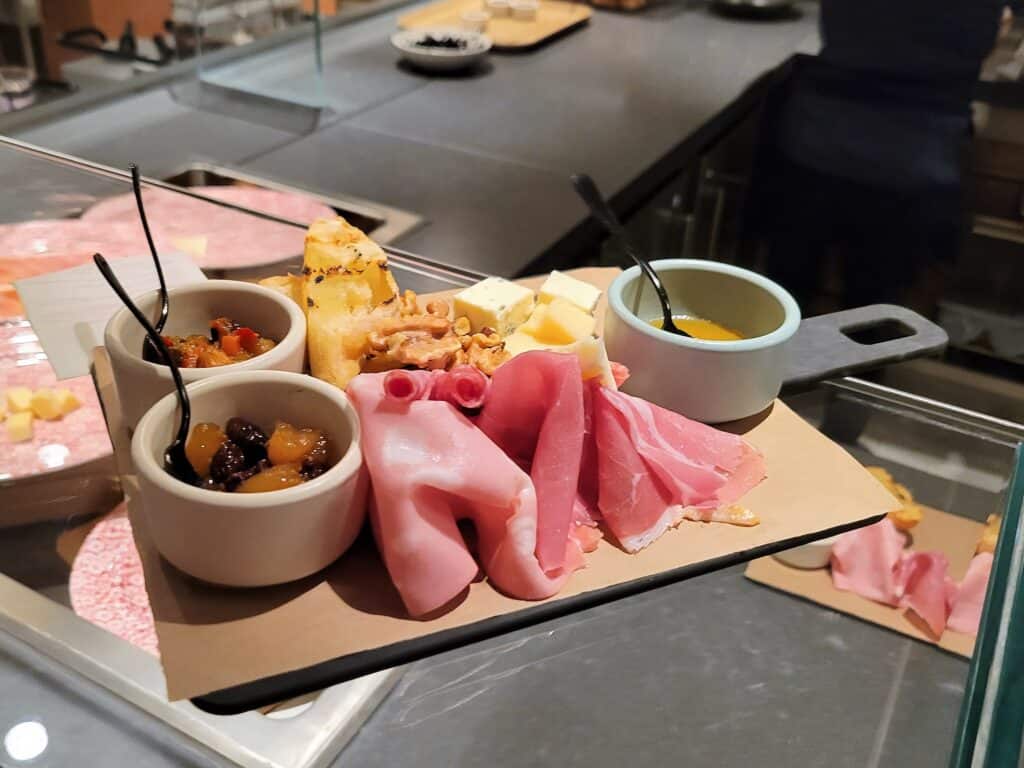 You should definitely make reservations for Extra Virgin because it was the most popular restaurant during our sailing. The food served here is traditional Italian trattoria fare, including classic Italian antipasti, such as beef carpaccio, fried artichokes, and a charcuterie board, as well as hearty main courses like pork cheek and sea bass.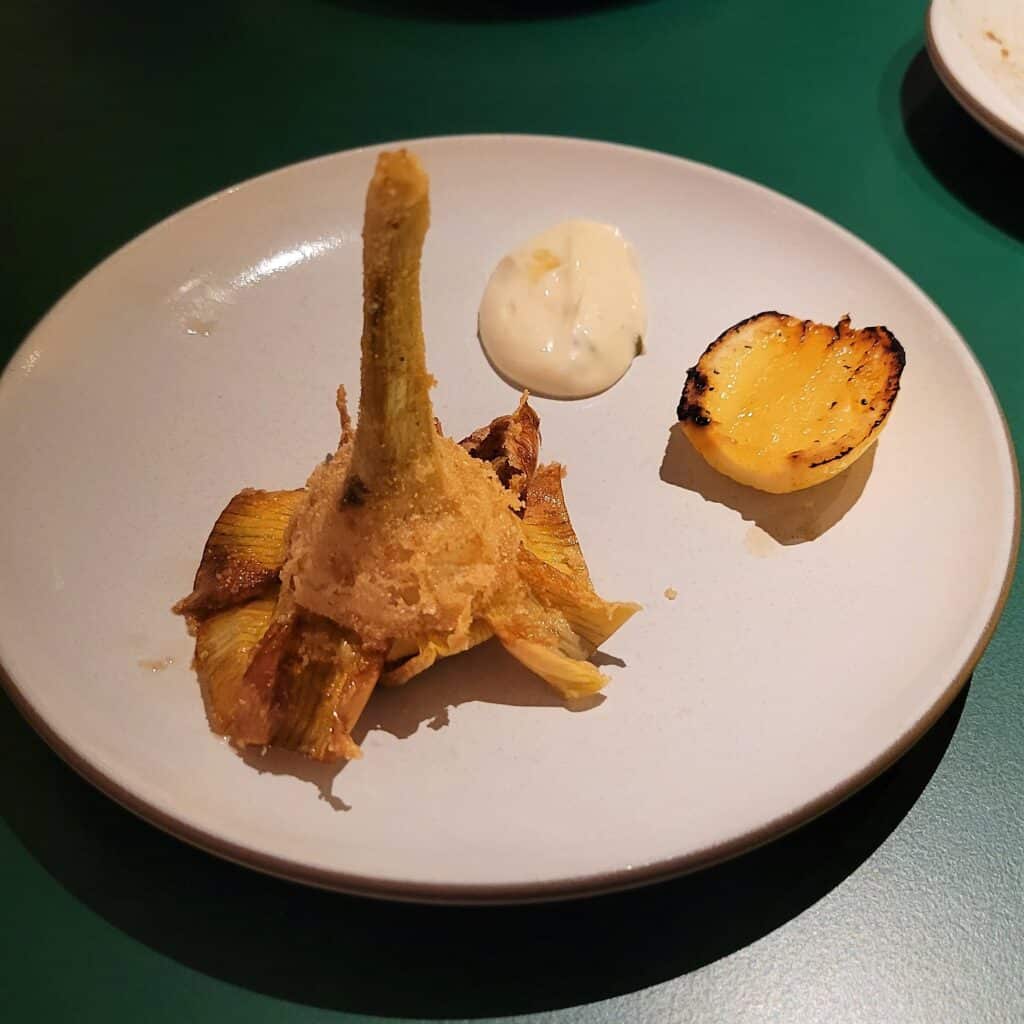 The absolute highlight for me was the handmade pasta, created freshly onboard and cooked to a perfect al dente. One of my favorite foods is pasta alle vongole, or pasta in white wine clam sauce, and it was amazing here. The artichoke appetizer was fried to perfection. Sadly, the chocolate olive oil cake was a tad dry.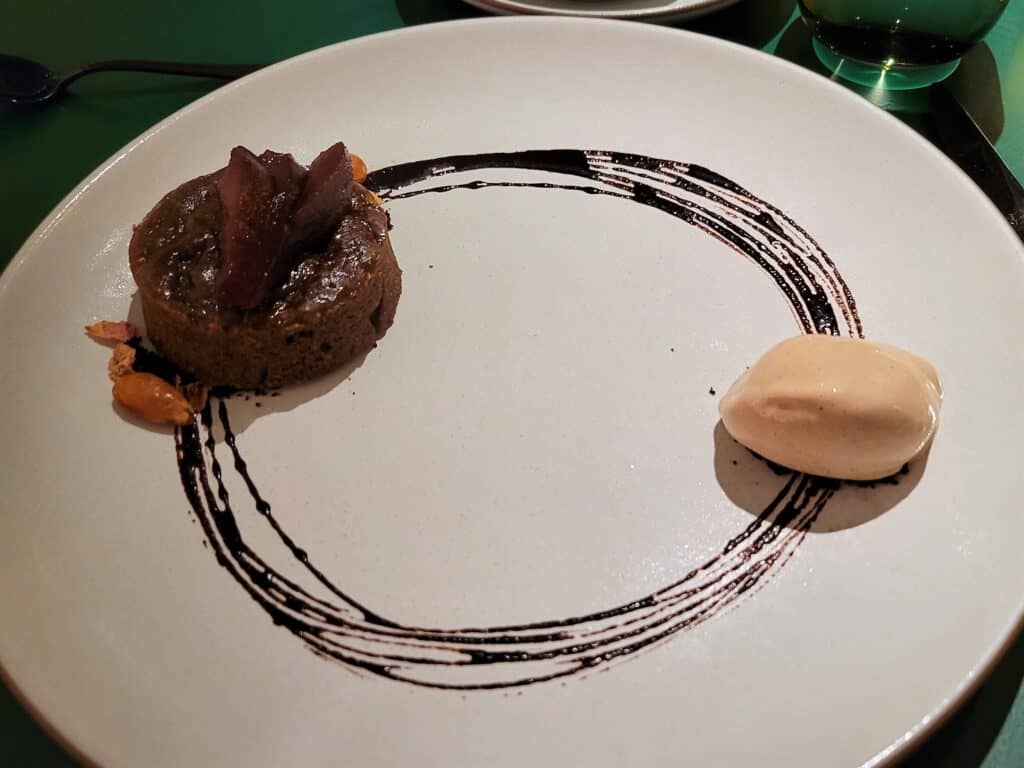 Gunbae
"Gunbae" (or geonbae) means "empty glass" in Korean. The toast is similar to the expression "bottoms up", which encourages you and your other drinking partners to drink the entire shot at once, though it's not necessary.
On Scarlet Lady, Gunbae is their lively Korean BBQ restaurant. Unlike other restaurants onboard, this one is "social seating" so if you have a small party, you will likely share a table with people not in your party. Chris and I were seated with another couple at Gunbae.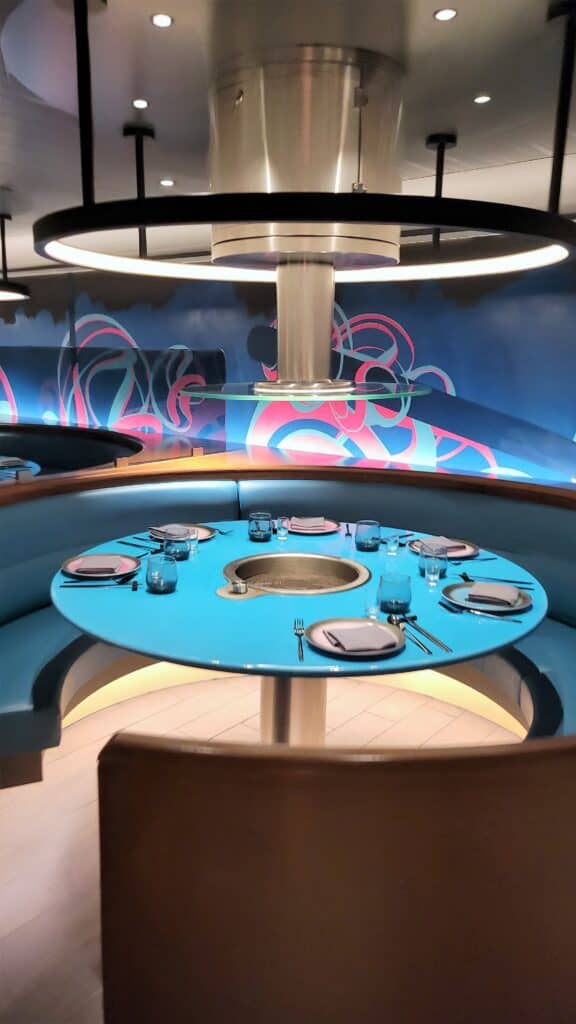 The huge round table can probably fit 8 people but to keep things on the safe side, they seem to be only seating two unknown parties together at a time. Commonly found at Korean BBQ restaurants, the center of the table is a grill for cooking meats and veggies. Virgin Voyages intended for guests to grill their own food but when we visited, the server did the cooking in front of us. I assume this is also due to health protocols, especially since we did not know the other couple we shared the table with.
Gunbae is definitely meant to be a social experience so if you're feeling anti-social, you should probably head somewhere else. Each person will get a complimentary shot of soju to participate in a drinking game led by your server. If you lose, your table will shout "Gunbae! Gunbae!" until you drink your shot. As you can imagine, the restaurant can get pretty rowdy but it is a lot of fun!
We are huge fans of Korean barbeque and found that the food and experience were fairly authentic. Chris said, "They cut the meat with scissors," which means they are legit. Since the server handles the grilling and the vent hoods above the table are very strong, we didn't find much of a smoky smell on our clothes as we would at traditional Korean BBQ restaurants but I did overhear other passengers say they thought their clothes smelled so your mileage may vary. The amount of meat provided for each order was generous.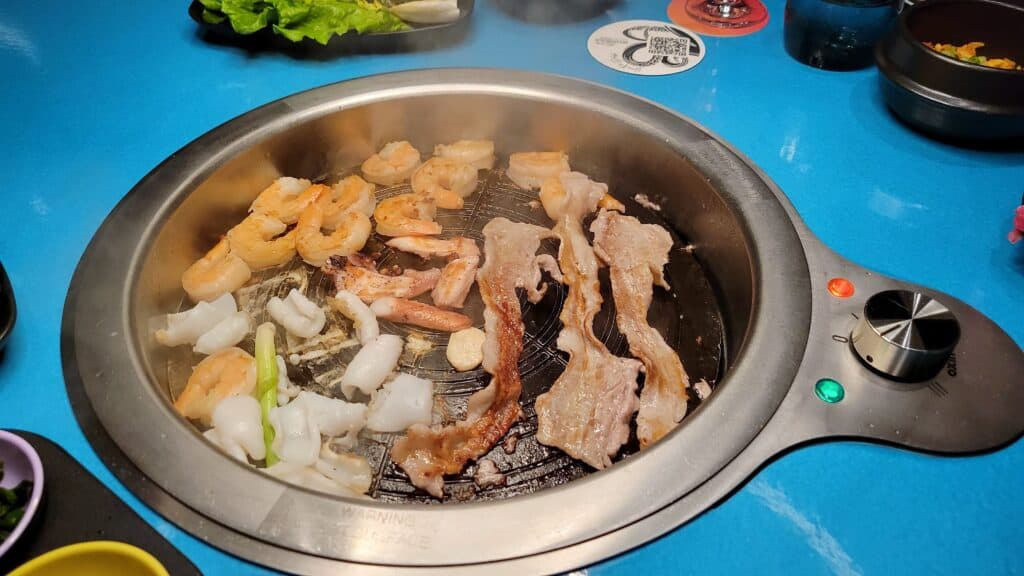 The banchan, side dishes to accompany the meal, were good, though it seemed like the servers expected us to eat all the banchan as appetizers prior to our meat arriving when traditionally banchan is replenished and eaten throughout the entire meal. The white rice was disappointing because they put way too much vinegar in it, like it was from a vat of sushi rice. I also wished they offered steamed egg, which is one of my favorite Korean dishes.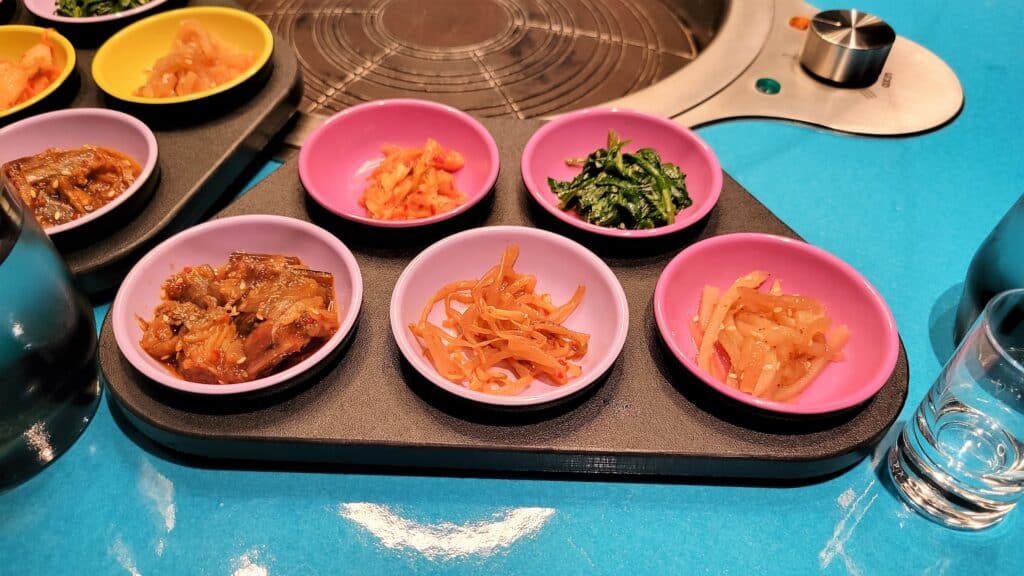 I usually don't drink but ordered the K-pop Disco Water soju cocktail. It was so yummy and came in a cute disco ball cup. I found the black sesame ice cream to be bland. I love black sesame and didn't taste the flavors at all in the ice cream.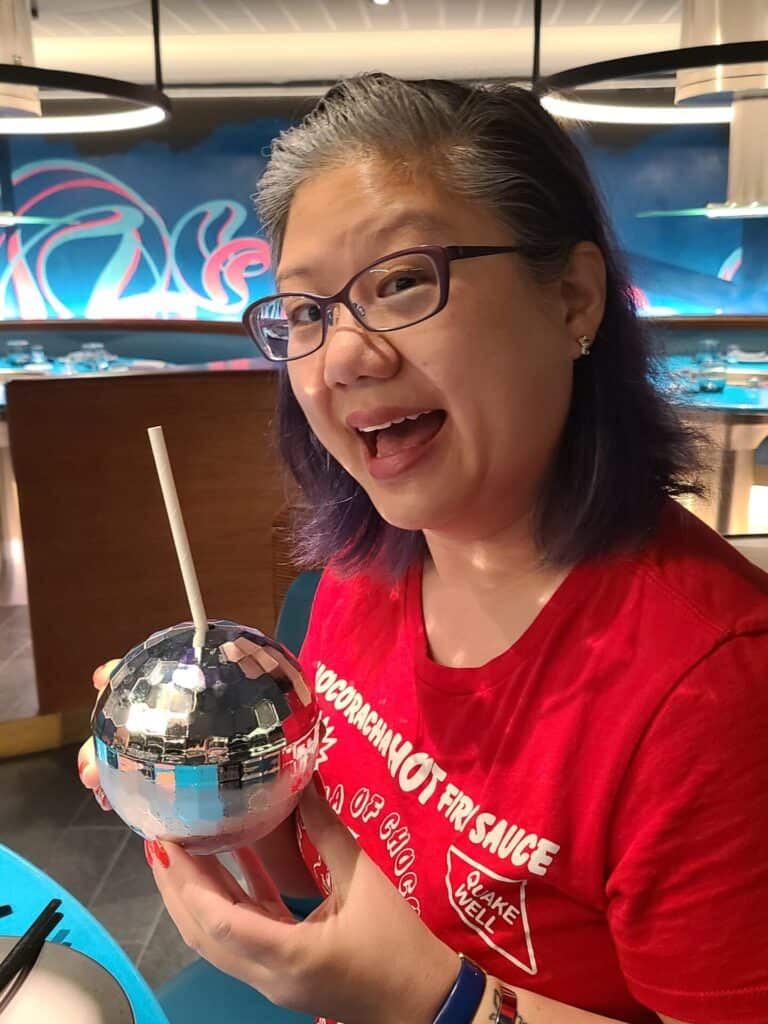 The Galley
While it isn't one of the reservations-accepted restaurants onboard, we were so impressed by The Galley that I need to talk about it! Virgin Voyages has done away with the idea of a traditional cruise buffet, instead offering The Galley as an alternative. It's open for breakfast, lunch, and dinner. No reservations.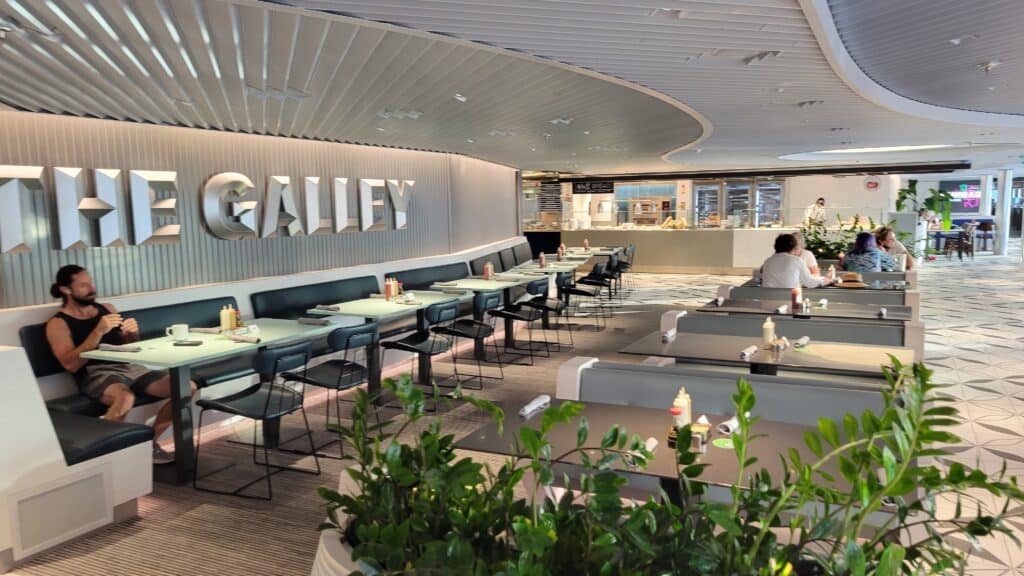 Unlike a typical buffet where you get your own food, there are servers at The Galley to take your order. Once they put your order into their phone, your food is delivered to your table by the various stations using your table number. The Galley features eight inventive food stations with items ranging from sweet to savory to healthy.
The Daily Mix
During breakfast, it's a bagel bar with a range of bagel flavors and toppings, as well as hot and cold cereals. During lunch and dinner, it's a soup and salad bar.
Burger Bar
Serving up freshly made pancakes, french toast, and the AMAZING French Toast Burger during breakfast. (Chris says, "If you like McDonald's McGriddle sandwiches, you'll love it!") The pancakes are the BEST I've ever had at a cruise buffet because they aren't massed produced and sitting under a heat lamp.
For lunch and dinner, they have classic burgers and Impossible burgers with fries.
Diner & Dash
Egg and toast station in the morning. Customize your own omelet or eggs in any style with breakfast meats, like bacon, sausage, vegan sausage, and breakfast potatoes. For dinner, they have a hot roast beef sandwich.
Bento Baby
In the morning, they have "breakfast bentos", like granola with greek yogurt with fruit. Every morning we grabbed a fruit bento to-go and had fruit in our cabin to snack on throughout the day.
For lunch and dinner, they have sushi rolls with fish and without.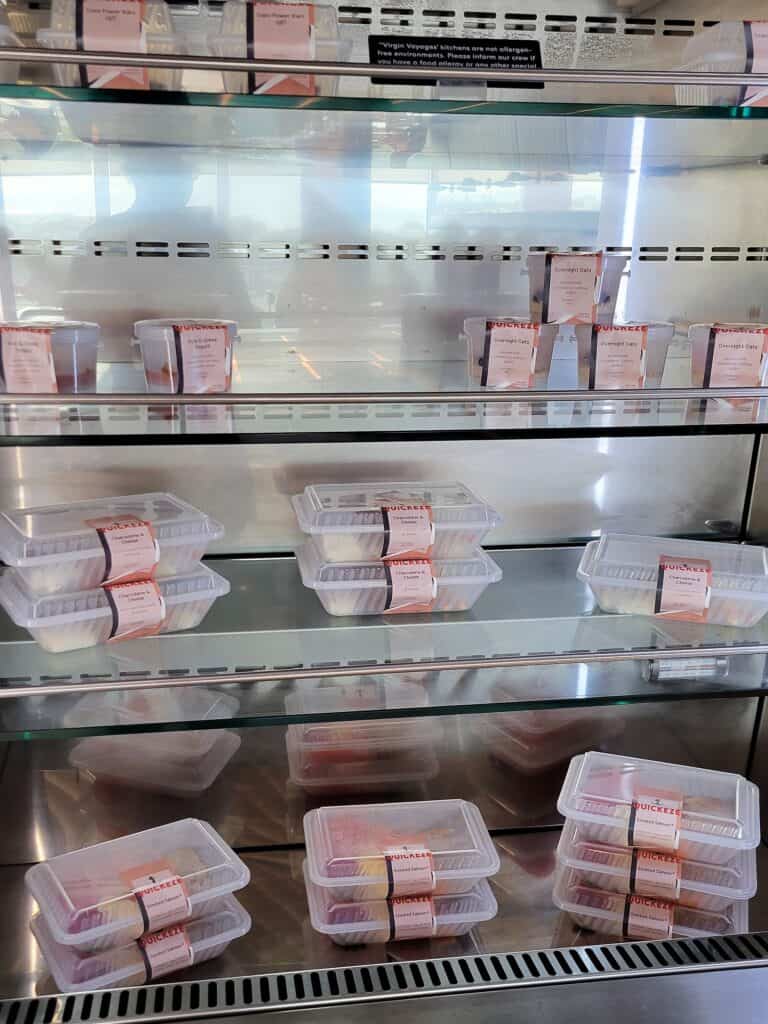 Let's Taco Bout It
Vegetarian, fish, and pork tacos, as well as breakfast burritos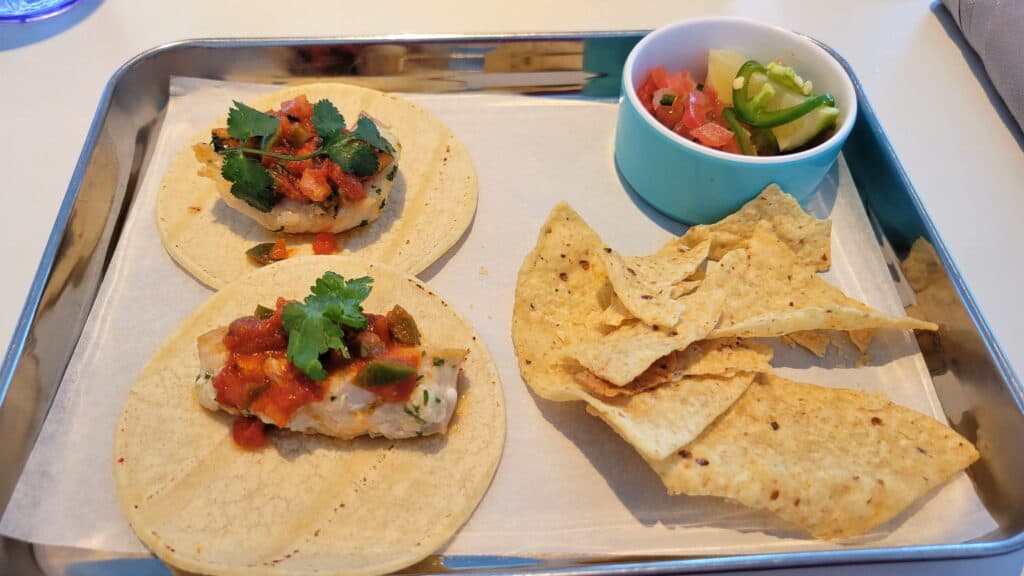 Noodle Around
Japanese ramen and udon available for breakfast and lunch
Hot Off the Press
A variety of sandwiches from healthy (avocado toast) to sweet (banana & nutella), including breakfast sandwiches in the morning.
Sweet Side
This bakery station features fresh-baked pastries, desserts, and fresh fruit but are not listed on The Galley menu so make sure to swing by to see what is available before sitting down at your table to place an order. The S'mores cup is amazing!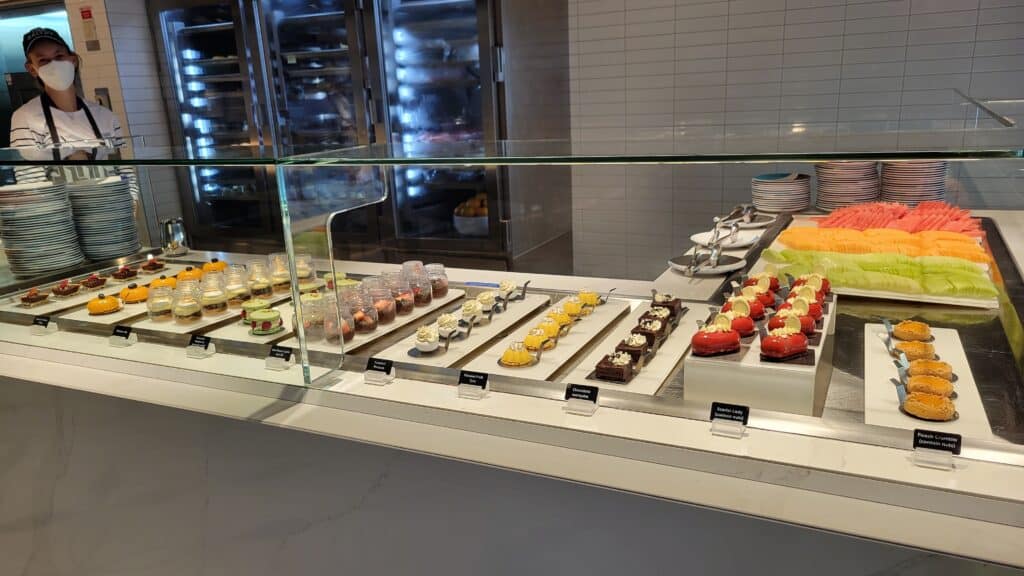 Grounds Club Too
Premium espresso drinks, hot chocolate, and loose leaf teas for an extra charge all-day
In addition to the beverage stations you commonly see on other cruise ships, The Galley also has an automatic wine dispenser! Just scan your wrist band and it will pour you the wine of your choice.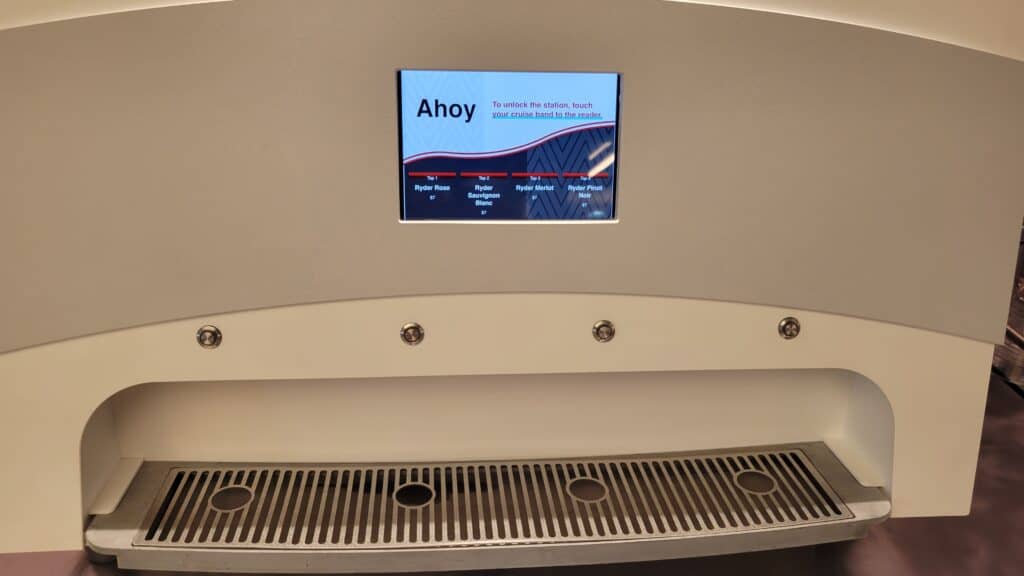 The Galley Menu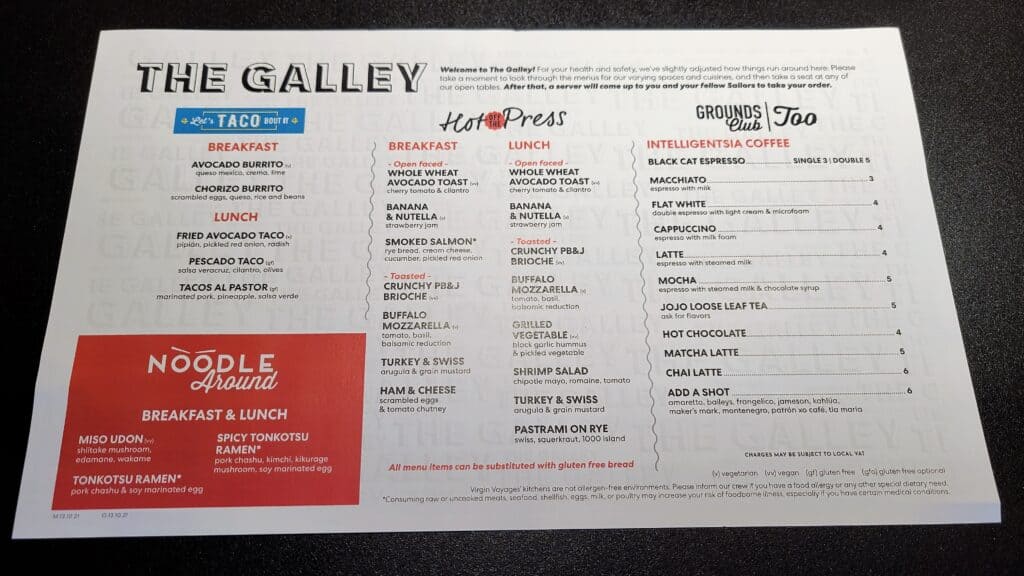 Also, not on The Galley menu, is the Popsicle Truck located near Burger Bar. They have refreshing fruit popsicles from lunch until dinner.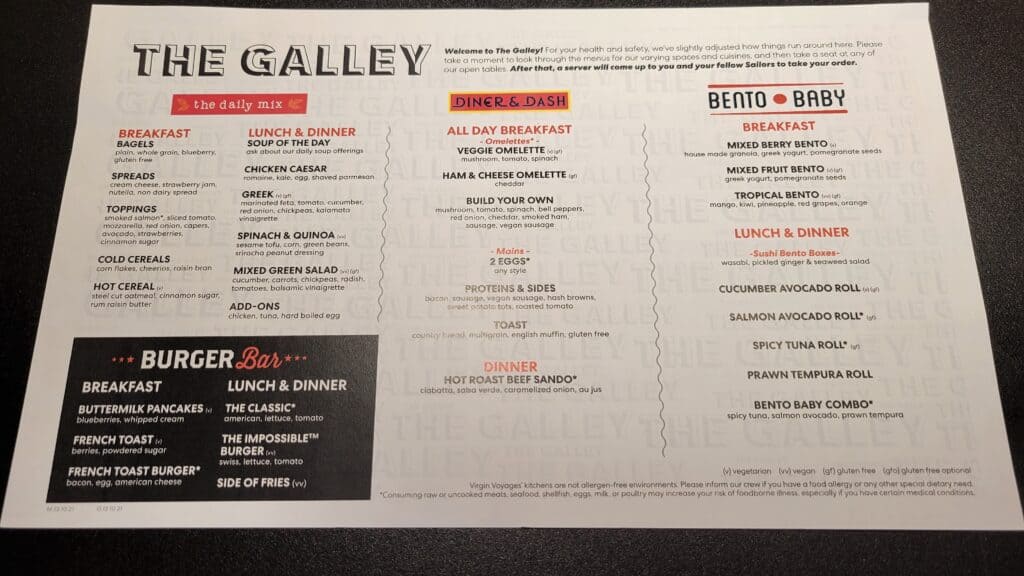 Lick Me Till Ice Cream
Lick Me Till Ice Cream is a traditional hand-scooped ice cream parlor but with some untraditional flavors. The flavors change between sailings but during our voyage, we had vanilla, butter pecan, Key Lime Pie, malted strawberry milkshake, brown butter financier, chocolate Gianduiotto, and Green Machine (avocado-based sorbet that tastes like kiwi & green apple).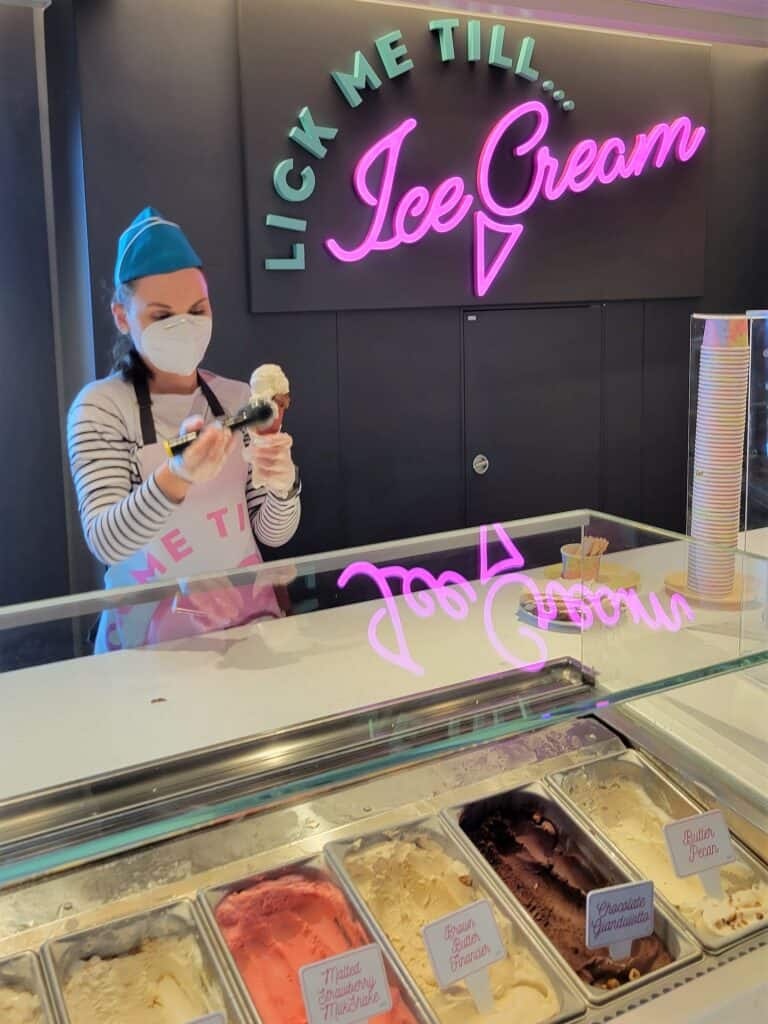 Surprisingly, Green Machine was my favorite! Definitely try them all, if you can! Even the cones come in different flavors: vanilla, red velvet, and chocolate!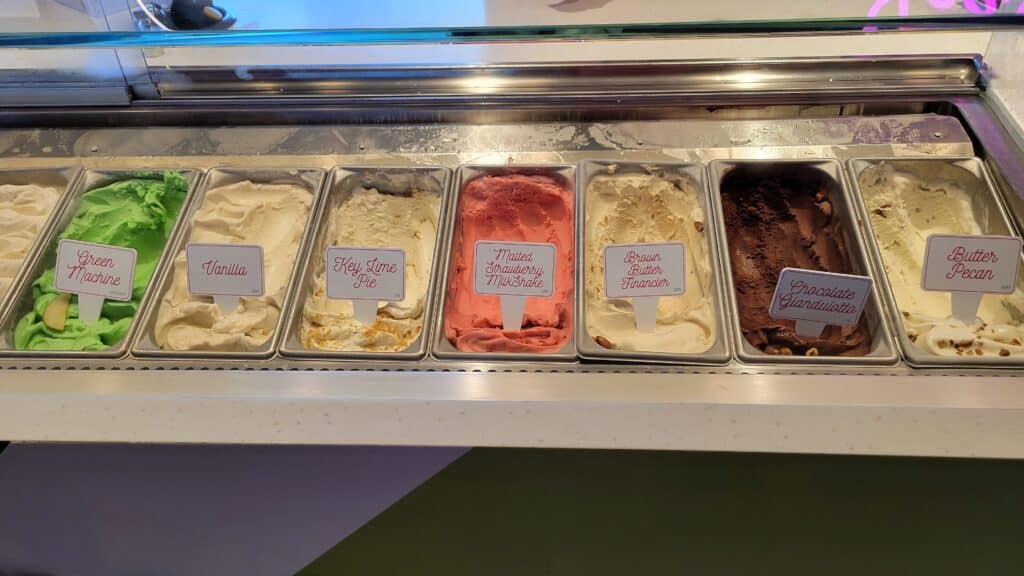 Beach Club at Bimini
Lastly, I have to share with you our biggest disappointment when it came to food during this whole cruise: lunch at Virgin Voyages' Beach Club at Bimini.
After having such AMAZING food onboard, the food at the private beach club was definitely not what we expected. We're pretty sure the food was prepared by the resort staff and not the ship staff, though we did see some of the ship servers clearing tables.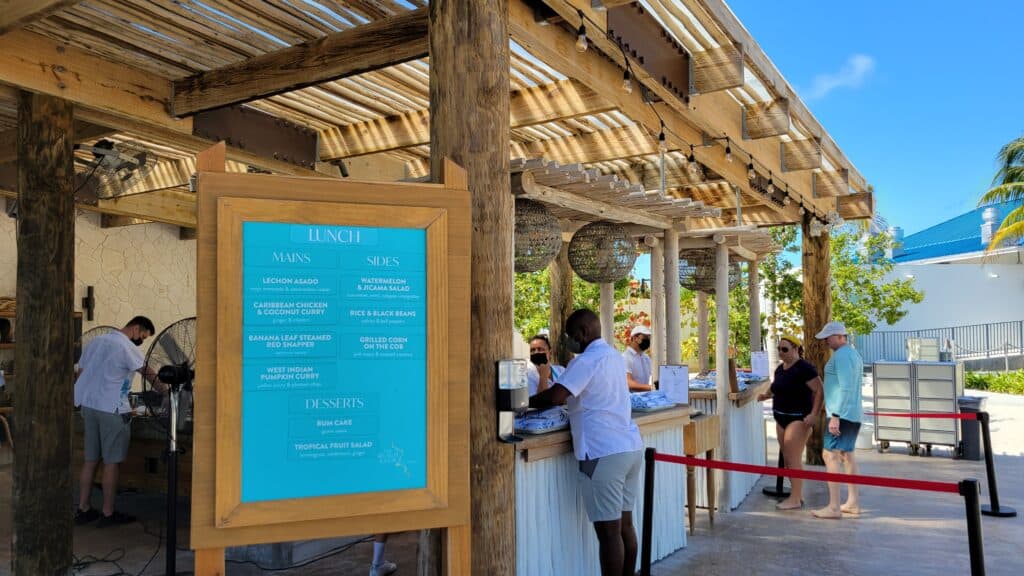 None of the meats were very good. The chicken in the chicken curry was bland. It tasted like the chunks of meat were just boiled and dumped into the pot of curry afterward. The curry itself was flavorful but the chunks of chicken did not have any taste.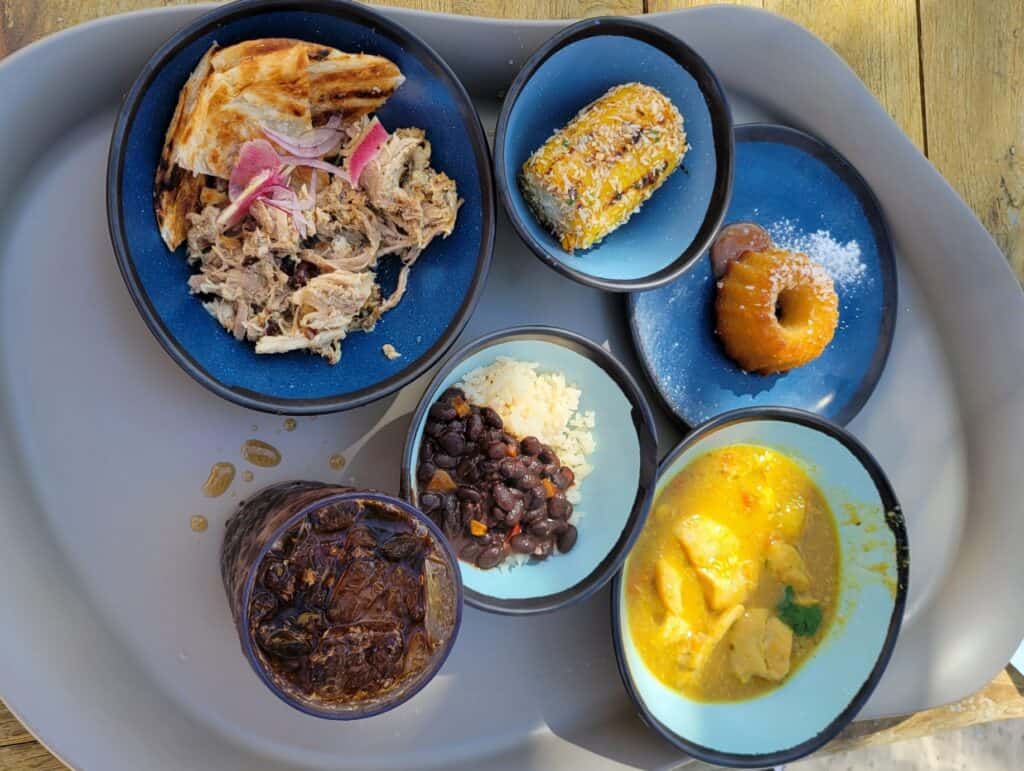 The small pieces of flatbread served with the Lechon pork were very good and reminded us of a Chinese green onion pancake. But the pork itself was bland and dry. In the afternoon, they swapped out some of the menu items with new ones, including BBQ ribs, but sadly, they were also very dry. The one thing we had that was really good was the rum cake. I should have just eaten 3 slices for lunch. LOL
Best food I've had on any cruise line
Despite the "meh" food at Beach Club at Bimini, I can hands-down say that Virgin Voyages has the best food I've had on any of the 7 cruise lines that we have sailed. The variety, quality, and creativity are unmatched.
If you love food, you must give Virgin Voyages a try. See you onboard!


Disclaimer: We may earn a commission for products purchased through some links in this article.