Thursday, July 1, 2010
Our flight from DFW to Anchorage departed at 3:15 pm and was 7 hours long but fortunately, a non-stop flight. They showed "Tooth Fairy" and "Invictus" on the plane but I only watched "Tooth Fairy", which was a silly movie but I'm a huge fan of The Rock. For dinner, we shared three Lee's Sandwiches and they were nom nom. We saw several snowy mountains from our plane but I don't know if any of them where Mt. McKinley. We arrived in Anchorage at 7 pm and took a taxi to our hotel, the Historic Anchorage Hotel in Downtown.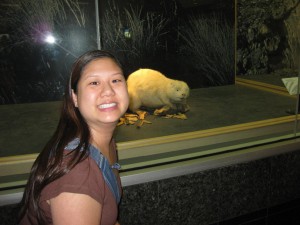 The only beaver we saw: stuffed albino beaver at the airport
After checking into the hotel, we walked to Lucky Grocery store and bought some bottled water and snacks. The weather was windy and cool but once I started walking around, I took off my jacket. We went to Glacier Brewhouse for dinner and the place was packed. They told us it would be a 2 hour wait for a table but we could sit at the bar without a wait so we decided to do that. The tables in the bar were shared and elbow-to-elbow. We met a couple of women who were on our cruise and they were really friendly. We also met a couple of locals. We had Glacier Brewhouse's home-brewed Blonde Beer and it was really good. I ordered a cup of Alaskan Seafood Chowder and halibut. Chris had BBQ salmon. The chowder was definitely the best and soooo delicious!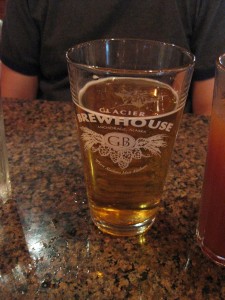 Glacier Brewhouse Blonde Beer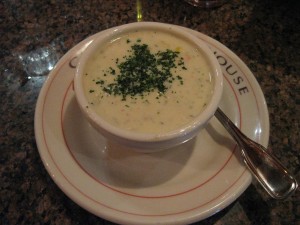 Alaskan Seafood Chowder
After dinner, we walked around Anchorage and popped into the shops. I was really happy that our hotel was so close so many shops and restaurants! We stayed in the Historic Anchorage Hotel this night and also the night before our cruise but it's easier for me to talk about both nights at once. Ghost hunter buffs should be very excited about this one! The Historic Anchorage is supposed to be one of the most haunted places in Alaska. They embrace this reputation with numerous newspaper clippings in the front of their café area. We had no idea of this when we checked in and only found out when we saw the clippings as we ate our breakfast the next morning. It turns out that we stayed in one of the most haunted rooms, room 215, the first night! The story was that a jilted bride hanged herself in our room! Luckily, we did not experience any supernatural phenomenon. What we did experience was excellent service from the small staff and very quaint accommodations. Jessica the night receptionist was especially wonderful and sweet! The rooms have no air conditioning but are equipped with a large circulating fan. That along with opening the windows was sufficient to keep us cool and comfortable. However, our room faced the street and birds like to gather on the roof top across the street. Since the sun barely sets in July, they pretty much squawked throughout the night and in the morning. There was also a rowdy group of drunks on the street around 3 am that woke us up as well. Otherwise, our room was extremely clean (and this is coming from a germaphobe who wipes everything down with bleach wipes) and comfortable.
I wasn't thrilled with the free breakfast. The buffet included hard-boiled eggs, bagels, oatmeal, fruit, cereal, and make-it-yourself waffles. I didn't like the waffles at all and I need to eat protein in the mornings so I winded up mostly eating hard-boiled eggs and bagels with peanut butter. I've stayed in a lot of business hotels and I guess I'm just used to having more hot foods like scrambled eggs, bacon, and sausage. That being said, the free breakfast was a definite plus. When we returned to the hotel after Denali, they had upgraded us to a mini-suite. The mini-suite was much larger and nicer. It also faced the alley in the back which meant no squawking sea birds or rowdy drunken men! I picked this hotel in particular because it was very close to both the train station, which we would be taking to go to Denali and Whittier, and the Egan Convention Center, where we would be dropped off on our return from Denali. At the same time, it was very convenient to the rest of the Downtown Anchorage with shops and restaurants all around it! I would definitely recommend this hotel to anyone visiting Anchorage, just make sure to request a room facing the alley if you are a light sleeper! (Unfortunately, I forgot to take photos of our hotel room until we came back from Denali. You can see the photos in my Day 4 post.)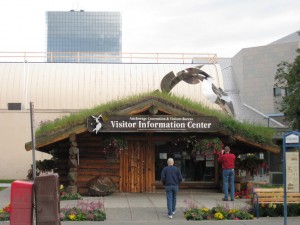 Anchorage Visitor's Center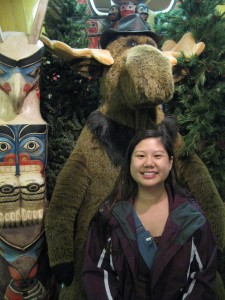 Downtown Anchorage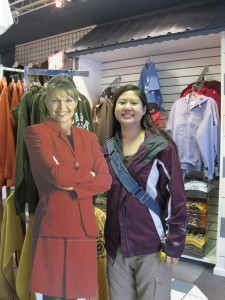 Alaska's Most Famous Resident, Sarah Palin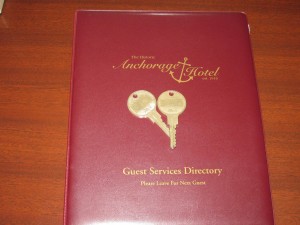 Neat, large metal keys for the room at Historic Anchorage Hotel
The constant daylight is trippy! It's so weird looking out the window or walking around at 10 pm and it's not dark at all. The daylight didn't bother me when it came to sleep though. All of the hotels and the cruise ship had good curtains to block out the light. We brought clothespins just in case but didn't use them.
+ See more Anchorage photos
+ Read more about Alaska Cruise 2010