Friday, July 2, 2010
We had 2 large suitcases and 2 flight carry-on rolling suitcases for this trip but we packed our bags so that we only need to take the 2 carry-ons and a backpack to Denali. We stored the other 2 large suitcases at the Historic Anchorage Hotel for no additional cost since we would be returning after 2 nights in Denali. After having breakfast at the hotel, we walked to the train depot. It was only about 5 minutes away downhill but there is a long flight of stairs so it would be difficult to walk if you had more than one suitcase per person.
Like many people on an Alaska cruise, we had the option of booking the cruise only or book a cruisetour, which included a land tour of Interior Alaska (usually Fairbanks and Denali National Park). We really wanted to go to Denali National Park before our cruise but the cruisetour seemed very pricey (about $1k-$2k more per person) and we didn't really want to go to Fairbanks and I didn't want to do the Denali tour included in the cruisetour. At the same time, I wanted to experience Princess' glass-domed rail cars and Denali Princess Wilderness Lodge. So instead of a cruisetour, I booked a rail package from PrincessLodges.com. The package included train to Denali on Princess' rail cars, 2 nights at Denali Princess, and motorcoach back to Anchorage. Plus, we had the flexibility of doing whatever we wanted once we were in Denali. We used a 2-for-1 coupon from the Alaska TourSaver book and saved $300! The cost for the 2 of us was $587.38. NOTE: TourSaver coupons change from year to year so check the TourSaver web site to see this year's coupons!
When we arrived at the train station, we followed the signs to the white tent for Princess Cruises and checked in. After checking in, you drop off your luggage with the train staff and they tagged it with our hotel luggage tag, then whisk it away. We learned the checked luggage actually doesn't go on the train. They drive it to the hotel in trucks.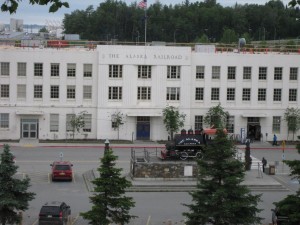 Alaska Railroad Station in Anchorage
We walked to the front of the train station, where a motorcoach picked us up to drive us to our train cars. (I'm totally serious.) It's funny because the driver stopped at each train car (Cars A, B, and C), even though they are right next to each other and you could easily walk from Car A to C but I guess this is good for people with mobility problems. The Princess rail cars are really nice. The assigned tables are upstairs and the dining room, bathroom, gift shop, and observation deck are downstairs.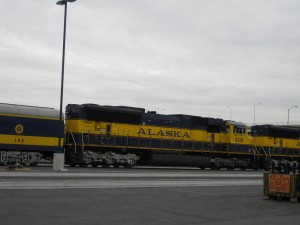 Alaska Railroad Train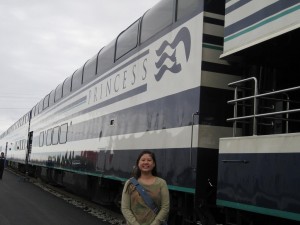 Princess Rail Cars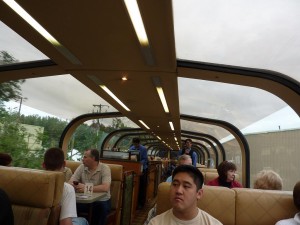 Princess Glass-domed Rail Cars
If there are less than 4 people in your party, there is a benefit to arriving early even though tables are assigned. Which side of the table you sit on is not assigned so if you get there before the other party, you can choose to sit facing forward or backward. We shared a table with a lady and her son and they both sat at the window so Chris and I sat across from each other. Eventually, the son went to another table with his cousins so Chris moved to my side and the mom had a bench to herself.
The train left at 8:15 am. Other than passing through Wasilla, home of Sarah Palin, the scenery was a bit boring on the way to Talkeetna. Mostly trees. However, it was still really neat to go out on the Observation Deck. You can feel the wind in your hair and hear the sounds of the train clacking down the track.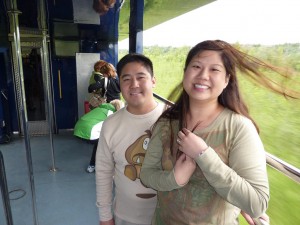 On the Observation Deck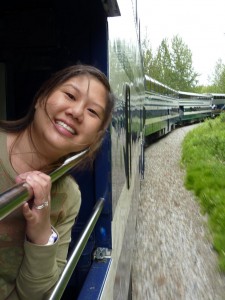 On the Alaska Railroad to Denali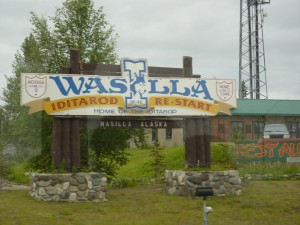 Wasilla Iditarod Re-start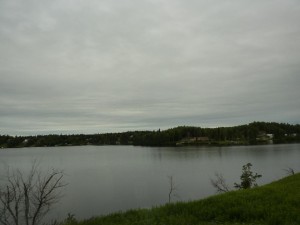 Wasilla Lake
When we arrived in Talkeetna at 11:05 am, the front half of our rail car got off the train so we were able to move to another table on our own once those passengers disembarked. Lunch was served after the Talkeetna stop so we went downstairs to the dining tables. We were seated with a couple who seemed very angry to have to share a table with us and protested to the server. The server explained that there are only 5-6 tables and everyone needs a chance to eat. The couple got over it and began chatting with us. They were also on our Island Princess cruise and they were the first of MANY people who we talked to that didn't have any plans for their Alaska trip. As an obsessive planner, it just shocks me that people will just show up to a vacation and just "wing it", especially one like Alaska where the activities will sell out 6 months. But hey, it's their vacation and their money. I personally want to get the most out of both.
We were happy to see that the lunch menu had some regional dishes. Chris had reindeer chili and I had the Alaska seafood salad sandwich. Both were very good but the chili portion was a bit small, even though it is considered an entree. While we were having lunch, I looked out the window and spotted a black bear in the river bed! I yelled to everyone in the rail car and they all looked out the windows! It was our first wildlife sighting and I was so excited because seeing wildlife from the train is pretty rare during this time of year!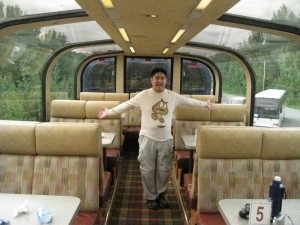 The empty half of the rail car once we dropped people off in Talkeetna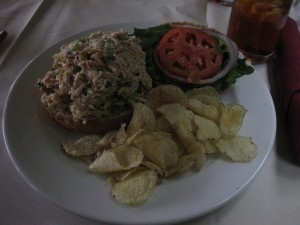 Seafood salad sandwich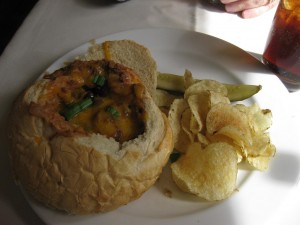 Reindeer chili
The scenery from Talkeetna to Denali was much better! Lots of gorgeous views of rivers, forests, and mountains.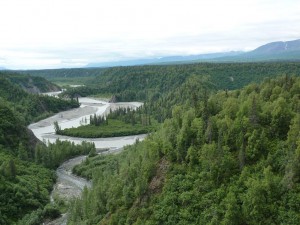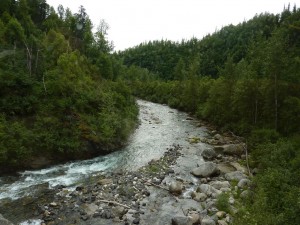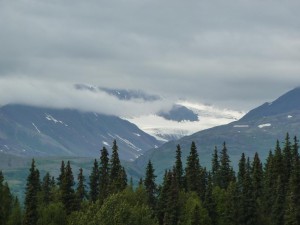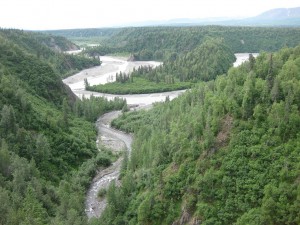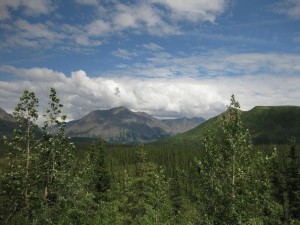 We arrived in Denali at 3:45 pm. The whole train ride was 7.5 hours long. It honestly didn't seem that long. It went by really quickly since we dozed several times during the trip. Upon disembarking the train, several Princess motorcoaches were waiting for us and dropped us off at Denali Princess Wilderness Lodge. Princess handed out our room keys right on the train so when we arrived at the hotel, we didn't have to check in and went straight to our room. We stayed in Room #279. Our room was upstairs and I'm not aware that there was an elevator for our building. The walkway for the 2nd floor is also very narrow and probably hard to fit a wheelchair on it. If you have mobility issues, be sure the request a ground floor room when staying here. Denali Princess is less of a hotel and more like a massive resort made of a collection of buildings, including shops and restaurants. There is a trolley that runs throughout the resort to shuttle people with mobility issues or who don't feel like a walk but you may have to wait awhile for it to come. The bad part about this is you spend a lot of time outdoors, even when walking to other parts of the Lodge so when it was raining, it was a big pain. Denali Princess is also the only hotel in the Denali area with hot tubs!
I was very pleasantly surprised by the room, based on reviews I've read on Cruise Critic. People made it sound very small and shabby and I didn't think it was like that at all. The room was clean, quiet, spacious, and comfortable. The décor was also really cute in keeping with the wilderness/rustic theme. Wi-Fi is only available in the main lobby building so we could not access it from our room. The main lobby building also houses the main gift shop. On the train, they gave us a couple of coupons, including one for a free gift from the gift shop. It's funny because when we arrived, we wondered why EVERYONE had the same Princess Alaska reusable shopping bag and we discovered that was the free gift! It was a very nice bag and we winded up using it at every port to hold all the souvenirs I bought. Four month later, we still use this bag for grocery shopping! LOL! The lobby got very busy in the mornings and evenings. If you plan to do any activities, I highly recommend that you book them before arriving at the hotel because the Activity Desk was crazy the whole time we were there. It seemed like there were 20-25 people in line at all hours that the desk was opened.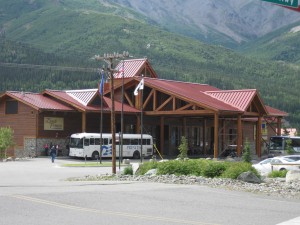 Denali Princess Wilderness Lodge: Main Lobby Building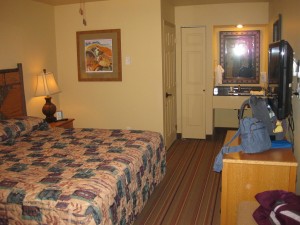 Denali Princess Wilderness Lodge: Our room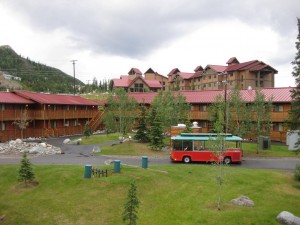 Denali Princess Wilderness Lodge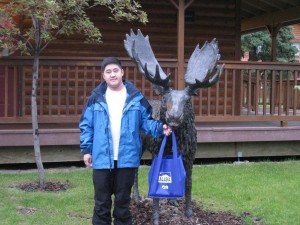 Chris with the free, useful reusable bag
After dropping off our stuff in the room, we crossed the street to the Glitter Gulch area. After spending a couple of days here, I realized Denali Princess had the best location of all the hotels in Denali because it was right across the street from the shops and restaurants of Glitter Gulch. McKinley Chalet Resort (Holland America's hotel) was the next best but it was at the far end of the Glitter Gulch. All the other hotels needed shuttles to Glitter Gulch and aren't walkable.
We had dinner at Denali Park Salmon Bake. Chris had Halibut fish and chips and I had baked salmon. Both were very good! Unfortunately, we had planned on ordering breakfast and lunch boxes for our Denali trip tomorrow but they said they were no longer offering the breakfast boxes and they would only deliver the lunch boxes to our hotel if we ordered at least 6 of them. We decided not to order them and just get both breakfast and lunch at Subway in the morning for convenience.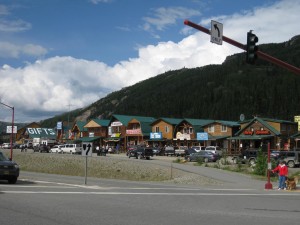 Glitter Gulch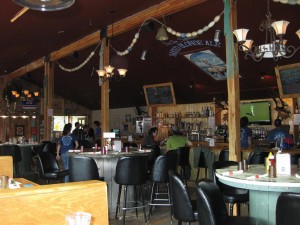 Denali Park Salmon Bake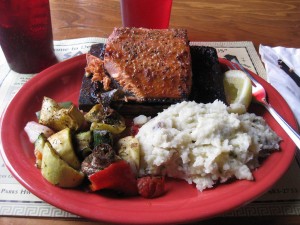 Salmon from Denali Park Salmon Bake
We stopped by a small grocery store to stock up on snacks and drinks, then dropped them off in our room. Then we were off to the Husky Homestead Tour! We booked the tour in advance for $49 per person through their web site. Playing with sled dog puppies was on the top of our "To Do List" for Alaska! The Husky Homestead offers a range of tour times throughout the day and I was very happy that there was a tour in the evening so we could do something fun that first night we arrived in Denali! The Husky Homestead shuttle bus picked us up in front of Denali Princess and it was a 15-minute ride to their dog camp. Husky Homestead and owned and operated by 4-time Iditarod champion Jeff King and his family. Once you hop off the shuttle, the employees hand you a puppy. These are the most adorable puppies I've ever seen! There are plenty to go around and they are of various ages. Some of the puppies were sleepy since it was already evening and feel asleep while being held. Other puppies were howling and giving kisses! Absolutely adorable! Employees take your photo with the puppies and the photos are for sale at the end of the tour. After everyone gets their fill of puppy holding, there is a presentation by a trainer about what the kennel is about and how they train their dogs. We watched them hook up dogs to an ATV for a training run and the dogs all went crazy because they wanted to be chosen to run! This portion of the tour is completely outdoors and the mosquitoes were biting unfortunately. We didn't think of wearing insect repellent and I was bitten on the hand so wear some real bug spray before coming. Afterward, we were ushered into Jeff's trophy room, which is essentially a barn house. Jeff King himself is there to share his stories and experiences from the Iditarod and dog mushing. He is very entertaining, funny, and interesting. Of course, there is an opportunity to purchase souvenirs, including the puppy photo they took of you earlier, and get Jeff's autograph. It was a great start to our stay in Denali! We got back to the hotel around 9:45 pm.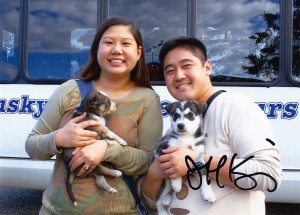 Souvenir photo with Jeff King's autograph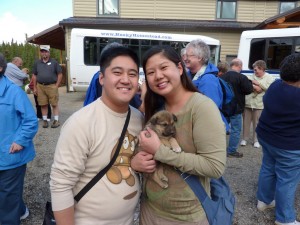 This was my favorite puppy!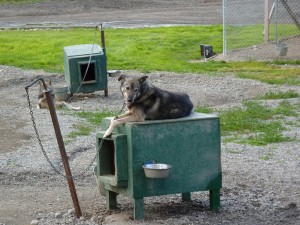 Husky Homestead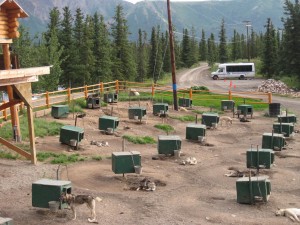 Husky Homestead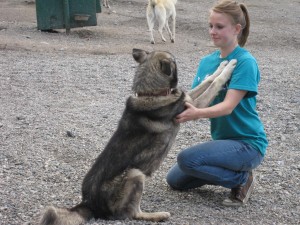 Jeff King's daughter with a champion dog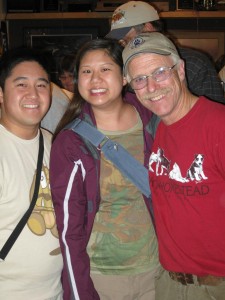 Us with Jeff King
+ See all Anchorage photos and Denali National Park photos
+ Read more about Alaska Cruise 2010