Saturday, July 3, 2010
Denali Princess has a shuttle that stops at the hotel, Wilderness Access Center, Horseshoe Lake Trailhead, and Denali Visitor Center. It's free for cruisetour guests and supposed to cost $5 roundtrip otherwise. Even though we were not cruisetour guests, we were never asked to show proof that we were cruisetour guests nor asked to pay. We were told by one employee that the most they would ask is to see the "packet" that we got on the train and that should be enough to get on free but I can't vouch for that. If you stay at Denali Princess outside of a cruisetour like we did, you may or may not have the same experience so just fair warning that you may have to pay $5 roundtrip. The shuttle starts running at 7 am and runs every hour. We wanted to be on the first shuttle out that morning so we planned ahead to make sure we were ready. We went to Subway and got breakfast and lunch to go. Then, we boarded first Princess shuttle at 7 am and arrived at the Wilderness Access Center at 7:10 am.
Most tourists, especially cruise passengers, take the one of the tour buses (Natural History Tour or Tundra Wilderness Tour) into Denali National Park. After reading a lot on Cruise Critic's Alaska Board, it was recommended to go into the farthest into the park that you can to have the most opportunities to see wildlife. The Natural History Tour only goes 17 miles into the park and shouldn't even be considered. After reading about the different shuttle buses offered at Denali National Park, I decided to book the shuttle bus that goes to Eielson Visitors Center for $31.50 per person through ReserveDenali.com. The Eielson Shuttle Bus goes 66 miles into the park, which is further than the Tundra Wilderness Tour (53 miles) and, and is a lot cheaper (TWT costs around $90/person). I also read that the free lunch included with TWT is pretty much inedible. LOL! Subway is a cheap and convenient replacement!
I booked Eielson shuttle tickets for 8:30 am because I was getting conflicting times on when the shuttle would start running so we were obviously very early. We got on the standby list for the 7:30 am Eielson shuttle and were able to get on but we had the seat over the rear wheel well. It was a bit uncomfortable but I was glad we could get on!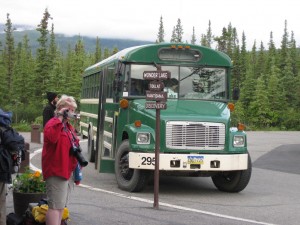 Eielson Shuttle Bus at the Wilderness Access Center
It took almost 5 hours to reach the Eielson Visitor's Center but it went by so quickly! Right away, we were treated to a moose near the road! The park was gorgeous and there were several bathroom stops along the way. Whenever someone spotted wildlife, they would yell "STOP!" to the driver and the driver would stop the bus so everyone could look and take photos, if possible. I heard from past reports that some people are not very polite about taking turns and letting others view out their window but we had good buses. Denali National Park is also where a digital camera with a high optical zoom and good binoculars were really important. Many times, the wildlife looks just like a speck to the naked eye but you can really seem them upclose with binoculars and we got some great photos too without lugging around a huge SLR camera.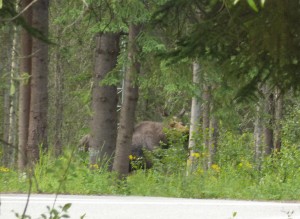 Moose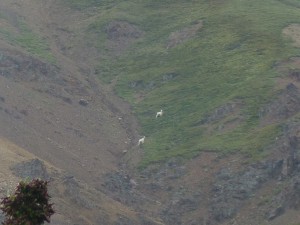 Dall Sheep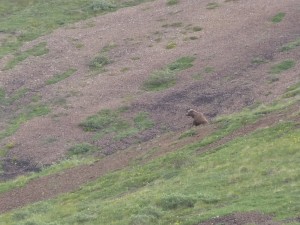 Grizzly Bear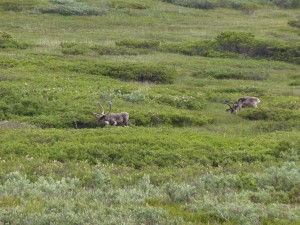 Caribou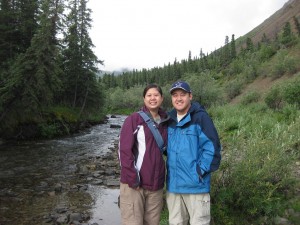 A river next to one of the stops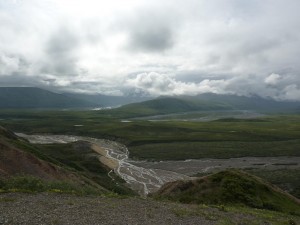 Gorgeous view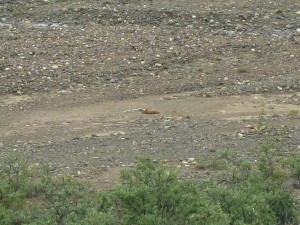 Wolf cub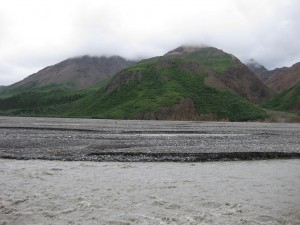 River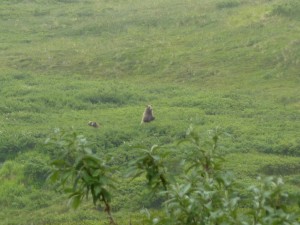 Grizzly bear mama & 2 cubs
It drizzled the entire day but was very rainy when we arrived at the Eielson Visitor's Center. We ate our Subway lunch inside at the tables, put on our rain pants, and then took the ranger-led Eielson Stroll. It was very rainy and windy the whole time so that already made this walk uncomfortable. A group of 4 actually aborted halfway through because they were not dressed properly. I found the Stroll to be very boring. The ranger talked about animals but A LOT about plants, which were not interesting to me. I think the talk was geared towards kids because it had an Olympic theme to it and it seemed a bit silly because there were no young kids in our tour. I would not recommend it personally. Instead, I would have skipped the Eielson Stroll and left the Visitor's Center a little earlier. I heard great comments about the trail to Horseshoe Lake but by the way time we returned to the park entrance, it was pretty late and we had dinner reservations to get to but had we left the Visitor's Center earlier, we may have had time to hike the Horseshoe Lake Trail. The view of Mount McKinley was completedly socked in by fog so we are in the 70% club of people who didn't see Mt. McKinley. We spent about 2 hours at the Eielson Visitor Center.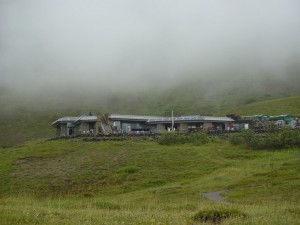 Eielson Visitor Center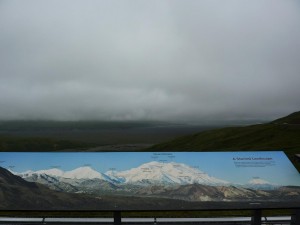 (Lack of) view of Mt. McKinley from Eielson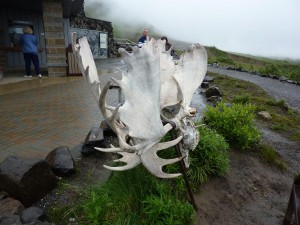 Skulls & horns of 2 moose that locked horns and died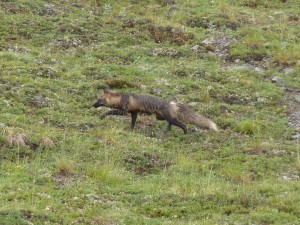 Red Fox
We boarded another bus back to the Park Entrance and got better seats this time, though again we didn't have a ton of choice because there were only a few seats left. The ride back was quicker because we didn't see as much wildlife so we didn't stop as much. During the entire bus trip, we saw a grizzly bear, mama grizzly bear with 2 cubs twice, numerous dall sheep, wolf, 3 wolf pups, red fox, ground squirrel, snowshoe hare, moose, and caribou! We were thrilled to see so much wildlife! Once we were on the cruise, we swapped stories with cruisetour passengers and found that we saw the most out of everyone since they took the park tours, instead of the shuttles. It was especially sad to hear from those that took the Natural History Tour because they did not seen anything and didn't enjoy Denali at all when I thought Denali was SO AMAZING! Once we got back to the Wilderness Access Center, we took the Princess shuttle back to Denali Princess.
We had dinner at the King Salmon Restaurant in Denali Princess. (By the way, you don't have to be a hotel guest to eat at any of the restaurants there.) It has the atmosphere of a fancy, upscale restaurant with servers in tuxedos but all the diners dressed casually since the restaurant understands you are coming back from a day at a National Park. I ordered the King Crab Legs and it was the BEST crab legs I have ever had in my life!! SO DELICIOUS!! The meat was so fresh and buttery. My mouth is watering just talking about it! Chris had the salmon pasta dish and he really liked it too. For dessert, we had Alaskan blueberry ice cream and it was yummy! The service was wonderful! The atmosphere was wonderful! I highly recommend this restaurant! Reservations are also highly recommended.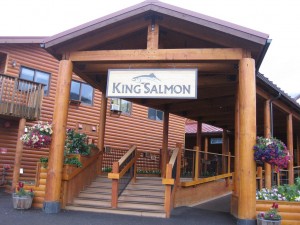 King Salmon Restaurant
Alaskan King Crab Legs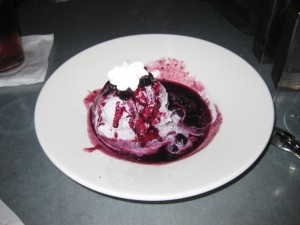 Alaskan Blueberry Ice Cream
I'm really glad that I had crab legs, salmon, and halibut before our cruise. During our cruise, we found that we did not have time to eat lunch in port because of our excursion schedule. If you have a lot of excursions booked, make sure you eat all your "must eats" ahead of time during your land portion!
+ See all Denali National Park photos
+ Read more about Alaska Cruise 2010