Sunday, July 4, 2010
We had whitewater rafting scheduled for the morning and we wouldn't be returning until after check-out time so we woke up early to pack our bags and check out of Denali Princess. The lobby had free luggage storage in a locked room so we left our bags with there. We tipped the attendant a few dollars when we checked our bags and when we picked them up. I don't recommend checking our free reusable shopping bag because when I peeked into the luggage room, it was filled with a sea of the same shopping bag and if it got separated from the rest of your luggage, it would be a nightmare to find!
We walked across the street to Subway again, got breakfast, and ate it in front of the hotel while waiting for the whitewater rafting company to pick us up. We booked the Wilderness Run rafting excursion on the Nenana River through Aramark Denali Park Resorts. They offer several rafting options but we picked this one because Chris cannot swim. The Wilderness Run has been described by others as a "float trip" pretty much so we thought we'd see some scenery and not have too much excitement. It usually costs $90 per person but we used a 2-for-1 coupon from the Alaska TourSaver book and saved $90!
When the driver arrived to pick us up at 7:30 am, he informed us that the Wilderness Run was canceled because we were the ONLY ones who booked it. He offered us spots on the Canyon Run instead, which is up to Class IV whitewater rafting. We were very hesitant to do this. What if Chris fell off and drowned?? The driver sold us that about 1 person in 1000 go overboard and only because they were not following instructions. To my astonishment, Chris said he would go! We stopped by one other hotel to pick up 2 more people before arriving at their office behind McKinley Chalet Resort. At the office, 4 others arrived from a separate van so we had a total of 8 people, a full raft. We stored our stuff at the office and were led on to a deck where we were fitted with our dry suits and employees helped us put them on. The dry suits keep all of your clothes completely dry. My face, neck, and the part of my ponytail sticking out of the cap got wet and that was it! Then, our guide (who I can't remember his name but I recall he is from South Africa) gave us through a safety and instructional talk. The neat thing about this rafting trip is that the guide does all the paddling. All we have to do is hold on to a rope and lean when he tells us to lean. They also have a safety guide, Jeff, following us the entire time in a kayak so if someone does fall out, Jeff will quickly reach us to help.
From the deck, we walked out to the river to the raft. Our guide let us choose if we wanted to sit in the front or back and we chose front. From there, he told us in what order to sit in by our height/weight. The trip was a BLAST and SUPER FUN!!! There were a ton of exciting rapids and then parts of calm river where we learned about the river and the surrounding area. It was like an educational roller coaster! Despite being splashed in the face and having water drench his dry suit, Chris loved it too! The weather was cold and drizzly but we were pretty warm and dry in our suits! Jeff was an amazing kayaker too! He went into rapids that were to dangerous for our raft and sometimes he came back out upside down but then he'd just flip right back over! Really cool!! If you do this excursion, make sure you go to the restroom before getting suited up because it's a long ride. One of raftmates had to use the bathroom really bad and we pulled over into a forest to let her pee. Poor woman! When we reached the end of the river, we pulled into shore and an old school-type bus was waiting for us. The driver, Becky, bought us all hot chocolate out of her own pocket, which was much appreciated (and we did tip her well to show it)! They helped us pull our dry suits down half way and tied them around our waist so it would be more comfortable on the bus. Then we were driven back to the office. From there, we had the option of buying awesome photos of us that Becky took from the shoreline. A CD with all 12 digital photos, extra Denali stock photos, and a waiver that allows you to reprint them cost $55 or we could also buy individual prints for $20 each. I think the prints were 5×7 but not sure and I don't believe they came with the photographer's copyright waiver so you're not supposed to reprint them. We bought the CD and was very happy we did! The Canyon Run was such a fun experience, even for Chris, who was very happy that we did it!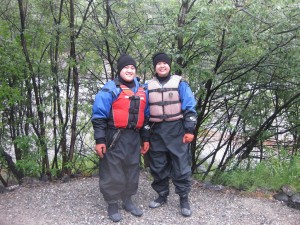 Rocking our dry suits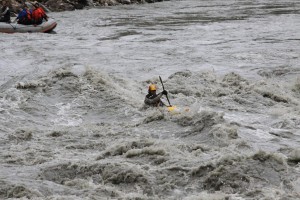 Our safety guide Jeff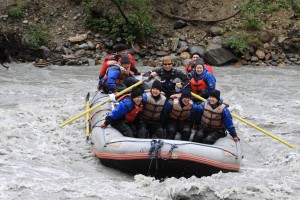 Canyon Run Whitewater Rafting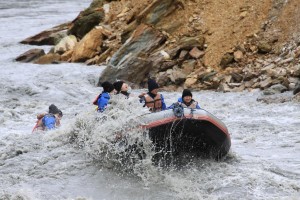 Canyon Run Whitewater Rafting
We were dropped off at our hotel around noon. We got a tip from a couple of Glitter Gulch shop employees that Prospector's Pizza served really good pizza and that a lot of the locals and employees ate there. Prospector's Pizza might be a bit of a hike if you have mobility issues and staying at Denali Princess Wilderness Lodge because it's on the far left end of Glitter Gulch (across from McKinley Chalets) but if you can get over there, you shall be rewarded! The restaurant reminded me of a hunting lodge with trophy heads and fur pelts decorating the place. They served Alaskan beer and of course pizza! As travelers, we love trying local foods even if they might seem odd or bizarre. After looking at the menu, we decided to order The Lower 48 It Ain't Pizza, which included Alaskan reindeer sausage, ground elk, roasted peppers, tomato sauce, and buffalo mozzarella. It turned out to be really good and not odd at all. It tasted a lot like sausage and ground beef pizza! In case you're not as brave, they also have the usual pizza toppings as well!
After lunch, we headed back to Denali Princess and await our motorcoach back to Anchorage. The lobby was very crowded and hectic that afternoon as there were many guests waiting to take buses to different places, including Whittier, Anchorage, and Princess' other hotel, Mt. McKinley Princess. The transportation coordinators would come into the lobby and yell your bus number but sometimes they were hard to hear with all the people in the lobby so Chris would keep going outside just to make sure our bus hadn't arrived already. We departed around 2 pm. The motorcoach back to Anchorage was provided by Park Connection and it was a really comfortable coach with a working restroom.
We made a quick stop at Mt. McKinley Princess to pick up additional people. The driver gave us some time to use the restroom and check out the gift shop. I'm glad we got to see this hotel since it was the other resort that I had considered when staying in Denali. It reminded me of summer camp because it was much more spread out with really cabin-like buildings. The cruisetours spend 1-2 nights in Denali Princess and 1 night in Mt. McKinley Princess. The rail package I booked also had the option of spending one night at Mt. McKinely Princess as well. I'm really glad we decided to stick with both nights at Denali Princess because Mt. McKinley Princess really is in the middle of nowhere, as some CruiseCritic members have reported. It's up on a hill by itself. The nice part about that is it feels very remote and natural. Some people say that it's more likely you'll see Mt. McKinley if you stay here too.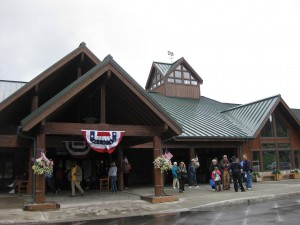 Mt. McKinley Princess Wilderness Lodge
Taking the motorcoach back to Anchorage, instead of the rail again, was cool because we got to really drive through some of the small towns and get a different perspective. On the train, it felt more like you were driving PASS towns and on the motorcoach, it felt more like you were driving them THROUGH them.
We arrived at the Egan Convention Center in Anchorage around 7:30 pm and walked back to the Historic Anchorage Hotel, where we stayed at on our first night in Anchorage. As I mentioned in my Day 1 post, we were upgraded to a mini-suite facing the alley and it was a lot larger and much quieter!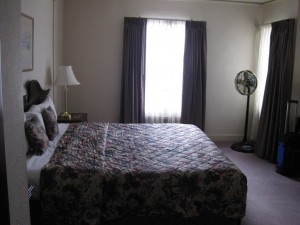 Historic Anchorage Hotel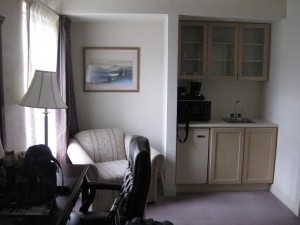 Historic Anchorage Hotel
On that first night in Anchorage, we had walked by Peratrovich Park and saw street vendors selling reindeer sausage. We decided to skip eating dinner at a sit-down restaurant and have us some reindeer sausage!! The sausages are served just like hot dogs from a hot dog cart. You have the options of the usual hot dog condiments along with jalapenos, cheese, and onions. If you get the combo, it comes with a soda and your choice of Tim's Potato Chips! They were super yummy and made an excellent, casual meal in the park! It tasted a lot like a bratwurst to me. I wish I could have another one right now!!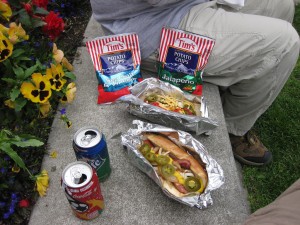 Reindeer sausages in Peratrovich Park
By the way, in case anyone is interested, this day was the 4th of July. Anchorage has a 4th of July Parade but it was held at 11 am so we missed it. We asked the receptionist if there would be any fireworks in the area and she said there would be some around midnight or later but they aren't as neat because it isn't dark. Unfortunately, we had a train to catch in the morning and we were pretty beat so we didn't stay up to watch them but now that I think of it, fireworks in daylight might be an interesting experience!
+ See all Anchorage photos and Denali National Park photos
+ Read more about Alaska Cruise 2010