Monday, July 5, 2010
We had an early breakfast at the hotel again and checked out of our room. We each had a large suitcase and rolling carry-on suitcase so we decided to take a taxi to the train station, instead of walking. The taxi ride was $5.
We booked the Glacier Discovery train to Whittier directly through Alaska Railroad for $65 per person. (There is no GoldStar option on this train.) Upon arriving at the station, we returned to the white tent for cruise passengers and checked all of our suitcases in with Princess, who took them to the ship and we didn't see them again until they appeared in front of room that evening. We only kept a backpack and my purse because again, you can only bring onboard the train what would fit under an airline seat. After checking our bags, we went into the station and had to check-in with Alaska Railroad, which requires you to check in by 9 am for a 10 am departure. This meant waiting for over an hour inside a busy train station lobby without enough seating. If you need to sit during this wait, I suggest you arrive early to beat the crowds. Otherwise, you might find yourself standing for a good portion of an hour unless someone is nice enough to give up their seats. The good news for me was that they had a gift shop and that occupied me for 15 minutes. My friend is a huge train buff so he was thrilled I brought him back an Alaska Railroad souvenir since the rail line is famous.
They make an annoucement when the train is ready to board. I think they boarded by rail car but I'm not sure. We were in rail car A and in our rail car, all the passengers got seats upstairs. The seats are assigned so you don't get to choose which way you face or which table you sit at so there is no incentive to board early in this case. There are large windows but the ceiling isn't glass like on the Princess rail cars. I personally didn't find this train ride very scenic, even though I've read reviews that it was. However, I was very tired at this point and did sleep through a portion of the ride. If I did this again, I would probably take a motorcoach to Whittier, instead of the train, so the ride would be faster. If I had to choose between taking the train to Denali or taking it to Whittier, I would definitely take it to Denali. I enjoyed that train ride much more. Also, if we could have gotten to Whittier earlier, it would have been nice to be able to walk around and check out Whittier itself, which we didn't get to do.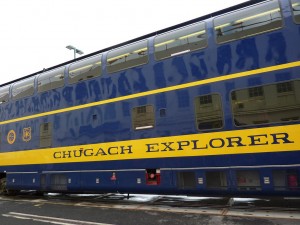 Alaska Railroad rail car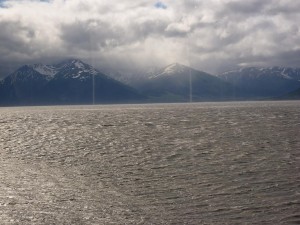 View from our train ride to Whittier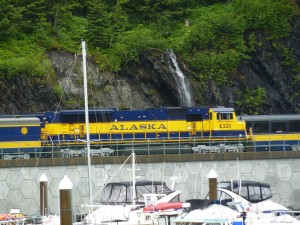 Alaska Railroad Train in Whittier
When we pulled through the tunnel, it was pouring rain in Whittier. Luckily, we packed our rain pants in our backpack so we put them on while still on the train. Other passengers were not so lucky and got drenched right when we disembarked. It pays to be prepared!! It was something else to come out of the tunnel on the train and see Island Princess docked in Whittier! "That's our ship!!" I squeeled with excitement like a little girl!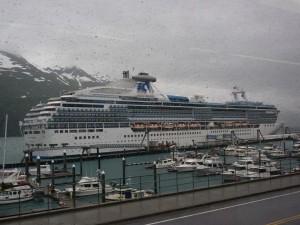 Island Princess in Whittier
We walked off the train and right there was a rep from Major Marine. We checked in with her, received our boarding passes, and got in line for our Prince William Sound cruise.
There are 3 main operators of Prince William Sound cruises: 26 Glaciers, Prince William Sound Glacier Cruises, and Major Marine. Prince William Sound Glacier Cruises offer 6-hour and 4-hour cruises. We could not make the 6-hour cruise due to the train schedule and they don't offer the 4-hour cruise on Monday, which was when we were in Whittier, so they were out. Between 26 Glaciers and Major Marine, we chose Major Marine because they got a review from "Frommer's Alaska". Frommer's basically said that 26 Glaciers rushes through the cruise in order to check off all 26 glaciers, whereas Major Marine only goes to 10 glaciers but stops to watch the glaciers calve. Food is pretty important to us. The buffet offered by Major Marine was also rated highly, whereas 26 Glaciers offers fish or chicken baskets. Lastly, the Northern Lights coupon book offers a 2-for-1 discount on Major Marine. (They have a coupon for Prince William Sound Glacier Cruises too.) With the coupon, it cost us $156 for 2 adults, including the lunch buffet. Just to be clear, I'm not ragging on 26 Glaciers. Many, many people on Cruise Critic have taken 26 Glaciers and were very happy. I'm sure if you take any of these 3 cruises, you'll be happy but we had to choose one and went with Major Marine. Even if we could have gone on the 6-hour Prince William Sound Glacier Cruises cruise, our 4-hour Major Marine cruise seemed like the perfect length and I'm not sure if I would have wanted it to be 2 hours longer.
As I mentioned, it was pouring rain. I think passengers from both 26 Glaciers and Major Marine were lined up under the same awning as we waited to board the ships. Our boarding passes had the table we were assigned to so when we boarded the ship, we found our table. The tables are really close together. Our table was near the aft of the ship and we sat with another couple, who was part of larger group that were seated in tables behind us.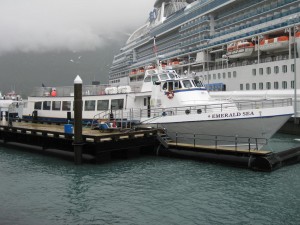 M/V Emerald Sea docked next to Island Princess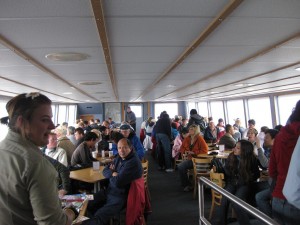 Inside the Major Marine Prince William Sound cruise ship; Chugach National Forest Ranger is on the far left
It was cold, rainy, and windy the entire cruise. While this type of weather isn't very fun, the ranger told us it was perfect conditions for calving glaciers! We braved the elements and went out on the top deck in our waterproof jackets and rain pants at each glacier we stopped at and whenever wildlife was spotted! We were some of the few who did this so the deck was never crowded and we were able to take some wonderful photos. Had the weather been nice and everyone outside, I can imagine the top deck would get very crowded.
Once we saw our first glacier, they bought a huge chunk onboard and also offered glacier ice cocktails and iced tea! During the cruise, we saw several glaciers calve up close, whales, seals, kittiwakes, bald eagles, and sea otters! The sea otters and seeing the glaciers calve were my favorite moments! The buffet lunch was surprisingly delicious! We didn't expect much but the food was really good. It included Alaska salmon, prime rib, rice pilaf, salad, sourdough bread, cheesecake, carrot cake, brownies, jello, and fruit. Coffee, hot tea, water, and 1 soft drink were complimentary.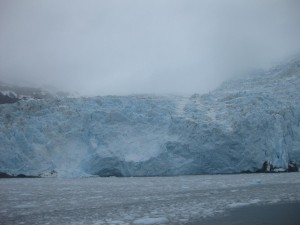 Blackstone Glacier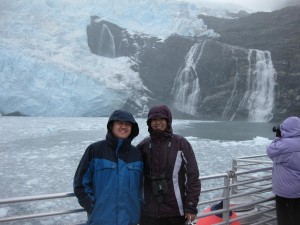 Blackstone Glacier
Glacier Iced Tea
Beloit Glacier calving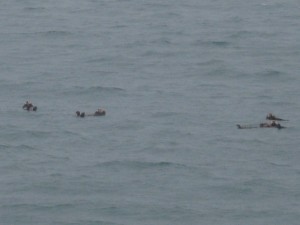 Sea otters in Blackstone Bay
Whale tail in Blackstone Bay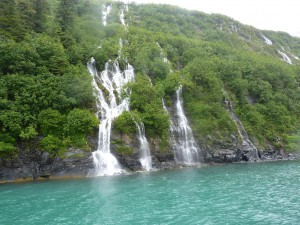 Weather clearing up in Blackstone Bay
As we pulled into Whittier, the weather started to clear up a little bit. After disembarking the Emerald Sea, we literally walked next door to check-in at the Island Princess. It was about 6:30 pm by then and there was no line. I picked up a copy of the Destination Alaska coupon book on the way to the check-in desk. (Make sure you pick up a copy! I'm a souvenir fiend and loved the discounts and freebies I got from it!) We went straight to our room and our luggage was already there. We didn't have much time to do anything before the Muster Drill, which was at 7:15 pm. We had to bring our lifejackets but did not have to wear them. We had dinner after the drill and then spent the evening unpacking. It was actually a little dark when we went to bed! That evening, we had rough seas. It was rocking and rolling all night but I always come prepared.
+ See all Anchorage photos and Whittier photos
+ Read more about Alaska Cruise 2010