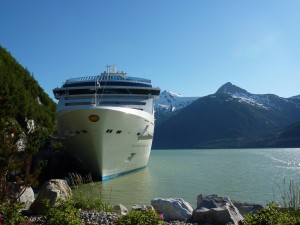 I find it easier to review my experience on the ship in one entry, then breaking it up by day. So I'm going to go ahead and review Island Princess now…
Decisions, Decisions
If this is your first Alaska cruise, I would highly recommend Princess Cruises over any other cruise line in Alaska because their ships go to both Hubbard Glacier and Glacier Bay. We had originally booked Celebrity Millennium for this trip but switched to Princess after reading the Cruise Critic Alaska Forums. Glacier Bay and Hubbard Glacier are widely considered the "best" scenic cruising in Alaska and Princess goes to both in one cruise! If anything, at least pick an itinerary that goes to Glacier Bay. It was fantastic and you can read about it on my Glacier Bay entry.
So Diamond, Coral, or Island Princess? This is the question for most Alaska cruisers who have picked Princess Cruises for their Alaska trip. I asked this question on Cruise Critic when planning my trip. Basically, you can't go wrong with any of these ships. Diamond Princess is a bit larger. Coral and Island Princess, which are sister ships, are smaller and more narrow to fit through the Panama Canal. Their ship plans are nearly identical. During the 2010 Alaska cruise season, Island Princess sailed on Mondays, whereas Diamond and Coral Princess sailed on Saturdays. We winded up choosing Island Princess because the airfare was slightly cheaper for those dates than for sailing on the Saturday before.
I also highly recommend a balcony in Alaska for the scenic cruising days. It is a must!! We would not see the fantastic views and taken such good photos without a balcony at Hubbard Glacier and Glacier Bay! If you are traveling southbound as we did, you will want a port side balcony because of Glacier Bay. I'm not sure if it is the same for northbound cruises, so check with the folks on the Cruise Critic Alaska Forums.
If you're booking a balcony cabin on Coral or Island Princess, you should be aware that some balconies are not fully covered and I recommend that you make sure your balcony is covered. It was windy and rainy at Hubbard Glacier. When we looked down on the other balconies, the uncovered balconies were empty and when people did go out on them, they didn't stay long. This includes the corner bump cabins too. Since they stick out, they were not protected from the wind and rain either. So how do you pick the right balcony cabin? Cruise Critic member Tom O. created this awesome web site that maps out Coral & Island Princess balconies! Thanks, Tom O.!!
On to the meat of the review…
Embarkation/Disembarkation
As I mentioned in my Day 5 post, embarkation was a breeze by the time we arrived. There was no line and the process was quick and painless. There wasn't any fan fare when we got onboard. (On Disney, there is a live band in the Atrium and staff members are lined up at the door. They announce "Welcome to the Low Family!!!" and all staff members cheer.) There wasn't even any staff members to welcome us or ask if we need directions. We were basically on our own. This is the first time I sailed Princess so I'm not sure if this experience is typical since we were boarding a little later than most people but I still think it would have been nice if the staff was more welcoming, even just leaving one person to welcome passengers and ask if they need help.
Disembarkation itself was painless but picking up our luggage was not. I'll spare the gory details for the Disembarkation Day post but basically, another passenger took one our suitcases by mistake. The Princess staff was very friendly and tried to help but there wasn't much she could do since it was already gone. She had us fill out a form for our missing luggage. What I think Princess should do is check the luggage tags of everyone leaving. The Princess luggage tag is already on the suitcases so as people exit the terminal, just ask the passenger's name and make sure it matches that tag, (I'm sorry to say) especially on a cruise like this where many of the passengers are older. (This old lady mistook my orange suitcase for her RED one! And yes, we know she is old because we called the phone number on her bag and got her voicemail.) Princess did give us a call at home the next day to confirm that we were reunited with our missing luggage so that was nice that they followed up.
Room
We booked a BH balcony guarantee and winded up with a BB balcony. We were assigned a room under the Lotus Pool. I've read on Cruise Critic that the crew moves pool furniture around in the early morning and it sounds like a stampede of elephants so I requested to have our room switched to A620, which is on the port side (recommended by CCers for southbound cruises) and under the Salon & Spa. The only time there was noise was around 11 pm one night for about an hour. It sounded very squeaky, like they were cleaning lots of glass.
The room was a bit smaller than what we are used to on Disney but I think they did a great job in using the space. (For example, there is no sofa or large coffee table in the way.) I LOVED the closet! It was very large and open with no doors. I think it really maximized the space. There is also a wall of shelves and a flat-screen TV. The bed was very firm, as people have reported, but we found it very comfortable and didn't need an egg crate. Our room steward was wonderful! She accommodated all our requests and we didn't have any problems with her. There were little things on Princess that we loved, like chocolates every night, robes, and a free reusable shopping bag in our room. (The one we got at Denali Princess was bigger.) I loved that they had a luggage mat spread out on the bed when we arrived so we could throw our luggage on the bed without worrying about getting it dirty! So thoughtful! It was tucked under the bed after the first day and we rolled it back out the last night for packing! The refrigerator was also much better at keeping and making drinks cold than the ones we have had on other cruise lines. The balcony was a good size. Our cabin was only 2 away from the aft bump and I was worried about not seeing around it but it wasn't an issue at all. I couldn't see the back of the ship but the wildlife spotting and glaciers were not THAT close to the ship so we could see everything fine, including whales in Glacier Bay!!
Chris had to check in with work daily so his company bought us an internet package. Surprisingly, the wifi in the room was super fast! By the way, if you plan to buy an internet package, buy it before your cruise and you'll get a ton of extra minutes.
Chris needed to check his work e-mail throughout  the cruise so his company pre-paided for the 250-minute internet package before  our cruise and we got an additional 60 minutes free. It's a very good deal to pre-pay before your cruise if you know you're going to need an internet package. We checked our work and personal e-mail every day  (sometimes more than once a day) along with the weather each night before we got into a port. Surprisingly, the wireless internet in the  room was a lot faster than the computers in the Internet Cafe but you  need to go to the Internet Cafe to print. In general, the internet was a lot faster than we have experienced on other cruise lines. We ordered a lot of minutes because we thought the internet would be really slow and thus take more time but  we winded up having 89 minutes left out of 310 minutes.
My biggest complaint about the room is the shower. It's tiny. In order to shampoo, condition, and soap without water hitting me, I had to turn the shower off. The shower curtain is also the kind that clings to you and it attacked me constantly. (I recently heard that clipping clothespins to the bottom of the curtain can weigh it down enough so that it doesn't attack you. I had clothespins with me and didn't know this! I'll have to try that next time.) Either way, once the steam started building in the bathroom, the curtain would take up half the shower space. I think Princess should do a better job of weighing the curtain down.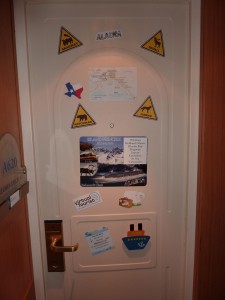 My cabin door decorations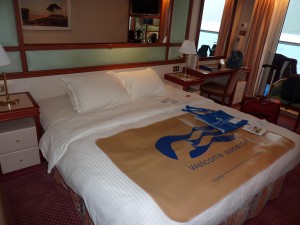 Island Princess Cabin A620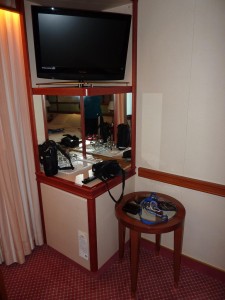 Flat-screen TV & refridgerator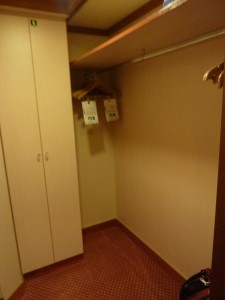 Large closet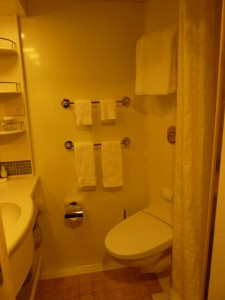 Bathroom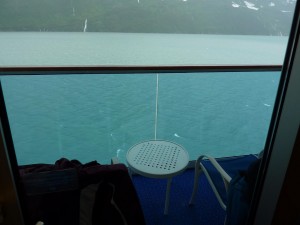 Balcony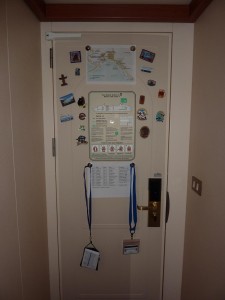 Back of the Cabin Door where I hung up a map, our itinerary, our lanyards, and magnets that I collected at each port
Food
We had breakfast in the buffet every morning. The selection was probably the best we have seen on a cruise. They even had congee (Chinese rice porridge) and rice!! I love to eat rice with corned beef hash and happily ate this every day, in addition to alternating between eggs, bacon, and toast. We used the omelette station on sea days, as it was too long of a wait on port days. The OJ was watered down, like on other cruises. Overall, we were very happy with breakfast!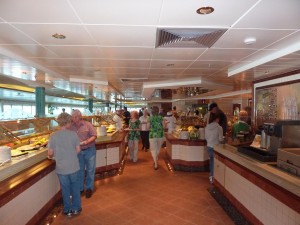 Horizon Court Breakfast Buffet
We had lunch once in the Main Dining Room and I thought it was horrible. I ordered a Philly Cheesesteak sandwich and the cheese they used was not Cheez Whiz nor regular cheese. It was some powdered mix and it was disgusting, lump mess. It was the most disappointing thing I ate onboard. We also were not thrilled with the lunch buffet. There wasn't anything that was particularly fabulous. After that, we just got burgers or pizza from The Grill and Pizzeria by the pool for lunch. They were VERY good! The pizza crust is so crispy! We also had afternoon tea on the last day at sea. The waiters brought around trays of sandwiches, scones, cookies, and desserts. They were good but not very filling. I would feel guilty for taking too many because the trays emptied quickly. If they had enough food, it didn't seem like they were bringing it around fast enough.
We had all of our dinners in the Main Dining Room and we had Anytime Dining. On the second night (first formal night), we tried to eat at 7 pm and we had to wait for 35 minutes. After that night, we tried to have get there between 6-6:30 pm and didn't have to wait. The general experience I was finding from others that coming between 7-7:30 pm resulted in a 20-30 minute wait so get there before 6:30 pm or after 8 pm for Anytime Dining to avoid a wait.
MY BIGGEST COMPLAINT OF THE WHOLE CRUISE: I was very unhappy about the fact that traditional seating folks could go to the Anytime Dining Room. It made it the Anytime Dining Room much more crowded and made us wait longer to be seated than it should have been. There were several people who we talked to that had to do Anytime Dining because they couldn't get a slot in Traditional Dining and those Traditional Dining folks went to Anytime! When I sailed with Royal Caribbean, they verified your room number before seating you in Anytime Dining. I think Princess should have done the same on our cruise (and I told them so much in my survey). If Traditional folks miss their seating, they should go to the buffet. It's not fair to those of us in Anytime Dining that they get our option but we don't get theirs.
We were flexible in sharing a table and shared a table every night, except for one. We were usually put at tables of 8 or 10. It was nice chatting with other cruisers about their experiences. (If I mention "I heard from other cruisers", it was probably someone we met during dinner.) Also, don't believe anyone who says people don't dress up in Alaska. I'm sure it's different from cruise to cruise but everyone was dressed up for formal night (dresses and suits, not tuxes) that were in the Main Dining Rooms. If you don't want to dress up, plan to eat at the buffet.
The food in the Main Dining Room was fabulous! I loved the variety and choices. I enjoyed every dish I had! I also loved having cheese for dessert, which was a new experience for me! I absolutely hated the iced tea though. It was always very bitter and strong, even when I drank half of it and diluted the rest with water! I winded up drinking water or soda after the first couple of nights. We had different waiters every night. Some were great and made you feel really taken care of, while others we were lucky if they told us their name. For the most part, the service was great! On one night, a waiter walked around a serenaded the dining room in Spanish and of course, we had the Baked Alaska Parade! On two nights, we also brought our own sodas that we bought in port into the Dining Room and we did not have any problems. The waiters didn't make us feel bad or anything.
Bordeaux Dining Room for Anytime Dining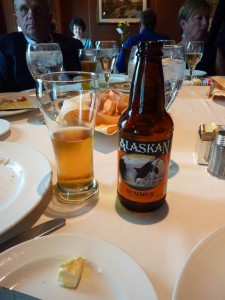 Alaskan Summer Ale served in the dining room & bars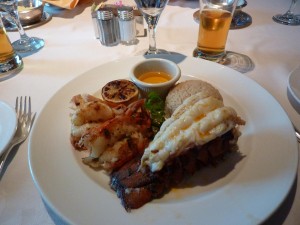 The ever favorite, Lobster Night!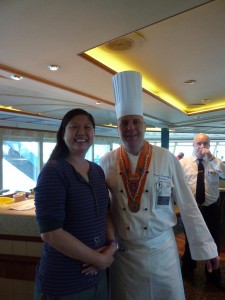 Executive Sous Chef Dirk
Entertainment
We're really not the type to see shows unless they involve Disney characters but we decided to see Comedian Kevin Hughes after hearing rave reviews about his first show during dinner. We absolutely loved him! Chris had to bring tissues to the show because he cried from laughing so much! He was hilarious and we saw 2 of his shows!
We also watched magicians Kalin and Jinger. I thought their bigger acts were good and one was particularly impressive but some of the smaller acts, like his slight of hand tricks with balls, were not very good. We pretended to be judges on "America's Got Talent" and we would have definitely buzzed them a few times. =) Still it was worth seeing the show.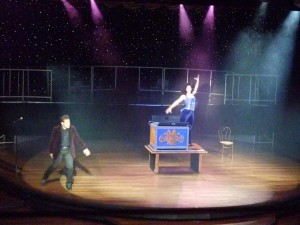 Kalin & Jinger's Magic Show
Ship
Island Princess celebrated her 7th birthday during our last sea day! (They had a birthday cake for her at the Dessert Buffet.) I didn't notice anything in the public areas that showed her age, unlike when I was on Royal Caribbean's Voyager of the Seas. I never really felt like the ship was crowded, except when waiting for a table for dinner in front of the dining room and at the Lotus Pool on the last sea day. However, I like the Royal Promenade that is on the Royal Caribbean ships better than the layout of the shops and lobby area of the Island Princess, where everything is on multiple floors, and you have to go all the way up to the pool to get a snack. It was really annoying trying to go between Decks 5-7 (the most popular public areas) when they closed the Atrium staircase for photos!
We signed up for the Ultimate Ship Tour and were really excited to be the first ones to sign up on Embarkation Day. However, they called us the evening before our last sea day when the tour was scheduled and they told us it was canceled because we were the ONLY people who signed up for it! =( Very disappointing. I can't believe we're the only ones out of almost 2,000 passengers who signed up!!!! Grrr…hopefully, we'll get to do it next time.
Since we're sailing Alaska after all, people often ask about the pools and hot tubs. The Lotus Pool, which has 2 hot tubs, is indoors and was opened to all ages during the entire cruise. The pool was not heated but it wasn't too cold and you get used to it really quickly. Ironically, the Lido Pool is outdoors and is heated. However, the hot tubs by the Lido Pool were often closed due to the weather and the Lido Pool was pretty much deserted, except for the last sea day when it was warmer as we approached Vancouver.
The onboard shopping was what I would expect. There was a store that sold Princess merchandise and souvenirs, one that sold higher end items, and another one that sold just jewelry and watches near the casino. They had a small selection of Alaska souvenirs. The prices were higher than what we could find at the ports but it was good to know they were there in case you forgot to buy something for Aunt Ethel. They also had shirts and sweatshirts for Hubbard Glacier, Glacier Bay, and every port we stopped at.
The casino was pretty empty most nights. I paid video poker briefly a couple of nights and found it very fun! The casino was very clean and a good size. Also, if you need cash, you can get cash without a fee by putting cash on to your casino account and then take it to the cashier to cash out.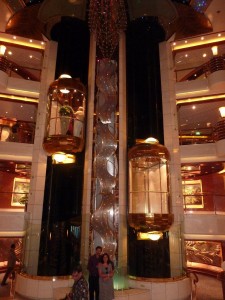 Lobby Elevators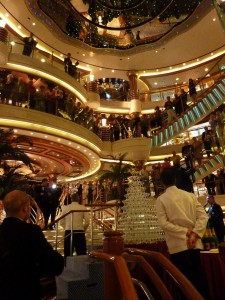 Passengers in the Atrium waiting for the Champagne Waterfall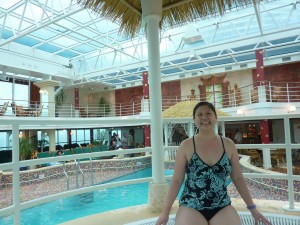 Enjoying the hot tub at the Lotus Pool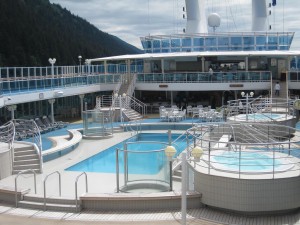 Lido Deck
Overall, I'd love to sail Island Princess again! I'm actually considering sailing her through the Panama Canal in the future. We were also pleased with Princess Cruises and have already booked another sailing for April 2011! If you enjoy your cruise at all, make sure you buy a Future Cruise Credit while onboard. You pay $100 per person as a deposit for a future cruise (you don't have to choose what or when) and you can use it up to 4 years. If you don't use it after 4 years, Princess will send you a full refund. The benefit of buying an FCC is that the deposit is generally less than what you would pay to book and you will get Onboard Credit (OBC) for the future cruise. The amount depends on the length of the cruise you wind up booking.
+ See all Island Princess photos
+ Read more about Alaska Cruise 2010