Wednesday, July 7, 2010
We reserved the Glacier Bay Champagne Breakfast the day before to be delivered to our cabin around 10 am. It was perfect timing because we were sailing into Glacier Bay, past gorgeous scenery but nothing too exciting that we had to pay close attention. The breakfast cost $32 for 2 people and included the following:
Alaskan King Crab Quiche served with 2 crab legs and a cheese-stuffed tomato
Smoked salmon with dill cream cheese and toasted lemon brioche
Fruit & berries medley
Assortment of pastries
1/2 bottle of Heidsieck Monopole Champagne
Choice of juice
Coffee or hot tea
See photos of all the Champagne Breakfast food. The breakfast was very good and filling! Though next time, I would ask if they can substitute the champagne for Martinelli's Sparking Cider because we can't drink much and had about 1/2 a glass each of the champagne. The Ranger Presentation began at 11 am and they showed it on the TV so we turned the volume all the way up and listened to it while we ate our breakfast on the balcony.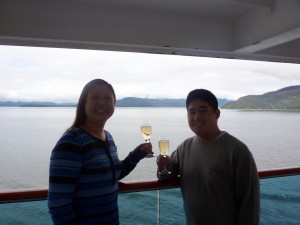 A toast in Glacier Bay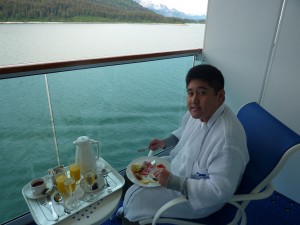 Glacier Bay Champagne Breakfast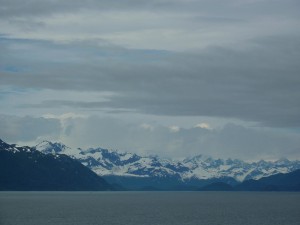 Sailing into Glacier Bay
The Ranger commentary and Glacier Bay scenic cruising began around 12:15 pm. Our ship visited 3 major glaciers: Reid Glacier, Margerie Glacier, and the Lamplugh Glacier.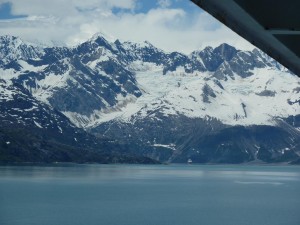 Glacier Bay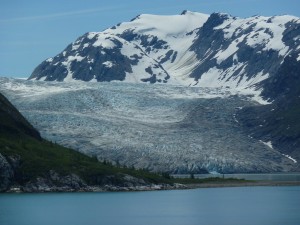 Reid Glacier
We spent the most time at the Margerie Glacier but I think the ship turned for at each of them so both sides of the ship could see. Scenic cruising ended around 5 pm so there was plenty of time to alternate between spots on the ship. We viewed the glaciers from our balcony and the secret deck on Deck 10 forward. On Decks 9-11, walk all the way forward and through the doors on either side of the ship. They will lead to public decks that most people do not know about. At most, there were 10 people and sometimes I was there by myself. I thought it was good to see the glaciers from both my balcony and Deck 10 forward. Approaching Margerie Glacier was my favorite part while on Deck 10 forward because you're facing the glacier and there is nothing obstructing your view. It was beautiful! There was also this harbor seal who was chilling on an iceberg but it was in the path of the ship. He looks up at us and starts to scooch himself towards the edge of the iceberg. He then gives us the dirtiest look as if to say "I was freaking here first!!!" and then jumps off the iceberg before the ship pushes it aside. Poor guy!!! LOL! Once the ship started to turn, we headed up to our balcony and viewed from there until the ship was facing the glacier again, then we would return to Deck 10 forward.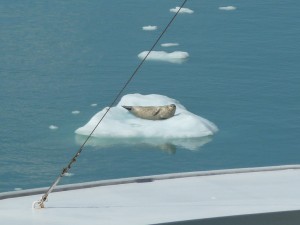 The harbor seal who hated us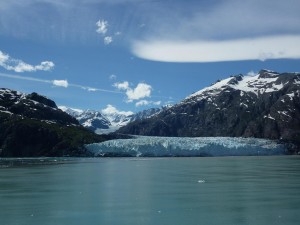 Margerie Glacier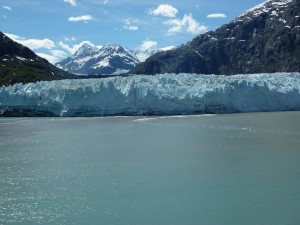 Margerie Glacier
At one point, we also stopped by Horizon Court, where Glacier Bay Rangers were selling merchandise, and we popped over to the Forward Deck in front of Horizon Court. It was very crowded so we headed up to Deck 15 and realized almost the whole ship was outlined in this blue glass that made it hard to see and almost impossible to take photos. There were only a few spots without the blue glass and they were completely crowded with people. Luckily, there was a small section that people were taking turns to use for a group photo and then stepping aside to let others go next.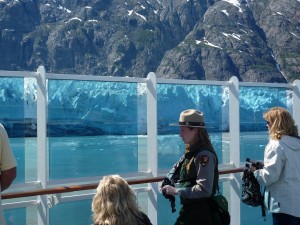 Park Ranger in front of the damn blue glass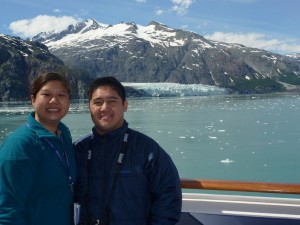 Our photo in the shared photo spot
We had beautiful weather the whole day! It was sunny though sometimes a bit windy. I took my jacket off on the forward deck because sunny and uncovered but I wore it when I was on our balcony since it was shady and not covered. Apparently, this type of weather is not good for calving so we didn't see much of it in Glacier Bay. Marjorie Glacier gave us one good calving but still not as big as what we saw at Hubbard Glacier and not even close to Prince William Sound.
In terms of wildlife, we saw whales, bald eagles, and harbor seals. A seagull also decided to make a perch out of a balcony a few doors down from us. He was HUGE up close! While we were on the Lido Deck, the Park Ranger on the bridge said she spotted a brown bear but no one could find it, not even the Park Ranger that was on the Lido Deck with us.
Bald Eagle on iceberg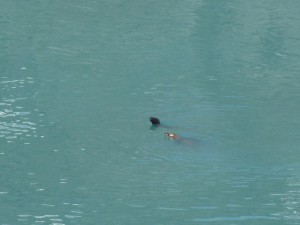 Pair of harbor seals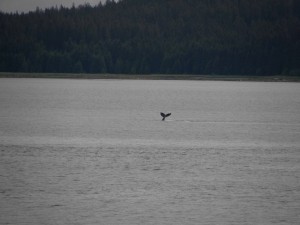 Whale in Glacier Bay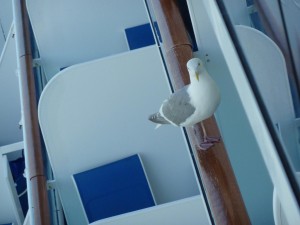 Seagull on balcony railing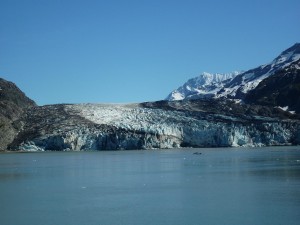 Lamplugh Glacier
Overall, Glacier Bay was stunning! I can see why people on the Cruise Critic Alaska Board say it is a must for the first time Alaska cruiser!
We went to dinner at 6:30 pm and didn't have to wait. After dinner, we watched Kalin & Ginger's Magic Show, which I reviewed in my Island Princess review.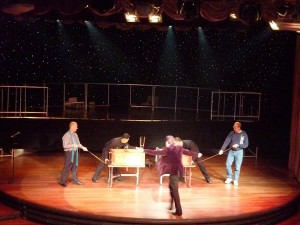 Kalin & Ginger's Magic Show: Sawing Ginger in half
+ See all Glacier Bay photos
+ Read more about Alaska Cruise 2010