Thursday, July 8, 2010
We booked the 7.5-hour Yukon Rail & Bus Tour with Dogcart Ride with Chilkoot Charters. The cost was $206 per person, or $175 per person without the dogcart ride. Upon disembarking the ship, you face a cliff wall and it's painted with tons of cruise logos. That was really neat to see.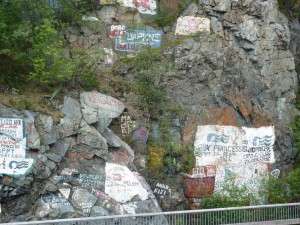 Skagway harbor painted cliff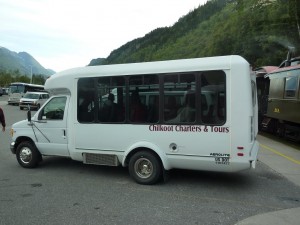 Chilkoot Charter mini-bus
We walked through security and found the Chilkoot Charters guide easily. When everyone in the tour arrived, Chilkoot Charters drove us to the White Pass & Yukon Rail Depot and we boarded our train car. The guide did not board the train with us. He was going to drive to Fraser to meet us with the mini-bus. Unlike the trains we took in Anchorage and Denali, this train has a vintage feel to it.
People always ask what side to sit on the train & bus for the best views. Leaving Skagway on the train, sit on the left side but make sure you get up and go outside on the platform while the train is moving!! Once you get to Fraser, sit on the right side of the bus. On the way back down via bus, sit on the left side. If your train/bus legs are not in the same order, please see this page for info on the best views.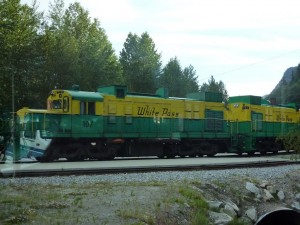 White Pass & Yukon Route train engine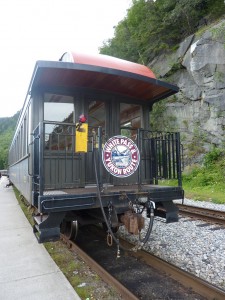 White Pass & Yukon Route train caboose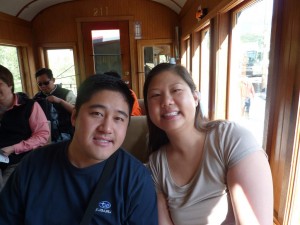 Onboard the White Pass & Yukon Route Railroad train
We rode the train to Fraser, British Columbia and saw some gorgeous views along the way. It was really cool to see the rail bridges perched so high up in the mountains and then cross over them! We were also up SO high on the mountain. The views were amazing and none of the other train rides we went on were so high up! You also have to go and stand out on the platform a couple of times. It's amazing to hear the clanking of the train and feel the wind blowing in your hair! I also saw a really fat, arctic ground squirrel and that made my day!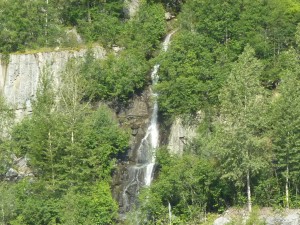 Bridal Veil Falls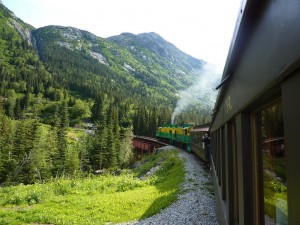 White Pass & Yukon Route Railroad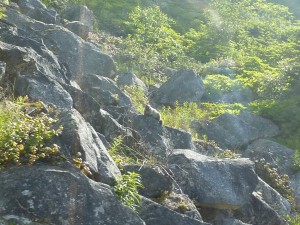 Arctic ground squirrel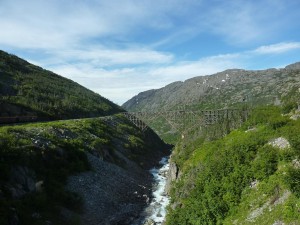 Steel bridge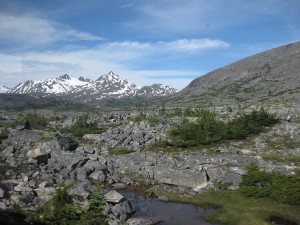 Landscape as we approach Fraser
When we arrived at the Fraser train station, our guide from Chilkoot Charters was there to pick us up and continue our tour. Arriving in Fraser was very exciting for me because it was my first time on Canadian soil!! Even though Fraser is in British Columbia, Canadian officials never stamp our passports. The Fraser train station has a souvenir passport stamp that you can use to stamp your own passport. We had several scenic photo stops along the way, including Lake Bennett, the "Welcome to Yukon" sign, Bove Island, Carcross Desert, and Emerald Lake. And yes, Emerald Lake is as gorgeous as it sounds!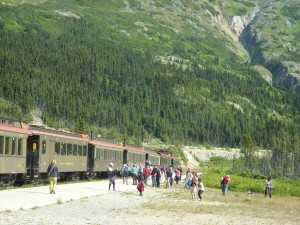 Arriving at the Fraser Train Station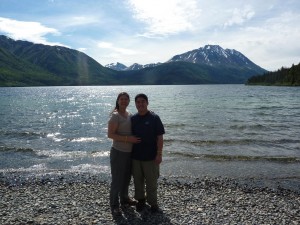 Lake Bennett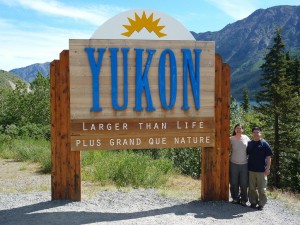 Yukon, Canada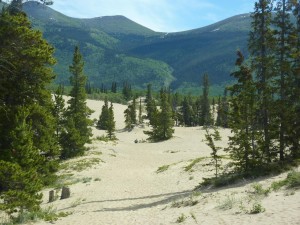 Carcross Desert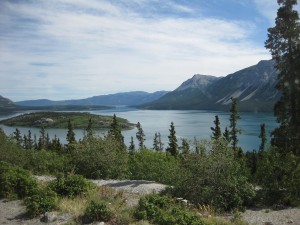 Bove Island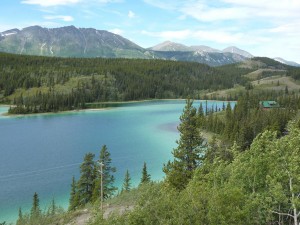 Emerald Lake
Believe it or not, we did all of that before lunch! The stop at Caribou Crossing was very rushed. We only had an hour to eat lunch and do anything else we wanted to do before leaving. The BBQ lunch served at Caribou Crossing was very good and that is saying a lot coming from me because I generally don't like chicken, unless it's fried and even then, I mostly like the skin! The BBQ chicken was tender and those cinnamon donuts were the 2nd best donuts I've ever had!! (Second only to freshly made, piping hot Krispy Kreme donuts!)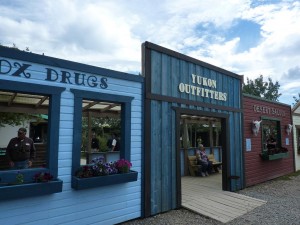 Caribou Crossing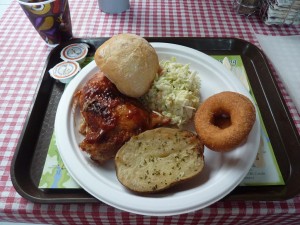 Caribou Crossing BBQ Chicken Lunch
Our time at Caribou Crossing felt especially rushed because we pre-booked the dog cart ride there. If you want to do the dog cart ride, it costs $31/person extra and I highly recommend that you pre-book also. There were others on our tour that decided they wanted to do it at the last minute but could not get a time slot before our mini-bus left so they missed out. You could see a crowd of people watching the dog camp from outside of the gates and they looked jealous when we walked in with our tickets. The camp was a bit muddy and EXTREMELY dusty so the dogs were dirtier and less trained than the ones we saw at Jeff King's Husky Homestead. The dogs were so excited to get picked for the cart ride but they were hard to control so the drivers struggled to hook them up to the cart. Still the dogs were absolutely adorable!! The ride itself was a lot of fun! We rode through the forest behind the camp and spotted a few times for the dogs to get a drink. The plastic pools they drank out of were pretty disgusting though. The water was really dark from all the dust. The ride was very dusty also and we were covered in dirt when it was over. Bring your sunglasses to protect your eyes from all the dust. Overall, the ride was a lot of fun and worth the money! However, it was NOTHING compared to glacier dog sledding, which we did in Juneau. If you debating between a dog cart ride and glacier dog sledding, defintiely go with glacier dog sledding!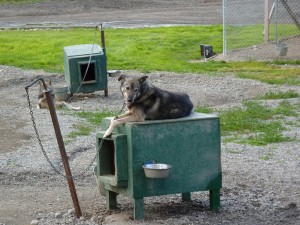 Husky dog camp at Caribou Crossing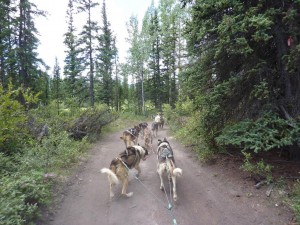 Dog cart ride at Caribou Crossing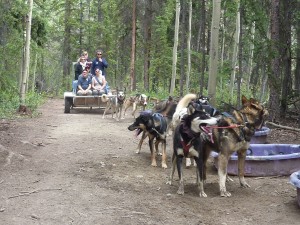 Dog cart ride at Caribou Crossing
After the dog cart ride, we had about 10 minutes to do some souvenir shopping and use the restrooms. I'm a souvenir fiend so rushing through the shop was tough for me but I managed to snag a magnet and postcard. Once back onboard the mini-bus, we drove through Carcross and Nares Lake. Then we headed back to Skagway. The return trip was much less eventful and I slept almost the whole way, waking up for the scenic stops, which were the "Welcome to Alaska" sign and a waterfall. By the way, since we thought we'd be on a train or bus most of the day, we decided to give the insect repellent wrist bands we bought from Wal-mart a try and they failed. I was bitten twice and Chris once!! FAIL. Definitely stick with Off Deep Woods wipes or spray.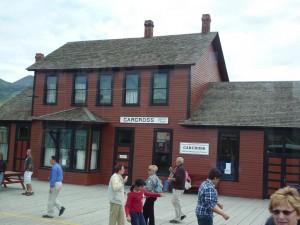 Carcross Train Station
Welcome to Alaska sign on Klondike Highway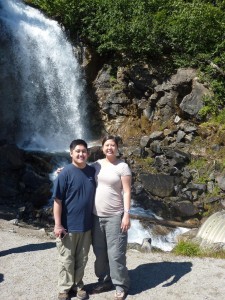 Waterfall along the Klondike Highway
We got back to Skagway around 3 pm and we had Chilkoot Charters drop us off at 7th & Broadway so we could walk our way back down to the ship. It was very warm and sunny so we converted our pants to shorts. (I cannot stress how awesome convertible pants are! See my Packing List post for more info.) We spent the rest of the day (3-4 hours) doing the self-guided walking tour and shopping. The buildings in Skagway are so adorable! It kind of reminds me of a theme park! All the shop workers kept saying how the warm weather was really strange, that it has rained every day this summer up until now, and that we must be lucky cruisers bringing the warm weather with us! Places we saw in Skagway included the Historic Skagway Inn, Moore Homestead, Sarah Palin Store, Days of '98 Theater, World War II Barracks, Mascot Saloon, Arctic Brotherhood Hall, Red Onion Saloon, Klondike Gold Rush Museum, White Pass & Yukon Railroad Depot, and Pullen Creek & Pond.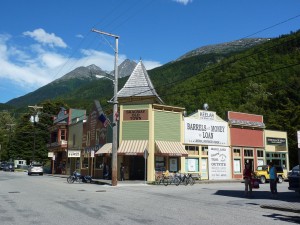 Skagway Old Town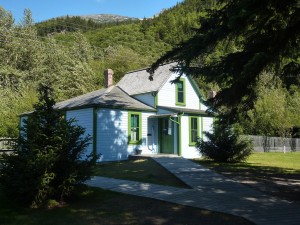 Moore Homestead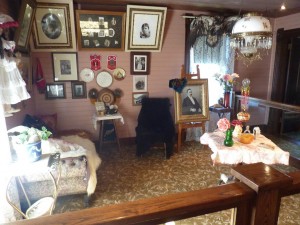 Moore Homestead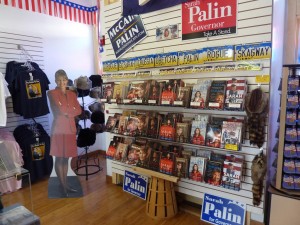 Sarah Palin Store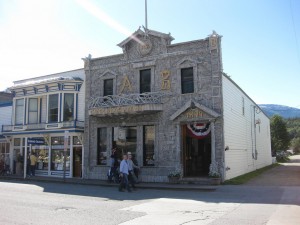 Arctic Brotherhood Hall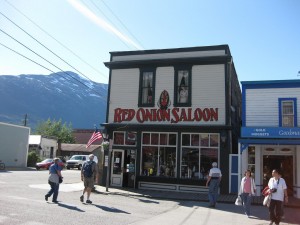 Red Onion Saloon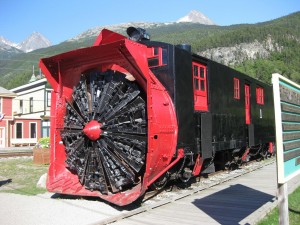 Rotary snowplow at White Pass & Yukon Rail Depot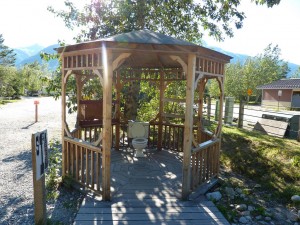 Toilet in a gazebo
If you want to buy drinks, the liquor store across from the Train Depot on 2nd Ave. has the cheapest sodas and the Alaska Shirt Company on 1st & Broadway (or in Juneau across from the tram) has the cheapest bottled water. Yes, we comparison shopped! If you like shopping for souvenirs, make sure you also see my Shopping post.
Walking back to the ship was slightly confusing since we did not walk from it. We were NOT docked at the Broadway Way Dock, which is at the end of Broadway and really easy to get to. Island Princess was docked at the Railroad Dock and you have to walk past the Rail Depot and down Congress Way to it. We were slightly confused on how to get over to Congress Way because or the tracks and Pullen Pond. The most useful maps I found were the ones in the free coupon books that you find near the cruise pier. They are much more detailed than some of the other maps I've seen of the main tourist areas and very helpful in figuring out exactly where our ship was docked. Make sure you pick up a coupon book before boarding the ship in Whittier!
+ See all Skagway photos
+ Read more about Alaska Cruise 2010