Friday, July 9, 2010
We booked the Dog Sledding on Mendenhall Glacier Tour through Temsco for $479 per person and they asked us to meet them at the Mt. Roberts Tramway parking lot, which was about a 5-minute walk from the ship. They picked us up at 8:15 am and they drove us to their office, where the helicopter pad was also located. We watched a safety video, locked up our belongs (no bags allowed, only cameras), and donned snow boots. There was only one other person in our group, a young guy working for a dental program in Alaska for the whole summer, so it was just 3 of us. They assign our seats on the helicopter based on weight. Chris and I were put in the front row with the pilot with me in the middle. The other guy was in the back by himself.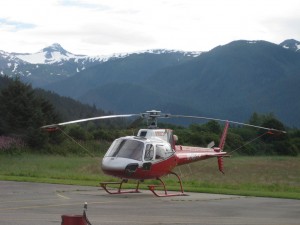 TEMSCO Helicopter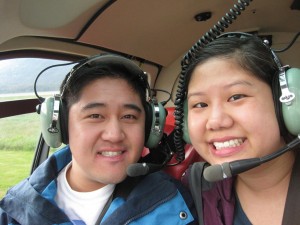 Inside the helicopter
This is definitely one of the most amazing things a person can experience in their lifetime. In one excursion, I was able to do three things that not many people can say they've done: ride in a helicopter, set foot on a glacier, and take a dog sled ride on snow. This was our first helicopter ride and it was exhilarating! If you've never been in a helicopter, the accent is quite an experience in itself. It was amazing how it could lift you straight in the air. The views of the mountain tops and the glaciers were absolutely stunning. It seemed like there were windows all around us, even under our feet, so when we were up above the trees and glaciers, it was like we were flying! The view was spectacular and gorgeous. I didn't realize how big the glaciers are until the pilot pointed out the dog camp and I could barely see it until we got closer.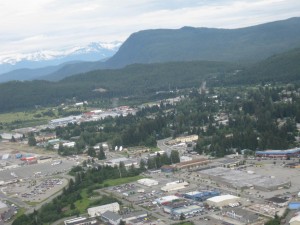 Leaving Juneau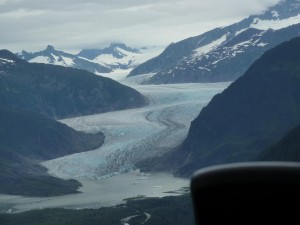 Mendenhall Glacier Helicopter Flight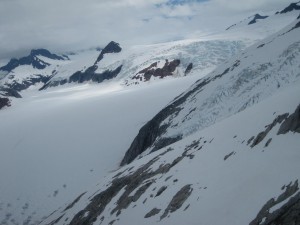 Mendenhall Glacier Helicopter Flight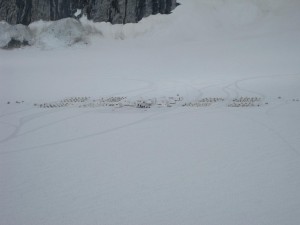 Husky Dog Camp on Mendenhall Glacier
The landing at the dog camp was very smooth but walking around on the glacier wasn't easy. I feel on my butt once or twice! (I talked to someone who went on the Glacier Trek and the spikes in their boots are a lot longer so it's probably easier for them to walk. Our spikes were about the same length as, if not shorter than cleats.) The dog camp is run by Alaska Icefield Expeditions. We were taken to the sled with dogs already hooked in. The dogs were all very obedient and very friendly. The musher introduced us to each dog and then we were off! There were three stops along the ride so we each got to try sitting in a different spot or stand in the back for each leg. It was so amazing dashing through the snow with surrounded by such beauty. The weather was very nice, though it got chilly once the sled was moving. We wore long-sleeved shirts, jackets, long pants, and gloves. It worked out perfectly. The sun was very intense though so wear sunscreen and sunglasses. It's a truly amazing experience. The ride lasted about 20-25 minutes. After it was over, we got a few more photos with the adult dogs and then moved on to the puppies! There were 4 puppies at the camp and we took turns holding the 2 that were awake. Adorable little guys!! Then we waited for a few minutes as our helicopter returned to fly us back to Juneau.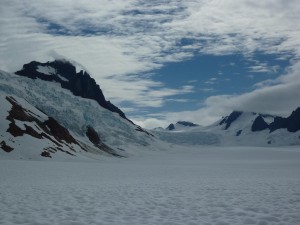 On Mendenhall Glacier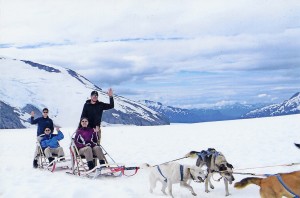 Glacier dog sledding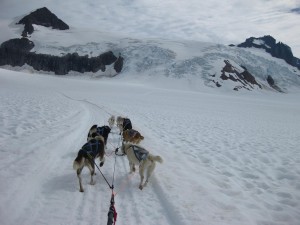 Glacier dog sledding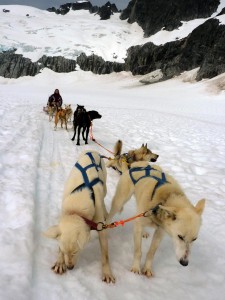 Glacier dog sledding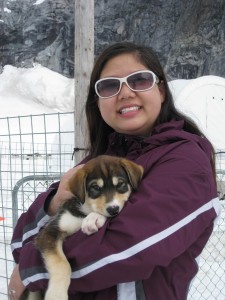 Visiting the resident puppies
TEMSCO dropped us off at Mt. Roberts Tramway around 11 am. The weather was pretty warm so we decided to go back to the ship to unload our jackets. Since we were already on the ship, we thought we'd grab a quick lunch at The Grill too so we'd have more time to go to the Mendenhall Glacier Visitor's Center. By the time we finished lunch and got back off the ship, it was already 1:30 pm and we had to be back onboard by 3:30 pm. We decided that 2 hours wasn't enough time to go to the Mendenhall Glacier Visitor's Center and get back in time so we spent the last 2 hours walking around Juneau. I'm still a little sad that we didn't have a chance to see Mendenhall Glacier from the Visitor's Center but I tried to comfort myself with the reminder that we were ON it! Plus, I'm glad we got a chance to see Juneau up close and personal.
We visited Patsy Ann's statue, Red Dog Saloon, and then shopped up Franklin St. I mentioned this in my Skagway post but if you need bottled water, the Alaska Shirt Company has the cheapest bottled water and they come in large bottles too. They are located across the street from the Mount Roberts Tramway. If you like shopping for souvenirs, make sure you also see my Shopping post.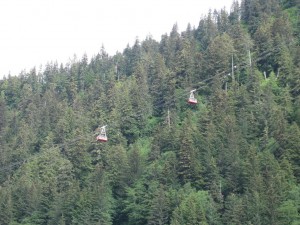 Mount Roberts Tramway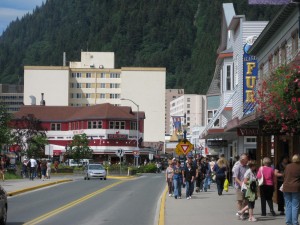 Juneau & Red Dog Saloon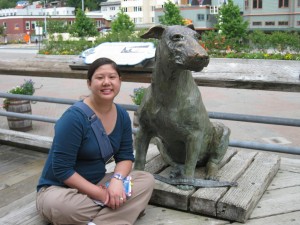 Patsy Ann Statue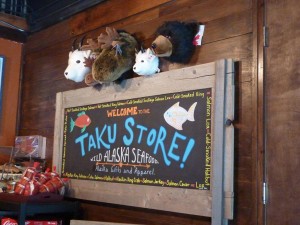 Alternative "hunting trophies" at Taku Smokeries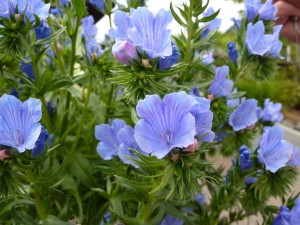 Alaska Forget-me-not Flowers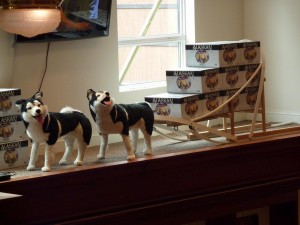 Alaskan Brewing Co.
That evening was the second Formal Night. We took photos again and had dinner early so we could watch Comedian Kevin Hudges' show. You can read my review of him in my Island Princess Review.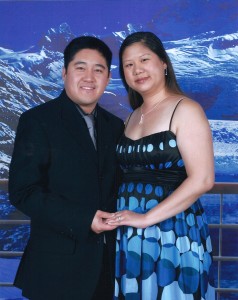 Second Formal Night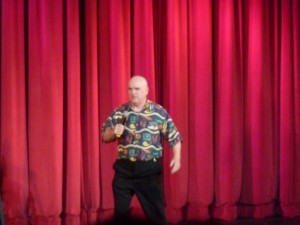 Comedian Kevin Hughes
+ See all Juneau photos
+ Read more about Alaska Cruise 2010


Disclaimer: We may earn a commission for products purchased through some links in this article.