Saturday, July 10, 2010
Our good luck in weather ran out in Ketchikan. It was foggy and drizzling the whole day. It didn't rain so hard that we needed to bust out the rain pants, though we packed them in case, but water resistant pants and a waterproof jackets were musts. The ship was supposed to arrive at 10 am but we were able to disembark around 9:45 am. This was the first time we were actually in a line to wait to disembark.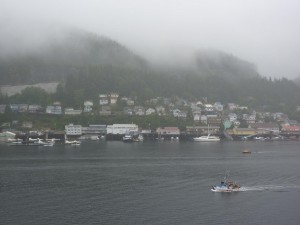 Foggy, drizzly morning in Ketchikan
We had about an hour before our tour picked up and I winded up buying quite a few things in 45 minutes so Chris took them back to the ship while I walked out to the Eagle Totem to take photos of it. Our tour was scheduled for the entire day so we were worried we wouldn't have time to walk around when we got back so we tried to squeeze in as much as we could.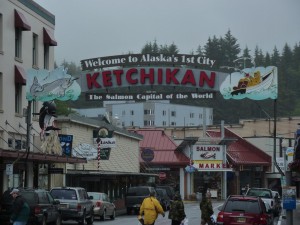 Welcome to Ketchikan sign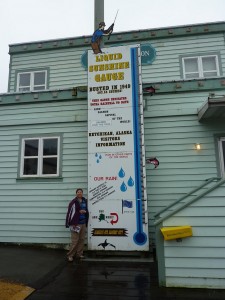 Ketchikan Liquid Sunshine Gauge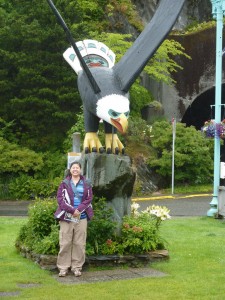 Eagle Totem
We booked the Anan Creek Bear Viewing with Family Air Tours for $475 per person and added on a flight over Misty Fjords for $110 per person but we got 15% discount for booking before the end of January. Basically, what this entailed is chartering a plane to take you to Anan Bay in the Tongass National Forest. From there, you hike up a trail to the Anan Wildlife Observatory over Anan Creek, where bears come to fish for salmon. Family Air Tours picked us up at the Liquid Sunshine Gauge next to the Ketchikan Visitor's Center on the pier at 10:45 am and drove us to their plane hangar. Dave is the owner and pilot. His plane is a Cessna 185 on floats so it takes off and lands in the water. We were the only ones on the plane for our trip. I sat in the back and Chris in the front, next to Dave. The flight was about 45 minutes, longer than advertised because Dave had to take "the long way" due to the fog. We got to see Ketchikan and Tongass National Forest from the sky. People often ask if flightseeing in a floatplane is a lot different a helicopter. Since we experienced both in 2 days, I can say it's a lot different. You can see much less inside a floatplane because the windows are much smaller and don't seem like they're all around you like in helicopter. Also, the wings of the plane were often in my photos and obstructed part of the view. Lastly, the flight experience in a helicopter is just so unique because it can go straight up and down. Take off and landing in a floatplane is very similar to being on a regular airplane, even though it happens on the water. That being said, we weren't taking this floatplane for the flightseeing. It was a mode of transportation to Anan Creek.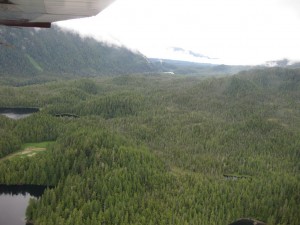 Tongass National Forest from our floatplane
When we landed in Anan Bay in the Tongass National Forest, the ranger helped wrangle our floatplane in so we could deplane. I expected that we'd hop off the plane on to a sandy beach but we basically had to jump off the floats on to slippery rocks. I almost fell in the water! I think this part might be difficult for those with limited mobility. After dropping us off, Dave set a time for when he'd come back to get us and then left. The ranger then checked us in and gave us a brief safety talk. Since it was already 11:30 by now, we decided to eat our packed lunches since you cannot bring food on to the trail. However, we found out there is a food storage locker at the ranger station that you can store your food to get or eat later. There is also an outhouse at the bottom and top of the trails but they recommend that you use the one at the bottom because bears frequent the outhouse at the top and you may be stuck in the outhouse if a bear decides to hang out in front of it. (One of Dave's employees was stuck in it for 45 minutes!)
The trail itself is a mix of raised platforms, like a boardwalk, and dirt trail. When booking this tour, I was worried about not having a guide but, as everyone said, it was impossible to get lost. We used a bear bell, which we bought at Wal-mart, the entire way and it took about 20 minutes. We didn't see any wildlife on the way up, though we saw lots of scat.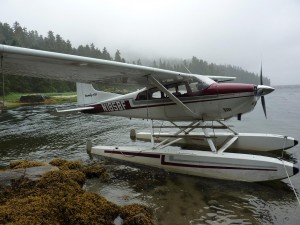 Family Air's floatplane in Anan Bay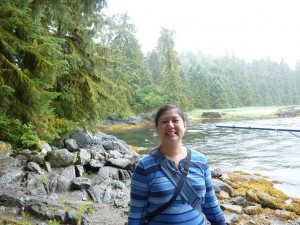 Anan Bay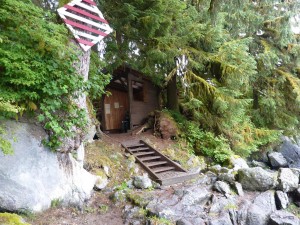 Forest Ranger Station
Boardwalk portion of Anan Creek Trail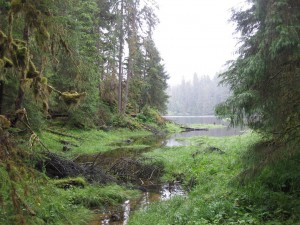 Anan Creek Trail
The Anan Wildlife Observatory sits right over Anan Creek, where an enormous amount of salmon are swimming upstream. Bears come to the Creek to catch salmon. When we arrived, there were probably about 10 people at the Observatory. Part of the deck is covered, which was good for the pansies who didn't want to be in the rain, but you really need to get out on the deck to see the bear action! We spent close to 3 hours at the Observatory, including 30 minutes in the photo blind. You can only sign up for one photo blind spot during your first visit. (I think this is a new rule change this year because the text on the sign-up sheet that said you can sign up more than once was crossed out and corrected with "once".) We had to wait for about an hour and a half for our reservation. The photo blind brought us closer to the salmon running but we didn't see as much from there because the deck is so low and you can't see what's going up higher up the hill or on the other side of the Observatory. I was happier with being out on the top deck but spending 30 minutes in the photo blind was good to get a different perspective. Being close the salmon made me realize the effort they make to swim upstream, only to spawn, and die. It's sad but inspiring.
Right after we arrived, a young bear climbed the tree in front of the deck and sat up there almost the entire time. We probably saw 15-20 black bears of all different sizes & ages, including a mama black bear and her cub, as well as young and adult bald eagles. It was so amazing to see the bears catch salmon right in front of us! Near the end of our visit, the group from Taquan Air left and we were the only ones at the Observatory with the ranger. Maybe because it was so quiet but a bear walked right under the deck and popped up on the other side of the fence. He was literally a couple of feet away from us! He looked at us a little surprised, calmed down, and then climbed the tree right in front of us, not more than 5 feet away! SO AMAZING!! We were told that earlier in the morning around 8 am, there were also a few brown bears and otters but we didn't see them. It stayed drizzly the entire time we were at the Observatory but it didn't bother us. We were dressed appropriately and seeing the bears, salmon, and eagles was so awesome. I've never felt so much like I was truly in the middle of nature.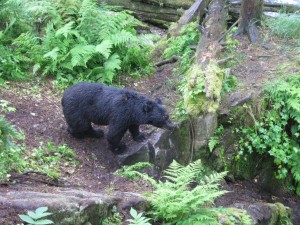 Black bear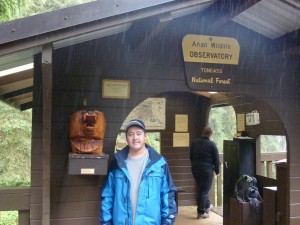 Chris in front of the Anan Creek Observatory's shelter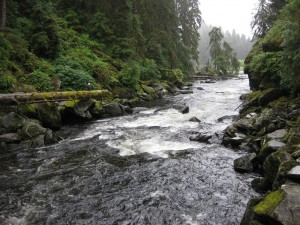 Bald eagle perched over Anan Creek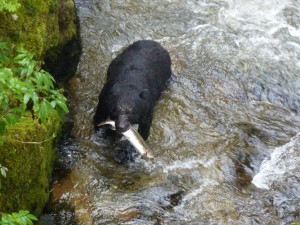 Black bear with salmon in his mouth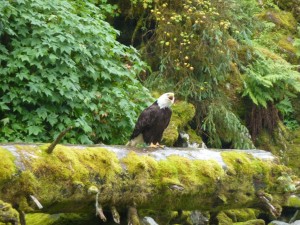 Bald eagle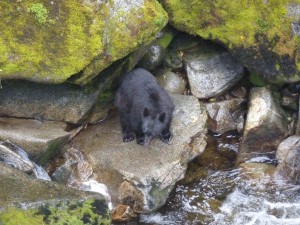 Black bear on rocks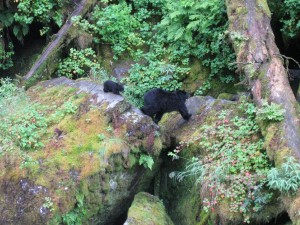 Mama & Baby Black Bears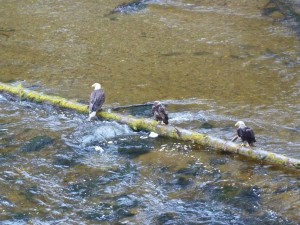 2 adult bald eagles & young bald eagle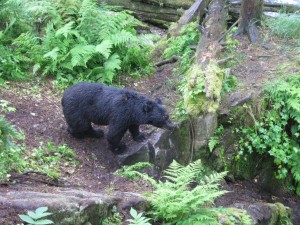 Black bear climbing the tree in front of us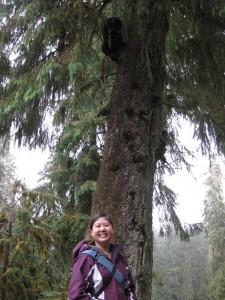 Black bear in a tree a few feet away from us!
On the way back down the trail, we had a brown bear cross in front of us. I'm thinking that she heard us coming because of the bear bell and decided to cross the trail before we got to her. The ranger later told us HER name was George. =) Dave picked us up at 3:15 pm. We had also booked the add-on flightseeing through Misty Fjords but Dave checked with other pilots who just got back from there and said it was too foggy to see anything. I was very impressed on how honest Dave was about this and not just take us there so he could keep our money. He refunded the cost for that portion of the tour. I was a bit disappointed that we wouldn't see Misty Fjords but this was one of the most amazing experiences in my life! I'm so happy that I went and I would highly recommend it to anyone visiting Ketchikan or Wrangell.
We got back to Ketchikan earlier than we thought we would since the Misty Fjords flight was cancelled so we had some extra time to walk around town. We walked up to Creek Street and saw the various totems along the way. There were a few salmon in Ketchikan Creek and some people were standing over the bridge oooing and ahhing. I kept thinking that this was nothing compared to all of the salmon we saw in Anan!! After visiting Creek Street, we shopped around Ketchikan. Chris also got a yummy Alaskan blueberry ice cream cone inside Salmon Landing Marketplace. If you like shopping for souvenirs, make sure you also see my Shopping post. Ketchikan had the best souvenir deals in my opinion.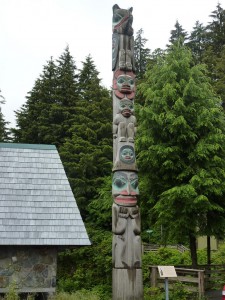 Raven Stealing the Sun Totem Pole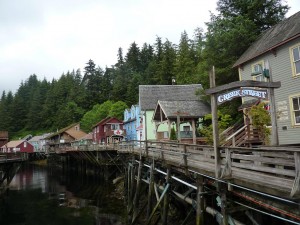 Creek Street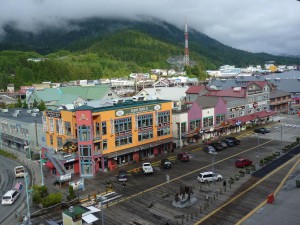 Ketchikan from our balcony
After dinner that evening, we watched another show of Comedian Kevin Hudges. Word was obviously spreading that he was hilarious because it was completely packed about 10-15 minutes before his show started. People who showed up later couldn't find a seat at all, not even in the front rows! If you see this guy on a future cruise, make sure you see him!
+ See all Ketchikan photos
+ Read more about Alaska Cruise 2010


Disclaimer: We may earn a commission for products purchased through some links in this article.