Tuesday, July 6, 2010
We wanted to have breakfast in the dining room at least once but never did because we didn't want to wake up early enough to make it. We had breakfast at Horizon Court buffet. I organized the Meet & Mingle for our roll call, which was fairly quiet, so I wasn't expecting much. I was just praying someone else would show up at the Wheelhouse Bar at 11 am. To my utter joy, we had 10 people attend the Meet & Mingle and 6 of those people wore the shirt I designed!! Yay!! Trivia was going on at the same time in the Wheelhouse Bar but I don't think we disturbed them since we sat in the back off to one side. Friends of people at the Meet & Mingle winded up winning the trivia! I handed out postcards and magnets that I made and we all chatted until about 12 pm before disbanding.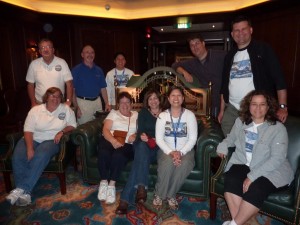 Cruise Critic Meet & Mingle at Wheelhouse Bar
We had lunch in the Bordeaux Dining Room and this was when I had the crappy Philly cheesesteak that I mentioned in my Island Princess review.
We were scheduled to arrive at Hubbard Glacier at 5:15 pm so we had a few hours to kill before then so we hit the Lotus Pool and the hot tubs.
Speaking of Hubbard Glacier, the Princess Patters say "Yakutat Bay" in the place they print the day's port and I thought that was confusing because I had never heard of it and everyone always talked about Hubbard Glacier. Well, Hubbard Glacier is in Yakutat Bay for your future reference.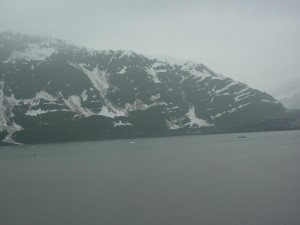 Sailing into Yakutat Bay
It was gloomy, drizzly and windy the whole day and the weather was no different when we arrived at Hubbard Glacier. We wore our waterproof jackets, rain pants, and long underwear and tried going out on the open decks at first. It was hard to stay on the upper and forward decks because the wind would blow rain into our eyes and all over the binocular lenses and cameras. We winded up staying on our covered balcony the rest of the time and it was perfect. We didn't even have to wear waterproof jackets and just wore fleece pullovers. (I also wore a cap and gloves.) There wasn't fog though so I guess we were lucky in that department! (Our photos look foggy but I think that was mostly due to the gloomy lighting. It was actually pretty clear to see.) Also, it was drizzly so the weather was ripe for calving! What I loved the most about Hubbard Glacier was the gorgeous, gorgeous blue icebergs that were floating in the water. They were so blue and pretty that I'd love to set it in jewelry!! I've never seen ice so blue.
We were lucky enough to see Hubbard Glacier calve a few times but nothing really big like we saw during our Prince William Sound cruise.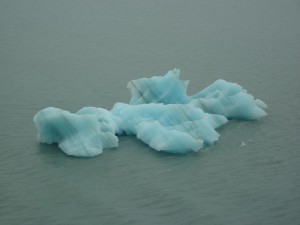 Gorgeous blue iceberg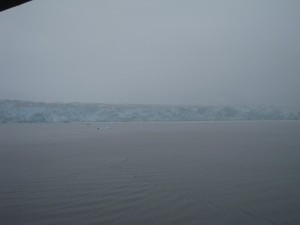 The massive Hubbard Glacier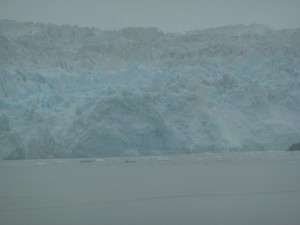 Close-up of Hubbard Glacier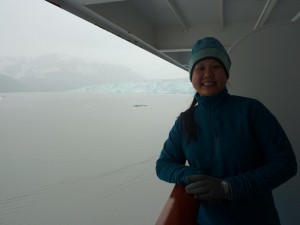 Hubbard Glacier from our balcony
Hubbard Glacier scenic cruising lasted about 1.5 hours. Then, it was time to get ready for formal night! We got dressed and took our formal photos. As I mentioned in my Island Princess review, we tried to eat at 7:15 pm and there was a long wait. We winded up watching the Captain begin the Champagne Waterfall and still we were still waiting, we went ahead and did the Champagne Waterfall ourselves!! This was our 4th cruise but first ever Champagne Waterfall! LOL! We were finally seated for dinner at 7:50 pm. We also hit rough seas during dinner and our table felt like it was bobbing up and down but it calmed down by bedtime.
First Formal Night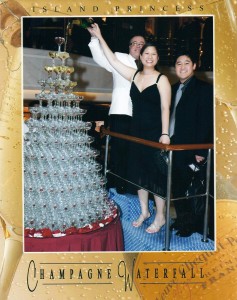 Champagne Waterfall
+ See all Hubbard Glacier photos
+ Read more about Alaska Cruise 2010