On Sunday, November 22, 2010, we arrived at the Barcelona cruise terminal around 2:30 pm after spending the day sightseeing in Barcelona. Checking in and boarding our cruise was really easy. I think we missed the rush and there were no lines at all. There were some nice staff members handing out cookies and lemonade as well.
Right after checking in but before boarding the ship, there were several shops that lined the terminal, selling water, soda, wine, souvenirs, and even general stuff that you may have left at home. We picked up a bottle of Listerine and a 6-pack of large bottled water, which we then carried onboard. It's much cheaper than buying the ship's water and lasted us the entire cruise!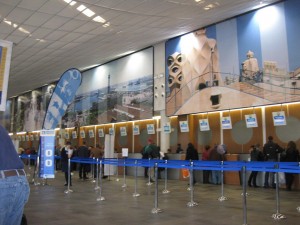 Barcelona Cruise Terminal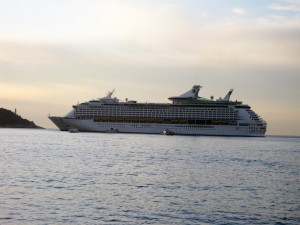 Voyager of the Seas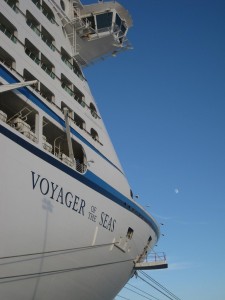 Voyager of the Seas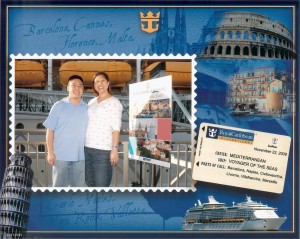 Welcome Aboard Photo
After boarding Voyager of the Seas, we were able to go straight to our room and get settled in. Our room was 7232, a D2 balcony cabin, and it was fairly close to the midship elevators. The room was what we expected from cruising before. Disney Cruise Line (DCL) cabins are supposed to be a little bigger but I didn't really notice the difference. I did miss the split bath that Disney has in balcony cabins where the toliet and one sink are seperate from a second sink and the shower. Chris and I had to share a sink on this cruise and one couldn't get ready if the other was using the toliet or in the shower. I did however like that the shower on this ship was just a shower with sliding glass doors, instead of Disney's shower & tub combo with a shower curtain. I didn't have to worry about the shower curtain attacking me as I showered and I felt safer with the doors. Our last Disney cruise had rough waters and I almost fell out through the shower curtain and out of the tub when I was taking a shower! The shower also had a handheld shower head which was nice. The coffee table was glass, which I thought was a little unsafe since someone could fall through it if they lost their footing during rough waters. On Disney, the height of coffee tables could be raised to become an eating table, which I thought was cool.
I was a bit worried about our door decorations, which were quite toned down compared to our last Disney cruise, because we seemed like the only one with decorations and our cabin was close to the midship elevators, so it might be a high traffic area but we didn't have any theft or mischief. We also didn't have any problems with noise.
I learned an important fact when picking my balcony cabin, thanks to Cruise Critic. The balconies on Voyager of the Seas are built into the hull and don't have a full plexi-glass railing. On Deck 6, the metal wall is higher than it is on the upper decks so that when you are seated on the balcony, you cannot see through the wall. Whereas on Deck 7 & above, the balconies have a shorter metal wall topped with a plexi-glass panel that allows you to see through when seated. I picked a cabin on Deck 7, thanks to this tip! Even so, the metal wall does block a lot more of the view than on the Disney Magic or Wonder but it wasn't too big of a deal.
Honestly, on port days, we were out of our room before sunrise and back in our room after sunset so it was always dark on our balcony. If you plan to do this cruise in the winter as we did, I would say skip the balcony because you really won't have a chance to use it other than on the one sea day but you'll be looking at open waters the whole time.
Our room steward was wonderful! He did a great job in making sure we had everything we requested and always replaced our used towels twice a day!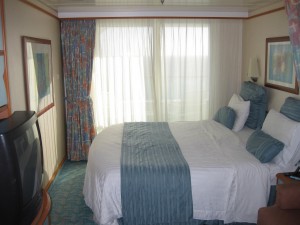 Balcony Cabin 7232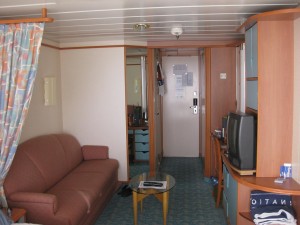 Balcony Cabin 7232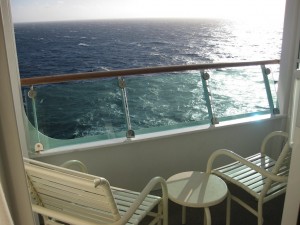 Our Balcony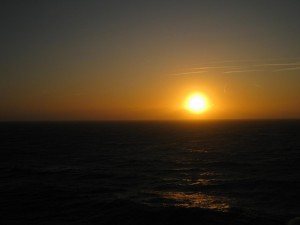 Sunset from our balcony on our day at sea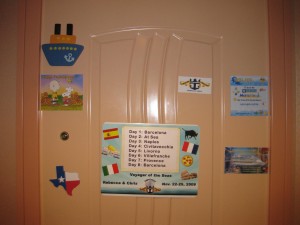 Door Decorations
We thought the food was really good. We had breakfast every morning at the buffet and it was very satisfying. There was a good selection and for the most part, the selection didn't change every day, which was fine for me. I winded up eating eggs and corned beef hash almost every day. There was an omelette and made-to-order egg station but I never used it because the line was always long and we were trying to eat breakfast quickly. OJ was a hot commodity and they had a hard time keeping it available. They have a crew member mixing it constantly through the morning. I'm not sure why they don't just have juice machines like I've seen at other buffets. The food was hot and good though, unlike breakfast on DCL's breakfast buffet, which was horrible and sometimes inedible! We only had only lunch onboard once and that was during the sea day. We ate in the main dining room and it was very nice. There was a fancy salad bar.
We had all of our dinners in the Main Dining Room, except for one night where we went to the Italian specialty restaurant Portofino's, and we had My Time Dining. It's the first time we did an "anytime dining" program since DCL doesn't offer it. We like traditional dining and don't mind having to show up at a certain time every night for dinner. However, the traditional dining times offered on this cruise were 6:30 pm or 9:30 pm. All aboard was 7 pm on every port, except one, and we didn't want to rush back to get to dinner on time so 6:30 pm was too early. 9:30 pm was way too late so we decided on My Time Dining. The program worked out really well. We made a standing reservation on the first night for 8:30 pm every night. We were open to sharing a table with other cruisers and actually preferred to. It was much more interesting meeting new people and chatting with them. It made dinner go by faster too. Actually, we winded up eating with Melissa and Steve, who was sharing tours with us, almost every night after the first night because we really hit it off with them.
The food in the Main Dining Room was fabulous! I loved the variety and choices. I found enjoyed every dish I had there, except for one Asian dish that was an extra entree anyway. On DCL, after the third or fourth night, I felt like the entrees all looked recycled or just slightly modified from previous dishes. I didn't get that feeling at all on this cruise. It seemed like there were just more choices too. Our servers were great, though some were definitely better than others. Since we were My Time Dining, we did not have the same servers every night, unless we happened to be seated at the same table more than once.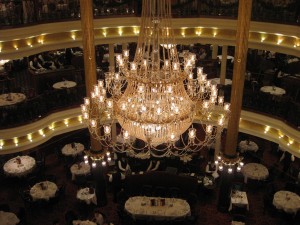 Main Dining Room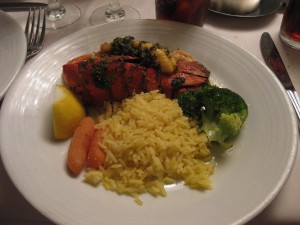 The highly anticipated lobster night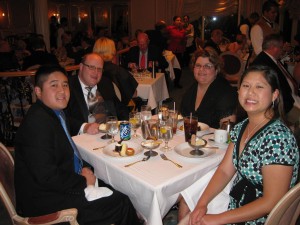 Day 6: Formal Night
Voyager of the Seas celebrated her 10th birthday on our second day of the cruise and there were a few places where her age showed. For example, the lettering and pictures on several signs in the hallways were scratched off and the paint on the hot tubs were chipped. But otherwise, the public areas of the ship looked great for the most part. Since this was our first non-Disney cruise, we had a casino onboard for the first time. The Royal Promenade lined with bars and shopping was also a new experience! It was really pretty when lite up in different colors at night and they had a large Christmas tree setup since it was Thanksgiving week. Since we are used to DCL, this ship seemed like it had an unnecessarily large number of bars. I understand they are there to make the cruise line money but it seemed like overkill to me. I was also unpleasantly surprised that people could smoke in some of the bars too. The merchandise in the shops were way overpriced and we didn't buy much other than a few logo souvenirs, which I understand having a markup because you can't get them anywhere else.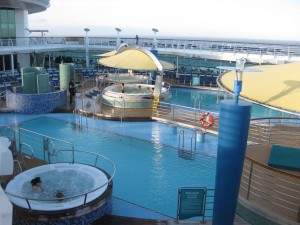 Pool & Hot Tubs on Deck 11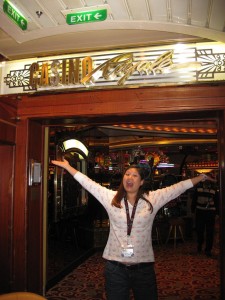 Casino Royale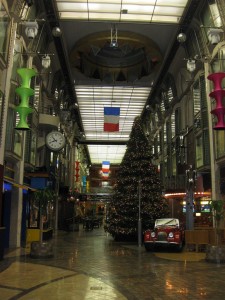 Royal Promenade in the day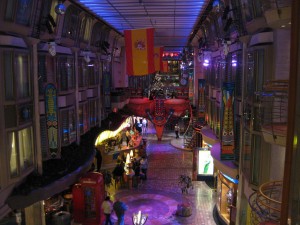 Royal Promenade at night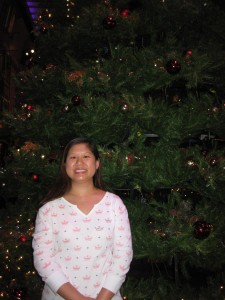 Christmas tree in Royal Promenade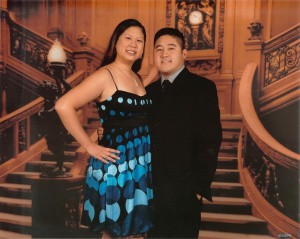 Day 2: Formal Night (notice the Titanic backdrop!)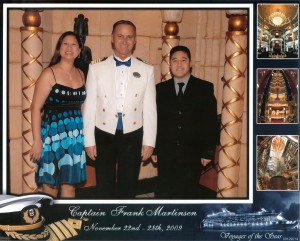 Meeting Captain Martisen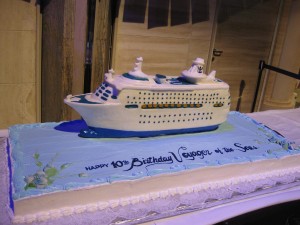 Voyager's 10th Birthday Cake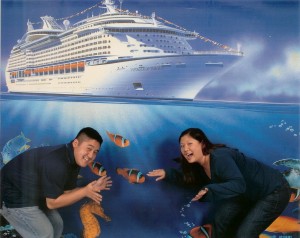 Swimming with the Fishes!
Monday, November 23, 2009 was our only day at sea during this cruise. We kicked it off with the official Cruise Critic Meet & Mingle. Unlike other ships, Cruise Critic has an official partnership with Royal Caribbean to have onboard Meet & Mingles, an organized meetup of Cruise Critic members. The roll call on Cruise Critic for this cruise was an essential part of our vacation because all of our tours, except for one, were organized through the roll call. We also met some great people who I still keep in touch with. At the Meet & Mingle, I passed out magnets and postcards that I made. There were well over 100 people at the Meet & Mingle but unfortunately, we didn't think of taking a group photo until many people had already left.
I also designed the t-shirt for our roll call, which we named European Voyager, and, just like our last Disney cruise, it was really fun to randomly see people walking around the ship wearing the shirt that I designed!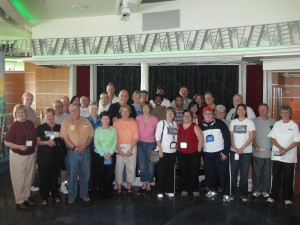 Meet & Mingle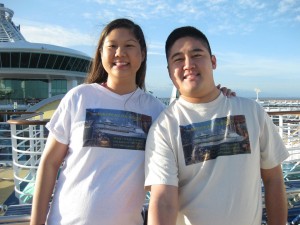 Cruise shirts I designed
That evening, we saw Ice Show with Melissa and Steve. It was really neat. I can't imagine what it must be like to ice skate while the ship is rocking! It was the only show that we watched during the entire cruise since the itinerary was so port-intensive and we were exhausted every night. We also attended the Party Around the World Parade, which had some neat costumes but short and a bit cheesy. In general, there wasn't much entertainment that really sounded interesting to us either. Melissa and Steve, who have been on 14 cruises, said that it was NOT normal for a Royal Caribbean cruise and the entertainment was probably lacking because they knew the itinerary was so hectic. We'll have to try another Royal Caribbean cruise to see!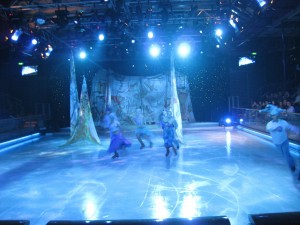 Ice Show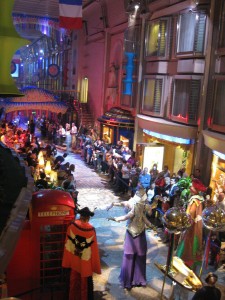 Party Around the World Parade
On November 26, 2009, we celebrated Thanksgiving onboard Voyager of the Seas. The crew did a great job in making the day feel special for us! We had a traditional Thanksgiving dinner of turkey, stuffing, cranberry sauce, mashed potatoes, pumpkin pie, and more!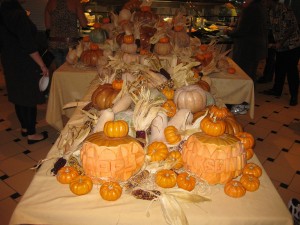 Thanksgiving display in Windjammer Buffet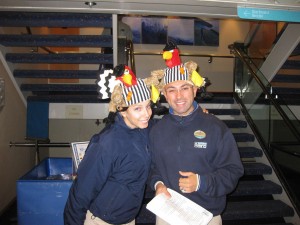 Crew wearing turkey hats
Traditional Thanksgiving Dinner

Disembarkation was one of our poorer experiences on this cruise. On the last night of the cruise, the ship left our last port of call late while waiting for 6 stray passengers. We had boarded the ship right at "all aboard" time, changed, mingled around, and were eating dinner when they were still calling these passengers' names over the PA system. Our ship finally started sailing away 3 hours later than it was supposed to, still missing 4 out of those 6 passengers. The two that did make it back onboard were not with a ship-sponsored excursion so I highly doubt any of the 6 were. I have no idea why the ship waited for so long for late passengers when we've always been told that if you aren't back onboard on time, they will leave you there.
The ship was scheduled to arrive in Barcelona and be cleared by authorities by 6:30 am. Our flight out of Barcelona was 10 am so we opted for Express Departure, where you hand-carry your own luggage off and are among the first passengers off the ship. We were asked to begin waiting at the Theatre beginning at 6:30 am and we'd be notified when they were ready to let us off the ship. The ship pulled into Barcelona late, probably because we left Toulon 3 hours late, and they didn't allow us to get off the ship until 7:30 am. We took a taxi to the airport and arrived at 7:50 am.
Checking in with Iberia and going through security was a NIGHTMARE. We got through security at 9:20 am. Yes, you read that right. It took almost 1.5 hours for us to check-in and go through security. While we were waiting to check-in with Iberia, other passengers from our ship who did not use Express Departure were already in line with us!! It was so frustrating that it seemed like doing Express Departure and waking up so early were pointless. Our flight was already scheduled to board and we weren't even in the correct terminal. We had to take the tram to the terminal and made it to our gate around 9:35 am, just to find out that we had to do another security screening through American Airlines! Our flight was already boarding!! Luckily, there were many passengers in the same situation as us so they delayed the flight by 20 minutes. If we were not so lucky to have many cruise passengers on our flight, we would have missed our flight. From this experience, I recommend not leaving in the morning. It's really hectic and stressful. If I did it over again, I'd leave in the afternoon, even if it meant taking an additional day off work to fly home.
Overall, I would absolutely sail Voyager of the Seas again. I actually hope to in the next couple of years since she currently sails out of Galveston most of the year and sailing out of Galveston would give us the option of driving to an embarkation port, instead of flying there. I'm actually curious to see what a cruise would be like without such an intense itinerary.
+ See more Voyager of the Seas photos
+ Read more about Mediterranean Cruise 2009