Our trip began on Saturday, November 21, 2009 with our American Airlines flight from Dallas-Fort Worth Airport to Madrid Barajas International Airport being 2 hours delayed so we missed our connecting flight to Barcelona and were rebooked to a flight that left 6 hours later. We spent 5 hours waiting for our flight at the Madrid airport. Luckily, there were shops and restaurants. We had a lunch of sandwiches and Spanish drinks at Rodilla.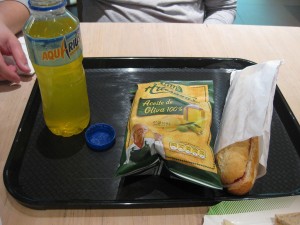 Sandwich, olive oil chips, and Aquarius drink at Rodilla inside Madrid Barajas International Airport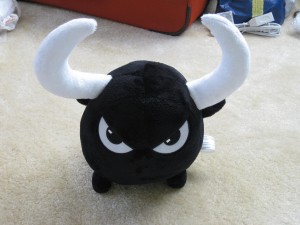 Adorable "Mad Toro" from Madrid Airport gift shop
Our flight from Madrid to Barcelona was through Iberia. The seats were much taller and more comfortable than American Airlines. They were also all leather but the rows were much closer together so there was even less legroom. We arrived in Barcelona after 7 pm, which was 6 hours later than we originally planned and thus ruined half a day of sightseeing. At least, we flew in a day earlier than embarkation!! Always fly in the day before! If this was embarkation day, we would have missed the ship.
We took a taxi to our hotel on Las Ramblas, checked in, and dropped off our luggage. Then we walked up Las Ramblas and had dinner at Farga Delicato. We got a tapas sampler, fried calamari, seafood paella, and Estrella beer. I liked the tapas better than the paella but both were good. After dinner, we walked around Placa de Catalunya and then headed back to our hotel.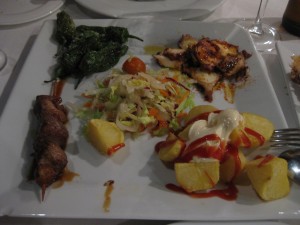 Tapas Sampler at Farga Delicato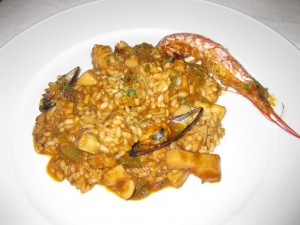 Seafood paella at Farga Delicato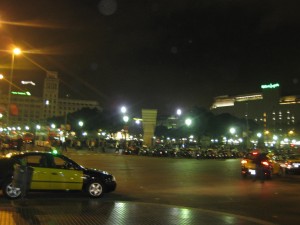 Placa de Catalunya
We stayed at Hotel Rivoli Ramblas on Las Ramblas near Placa de Catalunya. I booked in July for our stay in November and got an "early booking discount", which was 10% off the internet prices plus free breakfast buffet. It was a great deal compared to the other prices I was seeing for a hotel on Las Ramblas with the same star range. The location was wonderful! We got a room on the second floor overlooking Las Ramblas and it made for some excellent people-watching! It's definitely the place to stay to be in the middle of all the excitement! Our room was very large and fancy with a HUGE chandelier. The bathroom had a full-sized tub and a bidet! There was a lot of noise from the street. It was a Saturday night on Las Ramblas so the street was jumping into the wee hours and it was hard to sleep. There were a set of doors that closed off the window area but we didn't close them because we were worried about it getting stuffy. If we had closed them, it might have helped the noise. The noise didn't die down until around 3 am and then at 6 am, the street sweepers and early wakers were out so the noise began again. I didn't sleep well at all but it was probably our fault for not closing the doors near the windows.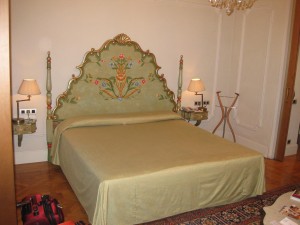 Hotel Rivoli Ramblas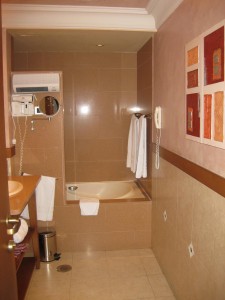 Hotel Rivoli Ramblas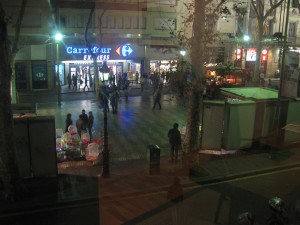 View of Las Ramblas from our hotel room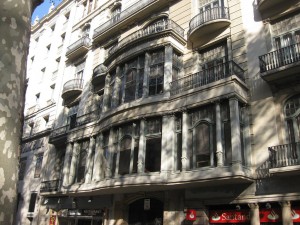 Outside of Hotel Rivoli Ramblas: The large window in the middle of the 2nd floor was our room
Since we lost our sightseeing day to airline delays, we had to squeeze all our Barcelona sightseeing into the next day, Sunday, which was also embarkation day for our Mediterranean cruise. Luckily, sailaway was at 7 pm so we didn't have to check in until 4:30 pm. The day can be pretty much summed up as a Day of Gaudi! Antonio Gaudi was a Spanish architect with his own style of gothic architure. I'm not an architure buff but his work is amazing and Barcelona is filled with it!
After having breakfast at our hotel, we took a taxi to the famous La Sagrada Familia. Gaudi began working on it in 1884 until he died in 1926 and it is still under construction today! La Sagrada Familia is amazing! The inside reminded me of "It's a Bug Life" land in Disney's California Adventure because it felt like you were under the canopy of HUGE flowers. The detail on the outside is also mind-boggling. We took the elevator up to the tower. At the top, you get a great view of Barcelona and the construction on the church is even more evident by the cranes. From there, you walk back down these narrow, dark spiral staircases. Walking all the way down was very tiring and sometimes scary because it was so steep and narrow but I think the view was definitely worth it!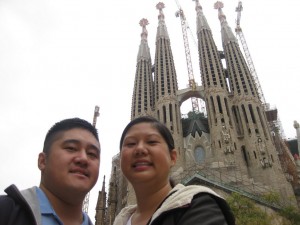 La Sagrada Familia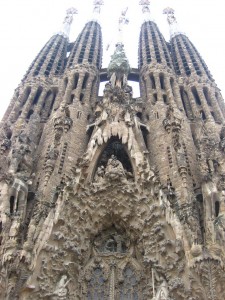 La Sagrada Familia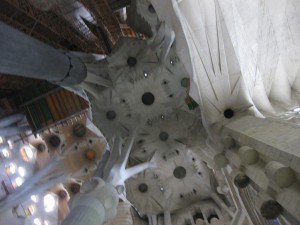 Inside La Sagrada Familia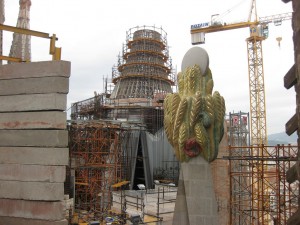 La Sagrada Familia Rooftop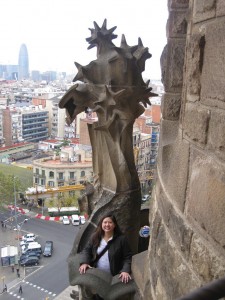 La Sagrada Familia Tower
From La Sagrada Familia, we decided to brave the Metro and took the subway to Casa Batllo. Taking the subway was super easy. We bought tickets from the machines in the station, which were in English, and it was a lot like taking the subway in New York.
Gaudi's Casa Batllo was another Barcelona favorite of mine. The balconies remind me of Jack Skeleton from "The Nightmare Before Christmas"! We also visited Gaudi's Casa Mila.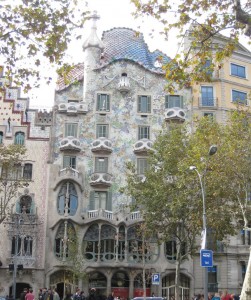 Casa Batllo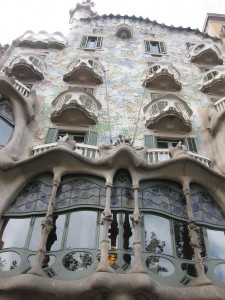 Casa Batllo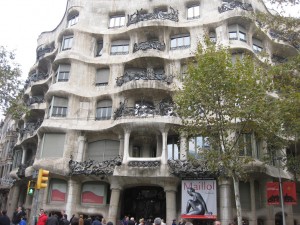 Casa Mila
We wanted to grab a quick lunch so we ate at McDonald's. Up until this point, getting by in Spain has been pretty easy for us. I took 3 years of Spanish in high school (the first year with a Spanish teacher so I even knew the Spanish accent versus a Mexican accent) and 2 years in college. Using a Spanish dictionary and what I remembered, I was able to talk to taxi drivers, order food, and buy stuff pretty easily. However, the menu at this McDonald's really confused me because it was in Catalan, instead of in Spanish, whereas the menu at the McDonald's in Madrid was in Spanish and I understood most of it. Ordering in broken Spanish mixed with VERY broken Catalan was much more difficult for me but we made it! While I got the familiar 2 cheeseburger meal, Chris ordered something we've never seen before: the CBO (Chicken, bacon, onion).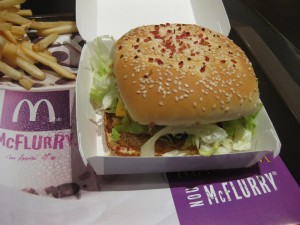 McDonald's CBO
We spent the next hour & half strolling Barcelona's most famous set of streets, Las Ramblas. The street is lined with hotels, shops, and restaurants but there are also stands selling flowers, souvenirs, and even pets! There were also street performers, which reminded me of 3rd Street in Santa Monica. We went back to our hotel to pick up our luggage and then boarded a taxi to the cruise port.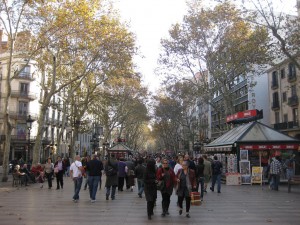 Las Ramblas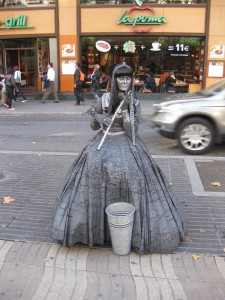 Street performer on Las Ramblas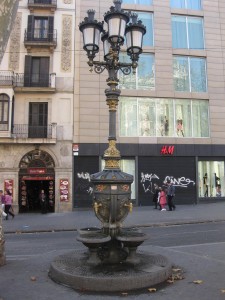 Public drinking fountain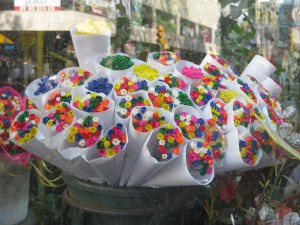 Adorable, tiny paper flowers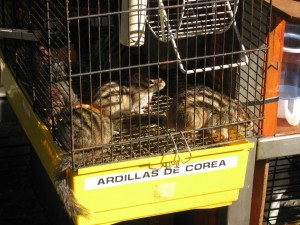 Pet Korean squirrels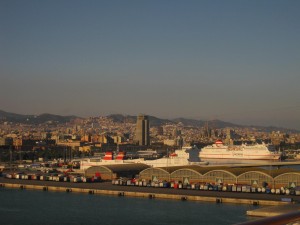 Barcelona port
Also read about my not-so-great experience flying home from the Barcelona airport after disembarkation.
+ See more Barcelona photos
+ Read more about Mediterranean Cruise 2009