On Tuesday, November 24, 2010, we arrived at our first port of call, Naples, Italy. This was the only port where we booked a Royal Caribbean-sponsored excursion called Capri, Sorrento, & Pompeii. I really wanted to visit all three of these places and couldn't find a private tour that did all three. I also decided it was best not to do it on our own because coordinating the driving times plus the schedule of the hydrofoil to Capri and back may be complicated.
We were picked up from the ship by Aloschi Bros in a large motorcoach at 7:30 am. The drivers of these motorcoaches are amazing! The streets are very narrow in certain areas and when we were in tourist locations, there were many motorcoaches trying to get by each other. Our driver managed to back out of spaces literally inches away from other motorcoaches!
Our first stop on our tour was Donadio Cameo Factory in Ercolano, Italy. We met Master Craftsman Vincenzo and he showed us his work area, the original shells, his tools, and cameos in progress. It's amazing that cameos are carved by hand from seashells! The cameos sold at the factory were some of the highest quality we saw during the trip but were also expensive.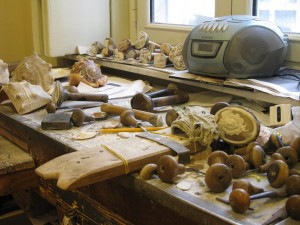 Donadio Cameo Factory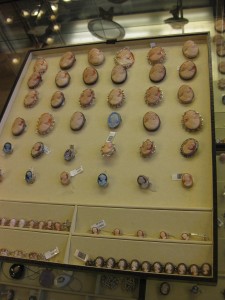 Finished Cameos
In route to Pompeii, we saw the famous Mount Vesuvius, whose eruption buried the city of Pompeii. Pompeii was amazing and one of the highlights of our cruise! We had no idea it was so big, truly the size of a small city. It was surreal walking through the streets and through the homes. So much of it is really well preserved that it seems incomprehensible that it was buried in 79 AD, 1900 years before I was born! There were also these adorable, sweet dogs that would follow around our tour group from place to place. Pompeii takes in all stray or abandoned dogs and each dog wears a collar with a number on it because they are adoptable. We wished we had more time to explore Pompeii and it is definitely one of the places we want to visit again.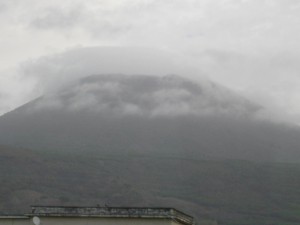 Mount Vesuvius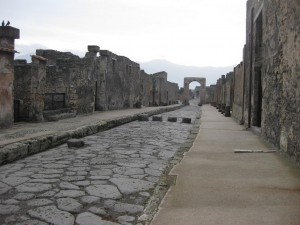 Streets of Pompeii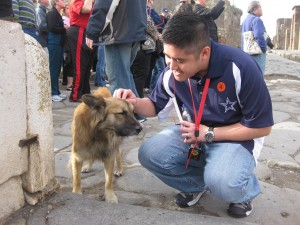 Chris petting one of Pompeii's resident dogs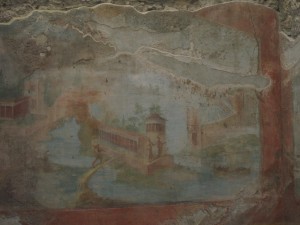 Art Fresco inside a home in Pompeii
Our next stop was Sorrento. We had about 10-15 minutes to do some shopping and then we had lunch at Tasso Ristorante Pizzeria. Of all the things from this tour, the included lunch was probably the most disappointing. It started off well enough. We had a bottle of wine and an appetizer of cannelloni stuffed with ricotta cheese in red sauce. This restaurant was famous for its pizza and all the patrons were ordering it. What did they serve us? Sliced turkey with gravy, peas, and potatoes. Seriously, WTF. I didn't come to Italy to eat turkey. We shared our table with another couple and they were equally disappointed so we ordered a Pizza Margherita, famous in this area, together. The pizza was okay but, as other non-Neapolitans say, I thought the dough was too soft and doughy. The basil was almost non-existent. Still, it was better than just eating turkey. Overall, lunch was just disappointing. Many people on Cruise Critic that the best pizza they've ever had in their life was in Sorrento and this was definitely not the best pizza…or the best turkey.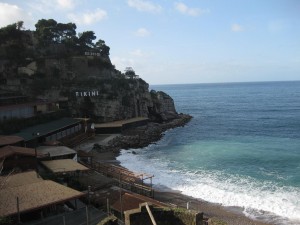 Sorrento coast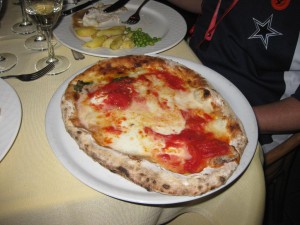 Pizza Margherita from Tasso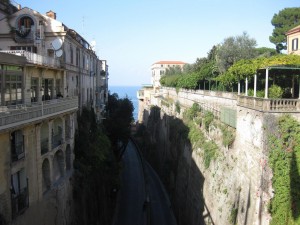 Cliff by the sea in Sorrento
We took a ferry from Sorrento to Capri. The boat was NOT a hydrofoil, as advertised. It was a ferry boat and much more rocky. Many people did not take precautions against seasickness and they were vomiting all over the ferry. I have this thing where if I see or smell vomit, I want to vomit too. I had to keep my eyes closed and my nose in my shirt the whole time, even though I wasn't seasick, so I could avoid seeing or smelling the vomit. When we got off the ferry in Capri, people had vomit all over their clothes and some carried their barf off the ship in bags. Ugh. I want to barf just thinking about it. It was horrible. If you plan to ride any kind of ferry, take a freaking Bonine, please!!!
When we arrived in Capri, our camera battery died so these next photos were taken with Chris' cell phone camera. We took the funicular to Capri Town, which is at the top of a hill. It was a bit cloudy but the view from Capri Town was beautiful! But other than that, Capri was a big disappointment. Capri is famous for its Rodeo Drive-esque shopping but since it was November, the whole town was pretty much shut down until next summer. All the shops, except for a couple of souvenir shops, were closed. There wasn't even any merchandise inside the shops. We walked around a ghost town.
View from Capri Town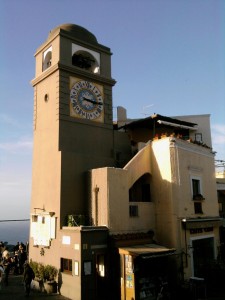 Capri Town Clock Tower
From Capri, we took a real hydrofoil back to Naples. I had hoped we would have some time to walk around Naples after getting back from the tour but it was already dark and I didn't think it was a good idea to wander around Naples (not known to be a really safe city) in the dark. So we got back on the ship.
If I had to do this all over again, I wouldn't have taken this tour, especially in November, since Capri was completely dead. I think Royal Caribbean should have informed us that Capri would basically be shut down. If I had known that, I would not have worried about visiting Capri and taken a private tour instead. I would have also liked to have spent more time in Pompeii. It's true what they say about doing a cruise line excursion. We were herded around like cattle from place to place and everything seemed very rushed. In the Capri Town view photo, you can see the audio receivers that the tour company gave us to communicate with such a large group. A private tour is the way to go and I'm glad we used private tours at all of our other ports.  I wouldn't hesitate to use Rome in Limo instead if I went back again.
+ See more Naples, Pompeii, Sorrento, & Capri photos
+ Read more about Mediterranean Cruise 2009


Disclaimer: We may earn a commission for products purchased through some links in this article.