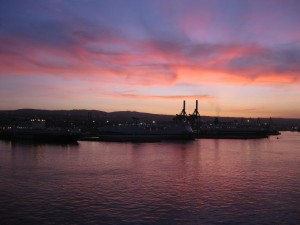 Sunrise over Civitavecchia
On Wednesday, November 25, 2009, we arrived in Civitavecchia, Italy. We booked a tour of Rome with Rome in Limo, which was HIGHLY recommended on Cruise Critic. Our tour was organized through our Cruise Critic roll call and consisted of Michael & Colleen, Michael's parents, Michael & Lucy, and us. I had been e-mailing with Lucy back and forth before the cruise and we hit it off with them right away. Lucy and I even had the exact same PacSafe purse! They are what we hope to be when we're in our 50's: retired early, childfree, and traveling the world! *_*
Our driver was waiting for us outside of the ship promptly at 8 am. Once our whole group gathered, we set off in the 8-passenger van. We first stopped at Palatine Hill but only to buy tickets for the Colosseum. It's a secret way to bypass the huge line at the Colosseum. The Colosseum was AMAZING! It's an awe-inspiring testament to human innovation. We only had 45 minutes to explore the place so we mostly ran around trying to take photos and didn't have time to read any of the exhibits. It's another place we really want to go back to and spend more time exploring but I am very happy we were able to see it during this trip.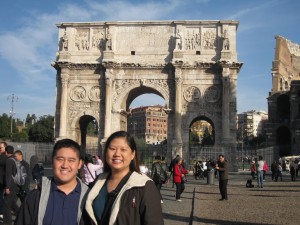 Arch of Constantine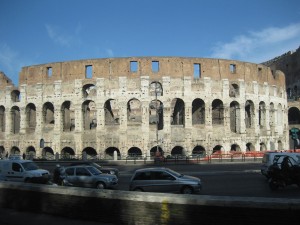 Colosseum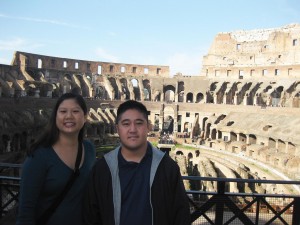 Inside the Colosseum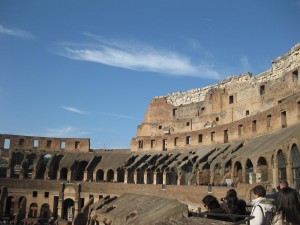 Inside the Colosseum
After the Colosseum, we went to Circus Maximus, where the chariot races used to be held. We could also see Palatine Hill behind it. We then got a wonderful view of the Roman Forum but didn't have a chance to actually explore the Forum. From there, we visited
Piazza del Campidoglio and the Trevi Fountain, which we tossed coins into to ensure our return to Rome, as well as drove by Piazza Venezia and the Spanish Steps.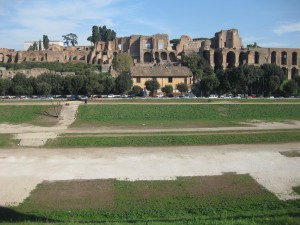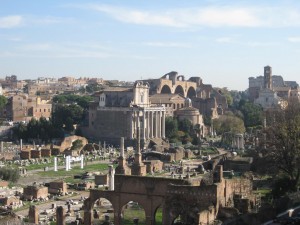 Piazza del Campidoglio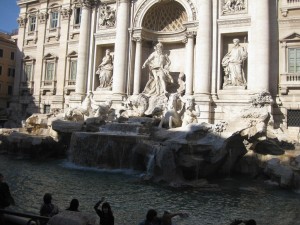 Trevi Fountain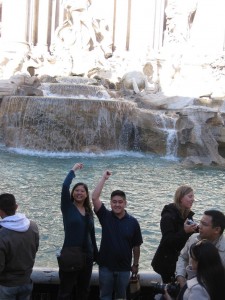 Tossing coins into Trevi Fountain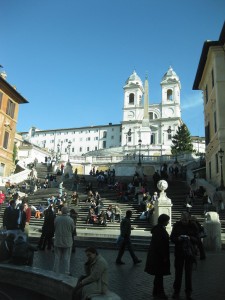 Spanish Steps
Our driver took us to Pizzeria Tavola Calda, a small eatery, for lunch. Chris and I shared pizza and a bowl of penne pasta. Both were SO good, especially the pizza. It had a thin, crispy crust. Yum! I also managed to drink Coca-cola in every country we visited as well!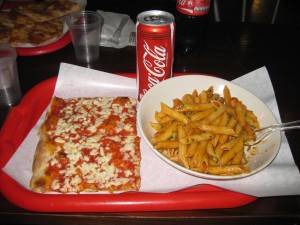 Pizzeria Tavola Calda
After lunch, it was on to Vatican City. Within the walls of Vatican City, we were introduced to our Vatican tour guide, whom we paid extra for. We walked through the Vatican Museum and I was impressed by the variety of art they had. I expected it to be all Christian works but they had statues of Roman gods and goddesses as well. The most impressive to me were the ornate ceilings. We also went inside the Sistine Chapel but were not allowed to take photos. Inside of St. Peter's Basilica, we saw the shrines that enclose the remains of several popes as well as St. Peter and many Catholic relics. I'm not a museum person but I found it all very fascinating. Our tour guide was also VERY knowledgeable.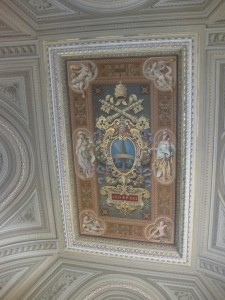 Ceiling art in the Vatican Museum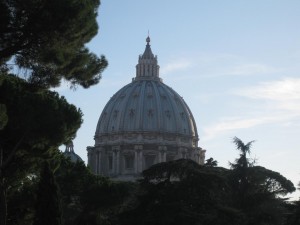 St. Peter's Basilica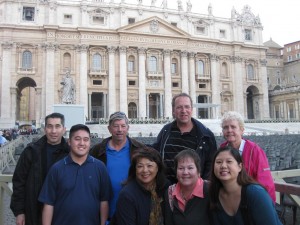 Our tour group in front of St. Peter's Basilica
We had one more stop before heading back to the ship: GELATO!!! We asked the driver to take us the best gelato place and he saved Capitan Cono for the end of our trip because it was near the Vatican. I got the cherry gelato and it was SO delicious! It had whole cherries in it! A sweet end to a long but wonderful day!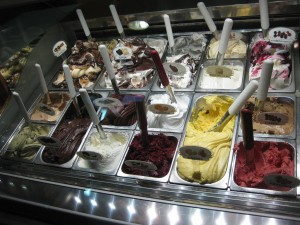 Capitan Cono Gelato
I would highly recommend RomeInLimo to anyone looking for a private tour of Rome. They did a fantastic job of giving us an overview of all the most famous sights of Rome. It felt rushed but as you can see, we saw SO much. If we came back to Rome, we would definitely use them again!
Rome is definitely a city we'd like to return to and spend more time exploring. It is a fascinating city with SO much history.
+ See all Rome & Vatican City photos
+ Read more about Mediterranean Cruise 2009