Voyager of the Seas pulled into Livorno, Italy on Thursday, November 26, 2009. We had another private tour booked with RomeInLimo. We shared this tour with Michael & Colleen, Stacie & Harry, and our new cruise buddies Steven & Melissa. Unlike the Rome tour, we wanted to customize this tour for our tastes. The afternoon of the usual tour is focused on Accademia Museum and the Uffizi Gallery art museums in Florence and our group was not that interested in seeing art. Instead, we gave our tour guide a short list of landmarks and shopping destinations. Our guide was very accommodating in our custom tour!
Our tour began in Pisa at the Field of Miracles, home of the Leaning Tower of Pisa, Baptistery of San Giovanni, & Duomo. Seeing the Leaning Tower of Pisa in real life was wonderful! Taking the photo of holding up the Leaning Tower is always something I wanted to do!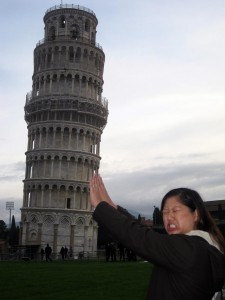 Leaning Tower of Pisa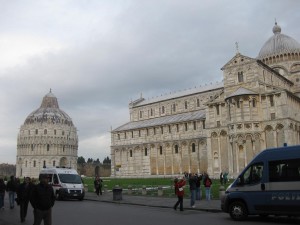 Baptistery of San Giovanni & Duomo in Pisa
Our next stop was Olivicoltori Toscani Associati Olive Oil Factory. We got to learn about the process of making olive oil, including walking around their factory as the machines were washing and pressing olives! It was really cool! Afterward, we bought fresh olive oil from the shop. This olive oil is the best stuff I've ever tasted! Don't believe people when they say it's the same as the Italian olive oil at Costco. The olive oil from the factory is much fresher and you can definitely taste the difference. I'm drooling as I write this. I wish I bought more bottles!!! From the factory, we drove through the Tuscan countryside, where we could see the crops for grapes and olives.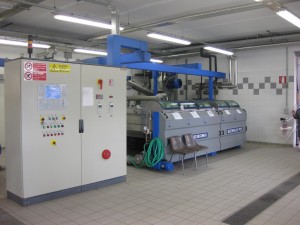 Olivicoltori Toscani Associati Olive Oil Factory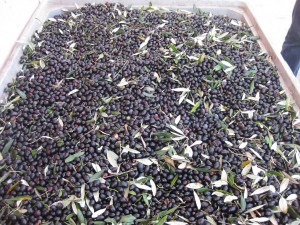 Olives at the Olive Oil Factory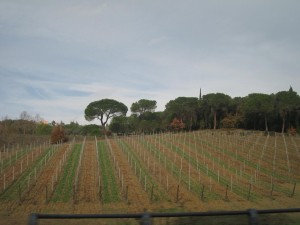 Tuscan countryside
Next, we finally made it into Florence. Our first taste of Florence was Piazzale Michelangelo and its magnificent view of the city! The river running through the city was so beautiful! There are a few vendor stands in the piazzale and I bought a couple of goregous Murano glass necklaces from a woman making them right there.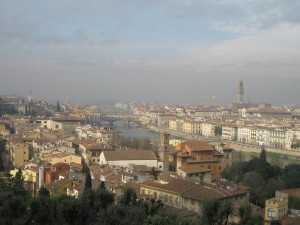 View of Ponte Vecchio from Piazzale Michelangelo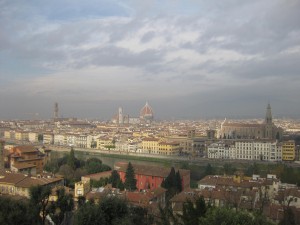 View of the Duomo from Piazzale Michelangelo
It was then time for lunch. Our guide took us to Piazza di Santa Croce, home of the Basilica of Santa Croce. There were several artists along the piazza selling their art and we bought a beautiful painting of Florence. Lunch was at a cute little restaurant called Boccadama. I had DELICIOUS spaghetti & meatballs and Chris had meat lasagna. The Italians' definition of "al dente" is definitely different from ours. Their pasta was much more hard and would be called "undercooked" in America but I loved it! I also had a glass of Chianti, Tuscan red wine, and end the meal with famous Italian coffee. The food in Italy was so delicious and one of the most memorable parts of our trip!!
After lunch, we went to Mercato Centrale, an indoor food market with all sorts of meats, cheeses, pastas, oils, and more! It was a foodie's dream! We stocked up on cheese, pasta, chocolate, and a little bottle of Chianti.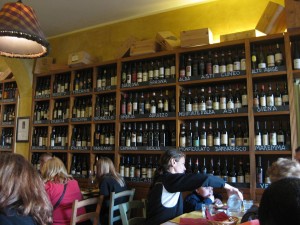 Wall of wine at Boccadama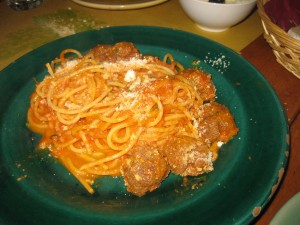 Spaghetti at Boccadama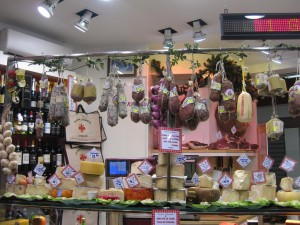 Mercato Centrale
Our next stop was the most famous in Florence, Basilica di Santa Maria del Fiore (better known as the Duomo) and Giotto's Bell Tower! The buildings were magnificent! The details on the outsides were amazing. The most amazing were the gold doors on the Duomo, where each panel depicted parts of Christ's life. Absolutely amazing!
Duomo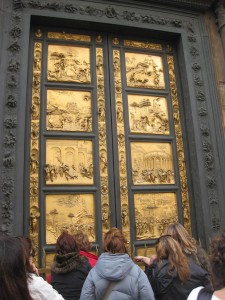 Gold doors of Duomo
Giotto's Bell Tower (look how small we are!)
Our Florence shopping spree resumed at Mercato di San Lorenzo, an outdoor street market specializing in clothing and leather goods from purses to belts to wallets. I picked up a Super Mario Bros. 1UP t-shirt, a couple of Murano glass rings, and a Murano glass necklace. Chris bought a leather valet and some "Duff" beer from "The Simpsons". Our next shopping stop was Mercato Nuovo, a much smaller outdoor market that sells souvenirs. We pet the snout of Porcellino, the wild boar bronze statue, to ensure a return trip to Florence. I also picked up a plush boar.
Our last stop of the day was Piazza della Signoria and Pallazo Vecchio. It was the location of the famous "bonfire of the vanities", the Neptune fountain, and a large collection of statues. While there, we also found a chocolate shop and bakery called Rivoire. The chocolate sampler I brought home from there was SO delicious!!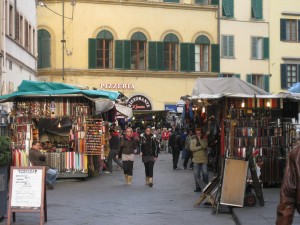 Mercato di San Lorenzo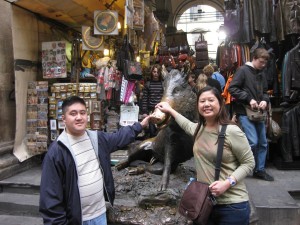 Petting the snout of Porcellino in Mercato Nuovo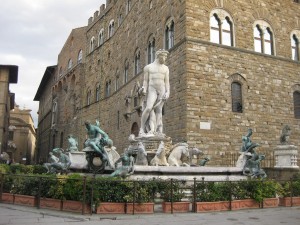 Neptune's Fountain in Piazza della Signoria
Florence was a wonderful city and a wonderful way to end the Italian portion of our cruise! France, here we come!
+ See all Pisa and Florence photos
+ Read more about Mediterranean Cruise 2009