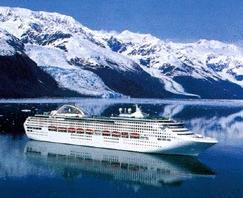 Once you do a little digging, you'll find every major cruise line offers Alaska cruises and you have a ton of options when it comes to an Alaska cruise. What cruise line should you take? Which cruise ship? When should you go? Getting started on planning an Alaska cruise can be daunting so here are some tips on where to begin.
Alaska Cruise Itineraries
Instead of choosing a cruise line or ship first, my recommendation is to let the itinerary be your guide. Most Alaska cruises will call to Juneau, Ketchikan, and Skagway so the biggest differences between cruises will be scenic cruising destinations. Scenic cruising means you don't actually get off the ship. Your ship cruises into or past the location, though ships will generally stop and rotate in front of major glaciers so everyone can have a good view.
If this is your first Alaska cruise, I would highly recommend a cruise that visits Hubbard Glacier and Glacier Bay National Park. These two glacier meccas are widely considered the "best" scenic cruising in Alaska and if you can find both in one cruise, that is your best bet! At the very least, pick an itinerary that goes to Glacier Bay, where you not only can see some fantastic glaciers but is also brimming with wildlife and usually has great weather.
If you want to learn more about the different ports of call before making a decision, pick up Frommer's Alaska or Frommer's EasyGuide to Alaskan Cruises & Ports of Call. Both are excellent guide books.
Roundtrip or One-Way Cruises
Roundtrip Alaska cruises start and end at the same port city, generally Seattle or Vancouver. A one-way Alaska cruise start and end in different port cities, usually Seward or Whittier to Vancouver or Victoria and vice versa. Roundtrip cruises are more convenient and airfare is typically less expensive than one-way cruises since you are also booking roundtrip airfare. However, since the ship must bring you back to where your cruise began, your time in ports of call are shorter than those of a one-way cruise of the same length. Roundtrip cruises are also not convenient for supplementing your cruise with an Alaska land tour since they don't begin or end in Alaska. If this is your first trip to Alaska, I highly recommend taking a one-way cruise and spend a few nights in Denali National Park before or after your cruise. Denali is a hot spot for wildlife like bears, moose, caribou, etc.
When to Take an Alaska Cruise
Alaska cruises sail from May to September. You can usually get lower fares during shoulder season, which is May to first week of June and last week of August to September, because the weather is cooler. These cruises are also generally less expensive because kids are still in school. June and July are the warmest month and have the longest daylight hours so you can squeeze more adventure into each day. As for rain, May is the driest month and it gets wetter as the summer rolls on. See average weather for popular Alaska cruise ports.
Popular excursions like whale watching and bear viewing are usually available all summer in Alaska but if you have your heart set on a particular location for wildlife viewing (such as Anan Creek), then you should look into the best time to go for those excursions before picking your cruise dates.
Get a Balcony
There are not many cruises where I would insist on getting a balcony but an Alaska cruise is one of them. Alaska is all about the scenery so there is nothing like watching glaciers and wildlife from your own private balcony, shielding you from the elements. The views and the photos will be fantastic. If you don't have a balcony, you can spend scenic cruising days on deck but the upper decks are often crowded and have barriers preventing you from getting good views or photos. There is also no hangings on upper decks to protect you from wind and rain.
Balcony cabins are more expensive than inside or oceanview (aka porthole) cabins but in Alaska, they are well worth it. If you can't afford a balcony cabin at this time, I would honestly recommend saving up until you can to make the most of your Alaska experience.
Alaska Excursions
Speaking of money, keep in mind that Alaska excursions are expensive! Alaska only gets tourists during the summer and they milk every penny from you. We spent more money on excursions on our Alaska cruise than any other cruise: $2,300 on our first Alaska cruise and $2,000 on our upcoming cruise for 2 adults, excluding pre-cruise & post-cruise activities. These costs are despite booking independently and using discounts to save money. Granted, we did some of the more extravagant excursions, such as glacier dog sledding, flightseeing, bear viewing, railroads, etc. but excursion costs are definitely something to budget for. Overall, the total cost of an Alaskan cruise blew up a lot more than any other cruise I've been on.
Use coupon books and flash deals to save money…
Alaska Cruise Resources
Need more advice? Once you've narrowed down your options based on the itinerary, dates, and price, you can get advice on picking between a cruise line or specific ship on Cruise Critic's Alaska Boards. If you are considering Princess Cruises, which I highly recommend, check out my post about sailing Princess Cruises' ships in Alaska.
For researching what to do once you've picked your cruise, check out these great resources…
Also, get brochures, which usually include great maps, from the Convention & Visitors Burearu, Chamber of Commerce, or Tourism Board for each city/area you are visiting. Most of them offer downloadable brochures so you don't have to wait for snail mail!
My Alaska Cruise Reports


Disclaimer: We may earn a commission for products purchased through some links in this article.