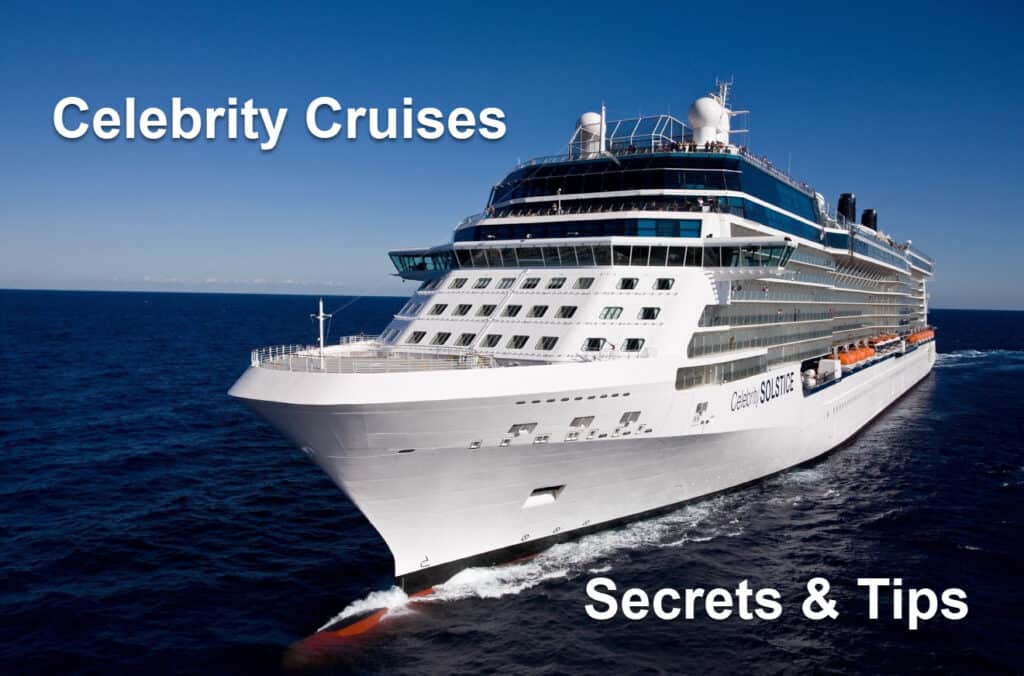 If you own at least 100 shares of Royal Caribbean (RCL) stock, you can get up to $250 onboard credit on Royal Caribbean, Celebrity Cruises, or Azamara Club cruises. Visit Royal Caribbean Investor Relations for more info.
Sweet 16 Cabins: These are balcony cabins on Millennium Class ships (Constellation, Infinity, Summit, Millennium) with almost 2x larger balconies but in the same category/cost as regular balcony cabins. The are cabins 6021 to 6035 on the port side and 6016 to 6030 on the starboard side.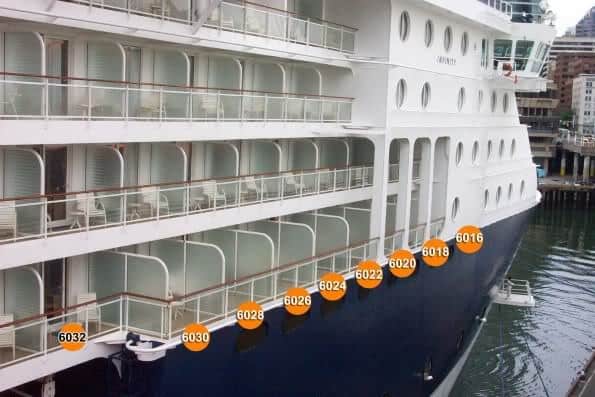 AquaClass Cabins: Available on Solstice-class and Millennium-class ships. These cabins cost more than equivalent cabins and offer premium features and privileges. The major ones are…
Daily delivery of bottled water and tea
Exclusive specialty restaurant, Blu
Upgraded room service menu
Complimentary access to the Persian Garden
Depending on how much more an AquaClass cabin costs for the cruise you are looking at it, it could be worth it if you plan to buy a Persian Garden pass, eat at specialty restaurants several times, or just prefer a more intimate, personal dining room.
If you're interested in AquaClass but it costs too much right now, keep checking after making your reservation for a non-AquaClass cabin. Some AquaClass cabin prices will drop significantly as the cruise date gets closer.
You can pre-pay & make reservations for specialty restaurants online before your cruise.
Most cruises offer a discount on the cover charge if you eat at a specialty restaurant on the first night. Inquiry when you get onboard.
If you pre-paid for reservations at specialty restaurants online before your cruise and then buy the discounted Specialty Restaurants Package onboard, they will give credit to your onboard account with the discount.
Most cruises offer a discount on internet packages on the day of departure. Inquiry when you get onboard.
At Cafe Al Bacio, the treats in the glass case are complimentary and they can be packaged to go. The chocolates here are wonderful. The mini-sandwiches, which are available mid-day, make a great appetizer to go with pre-dinner wine/cocktails on the veranda. Just keep them cold in your room fridge.
The "refrigerators" in your rooms are not "refrigerators", they are coolers. Don't expect things to get ice cold in them. This is by design. If you need to make drinks cold first, then soak them in your ice bucket.
Solstice-class ships have two US plugs and one European plug at the desk and a night light function built into the bathroom. (It's unknown if this applies to newly "Solsticized" Millennium-class ships.)
You can withdraw cash in US dollars from your onboard account in the casino but there is a charge of 5%. This is especially handy if you have unused, non-refundable OBC.
You can ask for smaller portions at QSINE and/or remember that you do not have to finish everything served before they give you another. It is enjoyable for 2 people although many seem to feel it's better with large groups.
Cellar Masters has an awesome cheese, olive, breadstick setup before dinner! The cheese is MUCH better than the buffet cheese.
Steak Diane is available in most of the "fine dining" specialty restaurants. It is a dish consisting of a pan-fried filet mignon with a sauce made from the seasoned pan juices and often flambéed at the table. It's not listed on the menu and you have to ask for it in advance.
Complimentary hard (scooped) and soft serve ice cream are available near the Buffet. The scooped ice cream is made onboard and it's quite good. Add milk from the buffet for a milkshake or your favorite soda for a float. There is a toppings stand next to the ice cream. If you like candy to go, get paper cups from at the tea/coffee station in the buffet and the toppings stand will fill it up with your favorite candy. The gelateria located near Cafe Al Bacio is not free.
Most cruises offer the Persian Garden cruise-long pass, which gives you access to the steam room, sauna, and heated chairs, for half price on Embarkation Day.
If you spend more than $830 total in the onboard shops, the cruise line may report you to US Customs and you'll be asked to pay custom fees before disembarking.
Though Royal Caribbean owns Celebrity, you cannot combine your number of cruises on both lines to achieve higher past passenger status. However, if you obtain Diamond status on Royal Caribbean, you'll be treated as Elite status on Celebrity.
If you are sailing on back-to-back (B2B) Celebrity or Royal Caribbean cruises and have a day in between cruises in the same port, the receiving cruise line will cover the cost of a one-night hotel stay. For example, if you are sailing B2B from Celebrity to Royal Caribbean with a day in between, then Royal Caribbean will pay for the one night stay in a hotel of their choice.
Please note these tips were accurate at time of publish. Please let us know in the comments if anything has changed.
Compiled from Cruise Critic's Celebrity Board