UPDATE: The Flying Dutchman was removed from Castaway Cay in November 2010. I hope this post can be enjoyed by those you didn't get a chance to her before she was stored away.
Day 7 – Friday, May 1, 2009
When we woke up, we had already docked at Castaway Cay, Disney's private island. Having been here before during our honeymoon cruise, I can tell you that Castaway Cay is a wonderful, wonderful place. It has all the tropical atmosphere that a person wants from a Caribbean vacation but with Disney-level service! The beaches are clean. It's safe. The staff is wonderful. The food is great. But Castaway Cay is also bittersweet because it marks the last day of the cruise but at least we're going out with a bang!
We had breakfast at Topsiders again. From Topsiders, we had a better view of Castaway Cay and spotted the Flying Dutchman, Davey Jones' ghost ship from the movie "Pirates of the Caribbean: Dead Man's Chest"! The Flying Dutchman wasn't at Castaway Cay during our last cruise so seeing it in person was a real treat!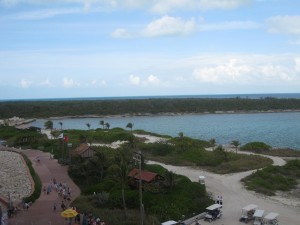 View of Castaway Cay from our verandah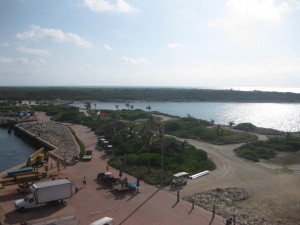 View of Castaway Cay from our verandah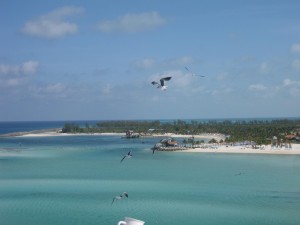 View of Castaway Cay from Deck 9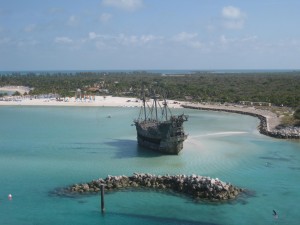 Flying Dutchman
We were off the ship by 9:30 am and in line to see Chip and Dale in front of the Castaway Cay Post Office. After getting a photo with Chip and Dale, I mailed out postcards to our families from the Post Office. Even thought we visited 3 different places, I thought it would be particularly special to have the postcards mailed from Castaway Cay since it is a private island. Castaway Cay is part of the Bahamas so we had to buy Bahamian stamps, which were 50 cents for each postcard. (TIP: Unlike everywhere else on the island where you can use your room key to pay for stuff, the Castaway Cay Post Office takes cash only so bring cash if you plan to mail postcards from here!)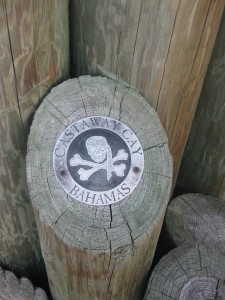 Castaway Cay, Bahamas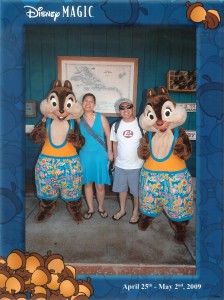 Chip and Dale at Castaway Cay Post Office
We took the tram to the beaches and rushed over to the Stingray Hut near the Teen Beach for the Castaway Ray's Stingray Adventure excursion at 10 am, followed by a one-hour bicycle ride through the island. Next, we had lunch and snorkled at Serenity Bay. (Click on any of the links to read my reviews for those activities.)
Lastly, we wanted enough time to leisurely walk back to the ship and do some shopping so we packed up around 3:30 pm and took the tram back to the family beach. We first stopped at the Bahamian Retail shop, where I picked up a magnet and a nice sand photo frame. Next, we dropped a ton of money at She Sells Seashells shop. Chris and I both bought "Finding Nemo" seagulls shirts. I also bought a magnet, Christmas ornament, Castaway Cay pin, Castaway Club pin, and Castaway Cay shirt.
Gorgeous palm trees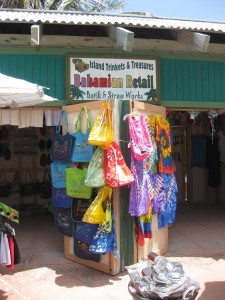 Bahamian Retail Shop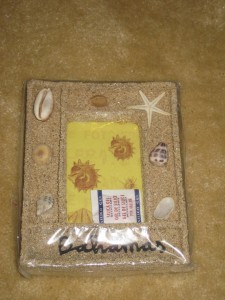 Bahamas photo frame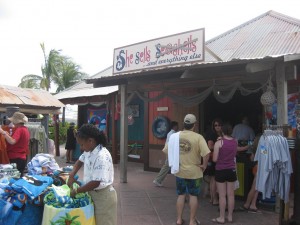 She Sells Seashells and everything else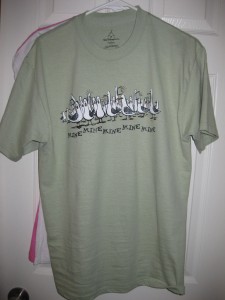 Finding Nemo seagulls shirt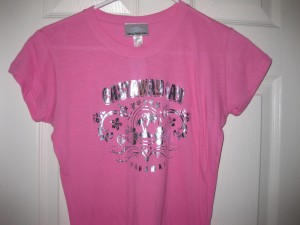 Castaway Cay shirt
We continued our walk back to the ship. Instead of taking the tram, we walked the route so we could take photos along the way. We took photos of Mount Rushmore, which are four giant metal tanks painted with the faces of Mickey, Pluto, Donald, and Goofy. We also took some great photos of the ship and the Flying Dutchman.
Arriving at Castaway Cay was bittersweet because it was the last day of the cruise but Castaway Cay is awesome. Leaving Castaway Cay was just bitter…well, sad really. I didn't want it to end!!
Mount Rustmore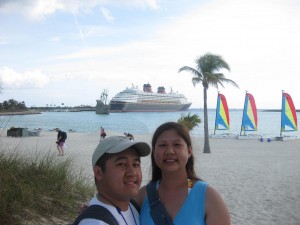 Disney Magic & Flying Dutchman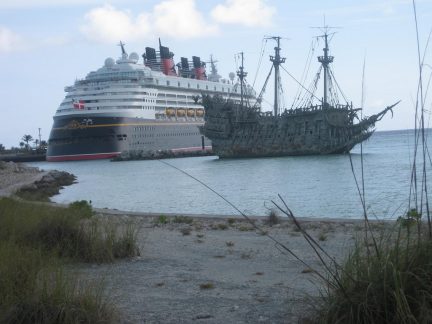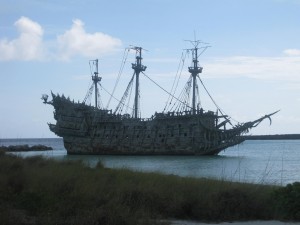 Flying Dutchman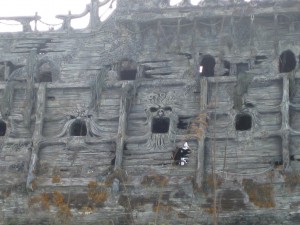 Flying Dutchman detail
Castaway Cay flags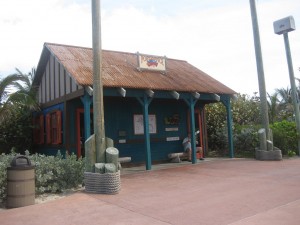 Castaway Cay Post Office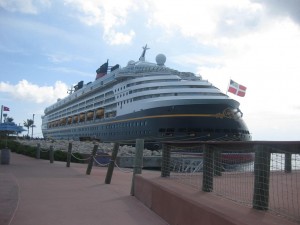 Disney Magic
+ See more Castaway Cay photos
+ Read more about Disney Magic Eastern Caribbean Cruise 2009