Day 7 – Friday, May 1, 2009
When we returned to the room, our Onboard Airline Check-in documents were there. If Disney was handling your transportation from the port back to Orlando airport and you are flying with a participating airline, you can do Onboard Airline Check-in where they deliver your airline tickets to your room, pick up your check-in luggage from your stateroom, check in the luggage for you, and all you have to do is get on your flight and pick up your luggage at the baggage claim in your home airport! It's pretty neat to not have to worry about hauling our luggage to the airport and checking it in ourselves. The only flaw I found with the program is that we can only have our airline check-in luggage taken by the Cast Members. During our first cruise, there wasn't Onboard Airline Check-in and we could have Disney take any luggage that we didn't need overnight or the next morning down to the port for us and we could pick them up when we got off the ship. That way, we didn't have to haul around additional luggage in the morning to breakfast and exiting the ship. With the program, we had to keep both of our rolling carry-on suitcases and would have to take them to breakfast with us. I made a note of this in the feedback form so hopefully, this changes in the future.
Anyway, it was time to get down to the business of packing. We had gotten quite a few magnets as FE gifts so I took one last photo of our stateroom door before sadly taking down all the magnets. I also packed up all the pins I traded/bought and buttons we acquired from the trip! Right as we finished packing the last of the check-in bags, Air delivered our autographed photo mat to our room! We totally forgot about it. I dropped off a blank photo mat to be signed by the Disney characters at Guest Services on the first night. It was signed by everyone! Yay! But unfortunately, we had to unpack one of the bags and repack it with the photo mat. LOL! Even though we didn't have to have the bags outside until 11 pm, we decided to put them out before leaving for dinner so we wouldn't have to rush back.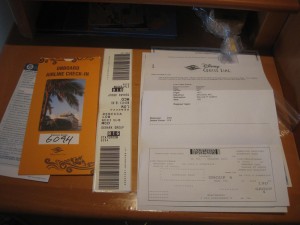 Onboard Airline Check-in Documents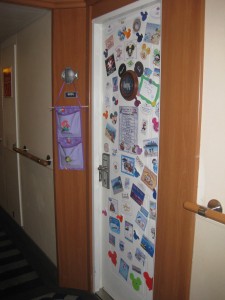 Our final door decorations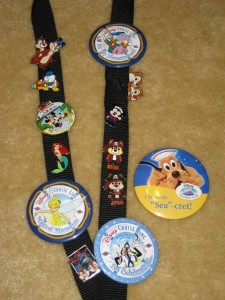 Sample of my pins & buttons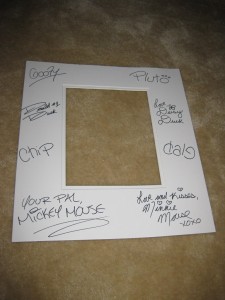 Autographed photo mat
We went to Shutters again to get the last of our photos and it was a MAD HOUSE! It was a good thing that we went through most of our photos the night before and purchased our packages. We just had to pick up a couple of photos and downgrade our photo packages since we didn't use all of them. That's one of the great things about the photo packages at Shutters. As I mentioned before, we purchased the 20 8×10 and 10 6×8 photo packages but only winded up liking 16 8×10's and 6 6×8's so Shutters refunded us the prices for the original packages and charged us for a 15 8×10 photo package and we bought the remaining 8×10 and 6 6×8's individually. It was really quick and we got outta there.
Next, we did some last minute shopping at Mickey's Mates and Treasure Ketch. I winded up finding a beautiful Ariel wooden statue. While heading to dinner, we ran into Minnie Mouse and I got a quick photo with her! Chris and I also took a picture in front of the Helmsman Mickey statue in the Lobby Atrium.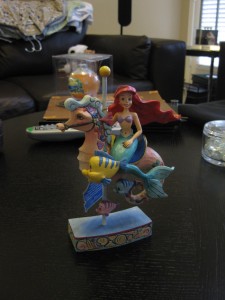 Wooden Ariel statue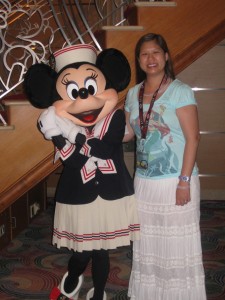 Minnie Mouse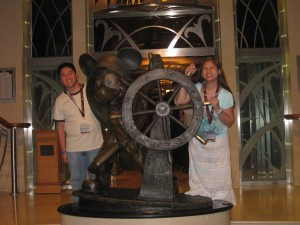 Helmsman Mickey Statue
Our last dinner on the cruise was back in the restaurant we began in, Lumiere's. The theme of the night was "Till We Meet Again" and the international diversity of the food and our servers was the focus. During dessert, the server did an international flag parade. Then the chefs presented the Flaming Baked Alaska! The food was back to the glory that I knew and love! Yum! At the end of dinner, we took photos with our table and servers. Last dinner! *sniffle*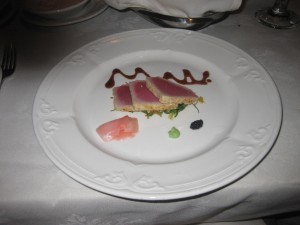 Tuna Sashimi Appetizer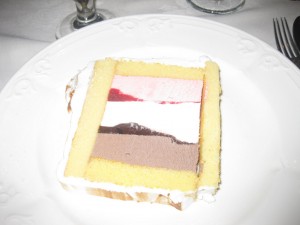 Baked Alaska Cake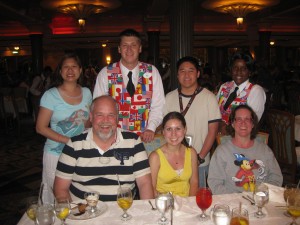 Our Table #52 and our servers: Me, Miki (Assistant Server), Chris, Paula (Server), Kip, Casey, and Paula
After dinner, we went up to Deck 4 to the area that overlooked the lobby for a spot to watch the "Till We Meet Again" show, which was a gathering of the casts from the stage shows, staff members, and Disney characters! After an introduction of everyone, the characters broke off into area around the Lobby Atrium to take photos. I got photos with Chip & Dale, Belle, Cinderella, Peter Pan, and Anne Marie from "Disney Dreams"! After taking the photos, the characters gathered on the staircases for one final wave goodbye to us!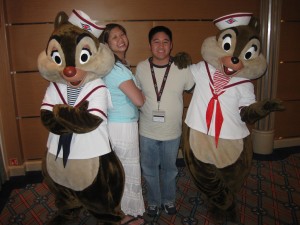 Chip and Dale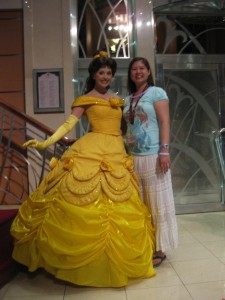 Belle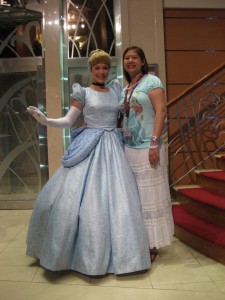 Cinderella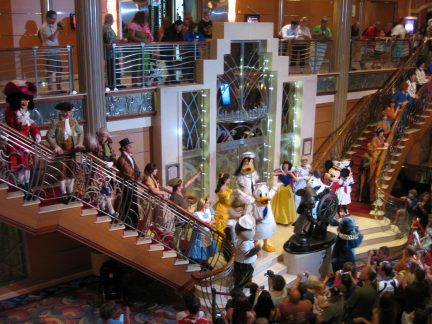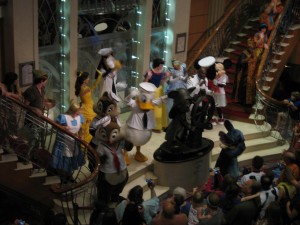 Till We Meet Again show
One of the tips I read was to savor the last night by having a Mickey ice cream bar on the balcony. We ordered a Mickey ice cream bar every night anyway so we ordered another one and sat outside on the balcony to eat it this time. It was so lovely to hear the crashing of the waves around us and look out into the distance with the moon lighting the water. How I will miss this.
Day 8 – Saturday, May 2, 2009
Well, the day finally came. It was the day to go home. =( Wahhhhh!! We luckily had the last seating for breakfast so we technically got to sleep in the latest. Our breakfast was in Lumiere's at 8:15 am. We had a nice sit-down breakfast with our tablemates and our usual servers before having to disembark the Disney Magic. The whole morning felt rushed even though we personally weren't in a rush but a lot of people were running around with their luggage and the pace just seemed like everyone was in a hurry.
After disembarking the ship, we went through customs and walked through the area where everyone else (non-Onboard Airline Check-in people) claimed their luggage. We quickly boarded the DCL Motorcoach and it whisked us away to Orlando Airport. I fell asleep on the ride there, of course. =)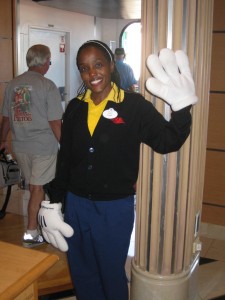 Disembarking the ship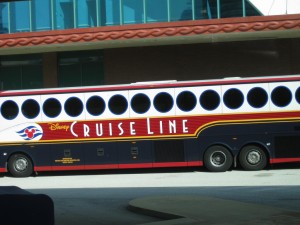 DCL Motorcoach
We arrived at the Orlando Airport around 10:30 am. Our flight wasn't until 4:25 pm! We had a lot of time to kill. The first thing we did was head back to the Hyatt Orlando Airport Hotel, where we stayed the night before our cruise. We left a nightlight in our room and checked with the front desk if it was found. Unfortunately, it wasn't. While there, we talked to the Bell Desk and were able to convince them to hold our luggage for us until our flight.
Then we headed back down to the main terminal of the airport to do some shopping. The Main Terminal is like a mini-mall with over 35 shops and 15 restaurants! We shopped until lunch time and then returned to the Hyatt to have lunch at McCoy's Bar & Grill, where I had a delicious burger! After lunch, we went back down to the Main Terminal and continued shopping until about 3 pm. We returned to the Hyatt to pick up our luggage and then headed to our gate.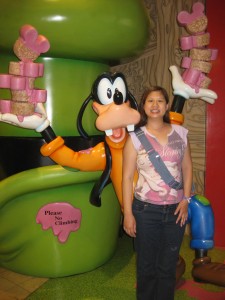 Orlando Airport Disney Store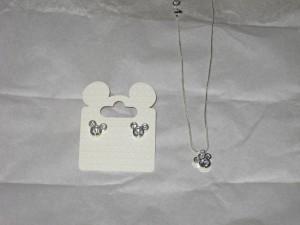 Mickey earrings & necklace set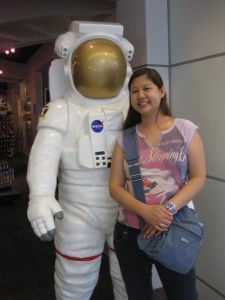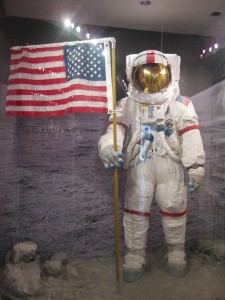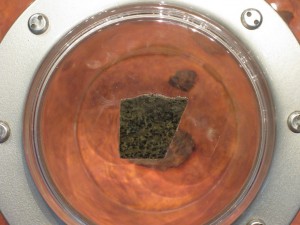 Moon rock at Kennedy Space Center store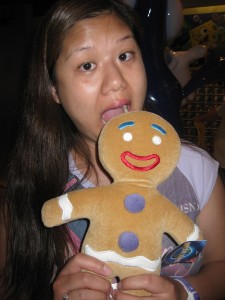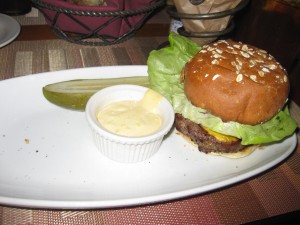 On the plane, I was seated in first class and Chris in coach again. When everyone boarded the plane, the pilot announced that all incoming flights to Dallas had been grounded because there was a major lightning storm and lightning had hit a runway. They would have to wait for word on the damage and until it was safe to fly into Dallas. We had no clue how long we'd be delayed in Orlando but it seemed like they expected it to be awhile because they said they would start the movie! = While we were grounded, the person sitting next to me tapped the panel below the row in front of us and it fell off! Upon a closer look, it was help up by duct tape! The flight attendant called for maintenance and a maintenance worked went in and fixed it. Since I had to get out of my row anyway, Chris and I chatted a little next to the bathroom. When we returned to our seats, we texted each other until our flight was given the all clear to leave. I think we were probably delayed 30 minutes. It wasn't too bad. It could have been MUCH worse.
The flight home was uneventful. My meal wasn't as good as when I had flown to Orlando but sitting in first class is sweet!!
+ See more Disney Magic photos and Orlando airport photos
+ Read more about Disney Magic Eastern Caribbean Cruise 2009