Day 1 – Saturday, April 25, 2009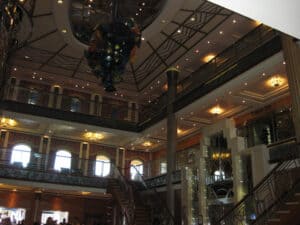 Disney Magic Lobby Atrium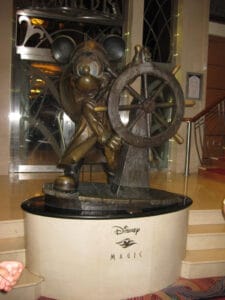 Mickey Lobby Statue
The first thing we did when we got onboard was make a beeline to Rockin Bar D to make reservations for Palo. There was already quite a line and we ran into Michelle (ametaldiva) and Danny there! This would be our first meeting but we saw them EVERYWHERE during the cruise and they turned out to be wonderful people! We finally got up to the front of the line and were able to make both brunch and high tea reservation at Palo! Our reservations were booked by 12:30 pm! Yay!
On our way out of Rockin Bar D, we stopped by a cart that was selling the wine and bottled water packages and purchased the bottled water package. (Tip for future cruisers: It's cheaper to buy it from these carts than to order it from your room!) The case of bottled water was delivered to our room a few hours later. Next, we headed over to Guest Services and made reservations for the Galley Tour and beer tasting. I also applied my $680 in Disney Reward Dollars to my account. While we were at Guest Services, we mentioned it was our anniversary and they gave us "I'm Celebrating!" buttons! Chris wore his on his lanyard all the time and people would always ask us what we were celebrating! =)
With all that out of the way, we headed over to Parrot Cay for lunch. Outside of Parrot Cay, we met Dave Marx, who is the author of the "Passporter's" Guides. His DCL guide was SUPER and I learned so much from it! It was a thrill to meet him! He also gave Chris and me lanyards for their Passporter's Decade of Dreams Tour! My first meal on the Disney Magic was interesting. The spread was great but I had a craving for comfort foods so I filled my plate at the kids buffet with spaghetti and mac & cheese!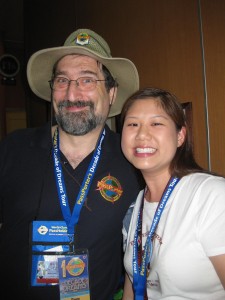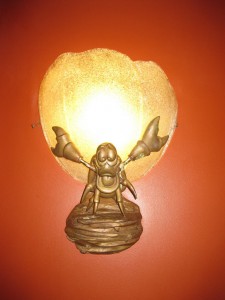 Sebastian lamp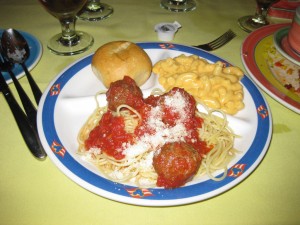 Kids plate at Parrot Cay
After lunch, it was past 1 pm so our stateroom was ready. We headed to our stateroom 6094 on Deck 6. We booked a Category 6 stateroom, which is a room with a private verandah (or balcony). We booked a Cat. 6 on our first DCL cruise for our honeymoon because we thought it would be nice to go outside whenever we want to get fresh air, especially if we felt claustraphobic or sea sick on the ship, and to have nice view. Now we can't imagine not having balcony on a cruise. Our Castaway Club gift, shore excursion tickets, and dining tickets were waiting for us.
Our stateroom attendent, Air, introduced herself to us and was already helping us with our requests for more clothes hangers and a bucket of ice. The staterooms come with a beverage cooler that looks like a mini-fridge but isn't. If a drink is already cold, it will keep it cool but it won't make a drink that is room temperature into cold. So we used our bucket of ice to keep 4 bottles of water cold all the time.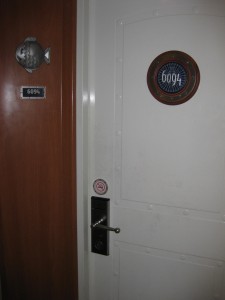 Stateroom door before decorating it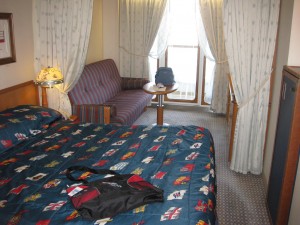 Our Category 6 stateroom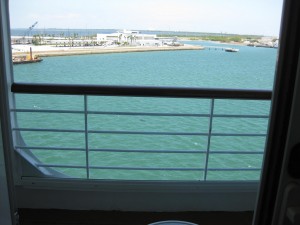 Category 6 stateroom verandah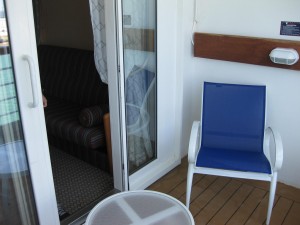 Category 6 stateroom verandah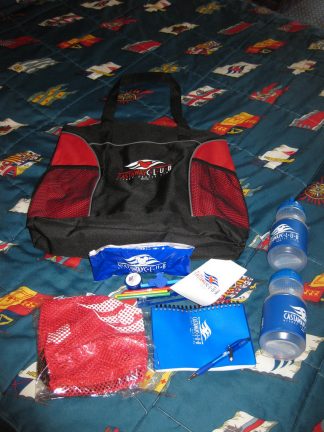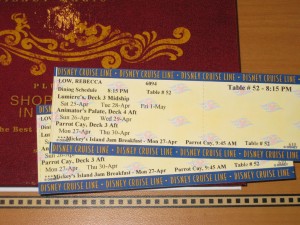 Dining Rotation Tickets
We only had a little time to get settled before we were off again to the Cruise Meet in the Promenade Lounge at 3 pm. The Cruise Meet was a gathering for everyone who was on the DISboards. We've had such a great time all these months planning the cruise together and now we were here and finally could meet each other! We had a great turnout for the meet! Sandy ordered "Pirates of Tortola" bracelets for us to wear throughout the cruise so other DIS-ers could identify us. Dot & Harry passed out "Pirates of Tortola" magnets using a design I created for our cruise and I saw several people wearing "Pirates of Tortola" shirts using the same design too! We also met Paula and Kip for the first time, who are our tablemates for dinner. Paula asked if we wanted to be tablemates before our cruise and we hooked our reservations together so we could sit together for dinner! After some announcements of cabin changes for the FE list (more about FE's later), I did a roll call of everyone from our cruise thread. It was nice putting a face to the screen names we've seen for months! We then took one big group photo!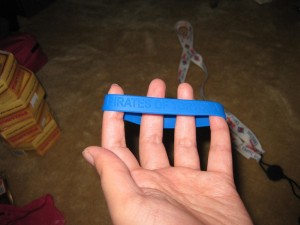 Pirates in Tortola wristband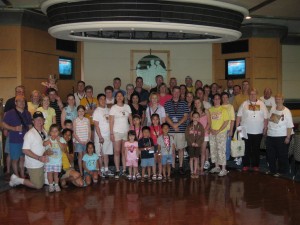 DISboard Cruise Meet Group Photo
Shortly after the cruise meet, the mandatory safety drill started. We donned our life vests and headed to Assembly Station P for roll call. After the safety drill, we quickly put away our life vests into the room and headed to Deck 10 to get a spot for the Sailaway Party. We ran into Michelle and Danny and they were kind enough to share their table with us! We had a great view overlooking the dance floor and stage on Deck 9! We sipped on some yummy Sailaway Drinks and watched the show. Christian, the Cruise Director, introduced the cruise activities staff and then the Disney characters came out: Mickey, Minnie, Donald, Goofy, Pluto, Chip, and Dale! They led the crowd in a few dances and then we did the countdown for sailing. The ship blew it's horn which sings "When You Wish Upon a Star" and it was awesome!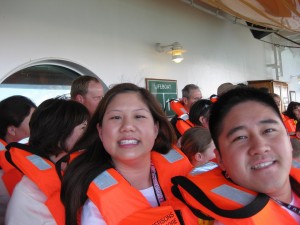 Safety Drill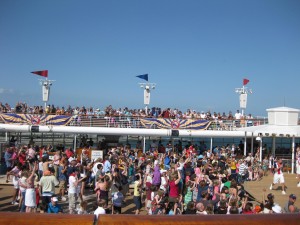 Sailaway Party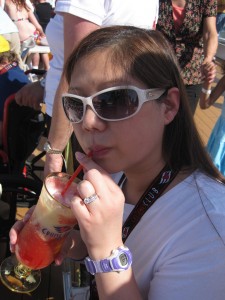 Sipping my Sailaway Drink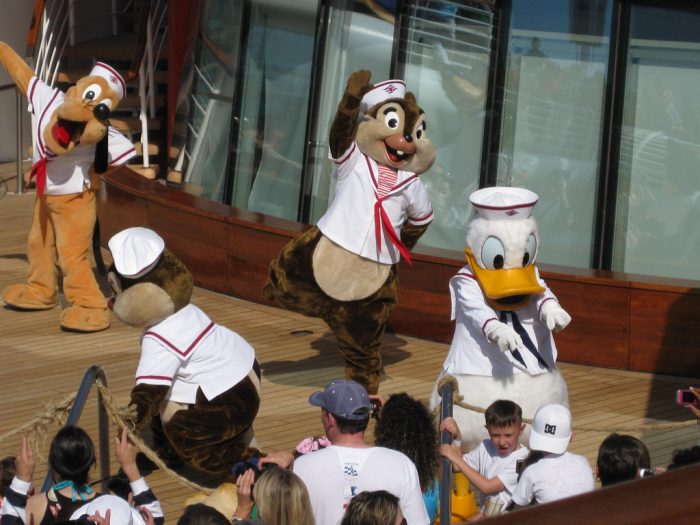 After the party ended, we rushed to the front of the ship to watch it sail out of Port Canaveral and into the Atlantic Ocean! We were hoping to see some dolphins but no luck this time.
When we got back to the room, it was around 6 pm and our luggage had arrived! I also sent a box to the ship's warehouse via UPS a few weeks before the trip and it was in our stateroom too. We unpacked our luggage. I decorated our stateroom door with the magnets I had made and put up our fish extender. A fish extender is a fabric pocket organizer that is hung from the metal fish outside of a Disney Cruise Line stateroom door. (See the photo below.) The metal fish is used by Cast Members to deliver letters to your stateroom. The pocket organizer hangs on the fish so it's called a "fish extender" or FE for short. We participated in an FE gift exchange with other cruisers that we met on DISboards.com. This was our first time participating in an FE gift exchange and it was wonderful finding little presents in the FE throughout our cruise!
It was only the first day of our cruise and the Mission: Space backpack that we bought at Epcot many years ago decided to die on us. The zippers wouldn't unzip past a certain point, making it very difficult to take items in and out of the backpack. We headed down to the shops to see if we could find a new backpack to replace it. We didn't find a backpack unfortunately but I found a DCL Dale plush to match the Chip plush I got during our honeymoon! I also wore my pin lanyard so I could trade with the Cast Members. I have a lot of pins from my days working at Disney but I never traded before. I brought one lanyard of pins that I wanted to trade for other pins and traded throughout the cruise. It was a lot of fun and I got some great Chip 'n' Dale and Ariel pins!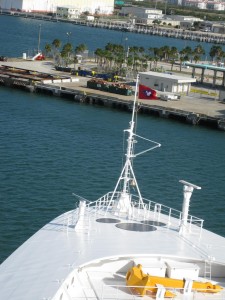 Sailing away from Port Canaveral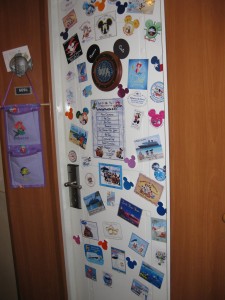 Our decorated stateroom door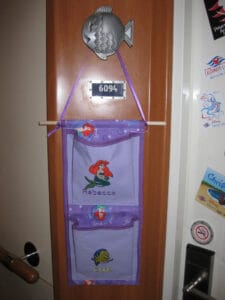 Our fish extender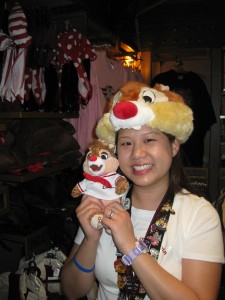 Inside Mickey's Mates
After hitting the shops, we went back to the room to change for dinner and then went to the Lobby Atrium to take "lifestyle portraits". We took photos with the professional photographer and backdrops every evening before dinner. The lines were usually pretty short and the photos turned out really nice. We haven't had professional photos taken since our wedding! We also stopped by the DCL Limited Edition Pin Station that sells pins you can only buy on the ship. I picked up a couple of pins there and then we were off to dinner.
Our first dinner was Lumiere's, which is a French restaurant with a "Beauty & the Beast" theme. Our food was sooo good! It reminded me how much I loved the food on our last cruise! One of the best parts of cruising is that you can order as much food as you want and not worry about wasting money if you don't like it. It's a great time to try new foods! We usually had 4-course meal during dinners: appetizer, soup or salad, entree, and then dessert! Nom nom!
We also had dinner with our tablemates and met our servers for the first time. Our head server was Jeevan from India, our main server was Paula from Jamacia, and our assistant server was Miki from Serbia. Our tablemates were Paula (dvc2themax), Kip, and their daughter Casey. They were great to talk to and I'm really glad we decided to be tablemates with them!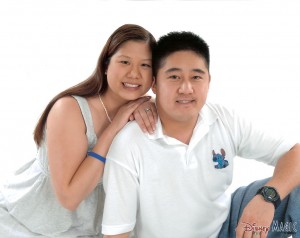 Pre-dinner Portrait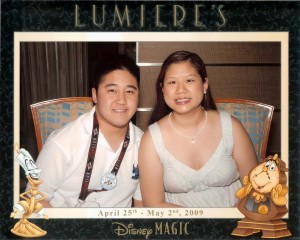 Dinner at Lumiere's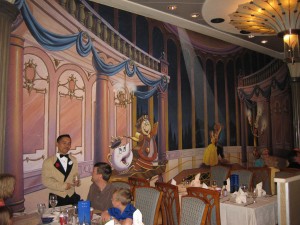 "Beauty & the Beast" mural at Lumiere's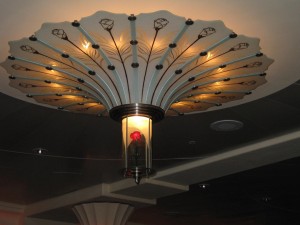 Rose-accented lighting at Lumiere's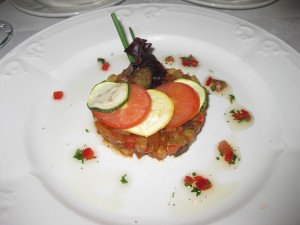 Ratatouille appetizer at Lumiere's
There are 2 dinner seatings on Disney Cruises: main seating at 5:45 pm and late seating at 8:15 pm. We were late seating and our dinner usually didn't end until 9:30 to 10 pm.
After dinner, we delivered our first batch of FE gifts. There were 23 staterooms and it took us almost an hour trekking up and down each floor and every floor. It took a lot longer than I had imagined. I also planned to do two deliveries and regretted that decision but it was too late to only make one delivery at that point. Next time, I will definitely only do one delivery AND make sure I plot the most efficient course to each room.
We always take our pills (medications and vitamins) before bed with orange juice so every night we ordered orange juice from room service. Almost every night, we also ordered a Mickey Mouse ice cream bar with it too as a good night treat! It was a wonderful way to spoil ourselves during the cruise!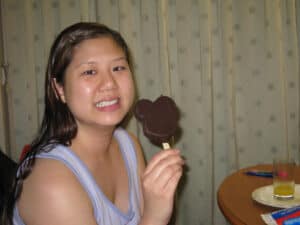 Bedtime Mickey ice cream bar
+ See more Disney Magic photos
+ Read more about Disney Magic Eastern Caribbean Cruise 2009