As part of our Disney Magic Eastern Caribbean Cruise, we visited the Senses Spa for their Couple's Choice treatment in the Spa Villa! There are only a few Spa Villas on each ship and their treatments are long so they book up quickly, especially on sea days. You can begin booking spa treatments when your reservation booking window opens, at the same time you can book shore excursions.
The Spa Villas are spa treatment rooms with private balconies and on the balcony is a lounge bed and jetted hot tub. I just fell in love with the idea of being in a jacuzzi on a balcony overlooking the ocean!!
Our time in the villa began with a 75-minute ELEMIS Aroma Stone Therapy couple's massage. You can also choose to have the ELEMIS Seaweed Massage, ELEMIS Intensely Cleansing Salt Scrub, or ELEMIS Body Nectar Nourishing Wrap instead.
After our amazing massages, we were escorted by our therapists out to the beautiful balcony and sat on the large lounge bed. Here they placed our feet into large golden bowls and gave us both foot scrubs.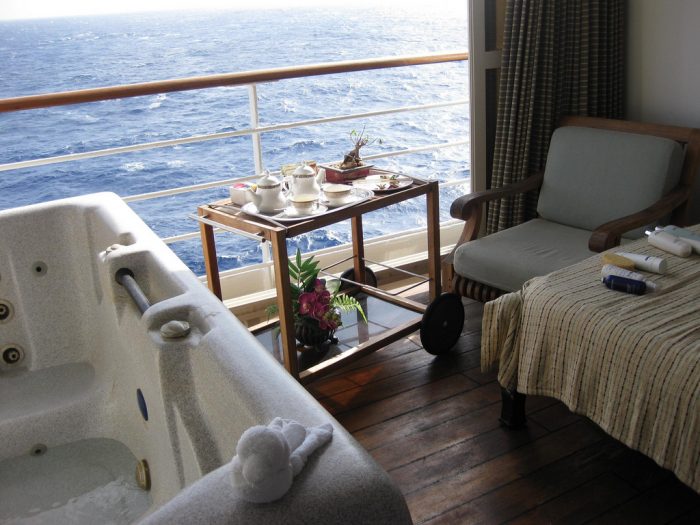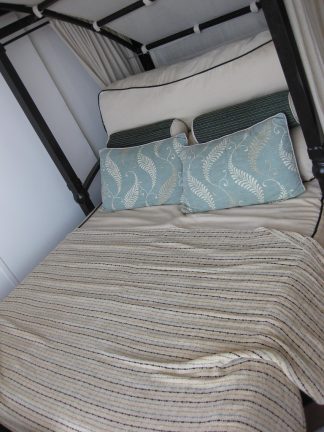 Then it was hot tub time! The therapists turned on the jacuzzi and left us alone. They close the curtains inside the room so we could have privacy. Soaking in the jacuzzi and watching the the waves from the ship was so relaxing! The hot tub was in the sun though so I got hot pretty quickly, though I always do in hot tubs.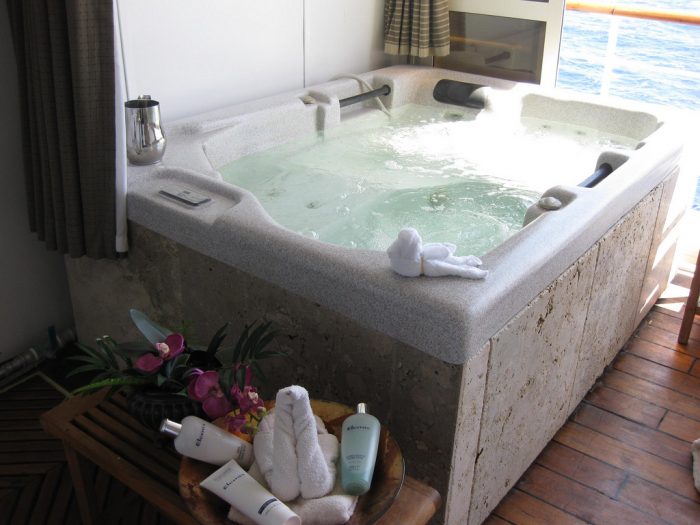 After the jacuzzi soak, our therapists served us fresh fruit, chocolate-dipped strawberries, and our choice of hot tea in the lounge bed. It was nice just to cuddle, relax, and look out into the ocean. So heavenly!
When we got back to the room after dinner, we had a lovely surprise! Our spa therapists left us a Magical Moments certificate for our anniversary and decorated it with a ton of glitter. Gotta love sparkles!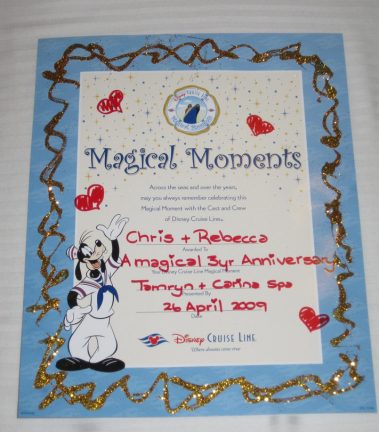 + See more Disney Magic photos
+ Read more about Disney Magic Eastern Caribbean Cruise 2009
UPDATE: We were able to visit the Senses Spa Villas on Disney Magic again in October 2017 and found this experience is still accurate. Bon voyage!