Day 2 – Sunday, April 26, 2009
There's nothing more amazing than waking up and seeing this outside your balcony.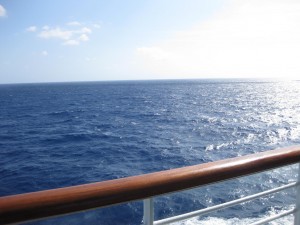 View from our verandah
It was gorgeous! We started off our day be attending "Disney's Art of Entertaining: The Appetizer" cooking class at Studio Sea. The chef made Baked Crab Martinique, which is a crab dip. It was very yummy!!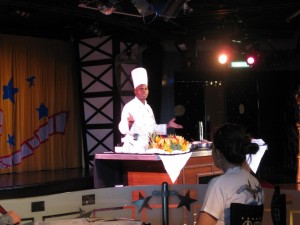 Appetizer cooking class
After the cooking class, we headed over to Palo, the adults only restaurant, for brunch. Palo brunch is only served on at-sea days. OMG! Brunch was so amazing!! There are so many options. They had a table for breads, a table for appetizers, a table of baked goods, a table of desserts, and 2 tables of hot entrees. AND my favorite part…caviar!! Yummo!!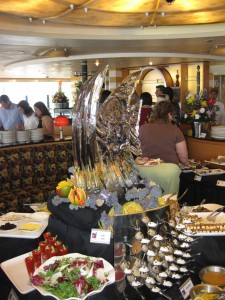 Palo Brunch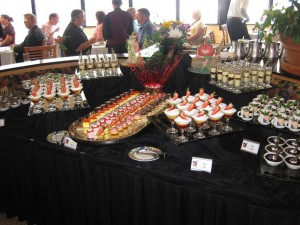 Palo Brunch
After brunch, we attended the Port & Shopping Show at the Buena Vista Theatre. During the show, Kat the port shopping expert, highlighted guaranteed shops in St. Thomas and Tortola and told us about different discounts and deals we could get. She is such a good seller. We snatched up the $25 Port Shopping Club book right away after she told us about all the coupons and freebies we could get. The great thing about using guaranteed shops is that we can return items we buy if we find out they are worth less than what we paid. It's a little insurance to make sure you don't get ripped off. Chris turned me during the show and said, "Do you want a diamond?" I was like, "Wah???" Of course I want a diamond! Kat managed to brainwash Chris into buying me a diamond! YAY! LOL!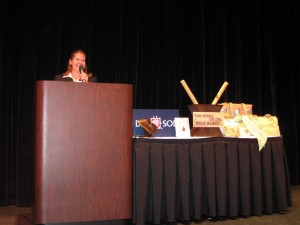 Port & Shopping Show
Next, we headed to the Vista Spa for our Couple's Choice treatment in the Spa Villa! Read more about that in my Disney Magic Spa Villa Review.
When we got back to our room from the spa, we got our first fish extender gifts! Yay! It was formal night so we changed for dinner and headed down to see the first stage show. Disney's live stage shows are Broadway-style musicals that feature Disney characters. That night, we watched "The Golden Mickeys", which was an Academy Award-style awards show featuring scenes and songs from Disney movies.
After the show, we headed to the Lobby Atrium for photos again. I know a lot of people don't like dressing up, especially during your vacation, but I thought formal night was fun! It was nice seeing everyone dressed up and it was awesome to take nice pictures of us all dressed up. It was like dormal (dorm formal) all over again! We also got to take a photo with the Captain and enjoy a free cocktail.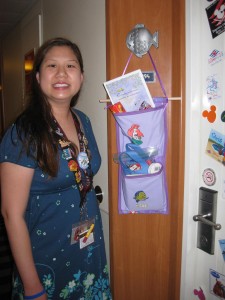 First Fish Extender Gifts
Golden Mickeys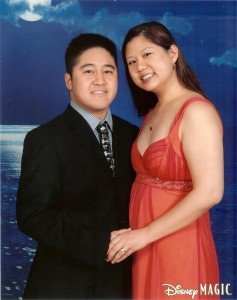 Formal night portrait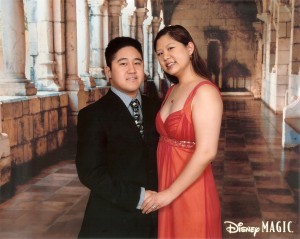 Formal night portrait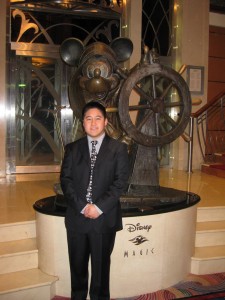 Chris in the Lobby
The sea during our whole cruise was pretty rough. There were storms coming and in out of the caribbean the whole week we were on the cruise and the ship rocked a lot from the strong waves. Even the Cast Members said it was pretty bad and it was "never like this". Chris and I took meclizine every day of the cruise, even if we didn't feel sea sick, and it worked really well. There were a few times Chris felt a little sea sick and he put the seabands on and felt better. Oddly enough, the rocking didn't bother me until I tried to sleep. Laying in bed made me dizzy so I wore the seabands to sleep. Overall, we quickly learned to walk and endure the rocking. I almost died though. I can't remember what night it was but one of the first nights, I was taking a shower with my back facing the shower curtain. Then the ship hit a rough wave and I fell backward. I quickly grabbed the safety bar and was able to balance myself but it could have been bad. If I fell backward, I would have fallen through the shower curtain and hit my head on the back of the wall since the bathrooms are really small! Sheesh! Also, I learned not to try squatting while peeing over a toliet on a rocking ship. It's very hard to keep your balance while squatting. >.<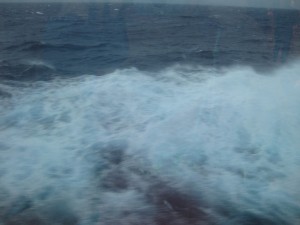 Rough seas
Inclement weather warning
Our dinner that evening was at Animator's Palate. Since it was formal night, they didn't do the Animator's Palate show where the restaurant changes colors so that was a little weird. It stayed black and white the whole time. The food again was excellent though. Our servers also celebrated Paula's birthday that evening (even though her birthday was actually Monday, the next day)! We sang to her and they gave her a big birthday cake!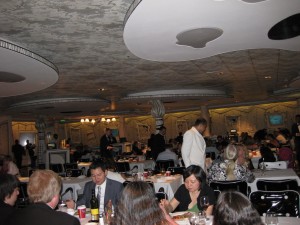 Animator's Palate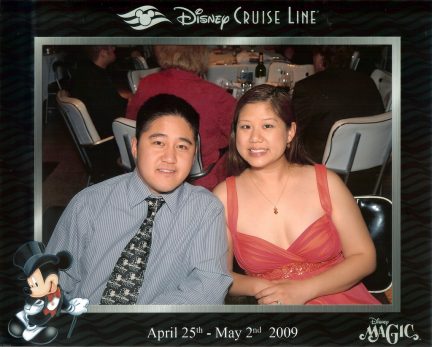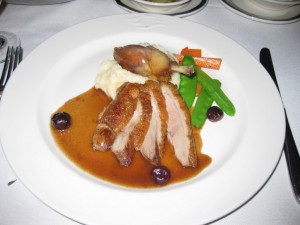 Oven-roasted Duckling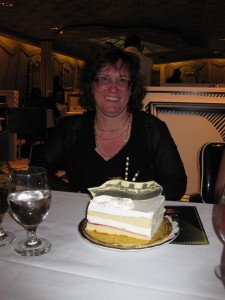 Paula & her birthday cake
When we got back to the room after dinner, we received our invitation to the Castaway Clubhouse the next day, which is a reception for Castaway Club members (or repeat Disney cruisers).
DCL stateroom attendants are famous for the animals they fold out of towels each night at turndown service! We got a nice towel from Air every evening.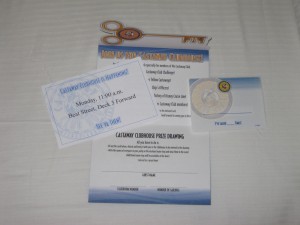 Castaway Clubhouse Invitation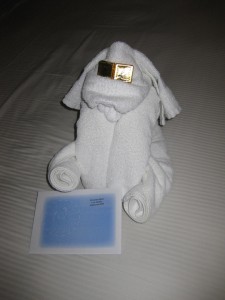 Towel Animal
+ See more Disney Magic photos
+ Read more about Disney Magic Eastern Caribbean Cruise 2009