Day 7 – Friday, May 1, 2009
After completing the Castaway Cay Bike Trail, we decided it was time for lunch. We took the tram to Serenity Bay, the adults only beach. The BBQ lunch was yummy! I had BBQ ribs, all sorts of sides, and split a cheeseburger with Chris. I also finally had the highly recommended cookie dough ice cream and chocolate chip cookie! Yummmmm! We shared a table with another couple, Amy and Ray, and were chatting about various things, including sports that we watched. Ray mentioned that he liked baseball and he used to be a Yankees fan but converted to Red Sox. Well, a Yankee fan behind our table overheard our conversation and started going off on Ray! I mean, this guy was so angry that I was worried he was about to start a full-on fight! The guy backed off after saying some choice words and we ignored him. OMG. I can't believe people are so rabidly crazy. This guy almost started a bar fight on Castaway Cay!! O_o We later saw the same couple again on the ship and had a good laugh about the crazy Yankee fan.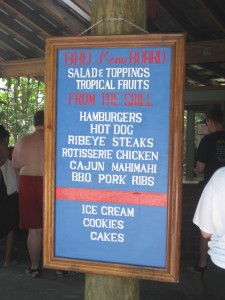 Serenity Bay BBQ Menu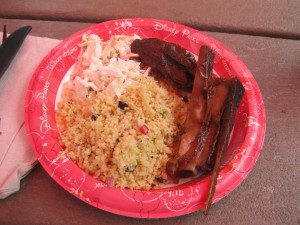 Serenity Bay BBQ Lunch
After lunch, we found a nice spot on the beach at Serenity Bay, which is my favorite part of Castaway Cay. Since it's an adults only area and most guests on Disney cruises are families, there aren't a lot of people on the beach. During our last cruise, we spent some time at the family beach when I snorkeled in the Snorkel Lagoon and it was SO crowded. It was hard to find a empty chair for one thing and the chairs were all so close together. It was packed with people. Anyway, at Serenity Bay, there are PLENTY of empty chairs and most groups are sitting with a good amount of space from each other. It is also so peaceful since there are no kids running around horse-playing in the water or in the sand. Anyway, it's truly paradise!
Chris and I swam and snorkeled in the water together for 30 minutes. I snorkeled and would find things on the ocean floor and would pick them up for Chris to see. It was very relaxing.
Serenity Bay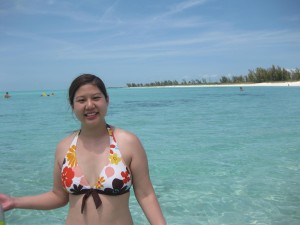 In the water at Serenity Bay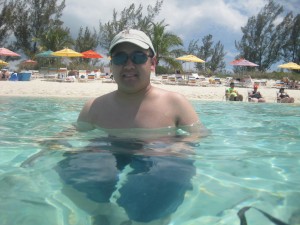 Chris in the water at Serenity Bay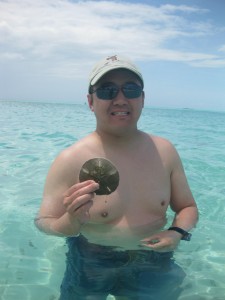 Chris holding a sand dollar we found
We ran into Danny who was snorkeling. He told me about all the fish and sea life he was seeing further out. Chris went back to the chair on the beach to relax and I went snorkeling with Danny. I felt a little bad because Danny often had to wait for me to catch up. I was having issues with my mask leaking and I wasn't wearing fins so I saw slower. But snorkeling in Serenity Bay was amazing! We saw conch, HUGE starfish, and lots of different kinds of fish! I took lots of underwater photos! I wasn't really good at diving for stuff so Danny dove and picked up a lot of things to show me. I got to feel a starfish sucking on my hand! We swam really far out to a pink buoy. I really wish I had those fins because I was pretty exhausted by the time we got out to the buoy and I felt like I was going to DIE on the swim back. Next time, I'm going to rent the fins!! But it was truly an amazing experience!!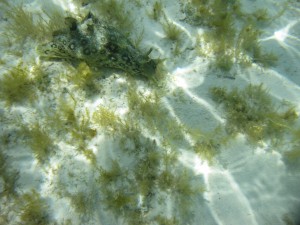 Conch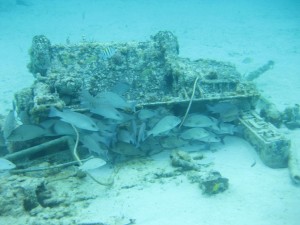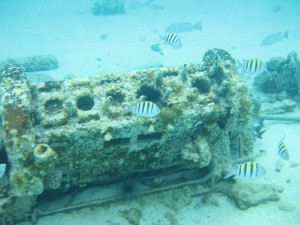 Fish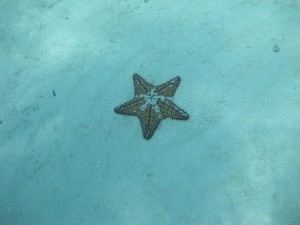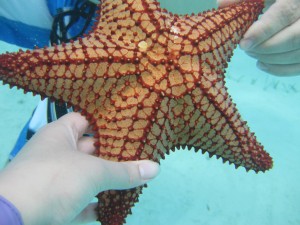 Starfish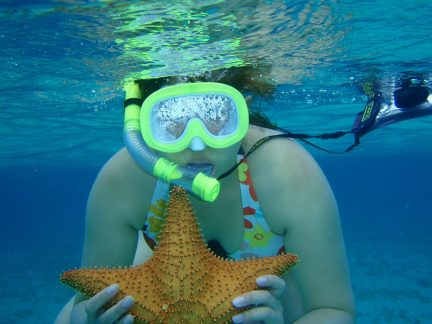 When I got back to the beach, Chris had ordered me a Bahama Mama cocktail and so I relaxed in a lounge chair and sipped it. *sigh* Paradise!! It was already past 3 pm when I got out of the water and all aboard time was 5 pm. How time flies!! We weren't there nearly long enough. I picked up some pieces of coral and seashells I found on the beach as mementos.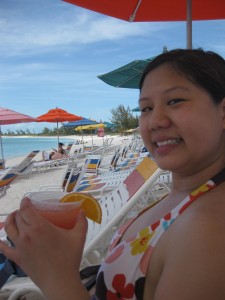 Enjoying my Bahama Mama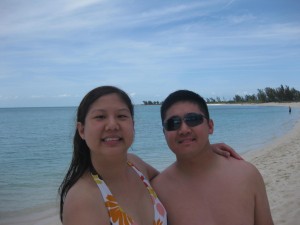 Me & Chris on Serenity Bay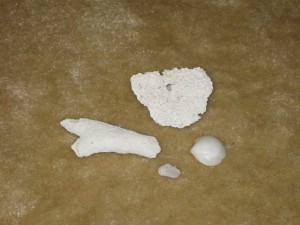 Coral & shells from Castaway Cay
+ See more Castaway Cay photos
+ Read more about Disney Magic Eastern Caribbean Cruise 2009