Sunday, November 28, 2010
We rented a car at every port on this cruise, except in Kona. We made reservations at Thrifty through Hawaiian Cruise Cars (which is no longer in business). Every port had a shuttle to the Thrifty office and back to the pier, except in Kona. In Kona, Thrifty is across the street from the pier inside King Kamehameha's Kona Beach Hotel (King Kam Hotel for short).
Since this was the first port day, I wasn't sure if the 8 am arrival time listed on the Freestyle Daily was the time our ship would dock or if we could actually get off the ship at 8 am so we decided to shoot for getting off the ship at 8:30 am. We actually winded up getting off the ship at 8:45 pm. We took the Thrifty shuttle and were at the Thrifty office by 9 am and with Blue Chip membership, we were driving off the parking lot at 9:23 am.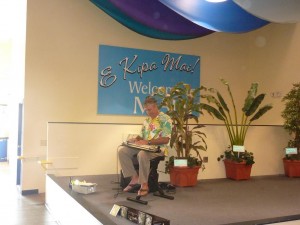 Man playing Hawaiian music at cruise pier
We need to make a stop at Walmart to buy some toiletries we needed and I also checked out their souvenir selection, which was smaller than Oahu's Walmart. In case you are in the mood for a Hawaiian breakfast, McDonald's serves Portuguese sausage, spam, eggs, and rice for breakfast and there was a McDonald's attached to the Maui and Kauai Walmart locations. We wish we knew this in advance because Chris was sad he didn't get to try it and we had already eaten breakfast.
We left Walmart at 9:45 am and drove to Haleakala National Park. It costs $10 per car to enter the park. As we ascended Haleakala, the weather started to sour. It basically rained, drizzled, and was foggy the entire time we were at Haleakala National Park. We quickly put on our packable rain coats. (Make sure you bring these!) They helped block the wind and rain. Unfortunately, the view was socked in at every stop we made. Despite that, we still tried to make every stop and drove all the way to the summit. The summit was particularly cold because of the wind. It was the only time I wish I had worn pants or convertible pants so I could add the pant legs to my shorts but we weren't there for very long since there was no view. There are some signs at the summit where you can read more about it. What I found really interesting was the change in scenery. Below the summit, there is a good about of greenery and plants, as you can see in the Halemau'u Trailhead photo but the summit is rocky with red dirt and barren of plants.
Haleakala National Park scenic points:
Park Headquarters (after mile 11): Restrooms, pay phone, and drinking water are available.
Halemau'u Trailhead (between miles 14-15): Good place to spot nene, restroom
Leleiwi Overlook (after mile 17): short trail leads to a panoramic view of crater
Kalahaku Overlook (between miles 18-19): overlook with restroom
Haleakala Visitor Center (between miles 20-21): panoramic view, exhibits, restrooms, water.
Puu Ulaula Overlook / Red Hill (mile 21): Summit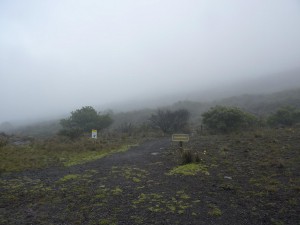 Halemau'u Trailhead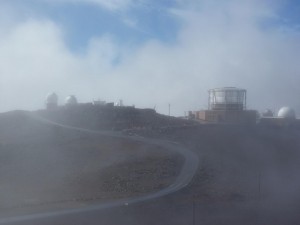 Haleakala Observatories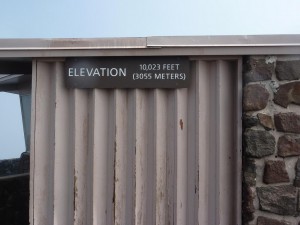 10,023 ft. elevation sign at the Summit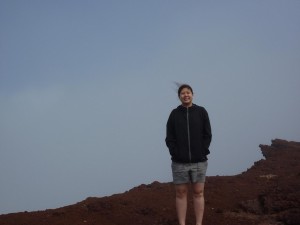 Socked in view from the Summit but you can see the neat red dirt
The only thing that really made the trip to Haleakala National Park worth it was that we saw a pair of nene outside of the Park Headquarters. This was the only place we saw nene at Haleakala. I'm guessing because the rain drove most of them into hiding. It was disappointing not to be able to see Haleakala National Park at its finest but hey, you can't control the weather and you can't win them all, right? We are big animal lovers so seeing the nene really made it worth it for me!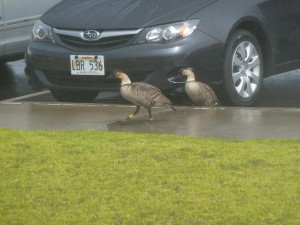 Pair of nene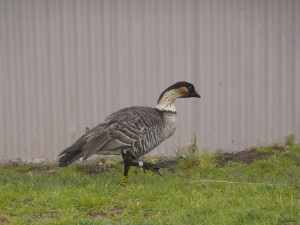 Nene
When we came back down Haleakala, we stopped for lunch at Kula Lodge at 12:45 pm. Their restaurant sits on a hill with a view of West Maui. Our view was hazy because of the weather but it was still very nice! They have a large outdoor patio with a brick pizza oven that would be wonderful to sit at on a clear day. Their Maui onion soup was very good and they serve Maui beef burgers with Maui Potato Chips. Best of all, we had this delicious pineapple shortcake dessert with 3 scoops of Maui-made Roselani ice cream. OMG…it was SOOOO good!!! We were back on the road at 2:08 pm.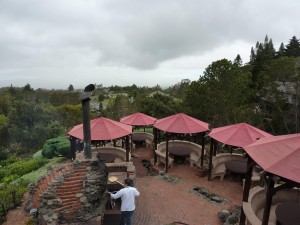 View from Kula Lodge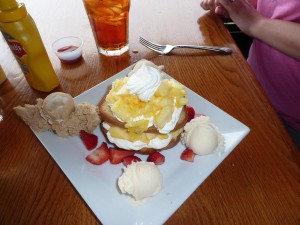 Pineapple shortcake with Roselani ice cream
At 3 pm, we arrived at Iao Valley State Park. Parking is $5. After paying for parking, we headed over to the port-a-potties at the entrance of Iao Valley. This is where disaster struck. There was a rooster walking around the parking lot so I took photos of him while Chris was using the bathroom. When he got out, I reached in my pocket to get him a antibacterial wipe and the camera slipped from my wrist!! It went crashing into the asphalt with the lens extended. While the camera still worked, it would not focus if zoomed more than 2x and lower than 8x, which is a huge range not to have. The fall must have misaligned some of the lenses. We took the photos we could in Iao Valley with the camera as it was but I was very disappointed that I broke the camera and it wasn't working 100%.
Iao Valley itself was gorgeous! The weather was much better here in Central Maui. There were still cloudy and it was a bit gloomy but the clouds mostly hung out near the tops of the peaks so we could still see everything. The famous Iao Needle was very interesting and the scenery was lush and beautiful with some gorgeous Hawaiian plants! I really enjoyed all the running streams too. It was very peaceful, which is good considering all the blood shed here. (In 1790, the Battle of Kepaniwai took place there, in which Kamehameha the Great defeated Kalanikupule and the Maui army during his campaign to unify the islands. The battle was said to be so bloody that dead bodies blocked Iao Stream, and the battle site was named Kepaniwai, which means "the damming of the waters".) Since it had rained, the steep walkways were slippery. There are hand rails but something to consider if you have limited mobility. Considering how fail Haleakala turned out to be, I'm glad we stopped here so we could see some lush scenery!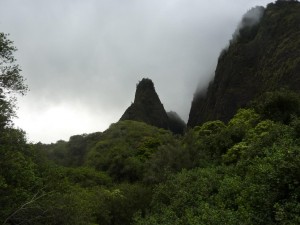 Iao Needle in Iao Valley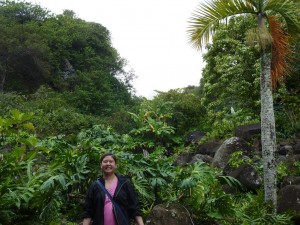 Iao Valley's lush scenery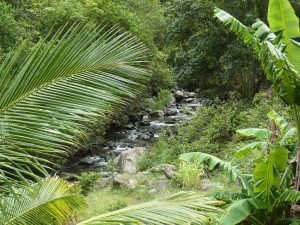 Iao Valley stream
We left Iao Valley at 3:38 pm. I was still upset about breaking the camera and I didn't want bring a camera to the luau that wasn't fully functional so I decided that we would turn back around and go to the Costco in Kahului. Costco no longer sold our Panasonic Lumix ZS1 camera but they had the latest model, Panasonic Lumix ZS6. I have to admit that unexpectedly spending $270 on a new camera made me cringe but I didn't spend all this money to come to Hawaii to take photos with a broken camera! The sales tax we were charged was only 4%, which is much better than our 8.75% at home! (Plus, when we got home, we received a coupon for $50 off and was able to get the discounted price.) It was about 4 pm when we left Costco in Kahului and we arrived in Lahaina at 4:50 pm. It literally changed into my luau dress in the backseat of the car while Chris drove to Lahaina! LOL!
Since we had to be at Old Lahaina Luau at 5:15 pm, we didn't have any time to walk around Lahaina like I would have wanted to. Instead, we drove through Front Street to get a feel for the town. Chris dropped me off at the big Banyan Tree and circled around so I could take a photo of it. Lahaina looks very charming and I would have loved to spend time there. Something to add to the list for next time.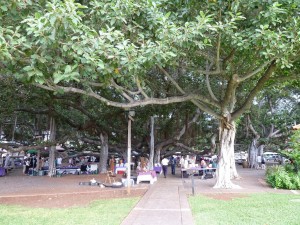 Banyan Tree in Lahaina
We arrived at Old Lahaina Luau at 5:10 pm and the parking lot was already full. They told us to park at the overflow parking lot at the Cannery Mall across the street but we were able to find some street parking that was a little closer instead. Once we parked, Chris just changed his shirt right there and we went inside.
The luau area was absolutely gorgeous! It was very open, intimate, and looked out to the ocean with sail boats in it. When you arrive, you are greeted with a fresh orchid lei, offered a mai tai or non-alcoholic drink, and then taken to your seat so you know where it is. Before the luau began, we walked around the oceanfront area of the luau, where they had professional photographers taking photos and crafts people making and selling crafts, like nut leis and wooden tikis. I sat down and learned to make a fresh plumeria hair pin for my hair and it was so beautiful! We then took some photos with the professional photographers.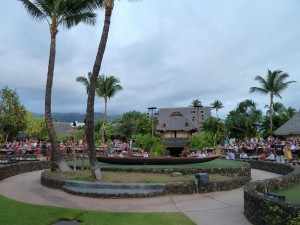 Old Lahaina Luau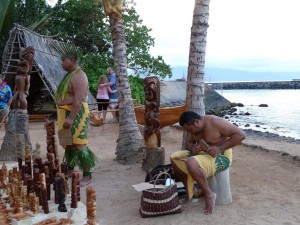 Carving and selling wooden tikis at Old Lahaina Luau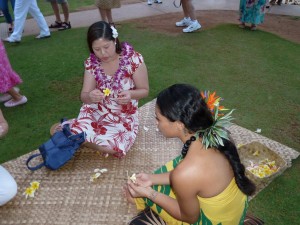 Making plumeria hair pin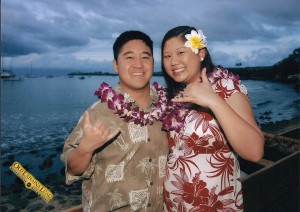 Professional photo of us
At 5:45 pm, people starting to gather around the imu, the traditional Hawaiian underground oven, signaling that they were going to unearth the pig. Two employees unburied the pig from the mound of dirt, which looked like a lot of back-breaking work, and then placed the cooked pork into a big metal pan. You could see the steam rising as they unburied it and the meat was already falling
off the bone when they moved the pig to the pan. It looked and smelled delicious!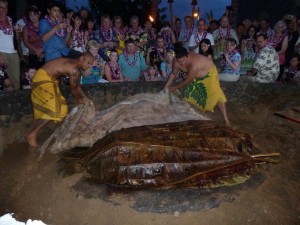 Uncovering the imu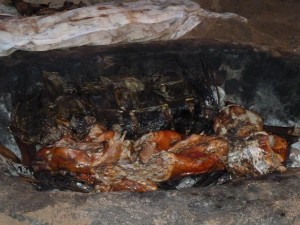 Kalua pork inside the imu
Once the kalua pork was out of the imu, we took our seats and dinner started. The food was served at a buffet and it was all-you-can-eat. The menu included Kalua Roast Pork, Laulau (Pork wrapped in Luau leaf steamed to perfection), Poi, Ahi Poke (marinated raw Ahi tuna), Big Island Sweet Potato, Grilled Tenderloin Steak, Chicken Long Rice, Island Style Chicken, Maui Style Mahi-Mahi, Stir Fry Vegetables, Local Style Fried Rice, Island Crab Salad, Taro Leaf Salad with Coconut Sauce, Pohole Salad (fern shoots), Lomi Lomi Salmon (raw salmon mixed with tomatoes and onions), Banana Bread, Fresh Island Fruit, and taro rolls. The food was MUCH better than the Polynesian Cultural Center Luau. My favorites were still the ahi poke, lomi lomi salmon, and chicken long rice.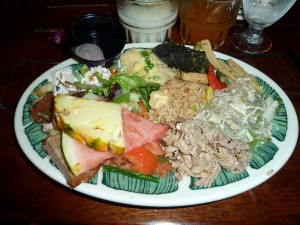 The food at Old Lahaina Luau
The hula show began at 6 pm. The show was wonderful! It displayed different types of hula with men and women, lots of costume changes, and some live Hawaiian music! It was beautiful and lasted until 8:15 pm, which was just the right length! Unlike Polynesian Cultural Center's show, I didn't get bored and I was entertained the entire time! Hula dancing is truly a beautiful art. I'm glad I got to see such talented performers. Dessert was served around 7:40 pm while the show was still going. They bring a tray of desserts to your table and included tropical fruit tarts, brownies, chocolate-cups filled with creme, and haupia, which is like coconut jello.
When the show ended, the MC asked honeymoon and anniversary couples to dance on the stage and we were tipped off by one of the professional photographers that was the signal to beat the rush and buy our photos now. So we snuck away from our table to the back of the luau, where they had table with all the photos. I believe the photo package we purchased was $40 for four 8×10 photos, not a bad price compared to the cruise ships!! The dancers were around to take photos with, as everyone was leaving the luau.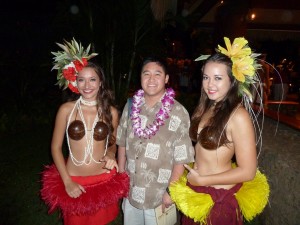 Chris with the lovely dancers of Old Lahaina Luau
When coming to Hawaii, there are many luau options on different islands. After reading quite a bit about the different luaus, we picked Old Lahaina Luau because it was highly recommended by "Frommer's Hawaii", featured on Travel Channel, and called "the most authentic Hawaiian luau" and "best luau in the Hawaiian islands" by several travel editors. We are very happy we chose this luau and had a wonderful time!! I would highly recommend it to anyone.
We left Old Lahaina Luau at 8:30 pm and drove back to Kahului. We got gas for the rental car on the way back to the Thrifty office. (Note: The Costco in Kahului does not have a gas station.) We returned the car around 9:20 pm. Thrifty officially stopped running the shuttle back to the pier at 9 pm so we were expecting to call a taxi (I even brought the number for Yellow Cab of Maui) but the shuttle driver was nice enough to take us back to the pier anyway, he just had to drop people off at the airport first. Worked for us!! The ship docked in Maui overnight this evening. We had a tour planned for the next day so we didn't want to keep the car overnight.
+ See more Maui photos
+ Read more about Hawaii 2010