Wednesday, November 24, 2010
I was a bit anxious on the days leading up to our flight. The news was buzzing about the airport security body scanners and the "more thorough" pat downs. There was a campaign urging airline passengers to "protest" on this day by opting out of the body scanners in order to cause delays in the security line. DFW has body scanners and we went through them back in July when we flew to Alaska. So I arranged for us to get to the airport 30 minutes earlier than we usually do just in case some idiots actually decided to follow through with this protest. Luckily, when we arrived at DFW, the security line was not only short but they weren't even using the body scanners so there was nothing to "opt out" of. Thank goodness!
Our non-stop flight arrived at HNL at 4:25 pm, about 30 minutes late. If you didn't arrange for a lei greeting when you arrive, there are flower shops in the terminal that sell leis! There are also several shops to pick up your first or last minute souvenirs. We made our way to the baggage claim and there is this bridge we walked over from the terminal to the baggage claim area. It looked over the tarmac and Oahu greeted us with our first Hawaiian rainbow! I was so thrilled!!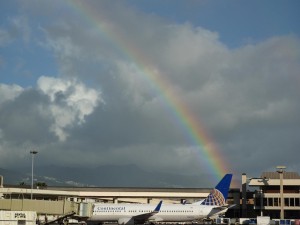 Rainbow at HNL
After picking up our luggage, we made our way to the rental car shuttle pickup area and hopped on the shuttle to Thrifty. We rented from Thrifty in all the ports, except Kona, and in Honolulu twice. There was never more than one person in front of us for the Blue Chip counter. We never had a problem with any of the offices.
After getting a car, we headed to our hotel and hit bad, rush hour traffic. I started to get worried because we had to change for dinner reservation at 6:30 pm and drive to the restaurant. We didn't get to our hotel until almost 6 pm so my plan of strolling Waikiki Beach until sunset before heading to dinner was out the window. We checked into Outrigger Waikiki on the Beach and saw the sunset from our balcony, as we hurried to change for dinner.
I was very pleased that even though our "City View" room was on the side of the hotel, I could still see the beach from the balcony when I went out on it. The room was very nice and a great size. The decor was subtle and plain but there were Hawaiian touches, like the hula girl lamp. The walls seemed thin though. I'm a light sleeper and was awaken by our neighbors and people talking loudly in the halls a few times. There was also a buzzing sound that drove me bonkers for about 30 minutes on the first night before Chris identified the noise as the air conditioning. (I have this thing were sounds drive me crazy unless I know what it is.) The staff was very helpful and friendly. When the bellman brought our bags to the room, he explained all of the room and hotel amenities and answered any questions we had. We didn't have enough change to tip him well but we tipped him again the next time we saw him. He must have remembered us because he later saw me in the gift shop looking at the bamboo beach mats. He called us over to him and took us to a closet where they kept beach stuff abandoned by other guests and let us take our pick of mats and floating rafts! How nice of him!! Anyway, I thought that was awesome. Valet parking at the hotel was a pain. The staff was always courteous and quick to bring the car but the sidewalk in front of the hotel was so busy that every time we pulled into the hotel garage, I was worried we'd hit someone. The staff tries to stop the pedestrians but sometimes they ignore them. To me, valet parking in general is a pain because you have to have someone bring the car around every time you leave or just need to get something out of the car. The hotel was very busy but we were there during Thanksgiving. Sometimes we had to wait a bit for the elevator and the public areas got pretty crowded. We didn't eat any meals other than breakfast there but the restaurants looked like they had quite wait during dinner when we walked by. We had the buffet breakfast at Duke's two mornings and liked it a lot. I LOVED the view from Duke's. It's really something to have your breakfast a stone-throw's away from the sand. The buffet also had a nice variety of good quality food. (I actually preferred it to Pride of America's breakfast buffet!) They even had Portuguese sausage, a local favorite, and of course fresh pineapple! The buffet comes with coffee, tea, and juice. Definitely get the POG juice (passion, orange, and guava)! I'm not a fan of passion fruit or guava but I liked my POG! Definitely the best thing about this hotel is the location, in the middle of Waikiki. It's surrounded by shops, including International Marketplace and 2 ABC Stores across the street. I wish we had more time to take walk around the Waikiki area because the hotel was in the perfect spot for that so I highly recommend this hotel if you want to be the middle of all the action!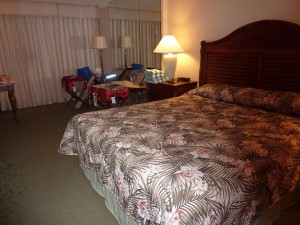 Outrigger Waikiki on the Beach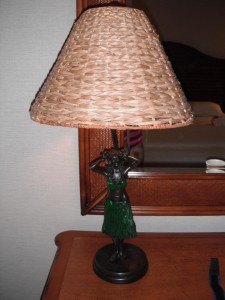 Hula girl lamp in our hotel room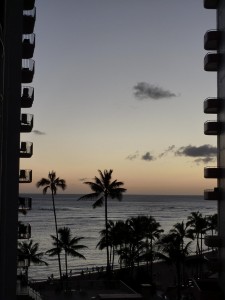 View from our "City View" balcony of the sunset over Waikiki Beach
For dinner this night, we did "omakase" at Sushi Sasabune. Omakase means "It's up to you." in Japanese and at a restaurant, it means Chef's Choice. The chef gives you a series of dishes of his choice. For sushi, it usually means the best and freshest sushi. The reviews call the chef "Sushi Nazi" because they don't serve non-authentic rolls (in other words, it's all raw fish) and they strongly recommend when you should or should not use soy sauce and wasabi to eat each dish. OMG. I cannot tell you how AWESOME this place was! Chris and I have eaten at some of the best sushi restaurants in Los Angeles, New York City, etc. and we both agreed that this was seriously the BEST sushi we have ever had in our lives! The fish was SOOO fresh, buttery, and the flavors balanced so well. Even the sushi rice and fresh wasabi were superb! From my experience, omakase is usually a set price and a set number of dishes but at Sushi Sasabune, you pay per dish and they keep bringing it out until you tell them to stop. There is a threshold of about 11 or 12 dishes where most people quit so the waiter asks if you want to stop at that point or keep going. I actually bailed about 2 dishes before that point and Chris called me "weak". He finished the usual number of dishes plus one extra dish he requested. We had green tea ice cream after that too. We found out near the end of our meal that Sushi Sasabune has an American omakase and Japanese omakase. We were having the American one. The Japanese version is similar but some of the dishes are swapped out for much more exotic foods, like sea urchin. We will have to try the Japanese version next time! Omakase is pricey though. Our bill came out to $250 after tax and tip for 2 of us without any alcohol. It was the most expensive meal we had on our trip but OMG, it was worth it!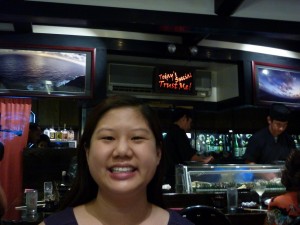 "Trust Me!" sign at Sushi Sasabune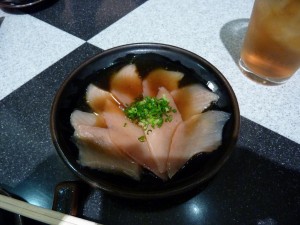 Yellowtail sashimi at Sushi Sasabune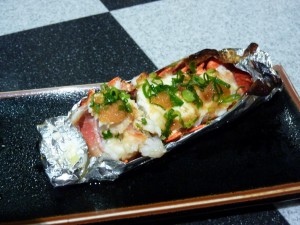 Lobster tail at Sushi Sasabune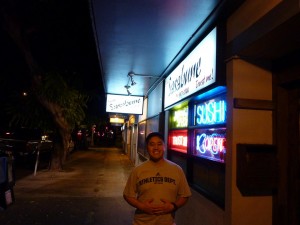 Chris full & happy after his dinner
Walmart was right down the street from the restaurant so we headed there after dinner. We winded up doing quite a bit of shopping while there, buying souvenirs, 3 gallons of bottled water, and a 6-pack of Coke. I'm a big on souvenir shopping and Walmart definitely had the best prices for the souvenirs they did have. We winded up going to Walmart in Maui and Kauai also and the Oahu Walmart had the largest selection of souvenirs by far. They also had a huge selection of flavored macadamia nut, macadamia nut chocolates, cookies, and other goodies you'll see all over the islands. I'm still eating all of the goodies I bought but my favorites so far are Kauai Kookie Kompany cookies, Hawaiian Hosts Caramacs (chocolate-covered macadamia nuts with caramel), and Mauna Loa Maui onion and garlic flavored macadamia nuts.
It was past 10 pm by the time we returned to the hotel and we were dead tired. We woke up at 7 am CST that morning to catch our flight, which would be 3 am Hawaiian time!! Plus we were being picked up at 8:30 am the next day for our tour, so we took a shower and went to bed.
+ See more Oahu photos
+ Read more about Hawaii 2010