Thursday, November 25, 2010
We woke up around 7 am on Thanksgiving Day and was greeted to this gorgeous sight on our balcony!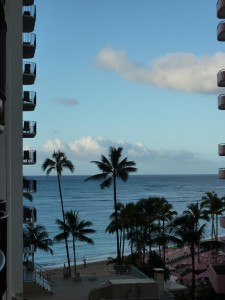 Morning view of Waikiki Beach from our balcony
Not bad for a "City View" room, huh?! As I mentioned in my review of Outrigger Waikiki on the Beach, I loved having breakfast at Duke's Waikiki. This was our first morning there and the view was something special! After breakfast, we had about 5-10 minutes to kill before our tour so we walked the couple of steps down to the beach from Duke's. This is why I insisted on a beachfront hotel. You can literally flop on the beach from it! We took a few photos and headed to the hotel entrance to get picked up for our tour.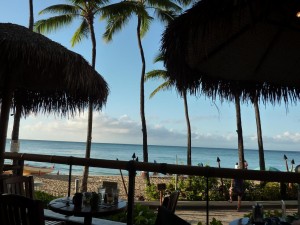 Breakfast at Duke's Waikiki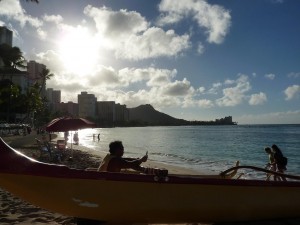 Waikiki Beach
This day, we took the Oahu Grand Circle Island Tour through Polynesian Adventures. Generally, we try to stay away from big motorcoach tours, including those offered by cruise lines, and we had a rental car so we could have driven around Oahu ourselves but there was a lot on Oahu that I wanted to see and taking the tour would hit a lot of the things on my list. I figured taking the tour on at least one day would allow us to see more than we would be able to do on our own and there was nothing on the tour that I felt I needed to spend more time on. (For example, Chris is a HUGE war history buff and likes to read every plaque at a museum so I knew we had to go to Pearl Harbor on our own so we could spend as much time as he needed there.) Once I decided to take a Circle Island tour, I compared several tour companies and all the tours seemed fairly similar. I winded up going with Polynesian Adventures because of the lower cost and timing. (It picks up a little later and ends a little later than other tours I saw. I figured we could use any additional sleep I could squeeze out!)
Our pickup time was 8:25 am and we waited outside the hotel with about 8 other people. I chatted with 2 couples and found they were from Australia. Almost all the tourists we met in Oahu were not from the U.S.! Many were from Australia, Canada, and Japan. Japanese tourists are everywhere in Honolulu! Anyway, the motorcoach didn't arrive until 8:47 am so it was late and we had to wait quite awhile. After picking us up, our bus rendezvoused with another one that had picked up additional passengers and once they boarded, we were off. The actual tour probably didn't start until around 9:15 am.
Our tour began by driving up Diamond Head. I don't know how far up we went but we saw the Diamond Head Lighthouse. The tour itinerary said that we would go to "Amelia Earhart Lookout" but if we did, I had no idea where it was. Unfortunately, we didn't stop at Diamond Head and kept driving so I never got to set foot on Diamond Head. =( An unfortunate part of these types of tours.
We drove by Koko Head. If you thought hiking Diamond Head was a great experience, you may want to try Koko Head next! If you look at the photo and see that yellow vertical line on the mountain, that's a staircase up to the summit!! O_O
Diamond Head Lighthouse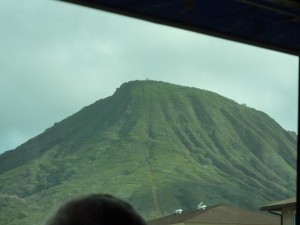 Koko Head
We reached the famous snorkeling sight, Hanauma Bay, at 9:45 am and it was our first stop. The views of Hanauma Bay were beautiful!! You could see where the reef was in the water. I had really wanted to snorkel here but we didn't have time in our itinerary. After seeing it, I think it was for the best that I didn't snorkel there. Chris doesn't snorkel so he would have had to wait on the beach and there wasn't any shade. But it made for a great tour stop!
Hanauma Bay
Our next stop was Halona Blowhole. From different parts of the lookout there, you can see Sandy Beach, the Blowhole itself, and the "From Here to Eternity" Beach. The lookout was extremely windy but the blowhole was nice and active! There were also some lava rock piles on the ledges above the blowhole and I can't imagine the crazy people who went out there to make the piles. (I just read online that rock piles aren't a Hawaiian tradition and usually done by tourists!) By the way, the "From Here to Eternity" Beach was much less breathtaking than I thought it would be. It actually looked really rough and the sand seemed thin, though the ledges around it looked like they would be fun to explore.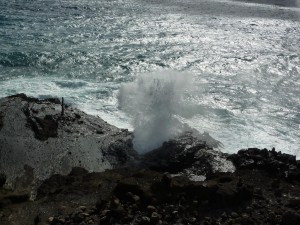 Halona Blowhole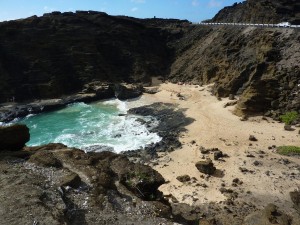 From Here to Eternity Beach
From there, we drove by Sandy Beach and Makapuu Point, where we saw Rabbit Island. (Yes, I took the photo of Rabbit Island from our moving bus!) Then, we stopped made the obligatory tour bus stop at a large overpriced souvenir store, which was New Hawaii's Treasures in Waimanalo. They had many of the same souvenirs we saw at Walmart for a premium. The good thing about this stop is that they sold some snacks and had a decent sized restroom.
We arrived at Nuuanu Pali Outlook around 11:15 am. While still on the bus, our driver warned us that if we thought was windy at Halona Blowhole (which we did), then we would be shocked by how windy it was at Pali Outlook. He recommended we did not bring any hats or loose sunglasses…and he was right! It was super windy here! Luckily, immediately, we were greeted by Chris' favorite animals, chickens!!! I felt a little bad for them because it was so windy and they were all huddled in the trees and bushes to get some protection from the wind. The views from Pali Outlook were stunning!! It's definitely worth a stop.
View of Rabbit Island from Makapuu Point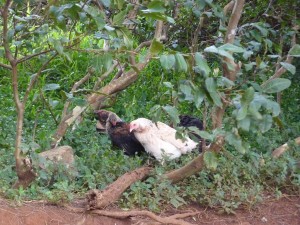 Chickens at Nuuanu Pali Outlook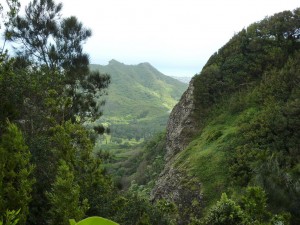 Nuuanu Pali Outlook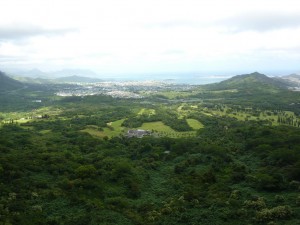 Nuuanu Pali Outlook
From Pali Outlook, we had about a 45-minute drive to our next stop and it will not be a drive I will soon forget. Part of the way into the drive, my cell phone rang and it was my home security alarm company. They informed me the alarm in my house was triggered and asked if they should send the police. I told them I was in Hawaii and yes, they should. I then proceeded to call my neighbor, Brad, who lives across the street. He said he was not home but would call my other neighbor Shannon to see if she could find out what was going on. I also called my pet sitter and left her a voicemail to see if she accidentally triggered the alarm. A few minutes pass but of course to me, it seemed like forever. I had just read an e-mail reminder from Brad the night before about the next Crime Watch Committee Meeting and they would be discussing some "recent incidents in our neighborhood". (Those incidences turned out to be spray paint vandalizism.) I was freaking out that burgulars figured out we were on vacation and my house was being robbed of everything inside!! Then, I got a call from Shannon and she said, "It's me! I'm so sorry! I set off the alarm! I have 20 people over at my house for Thanksgiving and needed an extra oven to heat up the turkey. I knew ya'll weren't home and didn't think you'd mind! I'm so sorry!" I was very relieved. She has a key to my house for emergencies and because we've locked ourselves out many times but never thought to give her our alarm code! Then, she said, "Oh, the police just pulled up. Hello, officer." She identified herself as my neighbor and showed them her license to prove it. I hung up to let her deal with the officer. When we arrived at Kualoa Ranch, I called her back to make sure everything was okay. The whole thing stressed me out quite a bit because I was so worried and then very relieved to find out is was nothing. I also felt bad talking on my cell phone while the driver trying to narrate the drive. But once we got to Kualoa Ranch and started eating lunch, I was able to calm down and realize the humor in all of it. When we got home, Shannon told me the police had their hands on their guns and everything! Her house guests thought it was all hilarious and took photos. I now have a great story about how my neighbor broke into my house to heat up her Thanksgiving turkey! LOL!
So our next stop was Kualoa Ranch, which is one of the most popular filming locations for "LOST". When we got off the bus, Kualoa Ranch employees greeted us with a shell lei. I thought that was a nice touch and it was my first lei in Hawaii! The ranch was set underneath these gorgeous cliffs. It was easy to see why it was a popular filming location.
Lunch was not included in our tour. Our driver gave us a discount coupon for the buffet served at the ranch but we decided to order off the a la carte menu instead. We each got the Hawaiian local dish, Loco Moco, which is hamburger patties smothered in gravy served over white rice and topped with fried eggs. It was pretty good and very filling!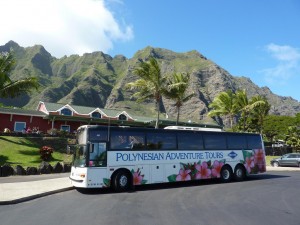 Our motorcoach in front of Kualoa Ranch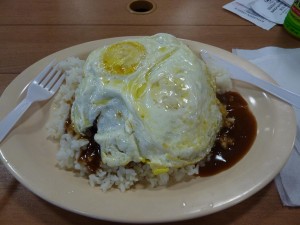 Loco Moco at Kualoa Ranch
I browsed through the gift shop quickly and then it was time to meet outside for our ranch tour. We boarded a small tram for the "Legends and Legacy" tour. The tour felt really short, though the web site said it was an hour long. Maybe we got an abbreviated version. Basically, a recording in the tram told us about the history of the ranch as a sacred site to the Hawaiian people. In addition to being a popular filming site for TV & movies, they have activities, like horsebacking riding and ATVing. The tour took us a little ways up the mountain to the best part of the tour, which was a perfect view of Chinaman's Hat! After our tour, we boarded our motorcoach again and we were off to the next stop. It would be nice to come back here to do the Movie Sites Tour or return as part of the "LOST" Hummer tour. Upon leaving Kualoa Ranch, we passed the ruins of the Kualoa Sugar Mill that used to be on the property.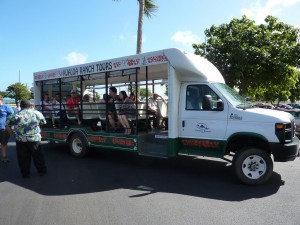 Kualoa Ranch Tour Tram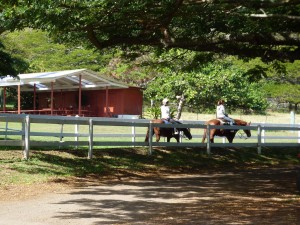 Horseback Riding at Kualoa Ranch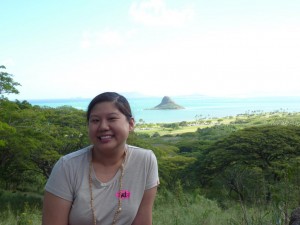 Chinaman's Hat from Kualoa Ranch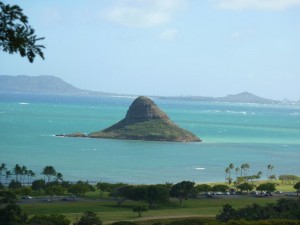 Chinaman's Hat from Kualoa Ranch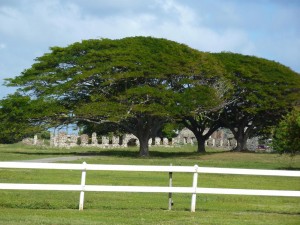 Kualoa Sugar Mill Ruins
From Kualoa Ranch, we headed to the North Shore. When we drove by Turtle Beach (aka Laniakea Beach), I was able to see a sea turtle on the beach! This tour is supposed to include a stop at Byodo-In temple but it was closed for Thanksgiving. I was disappointed by that news because I was looking forward to seeing where Sun & Jin from "LOST" got married. Instead, we made a stop at Sunset Beach, which the driver said usually isn't part of the tour. It was great to stop at such a famous beach and see surfers in action!! Back on the bus, we also drove past other North Shore beaches, including the Banzai Pipeline, Pupukea Beach Park (also known as Sharks Cove & Three Tables), and Waimea Bay.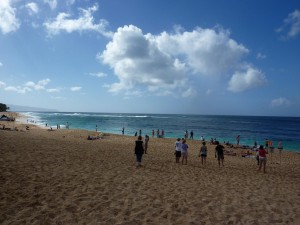 Sunset Beach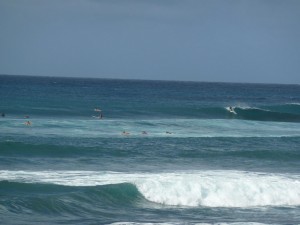 Surfers at Sunset Beach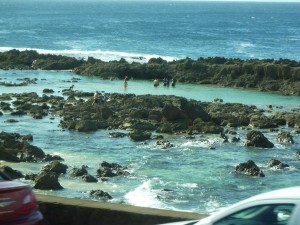 Pupukea Beach Park (Sharks Cove)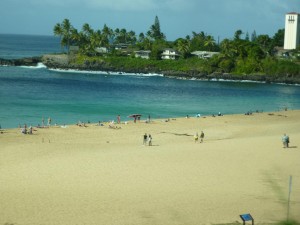 Waimea Bay
We passed by the real working coffee and pineapple farms found in the middle of Oahu before arriving at our last stop, Dole Pineapple Plantation. A tent in front of the Plantation entrance was selling fresh tropical fruits and fresh flower leis. The Plantation Garden Tour was included in our Grand Circle Island Tour. We saw pineapples in different states of growth, tons of Hawaiian flowers, and some fish! We also got to see some of the machines they use to harvest pineapples. The garden was really pretty, though the fish pond water was a bit murky. After the Garden Tour, we saw a peacock wander around. It was time get us some Dole Whip!! I love Dole Whip and used to eat it at Disneyland when I lived in California. Chris got a Dole Whip cone and I had a Dole Whip float. After enjoying our Dole Whip on the patio, we went back inside for some shopping. In case anyone is interested, you can buy Dole pineapples packed to fly home for $5.76 each, $14.40 for 10 lbs, and $44 for 27 lbs. They can also ship them home for $33.51 for 10 lbs. or $73 for 27 lbs. At the airport, Dole pineapples were $24 for 3. I decided to buy them at the airport before flying home because I didn't want to keep the pineapples for the rest of our trip and OMG, they are so good!! They were very ripe and much juicier than the ones we have at the grocery store at home. I'm so glad I brought them home. It allowed me to enjoy Hawaii just a little bit longer.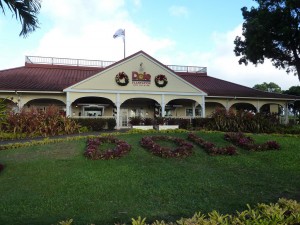 Dole Pineapple Plantation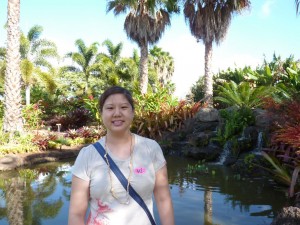 Dole Plantation Garden Tour
Small pineapple growing at Dole Pineapple Plantation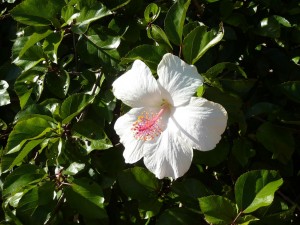 White hibiscus in the Dole Plantation Garden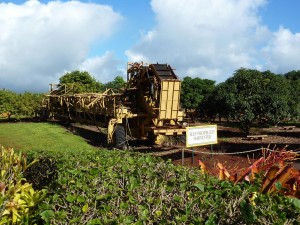 Self-harvester machine at Dole Plantation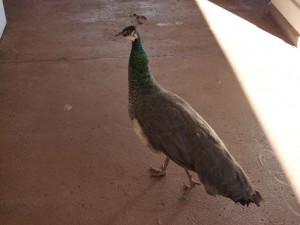 Peacock at Dole Pineapple Plantation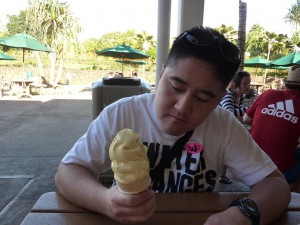 Chris eating Dole Whip
There wasn't anything interesting on the way back and our driver stayed quiet so we took a nap until we got back into Waikiki. That's one of the nice things about not driving yourself, you can sleep during the ride! I'm not exactly sure when we were dropped off but I think it was around 5:30 pm. Overall, I thought the tour was good and we got see a lot of places I wanted to visit all over Oahu in a short amount of time. When you try to see so much in one day, obviously there are places you wish you could spend more time at and others you feel you didn't need to see. This is definitely a big bus tour and geared to those that are not active or have limited mobility. (There was a man in a wheelchair on our tour and the bus was equipped with a lift.) I wish the tour description had been more clear about where you actually stop and where you drive through. I would have rather driven ourselves at our own pace but I'm sure we wouldn't have seen as much in one day doing it on our own because we would not time it right. If you do have the time, I'd skip the tour and go on your own.
After the tour, we headed back to our room and changed for dinner. The sunset was setting when we came back down from our room so we took a few quick photos on Waikiki Beach. Knowing that we would not have any beach time pre-cruise, I also wanted to at least get my toes into the sand of Waikiki Beach before getting on the ship so I finally got to feel some sand between my toes, even if it was just for a minute.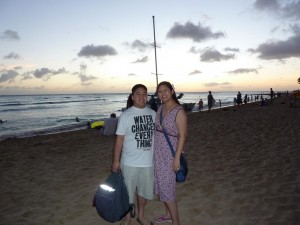 Sunset on Waikiki Beach
We had dinner at Side Street Inn. It was one of the restaurants Anthony Bourdain visited during his "No Reservations" show on Travel Channel. I had also written down a list of recommended dishes from Yelp. Unfortunately, when we arrived, we found out they were only serving a buffet this night because it was Thanksgiving night. We decided to go ahead and have dinner there anyway. The buffet was a mix of traditional Thanksgiving dishes along with some of Side Street Inn's popular dishes. We had Portuguese beanless bean soup, oysters on half shell, poke, Chinese roast pork with buns, stir fry noodles, char siu fried rice, fried porkchops, stuffing, mac & cheese, pumpkin pie, and more! The food was good but I don't think it was a good judge of the restaurant. As with buffets, some of the food wasn't all that hot. I did love the Portuguese beanless bean soup, roast pork, and poke!!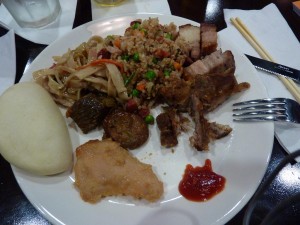 Side Street Inn
After dinner, we went back to the hotel and walked across the street to the ABC Store and International Marketplace for some shopping. It was PACKED! I was worried a lot of stores would be closed for Thanksgiving night but everything as opened and jam packed with people. ABC Stores are WONDERFUL!! They have a lot of great souvenirs and at much reasonable prices than we found elsewhere. We both bough aloha wear to wear later in our trip and lots of gifts for everyone back home. During our trip, we winded up going to 4 ABC Stores!! LOL! Some ABC Stores are smaller than others, so there may be stuff you haven't seen at a previous store. In addition to souvenirs, they also sell snacks, to-go lunches, and drinks. By the way, if you spend over $100, $200, or $300 combined at all ABC Stores, you get a free gift. The more you spend, the better choices for the gift. We winded up spending $300 during our whole trip and got a free t-shirt.
The International Marketplace is a lot bigger than it looked. There were tons of carts and many of them were selling the same things. I picked up a couple of necklaces but I think most of the souvenirs I needed were at Walmart or the ABC Stores. We had another early day the next day so we went back to the hotel around 10 pm, took showers, and hit the sack!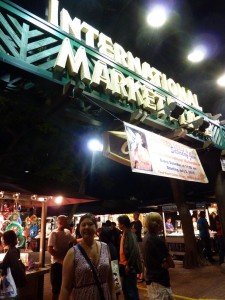 International Marketplace
+ See more Oahu photos
+ Read more about Hawaii 2010