Monday, November 29, 2010
We wanted to do the Road to Hana during our visit to Maui but we had to do it on the second day in port because we were planning to go to Old Lahaina Luau the first day and would not have time to do both in one day. Since we had to be back onboard at 5:30 pm on the second day in Maui and the Road to Hana had such an infamous reputation, we thought it would best to take a tour, instead of driving ourselves, because the tour operator would have a much better idea of judging the timing and knowing the traffic patterns to get us back to the ship on time. There were not many options when it comes to a Road to Hana tour that can guarantee that you'll be back at the ship by 5 pm. I was able to figure out that Temptation Tours is the company Norwegian Cruise Line uses for their Hana Picnic tour and we booked this tour directly through Temptation Tours.
Our meeting time was 8 am at the pier about 15 minutes before that, the tour guide called us to let us know what her van looked like and where she was parked. Surfin' Sue was our guide and she was WONDERFUL!! She is SO knowledgeable about the area, history, and plant life! The tour is definitely personal. Their van only fits 8 passengers but for our tour, it was just me, Chris, and another woman who was traveling on her own. That's it! The van was also a very nice, luxury van with large leather chairs.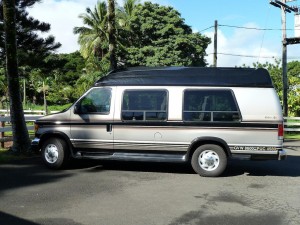 Temptation Tours Van
After picking us up, we drove through Paia and stopped at Hookipa Beach Park around 8:30 am. This was Sue's favorite surf spot and it was gorgeous!! We saw some surfers in action, while having some pound cake, pineapple, and coffee for breakfast. In the parking lot, there was a woman making jewelry from painted seeds and nuts of local trees.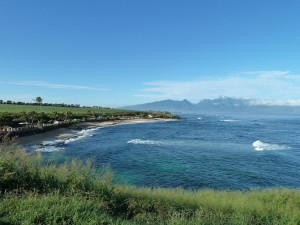 Hookipa Beach Park
Then we were on the Hana Highway. Since this was a tour, I'm not completely sure of where we stopped along the way and what things were called so forgive me for the lack of detail. I'm trying to piece together where we went based on maps that I have.
Sue pointed out the famous "painted" eucalyptus trees along the highway. The bark has this unique coloring that makes it look like someone painted them with red, purple, and green paint. They were very pretty. We stopped along the highway over a few rock-bordered swimming holes around 9:30 am. The water was pretty murky but there were still some people wading in them. Sue pointed out some taro plants and the bamboo growing too.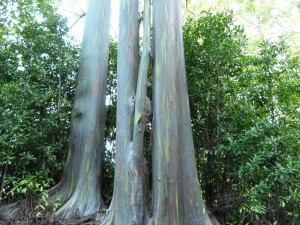 Painted eucalyptus trees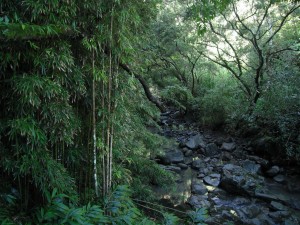 Bamboo lined stream along Road to Hana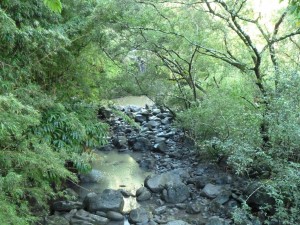 Swimming Holes along Road to Hana
As we continued down Hana Highway, we had some magnificent views of Honomanu Bay and Nauaailua Bay along with some waterfalls (probably Puohokamoa Falls & Punalau Falls). Despite the rain ruining our day in Haleakala yesterday, it was good for this day as it gave the waterfalls some oomph! We stopped at a place called "Halfway to Hana" at 10:05 am and got some fresh coconut and banana bread. They claim to have the "Best Banana Bread in the world" and I have to admit it was very good! Definitely worth a stop!! They also sell other snacks and drinks too.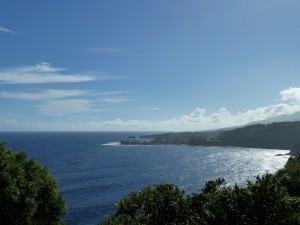 View of the Bay from Road to Hana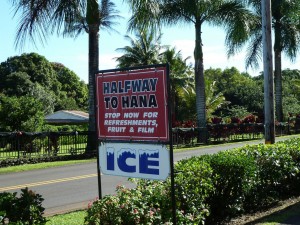 Halfway to Hana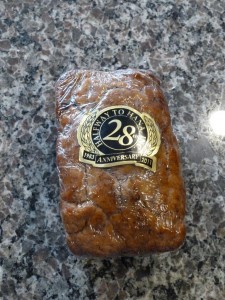 Halfway to Hana Banana Bread
From there, we had a beautiful view of the town of Wailua and stopped to view Waikani Falls. Then, we reached Kakala Gardens, a 50-acre tropical flower farm, at 11 am. This is where Sue's botanical knowledge really shined! We walked through the farm and she showed us many of Hawaii's gorgeous flowers. We tasted some of the nuts and fruits. We also got to hide in one of the Banyan trees similar to the one Jack and Kate hid in on the show "LOST"! LOL! At the end of the tour at the gardens, we were surprised with a complimentary bouquet of Hawaii flowers! They were so pretty and I had them in vase in our cabin for the rest of the cruise!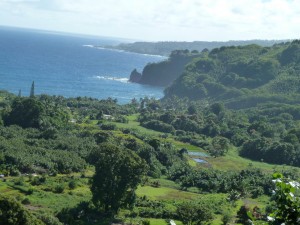 View of Wailua from Hana Highway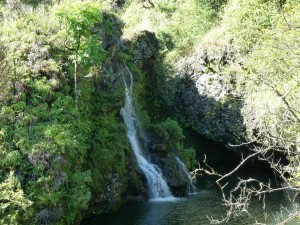 Waikani Falls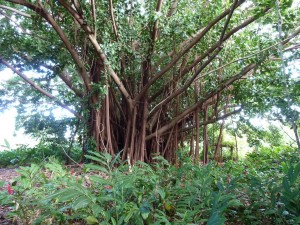 Banyan Tree at Kakala Gardens
Tropical flowers from Kakala Gardens
Next, we drove by Fagan's Cross around 11:30 am and the Hana Ranch, which raised Maui cattle. Perhaps that's where my Maui burger at the Kula Lodge came from! I have to say, even the cows in Maui look more relaxed than those in Texas!!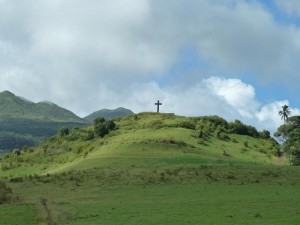 Fagan's Cross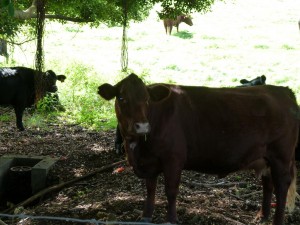 Cows at Hana Ranch
It was 11:45 am when we reached Hana Bay. Sue gave us some time to walk around the bay while she setup our lunch in the picnic pavilion. She said we wanted to swim, this was probably the best place because the other beaches had rough waves and the waterfall ponds were all pretty murky but we decided not to swim and just enjoy strolling the gorgeous beach. The water was so blue! Some say that Hana Bay is a "black sand beach" but the sand looked more like a dark brown to me.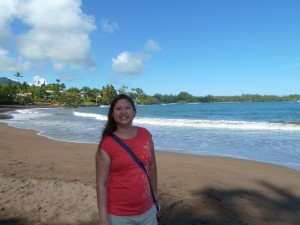 Hana Bay
Lunch was ready at 12 pm. I didn't expect much from this lunch since most tour lunches aren't great but I was pleasantly surprised with this one! We had Hibachi chicken, parmesan-crusted mahi mahi, corn, coleslaw, Hawaiian bread, and canned Hawaiian juices. It was all very delicious and had a home-cooked taste to it, probably since they only had to make enough for 3 people. It was so lovely eating lunch on such a beautiful bay with the sound of the waves crashing!
Picnic Lunch at Hana Bay
Hana was the furthest point we went on the Road to Hana. From there, we turned back around and headed back towards Kahului. Our next stop was my favorite on the whole tour: Waianapanapa State Park! We got there around 1 pm and Sue led us in a short hike on the lava cliffs, where we saw the blow hole and peered into the lava tubes. The parts of the cliff near the water had small tide pools in them too! It was really neat and beautiful!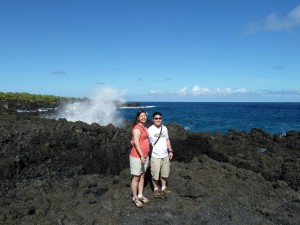 Waianapanapa State Park Lava Cliffs
Sue has a special bond with the mongoose that inhabit Waianapanapa State Park so she had us sit at a picnic table, which mongooses associate with food, and she lured a couple of them out from the brush to say hello! Again, we love animals, especially little critters, so this was absolutely thrilling to us!! Mongoose look like little weasels. They were so cute and fuzzy!!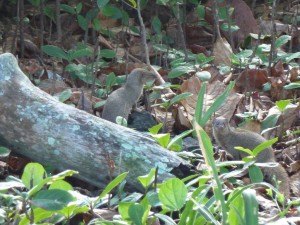 Mongoose at Waianapanapa State Park
Sue left to go move the car while we walked to the Black Sand Beach. There is a short hike down a path to it and it opens up to a gorgeous, gorgeous beach!! The black sand was so pretty. It was like nothing I had ever seen and probably one of the most beautiful places I've seen in my life. It was a combination of the sand, the water, and the lava cliffs that surrounded it. Simply amazing! The waves were pretty big that day, though we saw a few brave souls swimming in it really close to the beach.
Waianapanapa Black Sand Beach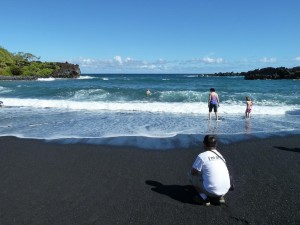 Waianapanapa Black Sand Beach
After hiking back up the path to the parking area, we met up with Sue again, who pointed out some more neat plants and found a huge beehive in a tree!! We left Waianapanapa State Park around 1:35 pm.
At 2:15 pm, we stopped at Puaa Kaa State Park. There was a short walk from the parking lot and across some slippery rocks to a small waterfall and pond. A few people were swimming in it and, even though the water looked murky, I decided that I wouldn't pass up a chance to at least wade in a waterfall pond! I went in with my short and flip flops on and waded around the shallow part of the pond! The water was very cold but I thought it was so cool to be in a pond with a waterfall! When I got out, my flip flops and feet were very slippery, like they were just covered in algae! I winded up slipping on the way back across those rocks to the parking lot but I didn't get hurt. Good thing I have a big butt to break my fall! There was a tan pitbull mix dog hanging out in some grass and brush off to the side of the parking lot. Sue told us that someone abandoned him a long time ago. He seemed to have alluded the SPCA and good Samaritans trying to take him in. It's like he's still waiting for his owner to come back and get him so he doesn't want to leave the park. Poor thing. He was very quiet and calm but kept his distance from people. Sue offered him some of our lunch scraps but he wouldn't come close to take them. Only when she threw it towards him would he eat it. I wonder if he doesn't trust people because people have been trying to catch him. I hope the SPCA can get him one day and find him a loving home.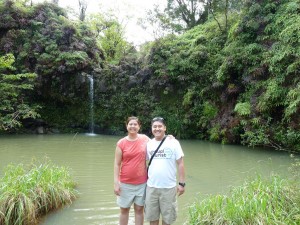 Puaa Kaa State Park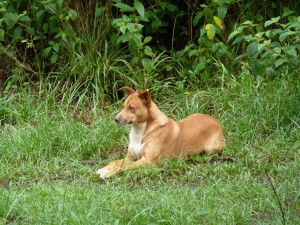 Dog at Puaa Kaa State Park
We were back on Hana Highway at 2:30 pm. We had a wonderful view of Wailua Iki Falls Bridge. I think that was the tallest waterfall we saw on this tour but it's hard to remember and the perspective gets messed up depending on how close we are to a waterfall.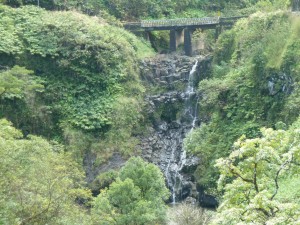 Wailua Iki Falls Bridge
Our last stop was at Keanae Peninsula around 3 pm. There are lava cliffs hugging the shoreline here and the contrast between the jagged black lava rock and crisp blue water is stunning. The waves were strong there too and you could see its force pounding against the lava rock, slowly reshaping it.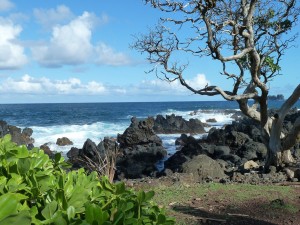 Keanae Peninsula
Keanae Peninsula
The rest of the way back, we got some more gorgeous views of the bays high atop Hana Highway. I have to admit that I dozed off after that and didn't wake up until we were passing Hookipa Beach Park, which was now dotted with windsurfers. We got back to the pier around 4:20 pm, plenty of time to spare before the ship left and perfect timing for the Kukui Nut Lei class!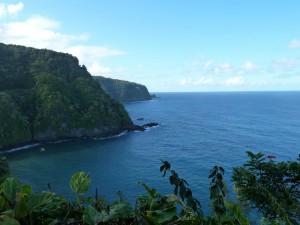 Honomanu Bay from Hana Highway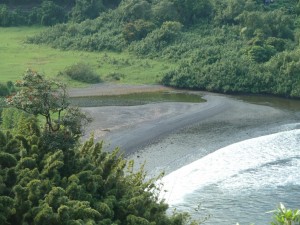 Honomanu Bay Beach from Hana Highway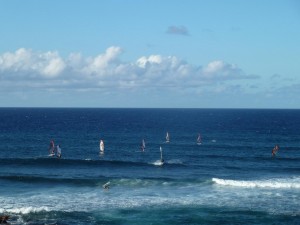 Windsurfers at Hookipa Beach Park
Overall, I cannot say enough good things about this tour and especially Surfin Sue. She is truly an amazing, knowledgeable guide! I'm so glad we decided to take this tour, instead of driving ourselves. I wish we could have gone past Hana to the Oheo Gulch but I know that wasn't possible in the time we had on this day. I would highly recommend this tour to anyone!
When we got back on the ship, I went straight to the Hollywood Theater for the Kukui Nut Lei class and Chris went back to the room to rest. I'm really glad I attended this class. It was so fun to make a nut lei and I winded up buying enough kits to make 4 more leis to give to my family as gifts! See photos of me making the nut lei in my Pride of America review.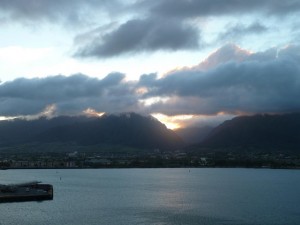 Sunset over Kahului Harbor from our balcony
This evening was Dress Up or Not Night. We took portraits before having dinner at the Liberty Restaurant. See my Pride of America review for more info.
+ See more Maui photos
+ Read more about Hawaii 2010