Tuesday, November 30, 2010
This was the only day that we packed sandwiches from the breakfast buffet at Aloha Cafe because we expected that we would be in Hawaii Volcanoes National Park during lunch time and they don't sell food. In addition to packing sandwiches, we brought a half-full stack of chips that we had bought on our flight to Hawaii and 2 cans of Coke that we bought at Walmart in Honolulu. We filled 2 ziploc bags with ice and used them along with a soft-sided cooler to keep the sandwiches and drinks cool. Beware that the ziploc bags WILL leak when the ice melts and our soft-sided cooler was not waterproof. Luckily, we put everything into a Waterproof Wine Bag so the melted water didn't get everywhere.
We got off the ship at 8:15 am this morning. As reported, Alika's Hawaiian Flowers has a stand at the cruise terminal where you can order beautiful flower arrangements and they will deliver them to your cabin. Actually, I'm pretty sure Maui, Hilo, and Kauai all had a couple of vendors selling souvenirs and jewelry in the cruise terminal. We took the shuttle to Thrifty and picked up our rental car. We were off the lot before 9 am.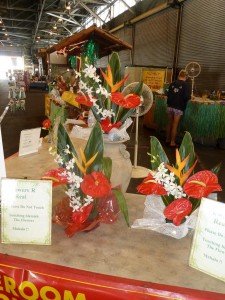 Alika's Hawaiian Flowers at Hilo Cruise Port
We headed straight for Hawaii Volcanoes National Park and arrived there at 9:40 am. Cost is $10/car. We used the maps on the Hawaii Volcanoes National Park web site. Below is the route we took, times we reached each stop, and my notes about each stop…
Upon entering the park, turn right on Crater Rim Drive.
9:40 am – Kilauea Visitor Center (right): We asked the rangers where lava was flowing but it was only reachable a very long hike and you would only see a small amount. There were some exhibits about the volcanoes, a gift shop, and the largest set of restrooms in the park. Open 7:45 am-5 pm daily. Something we found especially neat is that you can bring your own water bottle and refill it with rainwater "captured from the clouds, filtered by sand, and pumped by solar" for free. If you didn't bring your own bottle, you can buy one from the gift shop.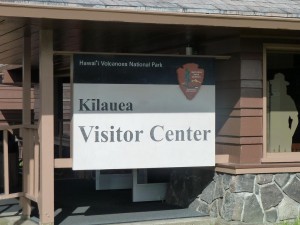 Kilauea Visitor Center
10 am – Caldera Overlook (from Visitors Center, walk across the street and past Volcano House to the short trail to overlook): Since Volcano House is temporarily closed, I don't think many people know about this overlook so it was the least crowded. There was only 1 other couple who came by while we were there. It offers a great view of Kilauea Caldera and the steaming Halema'uma'u Crater.
Sulfur Banks: According to "Big Island Revealed", there should have been a road on the right but we were unable to find it. The park map shows a hiking trail there, not a road, and when we drove by the trail, there are no places to park the car at the beginning or end of the trail so basically, we would have had to park at the Volcano Art Center and walk the rest of the way. Not in our plans so we skipped this.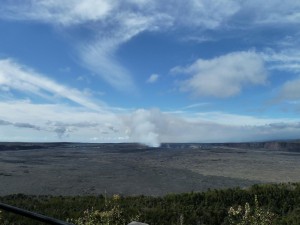 Kilauea Caldera & Halema'uma'u Crater from the Caldera Outlook
10:20 am – Steam Vents (left): This is where you can see the steam rising from cracks in the ground up close! Make sure you venture away from the parking lot, which only has a man-made steam hole. If you walk a little further, you'll see steam coming from natural outlets as well as a view of Kilauea Crater.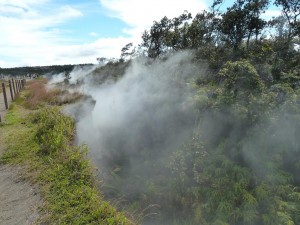 Steam Vents
10:40 am – Kilauea Overlook (left): Offers a closer view of Kilauea Crater & Halema'uma'u Crater. Restrooms and picnic tables available.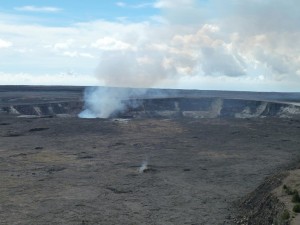 Kilauea Overlook
10:48 am – Jaggar Museum (left): Walk around to the back of the museum to get the best view of Halema'uma'u Crater since the road to the Halema'uma'u Outlook is closed. On a clear day, you might see Mauna Loa, 20 miles to the west. The museum shows a film from when the volcano was really spewing, explains the Madam Pele legend in murals, and monitors earthquakes (a precursor of eruptions) on a seismograph. You can also see displays of different types of lava and the clothes and tools of a man who was caught in an eruption. Since all the tour buses stop here, it can get crowded. Tours limit the amount of time they can stay in one place so if you can't get good photos, wait about 10 minutes for the tour bus passengers to leave. Restrooms and another rainwater refilling station available. Open 8:30am-5pm.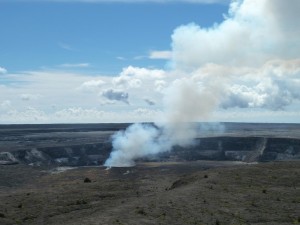 Halema'uma'u Crater from the Jaggar Museum
Lava rocks in the Jaggar Museum
Since Crater Rim Drive is closed from the Jagger Museum, we went back the way we came on Crater Rim Drive (clockwise) and past the park entrance.
11:18 am – Kilauea Iki Overlook (right): View of Kilauea Iki Crater. It is not steaming like Halema'uma'u Crater but you can see the texture and colors of the hardened lava.
We attempted to stop at Thurston Lava Tube but the parking lot was completely full, even all of the tour bus spots, and overrun by people. We decided to come back after finishing the rest of the park.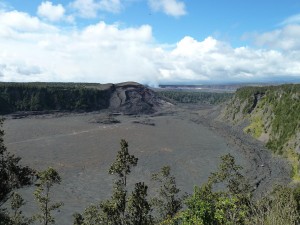 Kilauea Iki Crater from the Kilauea Iki Overlook
11:40 am – Pu'u Pua'i Overlook & Devastation Trail (road on left): Chris was hungry by now and there was a picnic table here under shade so we decided to eat our packed lunches. The weather was perfect for a picnic and it turned out to be a really nice, relaxing lunch. Just past the parking lot, there is an overlook of Kilauea Iki Crater. There is a path that leads to Devastation Trail, which shows results of 1959 eruption on the environment and you can see the base of Pu'u Pua'i. The entire trail is 0.5 miles but we only walked down it for about 5 minutes and was able to see the contract between the pre-eruption forest and then barren dirt.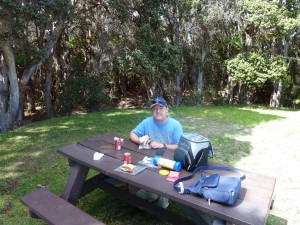 Lunch at Pu'u Pua'i Overlook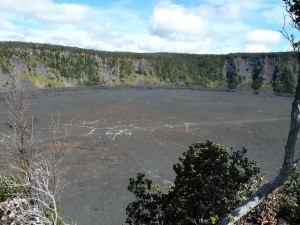 Kilauea Iki Crater from Pu'u Pua'i Overlook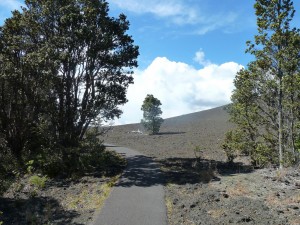 Devastation Trail: Trees turning into nothing along the trail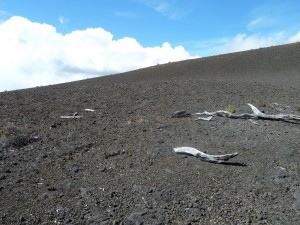 Devastation Trail
12:10 pm – Chain of Craters Road: If to take the road all the way to the end, it is about 18 miles long. We printed out Instant Hawaii's Chain of Craters Scenic Drive as a guide. Though we didn't take every stop nor hike any trails, it took us almost 1.5 hours to reach the end. Here are our stops along Chain of Craters Road:
Lua Manu Crater: small 327-foot crater and first chance to walk on harden lava!! The lava rocks here are a matte black and dry.
Pauahi Crater: larger 1,800-foot crater. You can find lava rock here that is shimmer black and glossy.
Pauahi Crater
Pu'u Hulululu & Mauna Ulu: We only used the restroom here. It's the only one between the Thurston Lava Tube and the end of Chain of Craters Road so use it!! It's more like a permanent port-a-potty than a modern toilet. No flushing and no sink so bring some hand wipes.
Mau Loa O Mauna Ulu: View of Mauna Ulu on left and Pu'u Hulululu to the left of it. There is also a vast lava field here and it seems like lava goes as far as the eye can see.
Mau Loa O Mauna Ulu

View of Mauna Ulu

Muliwai a Pele: Stunning 5-mile long "muliwai", or river of lava.Muliwai a Pele
Kealakomo: A gorgeous view of the ocean and overlooks the coastal village of Kealakomo, which was buried in a 1971 lava flow. The shelter mentioned in the guide no longer exists!
Kealakomo
Alanui Kahiko: This was my favorite stop along Chain of Craters Road. You can walk on the old highway that was covered by lava in 1972. It was just so cool to walk on the harden lava with parts of the old highway peaking through.
Alanui Kahiko: Lava covers old highway
From here to the end of the road, there are several scenic points to see some awesome coastal views.
Holei Sea Arch & Ranger Station: This is the end of Chain of Craters Road. When you reach the ranger station, take the turnaround and park on the right. You can then walk down 40 feet to the Holei Sea Arch overlook. The Sea Arch is a stunning example of the power of the ocean, even up against solid lava cliffs. There were no attendants at the Ranger Station that we could tell. There are several more of those permanent port-a-potties here. You can continue walking past the Ranger Station but we didn't. There was a couple coming back from there and said they walked down quite a ways and there wasn't much to see so we got back in the car and headed back up Chain of Craters.
"Holei Sea Arch
It took us 40 minutes to come back up without any stops.
2:20 pm – Thurston Lava Tube: When we returned to the lava tube, there were fewer people and only 1 tour bus. When you arrive at the lava tube, you're surrounded by lush tropical rainforest and then you descend into the lava tube. There are 2 parts of the lava tube: a lighted portion and unlighted portion. The lighted portion, which is where all the tour bus people were, is very short in distance and pretty roomy. Parts of the ceiling are very high and so are just tall enough so that you don't have to duck. It was like walking through a tunnel. It was still cool and water dripped from the ceiling. For the most part, it was not steep and very easy to walk. When we first got into the lighted portion of the lava tube, it was very crowded with tour bus people. So we quickly walked through it and did the unlit portion of the tube. When we finished the unlit portion, we returned to the lighted portion and it was completely empty. Something to keep in mind if it's busy when you get there and you plan to do both parts of the tube.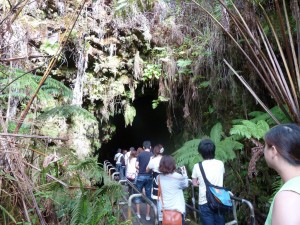 Descending into the lava tube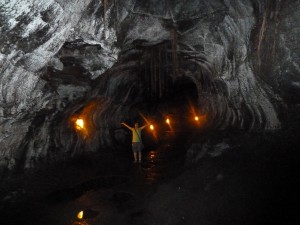 Lighted portion of Thurston Lava Tube
The unlighted portion of the tube begins where the lighted tube ends and past a gate that labels the unlit tube. You must have flashlights to go into the unlit tube because it is literally complete darkness in it. There are also many chances for you to hit your head if you don't duck in time and near the end, you need to crawl. There was also a short drop and big boulders to navigate. It was fun because we only saw 2-3 small groups of people so most of the time, we could not see any other flashlights and it felt like we were there by ourselves! It can be dangerous if you are not careful. It took us about 15 minutes to reach the end of the tube. I'm scared of the dark so making it to the end was a huge accomplishment for me! Since we knew what to expect, it took 10 minutes on the way back out. I highly recommend bringing real flashlights, not mini-ones, or at least bring strong ones. We brought small travel flashlights to save space in our luggage and they were much too dim in the lava tube.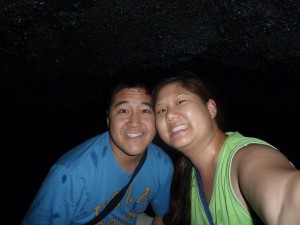 Squatting at the end of the unlit portion of Thurston Lava Tube
3:18 pm – Exited Volcanoes National Park
Hawaii Volcanoes National Park was truly one of the highlights of this entire trip. Seeing the massive craters, Devastation Trail, the lava tube, and the lava fields along Chain of Craters Road really hit home to me as to how awe-inspiring and devastating Mother Nature can be. While we didn't get to see active lava at the park, the steam constantly rising from Halema'uma'u Crater and the Steam Vents reminds us that the volcano has its own will and is just waiting for her next show. Though visiting Volcano National Park took almost our entire day in Hilo, I'm very glad we did everything we did and made the park the focus of this day.
When we pulled into Hilo, I made a last minute decision to stop by Rainbow Falls before returning the car. It was my goal to return the car by 4:30 pm and we were cutting it close but I thought we would have time. On the way to Rainbow Falls, we hit some traffic so I was pretty stressed about timing. the whole way there. We finally arrived just after 4 pm and we would have to make this a quick stop.
Despite not seeing a rainbow there (which is more likely in the morning), Rainbow Falls was very beautiful and I'm glad we were able to squeeze it in but honestly, with the waterfalls we saw in Kauai later, it wouldn't have been a big disappointment to have missed coming here. There was a woman selling bowls and headbands made of ti leaves. I winded up buying a cute little ti leaf fish! Overall, we were at Rainbow Falls for less than 10 minutes.
Rainbow Falls
We filled up the rental car with gas and returned the car to Thrifty before 4:30 pm and was back at the cruise pier by 4:50 pm, plenty of time to spare since all aboard time was 5:30 pm! Yay!
Back onboard, Chris went back to the room and I headed straight to the Diamond Head Auditorium for the Orchid Lei Class that started at 4:45 pm. I was late but they still had enough orchids for me to make a lei. A nice lady I sat next to caught me up to speed and I made my beautiful lei! I noticed that others had some special flowers and their leis were fuller than mine but that's what I get for coming late. I loved my lei just the same and took lots of photos with it on that evening. It's fun to look at those photos and know that I actually made the lei I'm wearing in them!
We tried to have dinner as early as we could this evening so that we could come back to the room and shower before the Kilauea Volcano Sailby at 9:45 pm. We had a starboard balcony so we watched it from our balcony. The ship had a drink special that night where if you ordered a drink for the sail by to be delivered to your room, they would not charge you additional gratuity on the drink. I ordered a lava flow and honestly was not a fan. I don't like artificial strawberry flavoring and that's what they poured all over the drink. I'm going to stick to pina coladas in the future!
We started to see lava shortly after 9:45 pm, though the minutes seemed like forever as they passed waiting for us to see SOMETHING! We didn't get a TON of action but there was a small glowing ball of lava that looked like it was the size of a gumball when viewing from the ship with the naked eye. It was very beautiful and exciting to see! We used 8×40 Bushnell binoculars for the viewing and through them, you can see actually see the small ball of lava flowing. With the binoculars, we could also see a couple of faint red glowing spots on the volcano that we couldn't really see with our eyes. I read a tip on Cruise Critic to look up at the stars when the ship turns out all of its lights. I'm so glad I did this. As she said, it was the most stars I've ever seen in my life. Very magical. The next day, we went to the Photo Shop to ask about the professionally taken sail by photos and they told us even their camera couldn't get any good shots of it! That was disappointing so I'm glad we took some photos of the sail by on our own, even if it just looks like a little red dot. LOL!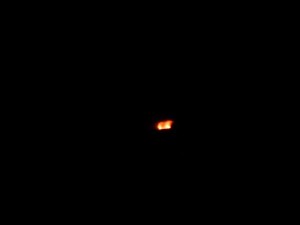 Kilauea Lava Sailby
+ See more Big Island of Hawaii photos
+ Read more about Hawaii 2010


Disclaimer: We may earn a commission for products purchased through some links in this article.