Wednesday, December 1, 2010
For this morning, we booked Body Glove Snorkel (called Dolphin & Snorkeling Adventure on their web site) through Norwegian Cruise Line. If you want to do a snorkel cruise excursion in Kona, you have many options but the most popular are Fair Wind, Captain Zodiac, Sea Quest, and Body Glove. Chris does not swim so he would not be snorkeling at all during this excursion. With that in mind, I quickly eliminated Captain Zodiac and Sea Quest because they are raft excursions and I wanted Chris to be able to relax on a boat with shade. Both Body Glove and Fair Wind sounded like great boats with restrooms, floating devices, breakfast, and lunch. Fair Wind was more highly recommended in reviews than Body Glove. However, Kona is a tender port, meaning you can't just walk off the ship and be at the pier. The ship anchors in the middle of the water and a ferry or lifeboat shuttles passengers from the ship to the pier. This process requires you to obtain tender tickets to get a place in line on the tender and you have to factor in time for the actual tender. Fair Wind is a 25-minute drive from the cruise pier and requires you to check-in by 8:30 am. The ship arrives in Kona at 7 am and in order to be on the first tender to make it to the Fair Wind on time, it is recommended you get in line for tender tickets at 6:30 am as well as pre-arrange a taxi at the pier to take you to the Fair Wind. However, if the ship docks late (or in some cases, unable to dock at Kona at all), then you are out of luck and will lose the money you paid for the excursion. Many people have said they were able to pull this off with no problems but the idea of making Chris wake up at 5 am for an excursion he didn't even want to go on was not really flying with me. However, if you book a morning excursion through the cruise line, you tender with the group and do not need to obtain a tender ticket on your own. NCL offered the Body Glove Snorkel cruise so we booked it through them. I actually tried to call Body Glove and book the excursion directly to save money but they said it was booked out by NCL. In the end, it worked out because we didn't have to worry about the tender tickets.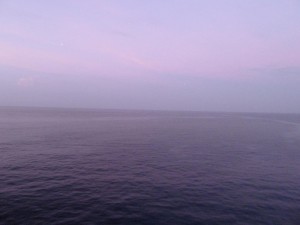 Beautiful sunrise from our balcony
We met for our excursion in the Hollywood Theater at 7:15 am. In the past when we've been on ship excursions that met this early, people don't arrive on time and we wind up waiting for the stragglers for a long time. Surprisingly, everyone on our excursion arrived promptly and we didn't have to wait long before we were boarding the tender. We were in Kona by 7:35 am. The Kona pier offers the best view of the ship you'll ever get on this cruise. Nearly all the other cruise piers are very industrial and the ship is surrounded by ugly buildings so it's hard to take a good photo of it. So if you want to take a good photo of the ship, make sure you do it here!!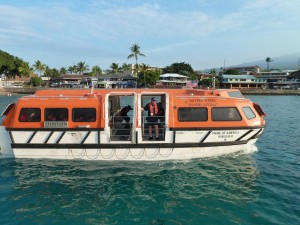 NCL's Pride of America tender boat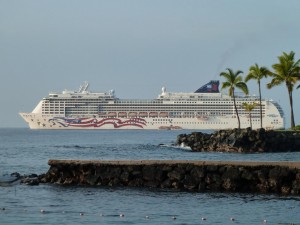 View of Pride of America in Kona
We literally walked off the ship, through a gate, and up the gangway to Body Glove's boat, Kanoa II! It was right next to the tender. The ship has 2 levels, both with shaded and unshaded areas. The bottom level had open fresh-water showers, bathrooms, a buffet serving area, bar, and sit-down tables. The bow of the boat was uncovered and had a few tall cocktail-style tables (no chairs) and seating around the front of the boat. The top level had benches all around the perimeter and long beaches in the middle that were covered. It also had a high dive platform and water slide. As far as amenities go, you cannot ask for more on a snorkel cruise!
The continental breakfast buffet was already being served when we got onboard. It included pastries, bagels, fruit, hot tea, and coffee. All of the covered seating was already taken so we ate at the tall cocktail tables at the bow of the boat, as the boat pulled away from the pier and we were on our way to Pawai Bay. According to "Hawaii the Big Island Revealed", the boat fits 130 passengers but it seemed like there were about 50 people or less on our excursion. It was not crowded at all.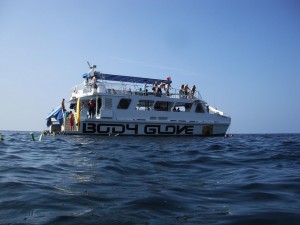 Body Glove Snorkel Cruise Boat: Kanoa II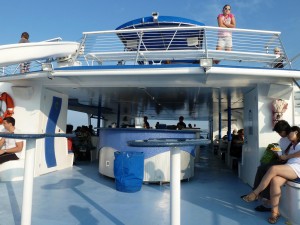 Body Glove Snorkel Cruise Boat: Kanoa II
As we sailed away from Kona, there were spinner dolphins along the side of our boat. I missed this sighting because I was using the restroom but we would see more on the way back. I think it took about an hour to get to our snorkel site and near the end of that hour, I started to feel sick. I get motion sickness fairly easy so whenever we cruise, I take Bonine every morning. I took a ginger pill right away but still felt queasy. I was hoping I would feel better once we arrived at the snorkel site but the boat continued to rock after being anchored. At one point, I saw a woman acting strangely and Chris told me to look away but it was too late. I watched in horror as she barfed into a trash can, which then triggered a need for me to vomit as well. Luckily, I looked away, thought of something else, and held it down. I wasn't sure if getting into the water would help or hurt my motion sickness but I wasn't getting any relief on the rocky boat so I might as well get into the water.
I brought my own mask and snorkel. A crew member helped me try on different fins until I found a pair the fit comfortably and another crew member help me get fitted in a life jacket. It's optional to wear a life jacket but almost everyone I saw wore on. Keeping yourself afloat just gets tiring. I cannot say enough about how wonderful this crew was. Since Chris didn't go into the water, he was able to observe the staff. He said they were always watching the water for distress and one crew member accompanied someone the entire time in the water because they were uncomfortable going by themselves. Someone was always at the ladders to help you in and out of the water. When a girl who jumped off the high dive reported seeing a jellyfish, crew members immediately went to check it out and make sure it was a safe distance away from swimmers. The crew was extremely friendly and safety was obviously their top priority. The crew absolutely gets an A++++ from me. They also had a lot of equipment. In addition to masks, snorkels, fins in all sizes, and life vests, they had prescription masks, noodles, and 2 rafts. They also gave everyone a chance to try SNUBA, which is like scuba diving but the air tank floats on the surface, for an additional fee.
I was in the water in my snorkel gear, wearing a life vest, and using 2 noodles at 9:25 am. I snorkeled in the bay near the back of the boat. The water was very blue and clear. This was my only snorkeling experience in Hawaii so I have nothing to compare it to but you weren't SURROUNDED by fish, like I saw in photos when I googled "Pawai Bay". The reef was very deep and so you see the fish from up above them. The fish looked small to me but it might be because the reef was so deep and they were hanging out close to it. There seemed to be a good number of fish but not TONS. I used my new Fujifilm Finepix XP10 waterproof camera. In the photos, you see a lot of reef and you can point out the couple of fish in each photo. Despite not having a ton of fish to look at, the reef itself was beautiful. Seeing it with your own eyes in person is truly a wonderful experience. What I think I enjoyed more than seeing the fish was just bobbing in the water and looking around the bay. It was very pretty and there is just something about being in the water, where you're literally in the middle of all the beauty. I snorkeled for about 30 minutes before getting back onboard to rest.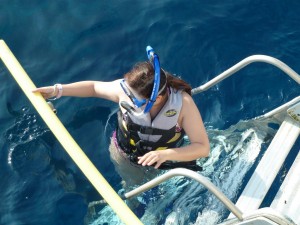 Entering the water from the boat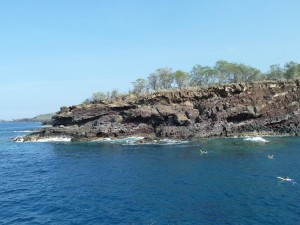 Snorkeling at Pawai Bay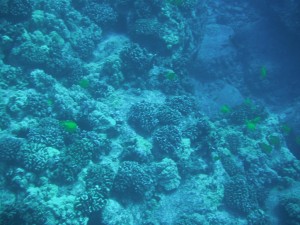 Snorkeling at Pawai Bay
When I got back onboard, I started to feel motion sick again with the boat rocking and realized it was better in the water. However, I was still tired. Chris got me a ginger ale from the bar. The bartender makes a wonderful ginger ale with real ginger capsules and it tasted it great! The lunch buffet was being served. It consisted of bread, lunch meats, sandwich fixings, fruit, and Maui-style potato chips. Obviously, I felt more like barfing than eating so I made myself a plate and then asked the bartender to store it so I could eat it later. (The crew advises you to do this so that they can pack up the buffet on time and you can eat your lunch when you feel like it or take it off the boat too.) I laid down on the benches for a little bit and that helped with the queasiness. They made an announcement that we only had 20 more minutes of water time so if we wanted to go back in, we should do so now so I did. This time I swam between the starboard side of the boat and the rocky coast. The rocks made the reef less deep but it seemed like the same amount of fish that I saw before. I came back to the boat after about 15 minutes. By then, my lips were BURNING from the salt water, which I don't recall experiencing in previous snorkeling trips I've done in the Caribbean.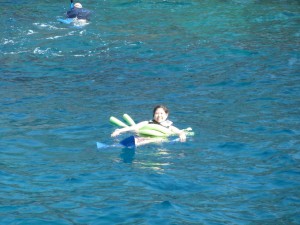 Floating in Pawai Bay
Once back onboard, Chris and I hung out again on the second level. We got to see a spouting whale off in the distance! I started feeling sick again so I laid down again and even dozed off for a little bit. When I got up, the boat was already on the way back to Kona. I felt better so I ate my sandwich and then watched us sail back to Kona. It was so nice to have the wind blowing in my face and smell the salty air. I made sure I wasn't in the bathroom as we approached Kona so I didn't miss the spinner dolphins this time!! There were probably 4 of them swimming when suddenly, one would jump out of the water spinning!! Then another would do the same thing! It was so thrilling and amazing to see!! We pulled into the Kona pier and disembarked.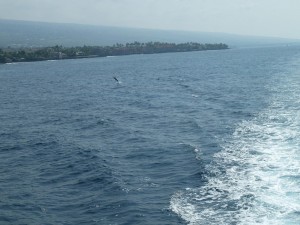 Spinner dolphins in Kona Harbor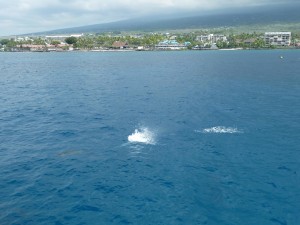 Approaching Kona Harbor. You can see dolphins in the water!
Overall, I would definitely recommend this excursion to anyone looking for a safe, convenient snorkel trip with a top-notch crew. For the most part, everything about Body Glove was wonderful: the crew, the food, the equipment, the boat, the convenience of not having to get your own tender, boarding location, etc. The only thing I was disappointed about was the lack of fish at Pawai Bay. I'm not sure if it was because of the time of year since on Google, it seems like other people saw lots of fish there, but I still had a good experience nonetheless! Just be aware if you get motion sickness that the boat gets rocky. After this excursion, I may have to talk to my doctor about getting one of those motion sickness patches.
We got back to Kona at 12:30 pm. It was supposedly 83 degrees that day but it seemed a lot hotter to us in Kona and we're from Texas! I don't recall feeling the sea breeze you would normally think would exist being right next to the beach and it really felt like the sun was just beating down on us. We walked to the King Kamehameha's Kona Beach Hotel (King Kam Hotel for short) across the street from the pier and took some shelter in their air condition before heading over to the Ahuena Heiau on their property. Ahuena Heiau was a temple built by King Kamehameha for Lono, the god of peace and prosperity. The heiau is currently being restored so it was mostly the wooden frames of the heiau and missing a lot of the thatching that goes over the frame.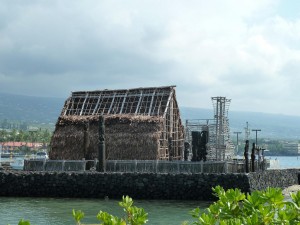 Ahuena Heiau
It was 1:15 pm when we were done seeing Ahuena Heiau and Chris, who had eaten lunch early on the boat, was hungry again. We decided to go to Ba Le, a Vietnamese restaurant in the Kona Coast Shopping Center recommended in Frommer's Hawaii, located on Palani Road. We walked out of the King Kam Hotel to Palani Road and saw it was a steep uphill climb and we'd have to do it in the heat. Hilo Hattie is more than halfway up the hill so we went back to the pier and took the Hilo Hattie shuttle up Palani Road, then walked the rest of the way to Kona Coast Shopping Center.
Chris and I both ordered Vietnamese sandwiches at Ba Le, along with some cold drinks. OMG, the sandwich totally hit the spot! My favorite Vietnamese sandwich place is Lee's Sandwiches and the sandwiches at Ba Le came pretty close. However, the French bread Ba Le used was wonderful and much better than the bread at Lee's Sandwiches. Writing about it right now is making my mouth water. Anyway, this place would be an excellent place for lunch or a snack.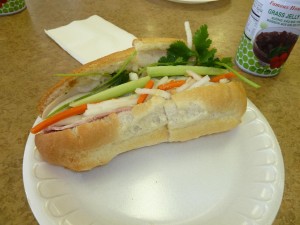 Vietnamese sandwich at Ba Le
After we had our tasty sandwiches, we walked back down to Hilo Hattie and decided to do some major shopping. I loved this store!! When you enter, you are greeted with a complimentary shell lei and offered a cold drink. We found some nice souvenirs that we didn't see elsewhere. There was an artist selling her hand-painted tiles and we bought one to hand in our house. Since we were in Kona, we bought our 100% Kona coffee. They had a pack of 3 small bags that was perfect for gift giving. We bought ourselves a 1 lb. bag of Fike Farms coffee, which was called "Best Kona Coffee" by Big Island Revealed. I also picked up some lychee tea and poke mix. While they did have other things that you can find cheaper at Walmart and ABC Stores, there were definitely some great finds here!
We were done shopping around 3:30 pm and got back on the Hilo Hattie shuttle back to the pier. By the now, the heat combined with waking up early (plus the energy I spent snorkeling and feeling sick most of the day) was getting to us. I was very tired and started to feel dizzy but still wanted to keep exploring Kona. Chris wasn't having any of it. (I have a tendency to push myself too hard on vacations and getting sick. Chris calls me a "vacation ruiner".) He made us call it a day and we were back in our room around 4:15 pm. I'm sad I didn't get to see more of Kona since it really is the only port you can easily walk around but for my health's sake, I'm glad we went back because if I had gotten sick, the rest of the trip would have been a wash.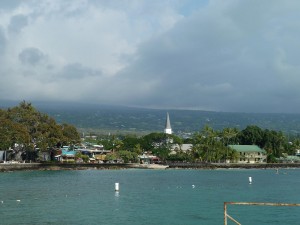 View of Kailua-Kona
We got changed and rested in our room for a little bit before heading down to dinner. I'm ashamed to say we were actually at the Skyline Restaurant before it opened at 5:30 pm so we were waiting in line with a bunch of old people for the doors to open! LOL! I think we should be promoted from our early 30's to early 70's and retire immediately!! Thank goodness that this was the only night this shameful event occurred.
The White Hot Dance Party was this night but we didn't attend. I think this day was when we really started to feel the effects of not having any sea days on this cruise. Our schedule had taken a pretty bad beating on us and we thought it would be best to get as much sleep as possible before arriving in Kauai. We still had 4 more days of this trip (2 cruise days, 2 land days) left to go before we could rest at home!!
+ See more Big Island of Hawaii photos
+ Read more about Hawaii 2010