Thursday, December 2, 2010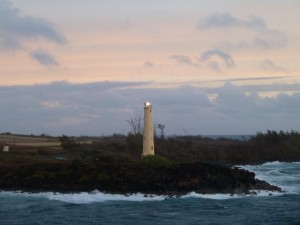 Nawiliwili Lighthouse from our balcony
Just like in Hilo and Maui, we got off the ship and took the Thrifty shuttle to their office. We picked up our car and were off the lot by 8:37 am. We had to stop by Walmart again because Chris needed something and there, we got our first treat of Kauai…a mother hen and her baby chicks walking around the parking lot. Chickens are one of Chris' favorite animals. He collects chicken ceramics that we put on top of our fridge at home and while in Kauai, he bought a decal for his car that has a rooster and "Kauai" written on it. He was thrilled that Kauai was not disappointing us! Chris didn't find what he was looking for at Walmart but of course, we found some souvenirs. We left Walmart at 9:16 am and began the drive to Waimea Canyon.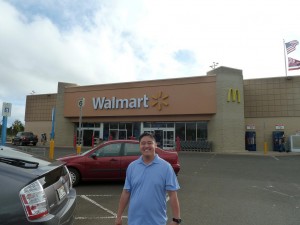 Walmart Kauai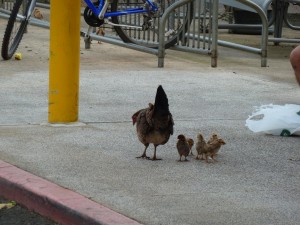 Mother hen & her chicks at Walmart
Around 30 minutes into the drive along Hwy. 50 just past mile 14, we stopped at the Hanapepe Valley Lookout for a beautiful view of the valley. 10 more minutes on Hwy. 50, we started to see the landscape change and the highway was flanked by Kauai's red dirt. The wind and passing cars have kicked up the red dirt so much that the highway rails, bridges, and signs, as well as passing cars, are now covered in it!
Driving through Waimea, we made the turn on to Waimea Canyon Dr. and began our ascent up the mountain. According to our Garmin Nuvi GPS, Waimea Canyon State Park starts at mile 6 and the first official lookout is after mile 10. However, there were several notable places to pullover before mile 6. Specifically, we pulled over between miles 3-4 where one side had a dramatic view of the canyon and the other side of the road was this amazing red dirt hill with a small red dirt stream and waterfall! We spent almost 15 minutes at this spot because it was just so fascinating!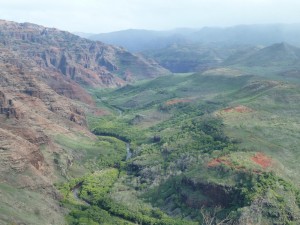 Waimea Canyon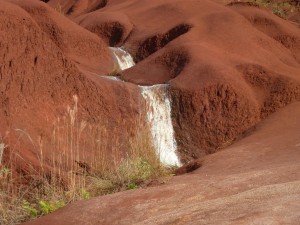 Red Dirt Waterfall
We reached the park entrance at 10:18 am and the weather became hazy and misty by the time we got to the first lookout and kind of stayed that way the entire time we were at Waimea Canyon. It wasn't as bad as when we went to Haleakala Crater but it sprinkled off and on, the sky was gray, and thin clouds hung around the canyons when we viewed them from the lookouts. Here are the places we stopped in Waimea Canyon and roughly what time we reached each one…
10:30 am – Waimea Canyon Lookout (between mile markers 10 and 11): This is as far as most of the big tour buses go and thus, you'll find the restroom and the lookout to be crowded more crowded than other stops. There is a restroom close to the parking lot and it only has one toilet in a space that could fit 3. While waiting in line, we women were all cursing why they would do something like that. After waiting my turn, using the restroom, and walking back out, I realized there were a larger set of restrooms a bit further from the parking lot. The one we were all using was the handicapped restroom!! D'oh! Please make note of this, ladies, as it will save you some time. From the parking lot, you walk up a set of ramps and/or stairs up to the lookout, which has two levels. While there were some thin clouds hovering around the tops of the canyon, the view was still magnificent! There was also a rainbow on the left side of the canyon.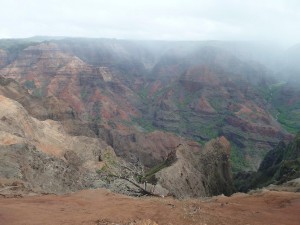 Waimea Canyon Lookout
11 am – Puu Hinahina Lookout (between mile markers 13 and 14): This stop actually has 2 lookouts: one of the canyon and one of Niihau private island. The view of the canyon was spectacular and clearer than at the Waimea Canyon Lookout! The view of Niihau private island was almost non-existent. It was all white from clouds with just a little bit peeking out.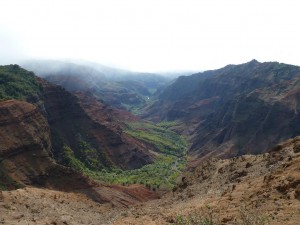 Puu Hinahina Lookout
11:15 am – We reached Kokee Lodge & Museum (past mile 15) but decided to keep going and we would return for lunch after seeing the last 2 lookouts.
As reported, the road past the lodge is very rough and unmaintained with a ton of pot holes that are just waiting to give you a flat tire so we drove slowly and carefully here.
11:23 am – Kalalau Lookout (18 mile marker): This lookout is supposed to provide a view of Kalalau Valley but all we got to see were white clouds. The view was completely socked in. We did get a nice view of the Cold War radar station, which looks like a giant golf ball.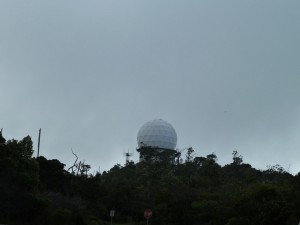 Cold War radar station from the Kalalau Lookout
11:35 am – Pu'u o Kila Lookout: This lookout is the end of Waimea Canyon Dr. and is supposed to be a better view but less traveled lookout of Kalalau Valley and a view of Mt. Wai'ale'ale, the wettest spot on earth. From the parking lot, there is a steep path to the lookout. The clouds were still pretty thick up here but we could see a little bit of Kalalau Valley peek out as the clouds moved.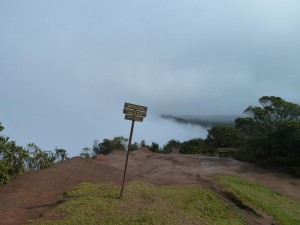 Pu'u o Kila Lookout: Mt. Wai'ale'ale "the wettest spot on earth" sign
11:50 am – Kokee Lodge (past mile 15): Kokee Lodge is the only restaurant in Waimea Canyon, has a small gift shop, and is open daily from 9 am – 3:30 pm. It was raining when we arrived so we hurried into the restaurant. The reviews I read recommended the chili and cornbread so I got a chili dog and Chris got Portuguese bean soup with cornbread. Maybe it's because I'm from Texas and have a higher standard for chili but I didn't think the chili was very good at all. Chris' meal was much better and I wish I had gotten what he did. The cornbread was huge and SO delicious!! It was the best cornbread we've ever had in our lives!! I highly recommend you try it if you come here.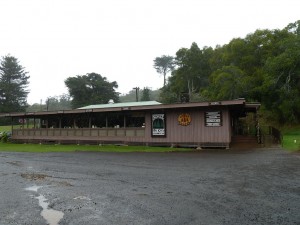 Kokee Lodge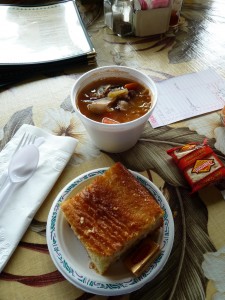 Portuguese bean soup with cornbread at Kokee Lodge
After lunch, I got a really cute rooster magnet in the gift shop, along with a small bag of chicken feed for Chris. The rain had cleared up when we exited the Lodge and the chickens had the place surrounded! They must have all been hiding from the rain when we arrived. Chris and I fed the chickens (roosters, hens, and chicks!) and soon we were surrounded by them. Chris was having a ball! Some of the chickens fought over the food and I would yell at them. We also tried to make sure the chicks got enough feed too. It was so much fun!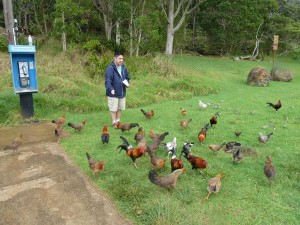 Feeding chickens at Kokee Lodge
12:45 pm – Kokee Museum (next to Kokee Lodge): We walked to the Kokee Museum next door. It's a small museum consisting of 3 rooms with exhibits about the area. Admission is free. Open 10 am – 4 pm. We spent 10-15 minutes here.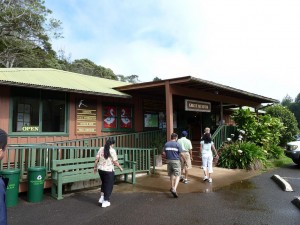 Kokee Museum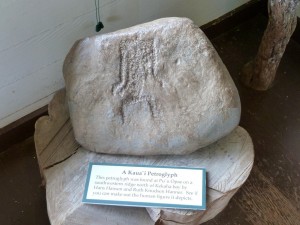 Petroglyph at Kokee Museum
1:20 pm – Waimea Canyon Lookout: On the way back down, we decided to stop by the Waimea Canyon Lookout one last time to see if the view was any better and it was worse. The weather is so weird along Waimea Canyon Dr. Of course, the weather got clearer the more we descended. After driving down for 20 minutes, it was as clear as day! The elevation makes a huge difference. Overall, Waimea Canyon was a great experience. It would have been nice if we could have seen everything we were supposed to at every lookout but I feel fortunate we saw the views that we did in the morning because those that came later were probably not as lucky. Plus, OMG! We fed chickens!!!
Getting back on to Hwy. 50, we stopped at Jo-Jo's Clubhouse, which is across the street from mile 23, in Waimea around 1:50 pm. The Ultimate Kauai Guidebook (which is part of the "Revealed" series) said it is the best shave ice on Kauai. The 60 flavors are a bit intimidating so we went with one of the flavors marked as a "favorite". I can't remember what it was but it had creme on it on top of ice cream and I wasn't a big fan but Chris loved it. Next time, I'll stick to just shave ice with fruit flavors! We stopped by a souvenir shop near Jo-Jo's Clubhouse before getting back on the road.
Jo-Jo's Clubhouse
Around 2:35 pm, we stopped at Kauai Kookie Company in Hanapepe. These cookies were my favorite of the different cookie brands we tried in Hawaii. They are crispy, not chewy. Walmart sells this brand but the Kauai Kookie Company has a lot more flavors than Walmart carries, including limited edition flavors depending on the season, and different sizes of cookies and packaging. We picked up Kona coffee, pineapple, and chocolate chip flavors. When you exit the ship, make sure you pick up a copy of "Kauai This Week" and there are coupons for Kauai Kookie Company in it.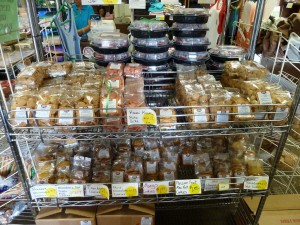 Kauai Kookie Company
At 3 pm, we arrived at Glass Beach in Ele'ele. Glass Beach turned out to be one of my favorite places during this whole trip. The sand is mixed with millions of pieces of broken glass from bottles and cars that have been smoothed by the ocean. The colorful sand that results is so beautiful! I sifted through the glass to reveal more and more different colors and it was a treat to find a big piece of glass that hadn't been shattered by the water yet. There are also some tide pools formed by lava rocks that are also fun to wade in and hunt for special pieces of glass. It was very peaceful there, just 3-4 other people. While we were leaving, Chris noticed a man in a motorized wheelchair was stuck in the sand. Chris and another bystander tried to get the wheelchair unstuck but it wouldn't budge so they carried the man to the parking lot, where I held him up, as they went back down to carry his chair. It was a good thing both men were there because it was just the man and his wife.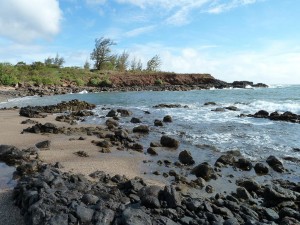 Glass Beach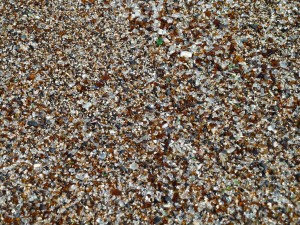 Glass Beach
At 3:25 pm, we stopped at the Red Dirt Store Factory Store. Chris is a big fan of "Dirty Jobs" so this place was a must see. Unlike the other stores on Kauai and other islands, this location is where they actually make the shirts and where Mike Rowe visited during the show. Both of us picked up our Red Dirt shirts (Chris' had a big rooster on it). We walked across the street and popped into Paradise Sportswear before heading back to Hwy. 50.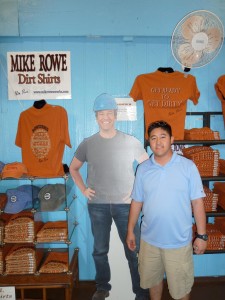 Original Red Dirt Shirt with Mike Rowe
We got to Kauai Coffee Company shortly before 4 pm. We took the self-guided tour of the coffee fields, which took about 15 minutes, and learned about how coffee is grown and harvested. Then we sampled the different kinds of coffee that Kauai Coffee Company sells. The samples are self-serve so you can try as many flavors as you want. Then I bought a bag of the coffee that I liked. It was 4:30 pm when we were done at Kauai Coffee Company and we expected that we'd be stopping for dinner so I changed into a sundress in the restrooms before we hit the road again.
Kauai Coffee Company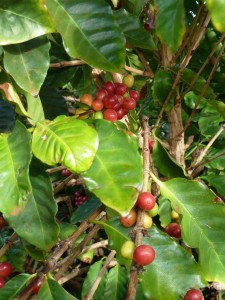 Kauai Coffee Company: Coffee Berries
When we stopped at Hawaiian Trading Post in Lawai around 5 pm, it had started to rain again. This store was really big and had a lot of selection. It also has a nice jewelry store, if you're looking for a more expensive souvenir. 😉
The sky opened up on the way to Poipu and it was pouring rain. Right when we got to Poipu Beach around 5:35 pm, the rain stopped but dark clouds loomed over so it would probably start raining again at any moment. We walked on to Poipu Beach and there was a seal hanging out on the sand. He must have been there for a while because it looked like beach workers roped him off in an effort to keep humans away. I got some photos of him. Unfortunately, there was also a crazy lady there yelling at the seal and he looked up at her like "You're a freak." but otherwise, he couldn't be bothered by her and went back to sleep. LOL! Despite the gloomy weather, Poipu Beach was beautiful and it would be a lovely spot for a beach day. Perhaps the gloomy weather benefited us because the beach was pretty empty and who knows if the seal would have hung around so long if the beach was crowded with people. The sun was setting and the sky became a gorgeous purple.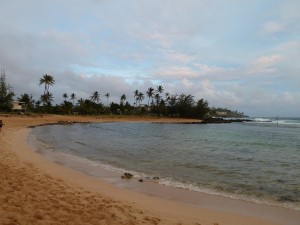 Poipu Beach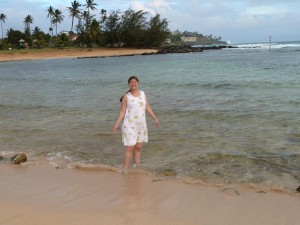 Poipu Beach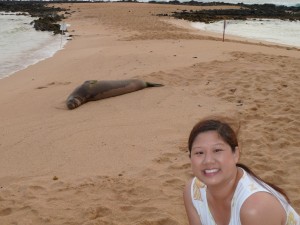 Seal at Poipu Beach
Sunset at Poipu Beach
There were a bunch of Kauai brochures and guides at the Kauai Coffee Company so I picked a couple of them up and thumbed through it during the drive to Poipu to figure out where we would eat dinner. After seeing photos of it, we decided on Keoki's Paradise because it had a tropical theme to it and was known for its seafood.
We went to Keoki's Paradise in Poipu Shopping Village shortly after 6 pm. The shopping center was packed and it was hard to find parking. We didn't have reservations but only had to wait 5 minutes for a table. We were seated right in front of a pretty waterfall! The atmosphere is very fun and tropical! The bad thing is that pretty landscaping is outdoors and it was raining off and on so it got a bit chilly and misty during the dinner. Also, after the sun completely set, it was also dark. I think this place would be a lot more pretty for lunch or for dinner when the sun doesn't set so early. We found out that the restaurant was actually owned by the same company as Duke's and they did not disappoint! We started with the I'a Maka Hui Platter, which was an appetizer of raw tuna served 3 ways: wok charred, shoyu poke, and fresh sashimi. It was delicious!! Chris had Keoki's Style Fresh Fish and I had twin lobster tails. My lobster tails were FAN-FREAKING-TASTIC! For dessert, we had the world famous Hula Pie! I was so glad to try it here since we didn't have a chance to try it in Oahu. Hula Pie is basically a GIANT slice of macadamia nut ice cream served over chocolate cookie pie crust and topped with hot fudge, whipped cream, and chopped macadamia nuts. It was sooooooo good!! It's no wonder people make such a big deal of it!! Overall, I thought we had a wonderful meal here, even if the atmosphere wasn't as nice as it was supposed to be.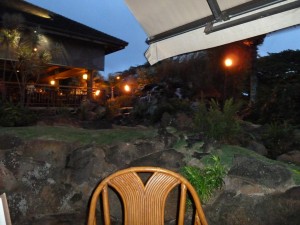 Keoki's Paradise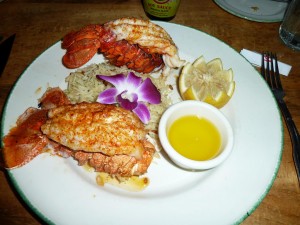 Twin lobster tails at Keoki's Paradise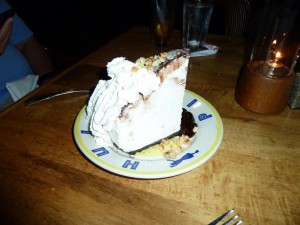 Famous Hula Pie at Keoki's Paradise
We probably finished dinner around 7:30 pm and walked around Poipu Shopping Village for a little bit. I bought a few things from Whaler's General Store there and we left around 8 pm. We had originally reserved the rental car for both days in Kauai but on the second day, we would only have an hour after our helicopter tour so we thought it'd be more convenient to return the car this day and just walk around the port area after our helicopter tour. We got gas for the rental car, returned the car around 8:35 pm, took the shuttle, and was back at the pier before 9 pm.
+ See more Kauai photos
+ Read more about Hawaii 2010