Friday, December 3, 2010
We were booked on Blue Hawaiian Helicopters' Kauai Eco Tour for 10 am this morning. We were required to check in by 9:15 am so we got off the ship at 8:50 am to make sure we had enough time to walk to Harbor Mall. We lucked out and the Harbor Mall shuttle just pulled into the pier so we hopped on. We got to Harbor Mall before 9 am and check-in with Blue Hawaiian Helicopters.
When we checked in, we were weighed and since it was still early, they asked us to come back at 9:45. We walked around the shopping center but there wasn't many stores opened. Chris got sucked into the model train store and I browsed jewelry. We returned to the Blue Hawaiian Helicopters office and it was now filled with people, including people who booked directly through NCL. We watched the safety video and then they called our names, forming us in groups of 6 for each helicopter. We were each given a number, which would be our seating arrangement in the helicopter. We were driven to the helipad in a van and waited in a seating area under a tent until they called our group. When our group was called, they asked us to line up by our number and then we were taken to the helicopter.
The Eco-star helicopter has 3 seats in the front row with the pilot sitting in the left window seat. There are 4 seats in the back row. From what I recall, this is where each number sits…
Front row middle seat
Front row right window
Back row left window
Back row left middle
Back row right middle
Back row right window
I was #1 and Chris was #2 so we were in the front row with me in the middle. In the back row, an older couple had the right-side and a younger couple on the left side. The seating arrangement would be unfortunately become a pain point for this flight, as you'll find out later.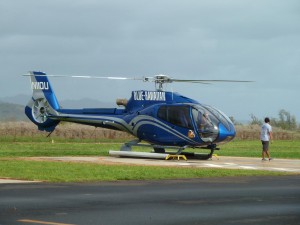 Blue Hawaiian Helicopters
It was around 10:15 am when we lifted off. Before this year, I had never flown in a helicopter but we flew in one when we went to Alaska in July so this was my second heli ride ever and this year! LOL! Since this wasn't our first time, I think that took away some of the newbie excitement we had when we rode in a helicopter for the first time. That being said, it was still very exhilarating! There's no other feeling than taking off straight up into the air and feeling like you are flying because you are surrounded by windows!
Here's a list of what we flew over during our helicopter tour:
Nawiliwili Harbor (including a view of the ship)
Haupu Ridge
Keoneloa Beach / Shipwrecks Beach
Poipu & Mahaulepu Beach
Koloa
Kauai Coffee Company's coffee fields (largest coffee plantation in U.S.) in Eleele
Hanapepe Canyon
Waimea Canyon
Waimea & Waimea River
Kokee State Park
Napali Coast
Ke'e Beach, Kalalau Beach
Honopu Valley
Kalalau Valley
Whale watching over the ocean
North Shore: Tunnels Beach, Lumahai Beach
Hanalei
Very far view of Princeville
Mt. Waialeale (wettest spot on Earth) & Waialeale Crater (home to 64 waterfalls)
Kilohana Crater (birthplace of Kauai)
Far view of Wailua & Kapaa
Sleeping Giant
The highlights of the flight were definitely Waimea Canyon, where you could see the river cutting through the ridges, the gorgeous jagged Napali Coast jutting into the ocean, and the countless EPIC sky-high waterfalls in Waialeale Crater! It was pretty rainy in Waialeale Crater but I guess that's pretty normal since it is the wettest spot on Earth! Also, the rain fills those gorgeous waterfalls!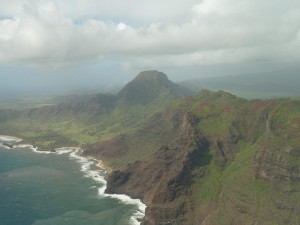 Kauai Coast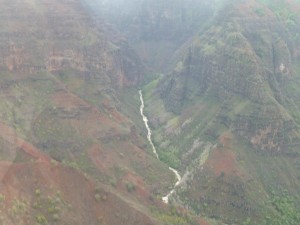 Waimea Canyon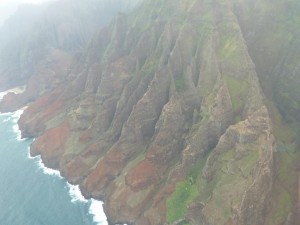 Napali Coast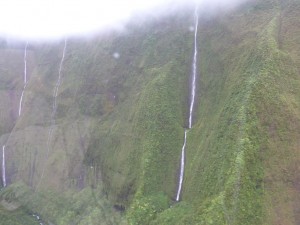 Waialeale Crater Waterfalls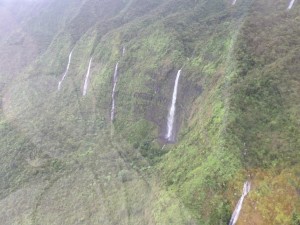 Waialeale Crater Waterfalls
The helicopter flight was wonderful and we're very happy we did it! However, there were a couple of dampers on our flight. First of all, Blue Hawaiian Helicopters' web site specifically says that we were supposed to see Wailua Falls and the map on their site makes it look like we were supposed fly over part of the east side of the island. However, during our flight, we didn't see Wailua Falls and once we reached Hanalei, we pretty much flew directly south back over Kilohana Crater to Lihue, not flying over the east side of the island. We did see Wailua from very far away but we certainly didn't see Wailua Falls. I was disappointed by this because we didn't visit Wailua Falls by car since I thought we would see it from the helicopter ride so sadly, we left the island without getting to see the falls. (I even bought a postcard of Wailua Falls thinking I'd see it during the helicopter tour.) In the grand scheme of things, not seeing Wailua Falls isn't that big of a deal but I'm disappointed that I expected to see it because of the web site description. I actually e-mailed Blue Hawaiian Helicopters about this to find out why my flight may have skipped Wailua Falls and I received a direct reply from their CEO Dave Chevalier:
"First I want to thank you for flying with us. We have traditionally shown Wailua falls on our tour but we have begun to receive complaints from overflights by ground visitors there. When a pilot notes a significant presence of ground visitors they have been instructed to give it a wide berth. I appreciate you bringing this to my attention. I will clarify that situation on our website. Although Wailua falls is impressive from the ground it does not compare to the waterfalls in Waimea Canyon, which can only be seen by air. We have compensated by including more waterfall views in the remote Waimea Canyon area. Not as well known but more spectacular than Wailua Falls, especially from the air. Notwithstanding this disappointment I hope you valued your experience."
I found his prompt response to be very professional and appreciate that he took my concerns seriously. I think this just further shows what an outstanding company Blue Hawaiian Helicopters is and I wouldn't hesitate to recommend them to anyone.
Second, I must warn you that your experience could vary greatly on what seat you have on the helicopter. The best seats are the front on the right side but you have no control over where you are seated because it is decided by weight. We were very lucky to get seated in the front row with the pilot. Unfortunately, someone has to sit in the "bad" seats, which are in the back row on the left. As I mentioned before, it was a young couple on our flight and the woman complained throughout the whole ride that she couldn't see anything. On one hand, she was exaggerating and a bit melodramatic. When we were flying over the canyons and in the crater where the waterfalls are, there are views on both sides. It was when we were flying along the coast that it was really only the right side that can see it. On the other hand, our pilot also could have made more effort to turn the helicopter around a few times to let both sides see, especially after she complained. He spent 5 full, long, boring minutes over the ocean looking for whales that never came and I would have much rather he spent those 5 minutes giving the left side of the helicopter a chance to see Napali Coast. I felt bad for her but at the same time, she was ruining our ride by complaining so much. It was a major buzzkill and I even felt guilty that we got the good seats. (When I watch the DVD of the flight, I cringe every time I hear her whine.) When the ride was over, we saw her complaining to the staff at the office but I don't know what came of it. Obviously, what seat
you get is a gamble and someone has to sit in the "bad" seats. Perhaps the Blue Hawaiian Helicopters should make it more clear to people that not all seats are created equal when they book the tour. But I would hope that if it were me that got the worst seat, I would just accept it and make the most of the ride anyway.
That looks like a lot of negative to me but seriously, we are so glad we did this helicopter ride and it was really amazing!! As I said before, I bought the DVD of our actual flight. I watched it to make sure this review is accurate about what we saw and when I watched it, I was just struck about how gorgeous the flight was all over again, especially Napali Coast and the waterfalls in Waialeale Crater. The DVD gave me chills!!
We returned to the Blue Hawaiian Helicopters office in Harbor Mall around 11:15 am. We had to wait about 15 minutes for them to make our DVD. Chris went back to the model train store to finish browsing. We walked around the rest of the mall to find a place to eat lunch and settled on Kalapaki Joe's. Chris got fried shrimp and I got shrimp tacos. The food was okay but nothing to write home about. I was pretty stressed out the entire meal because I was worried we wouldn't get back to the ship on time. We got our food around 12:30 pm and finished quickly so it wasn't a problem at all. I even had time to get a lychee-flavored shaved ice at Halo Halo Corner Shaved Ice in the mall on the ground floor in front of the shuttle stop before boarding the last shuttle back to the pier at 1 pm. I loved this shaved ice!! I definitely think ordering fruit flavors is the key for me to enjoy shaved ice!
People who read my blog often ask me if there is anything I'd do different during a trip and this was one of the days I would have changed. I thought I'd have plenty of time after the helicopter tour to walk around and eat lunch before getting back on the ship and that wasn't the case. We didn't even have a chance to explore the Anchor Cove Mall across the street. If I had to do it over again, I would have focused on walking around after our helicopter tour and waited until we got back on the ship to eat lunch since we had to be back on the ship by 1:30 pm anyway. Then we wouldn't have spent so much time eating lunch and not enjoying it because we were stressed about getting back to the ship.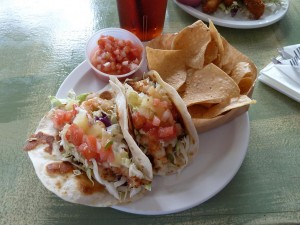 Shrimp tacos from Kalapaki Joe's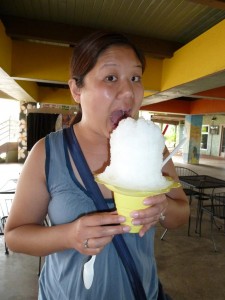 Halo Halo Corner Shaved Ice
When we got back onboard, we finally spent some time exploring the ship. Ironically, it was the last night of the cruise but this itinerary was so intensive that we just never had time to explore. Read my Pride of America review to see my thoughts on the ship. We also got to see one of the tugboats that would escort our ship out of Nawiliwili Harbor do donuts in the water!! The gift shops on the ship had a Blowout Sale and I spent some time shopping. There were some great Hawaii shirts for low prices. (I think $10 per shirt.)
Chris did some packing before the Napali Sailby. I've read people recommend on Cruise Critic to get a spot for the sailby 45 minutes before the Daily Schedule says it will start, which was 5:15 pm for our cruise. Since Chris was in the middle of packing, we didn't get out on deck until 5:00 pm and good thing to because we saw the coast immediately. The ship sails by the Napali Coast on the port side first and then turns around for the starboard side. Some people report that the starboard side sailby is shorter and farther away and since we had a starboard side balcony, we decided to go out on deck to watch it during the first pass. Instead of going to the upper decks like many people do, we went to Deck 6 and watched it from there. It was not crowded there at all and we thought the view was great! The railing is also a bit taller than your waist so there isn't any protective barriers that block photos. We could also clearly hear the narration (see the video below and you can hear it too). I thought it was a great place to view the sailby! The Napali Coast sailby was absolutely gorgeous! It was great to see it from the helicopter early in the day and then see it again from the ship. It seemed so close too!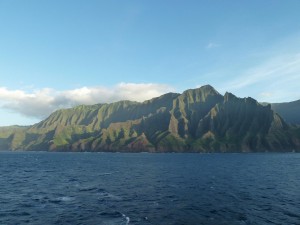 Napali Coast Sailby
Immediately after the port side sailby, we went to eat dinner. We could see the ship passing Napali Coast from the starboard side through the windows and Chris thought the distance from the coast was the same, if not closer, and lasted just as long. So for our sailing, it seemed like we could have just watched it from our starboard balcony and gotten the same experience but I can't guarantee that for other sailings.
+ See more Kauai photos
+ Read more about Hawaii 2010


Disclaimer: We may earn a commission for products purchased through some links in this article.