Saturday, December 4, 2010
Our wonderful cruise on Pride of America came to an end on this day but we took our sweet time getting off the ship. We picked the latest time available for disembarkation, which was 9 am. We had one last breakfast in Aloha Cafe at 8:30 am, returned to our room to get our bags, and disembarked the ship shortly after 9 am. We had to wait a little while for the Thrifty shuttle but it came as others have reported. (If you decide to book a different car rental company than Thrifty, be aware that Thrifty was the only rental agency that had a full sized bus as their shuttle. Other companies used vans and several times we saw that they couldn't fit everyone who was waiting so people had to wait for the next shuttle.)
At the Thrifty office, we decided to upgrade from a Compact to a Standard because we needed a car that would fit all of our luggage in the trunk without it being visible. We were planning to go to Pearl Harbor the next day with all of our luggage in the trunk and didn't want to risk it being broken into. Throughout Hawaii, we kept getting the Dodge Caliber and once we got a Ford Focus. Thrifty was going to give us another Dodge Caliber but we couldn't fit our luggage in the back without it being visible so we upgraded to the Ford Fusion, which is a Standard car. That worked out nicely.
We drove to our post-cruise hotel, Hilton Hawaiian Village (aka HHV), and got there around 10:40 am. Here's a lesson we learned the hard way: this place is HUGE!! Drive directly to the main lobby building and drop off your luggage before parking in the self-parking lot. They will make sure it gets to your room in the correct building you'll be staying in. We parked and then dragged our luggage through the entire resort. It was such a pain. We were staying in the Ali'i Tower, which has its own reception desk, so we checked in there. Unfortunately, it was still early and our room wasn't ready yet so we had the front desk store our luggage.
As I mentioned before, HHV is huge!! In addition to sitting on Waikiki Beach, it's got 5 towers, 5 pools, and 90 shops! We spent the morning just exploring the resort. It is also home to flamingos, penguins, ducks, and koi! We visited all the animal displays, walked around the Super Pool, Oahu's largest pool, and went shopping. My favorite shops were the Honolulu Cookie Company, Crazy Shirts, ABC Store, and Pearl Factory.
Koi Pond at Hilton Hawaiian Village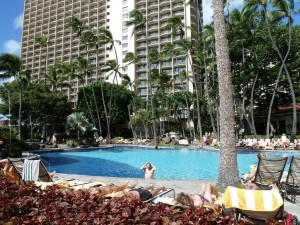 Super Pool at Hilton Hawaiian Village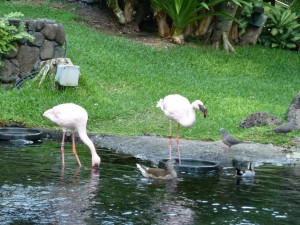 Flamingos at Hilton Hawaiian Village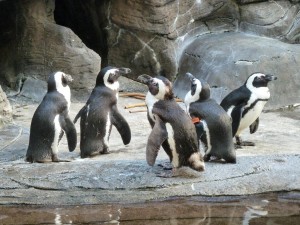 Penguins at Hilton Hawaiian Village
It was around 12:45 pm once we were done shopping and exploring. We drove to Ono Hawaiian Foods, which had been featured on Travel Channel's "Man v. Food", and well-known for their traditional Hawaiian food. Parking outside is metered only so bring quarters! The place is pretty small so we had a short wait before we were seated. If you are in a large group, you may want to come during off hours or be prepared for a longer wait. We ordered the Combination Plate, which includes Kalua Pig, Laulau, Pipikaula, Lomi Salmon, Haupia, and rice or poi. I also order a side of Chicken Long Rice. It was a good sampling of the most popular Hawaiian dishes and it was delicious!! If the only Hawaiian food you've ever eaten was at a luau, you gotta try Ono Hawaiian Foods! The food was SO delicious and leaps & bounds better than any luau, including Old Lahaina Luau. I think a lot of quality gets lost when they're trying to cook for so many people at one time. Anyway, the food was awesome here and you gotta try some real Hawaiian food (outside of a luau) while you're in Hawaii!! My favorite dishes were the Laulau, Lomi Salmon, and chicken long rice!
Ono Hawaiian Foods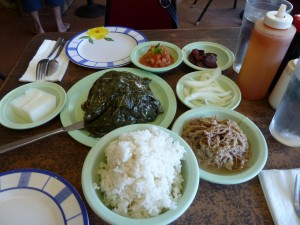 Ono Hawaiian Foods
The hotel called my cell phone when we were on our way to Ono Hawaiian Foods to let us know our room was ready so when we finished lunch, we returned to the hotel to get our room. Since we were only staying for one night, I decided to splurge and booked an oceanview king room in the Ali'i Tower, which costs more than the other towers because it has its own private pool, fitness center, reception, and concierge. It was $274/night with AAA discount or $299/night without AAA. The woman at the front desk said that the oceanview room they were going to give us was no longer available because the person that was staying in it got sick and has to stay there longer so she upgraded us…to a one-bedroom suite!!!! I was happy about the upgrade but still wasn't expecting much. We got to our room, the Aupuni Suite, and thought we had won the lottery! The living room and bedroom were huge and there were 2 bathrooms!! The master bathroom had a shower, full-sized tub, bidet, and toilet. The other bathroom had a shower, toilet, and sink. There were also double sinks in between the 2 bathrooms! It was so spacious! The best thing about the room was the huge lanai (or balcony) and view of Waikiki and Diamond Head! Gorgeous, gorgeous!! I found out that the suite costs $635/night! After having our socks knocked off by the suite, we went back down to the reception and tried to tip the woman who upgraded us but she refused to take our tip. I was very, very impressed.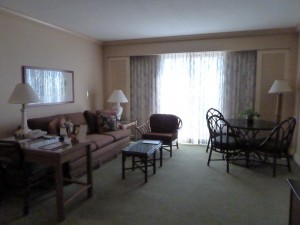 Living Room in the Aupuni Suite at Hilton Hawaiian Village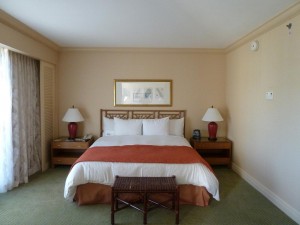 Bedroom in the Aupuni Suite at Hilton Hawaiian Village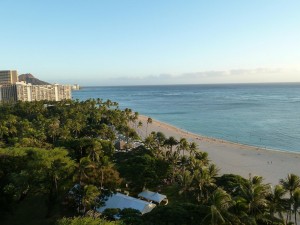 View from the balcony of the Aupuni Suite at Hilton Hawaiian Village
Since I stayed in both Outrigger Waikiki on the Beach and Hilton Hawaiian Village, people often ask which I liked better and would recommend more. The answer to that is it depends on what you're looking for. HHV is much nicer, luxurious, and newer but it's also more expensive. There is SO much stuff to do at the resort from the beach to shopping to dining to penguins that you need to devote a day just to see everything there. It is the perfect place if you are looking for a place where you don't have to leave the resort. However, HHV is one one end of Waikiki so it is not a good location if you want to explore Waikiki. If you're looking for a place in the middle of the action in Waikiki, I would recommend the Outrigger. The Outrigger is a great hotel also. While it doesn't have flamingos and 90 shops, it has 2 wonderful restaurants and in prime location on Waikiki Beach. It also has more of an old nostalgic Hawaiian atmosphere and great shopping surrounds the hotel. I wouldn't hesitate to stay in either of these hotels again and would highly recommend them both to anyone visiting Honolulu.
Now that we got our room, we decided to head down to the beach. We stayed on the beach at Outrigger on Waikiki Beach for 3 nights pre-cruise but never got to spend any time on Waikiki Beach so I made sure to carve out time to hang out post-cruise! We got to the beach around 2:30 pm and rented an umbrella and 2 lounge chairs from the hotel. I dragged Chris into the water for about 15 minutes but the water was pretty cold and the sand was very rocky. I didn't even want to stay in the water that long. There was something really neat about being in the waters of Waikiki Beach and seeing Diamond Head from there though.
I got a pina colada from the bar and a small cup of peanuts. That cup of peanuts made me a huge celebrity to the beach pigeons. There was one pigeon that particularly melted our hearts, a white one with only one leg. He seemed to know how to work us over by blinking his eyes pathetically and gesturing to his missing leg. We called him Stumpy and snuck him peanuts when we couldn't help ourselves any longer.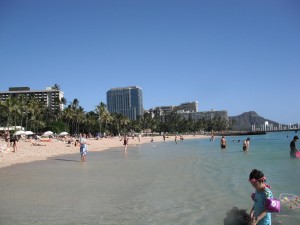 Waikiki Beach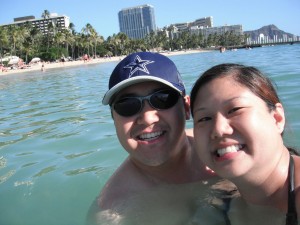 In the water at Waikiki Beach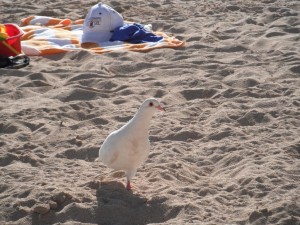 Stumpy the Pigeon at Waikiki Beach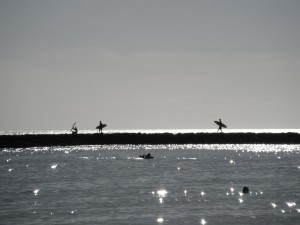 Surfers at Waikiki Beach
We laid out on our beach chairs, enjoying the Hawaiian sun, until about 4 pm and we went back to the Ali'i Tower to check out the private Ali'i pool. It was very quiet there with mostly sunbathers laying out on the chairs. Since the pool is located on a terrace on the 2nd floor of the tower, there was also a wonderful view of the beach. We did a little soaking in the hot tub and then more laying out in the sun before heading back to the room around 4:45 pm. While we were getting ready for dinner, we caught the sun beginning to set from our wonderful balcony!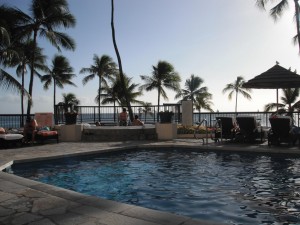 Ali'i Pool at Hilton Hawaiian Village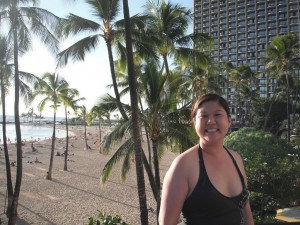 View of Waikiki Beach from the Ali'i Pool & me looking toasty already!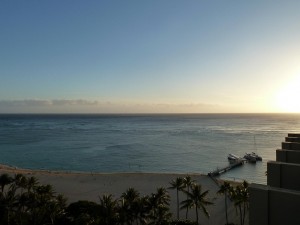 View from our room of the sun beginning to set over Waikiki Beach
We drove over to Alan Wong's for dinner. The building doesn't look like much but there is a decent view of the city from their 3rd floor location. We had the 5-course Tasting Menu, which was $75 per person. Each dish was absolutely delicious and a sight to behold!! My favorite was the Kona Lobster of course! I can never have too much lobster!! The Coconut dessert was also amazing!! It was coconut sorbet en-robed in chocolate and nuts so it looks like half of a real coconut! The food was amazing! We also drank Mehana Blue Humpback Whale, a beer from Hilo. It was also wonderful!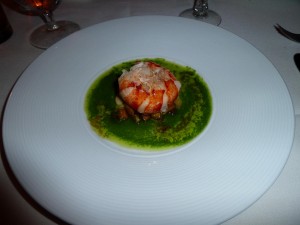 Kona Lobster at Alan Wong's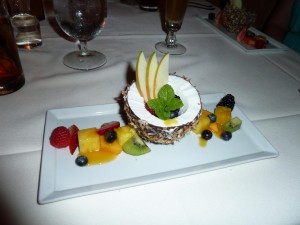 The Coconut: Coconut sorbet wrapped in chocolate and nuts
It was around 8 pm when we finished dinner. We headed back to the hotel to pack and turn in so we could get up early the next morning for Pearl Harbor before flying home.
+ See more Oahu photos
+ Read more about Hawaii 2010


Disclaimer: We may earn a commission for products purchased through some links in this article.