Sunday, December 5, 2010
It was our last day in Hawaii and our plan was to spend it in remembrance of the men & women who served at Pearl Harbor. Our flight home was at 8 pm but Chris is a HUGE war history buff so I knew he'd want to see every single exhibit and read every informational plaque so I allocated the entire day for Pearl Harbor. People on the Cruise Critic Hawaii Boards and travel guides recommend getting to Pearl Harbor when it opens at 7 am to get timed tickets for the USS Arizona, which can run out. I had in my notes to LEAVE Waikiki by 6:30 am to make the 45 minute drive to Pearl Harbor. That didn't happen.
We woke up at 6 am and watched the sunrise from our lanai. It was gorgeous but we couldn't linger since we were already "late".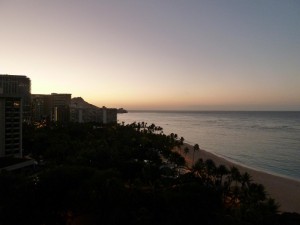 View from our balcony of the sunrise over Waikiki Beach
After packing, checking out of the room, putting the luggage in the car, and walking to Wailana Coffee House, it was 6:50 am. We had breakfast. The place reminds me of Norm's in Los Angeles. It was old school and very homey. We had Portuguese sausage, eggs, and hash browns. It was very good. It was almost 7:30 am by the time we were on the road to Pearl Harbor.
We arrived at Pearl Harbor around 8:10 am. The parking lots closest to the entrance were full but there was still parking in the lots just next to them. There was a security guard patrolling the lot so that made me feel better about having all of our luggage in our car but I'm still glad that they weren't exposed and obvious.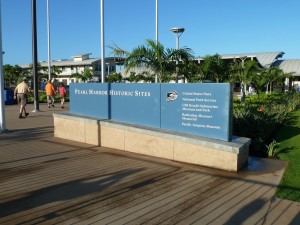 Pearl Harbor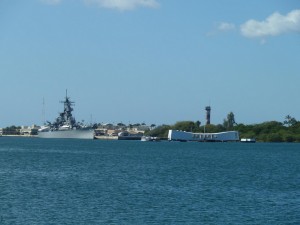 View of U.S.S. Missouri & U.S.S. Arizona Memorial in Pearl Harbor
We went directly the Pearl Harbor Visitors Center and picked up tickets for the USS Arizona Memorial. Our tickets were for 9 am but we had to get in line to see the documentary film at 8:30 so we literally had time to use the restroom really quick and then get in line for the movie. I'd say that was perfect timing! The documentary was very moving. I gave a speech about the Pearl Harbor attack in my Model United Nations class during my freshmen year of high school and saw the "Pearl Harbor" movie starring Ben Affleck and Josh Hartnett so I knew about what happened and the causalities but the documentary made me cry…and not just a few tears. I was near bawling. Being reminded of how this attack shattered America's feeling of security and how brave those service men and women were…It was very moving. Bring tissues.
After the movie, we walked to the dock for the ferry that would take us to the U.S.S. Arizona Memorial. The ferry ride is very short and a nice ride on the waters of Pearl Harbor. When you see the Memorial and once inside, you can't help feel that it is such a sacred place. Unfortunately, I think that is lost on some of the foreigners who visit. They took photos of themselves smiling and holding up the "Victory" sign. I tried my best to ignore them but it was very annoying that they don't realize this is supposed to be a solemn place.
The Memorial is built over the sunken U.S.S. Arizona battleship. 1,177 men lost their lives on the Arizona on December 7, 1941 when Pearl Harbor was attacked by the Japanese. 1,102 of them are entombed in her wreckage forever and some of the survivors of the attack have chosen to have their remains interred with their shipmates after they passed away. As I said, the Memorial is very solemn and sacred. You can see parts of the Arizona sticking out of the water, including 2 of the gun turrets. Oil from the Arizona continues to seep out of her and it swirls and glistens on the surface of the water. The Memorial is not very big so they limit the number of people that go there at one time. You're only allowed to spend about 20 minutes there before you have to get back on the ferry to Pearl Harbor and they do require that everyone leave in the same group that you came with so you don't have the option to stay longer if you wanted. However, I felt that 20 minutes was plenty of time. Even with a full ferry, we got to see each section of the Memorial and read all of the information there.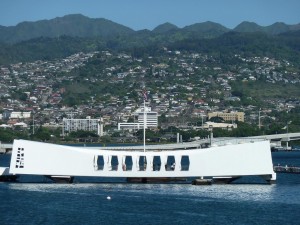 U.S.S. Arizona Memorial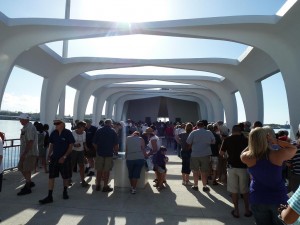 Inside U.S.S. Arizona Memorial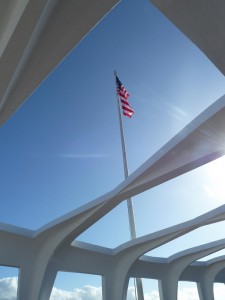 American flag at the U.S.S. Arizona Memorial
U.S.S. Arizona Memorial: Names of those that made the ultimate sacrifice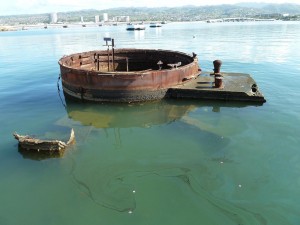 Gun Turret from U.S.S. Arizona Memorial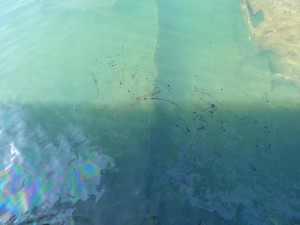 Oil from U.S.S. Arizona Memorial
We did not realize this until later but the day we chose to visit was 2 days before the anniversary of the attack and we were fortunate enough to visit Pearl Harbor during the 69th Anniversary Commemoration Events. This day in particular was Kama'aina Day, a day in remembrance of civilians and what they endured during the attack on Pearl Harbor and the years after. Throughout the entire day, there was Hawaiian and military performances in the Visitors Center area. There was also the "Pacific War in Miniature" Model Exhibit, which Chris loved! It was amazing to see the intricate detail and accuracy that went into each model of the military aircraft, ships, and vehicles used during World War II. The hobbyists are definitely dedicated! When we were viewing the models, the man in front of us was a Pearl Harbor survivor and WWII veteran. He pointed out which ship he was on when the attack occurred and he seemed to really enjoy the models. I guess they brought back good memories in addition to sad ones.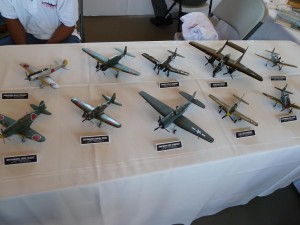 "Pacific War in Miniature" Model Exhibit
Seeing so many survivors of the attack was another amazing part of being at Pearl Harbor so close to the anniversary. We met at least 7 of them during our entire day there. 5 of them were in a group together and you could tell it was a special day for them too since they probably don't get to see each other all that often either.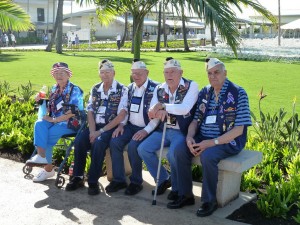 Pearl Harbor survivors
Also as part of the 69th Anniversary, the Pearl Harbor Visitor's Center were going to open 2 new exhibits on December 7th. Unfortunately, we were 2 days early so we didn't get to see them. If you will be visiting Oahu around the Pearl Harbor Anniversary (December 7th), I highly recommend you check out the Pacific Historic Parks web site to when commemorative events are going on. Being at such a sacred place during the anniversary was very special.
After walking around the Visitor's Center area, we headed over the U.S.S. Bowfin. The World War II Submarine Memorial in front of the submarine. I had no clue that we had lost so many submarines with some of them are still missing in action.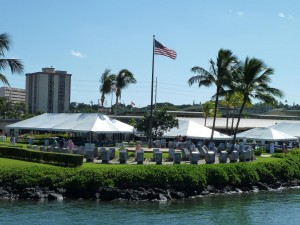 World War II Submarine Memorial
It was 11 am when we got to the USS Bowfin. Admission is $10 and includes a self-guided audio tour, which was very good. As you walk through the submarine, you hear information about the sub, its history, and interviews with servicemen who actually worked on her. The submarine has a couple of steep stairs and several narrow doorways. It was fun talking around in it but it could be uncomfortable for people who don't like tight spaces. There are also a few things you can "play" with like controls and the gun on deck. We spent about an hour at the Bowfin.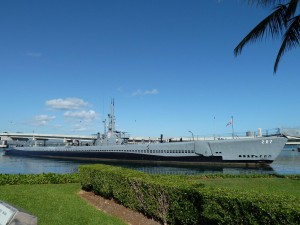 U.S.S. Bowfin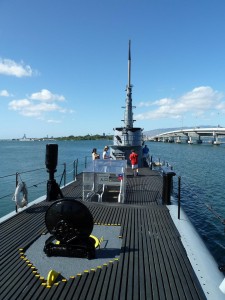 U.S.S. Bowfin deck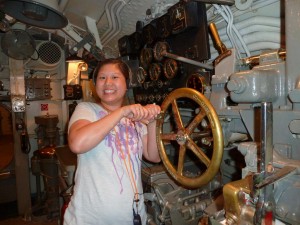 Me manning the U.S.S. Bowfin submarine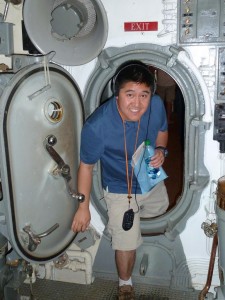 U.S.S. Bowfin: Chris walking through one of the narrow doors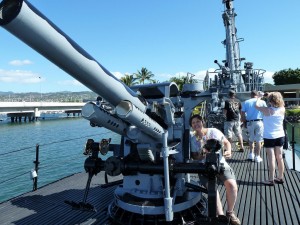 U.S.S. Bowfin: Manning the guns!
After seeing the Bowfin, we headed over the Submarine Museum right in front of it. It's not very large but it has A LOT of artifacts and exhibits from many of the submarines deployed during World War II. It was very poignant to see the bells from the submarines lost in the war. Surprisingly, Chris didn't look at EVERYTHING in this museum and we spent about 30 minutes there.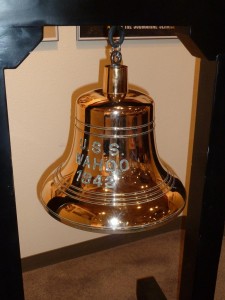 Bell from the U.S.S. Wahoo (who was sunk by the Japanese) inside the Bowfin Museum
After the museum, we grabbed some hot dogs at the small food stand in front of the museum. I know a lot of people don't consider hot dogs a decent lunch and would rather have sandwiches or something more gourmet but I personally LOVE hot dogs! So I was happy. =)
After lunch, we visited one of the gift shops and then got on the shuttle to the U.S.S. Missouri, which is located on Ford Island. Since Ford Island is an active Navy base, you cannot drive there yourself and you are not allowed to take photos on the shuttle once you're at the Ford Island Bridge. The ride there is very short and the shuttle is a big motorcoach so it's nice and comfy.
The area outside of the U.S.S. Missouri has a gift shop, food concessions, and restrooms. The walkway up to the Missouri is lined with American flags and quite a sight to see.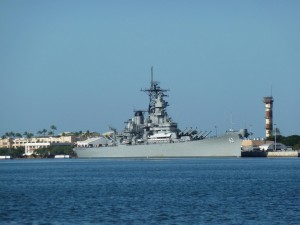 U.S.S. Missouri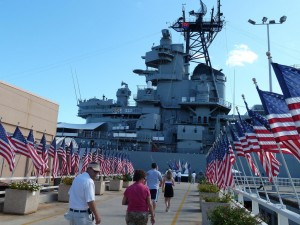 Walking up to U.S.S. Missouri
Pearl Harbor, and the loss of U.S.S. Arizona, was where the United States' involvement in World War II began and the U.S.S. Missouri is where it ended. It was the site of Japan's unconditional surrender on September 2, 1945, ending World War II. Seeing the Arizona first and the Missouri last on this day of remembrance brought everything we experience on this day to a full circle.
We got to the Missouri around 1:25 pm. Right when you board the U.S.S. Missouri, you begin a 35-minute guide tour of the deck and upper level of the mighty battleship. Our group had about 30 people in it and sometimes it was hard to hear our guide or take photos without someone getting in the way. Despite that, the guide gave very interesting history and information about the U.S.S. Missouri. As part of the tour, you get to stand in the same spot where the Japanese signed the agreement to unconditional surrender, ending World War II.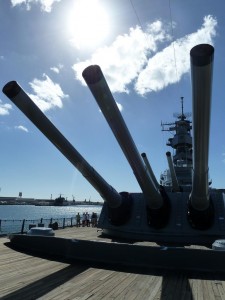 U.S.S. Missouri: Gun Turret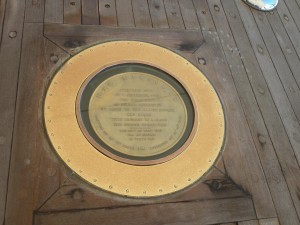 U.S.S. Missouri: Spot where World War II ended
At the end of the tour, you are then free to explore the ship on your own. The ship is pretty massive. Underneath the deck, there are galleys, mess halls, officers' lounges, rooms for seamen and officers, dentist office, post office, and the list goes one. It's literally a mini-city! There were also a couple of exhibits about the war, along with things that were used on the battleship and models of her. Above deck, we saw the bridge and control room. Lots of neat things to see! We spent about 1.5 hours here, including the guided tour, and were done around 3 pm.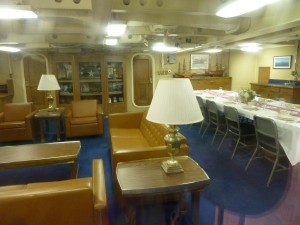 U.S.S. Missouri: Officer's Lounge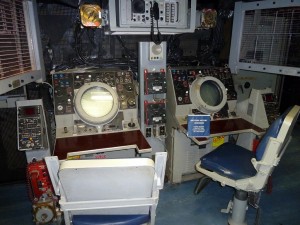 U.S.S. Missouri: Control Room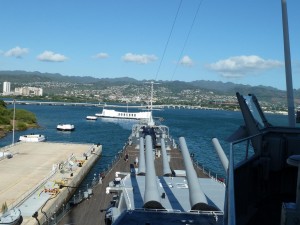 U.S.S. Missouri: View of U.S.S. Arizona Memorial from upper levels
Our time in Hawaii was coming to an end. We returned our rental car to Thrifty between 4-4:30 pm and took their shuttle to the airport. We had quite a bit of time before our flight so we had a "snack" of fried chicken at Lahaina Chicken Company and did some shopping at the gift shops. I bought Dole Pineapples that are prepackaged and already approved to be taken out of Hawaii to the mainland. OMG! These pineapples were so delicious. It was nice to have a taste of the islands in the weeks after we got home.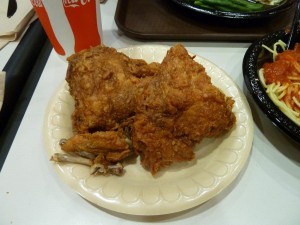 Lahaina Chicken Company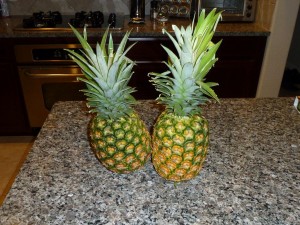 Dole Pineapples
Our flight home departed at 8 pm and we arrived home in Dallas at 7 am. Since it was a red eye flight and I had to work the day we got back, I wanted to get SOME sleep on the plane so we upgraded to First Class using our miles. On American Airlines, it cost 15,000 miles + $175 per person. We had a really nice meal and snacks. The seats are hard to describe. It's better than domestic first class where the seat is just leather and wider but not as good as international first class where the seat converts into a flat bed. It reclines fairly far back but not as flat as the ones that convert into a bed and not as private as international first class where it's like you're in your own cubicle. Regardless, it was still much better than coach and made it much easier to get some zzz's.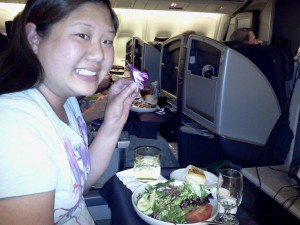 American Airlines First Class: Honolulu to Dallas
+ See more Oahu photos
+ Read more about Hawaii 2010


Disclaimer: We may earn a commission for products purchased through some links in this article.