Day 5 – Wednesday, April 29, 2009
Our St. John Island Tour ended with left plenty of time to do our own thing in St. Thomas.
Right when the ferry docked back in St. Thomas, the skies opened it up and it was pouring rain. We walked as fast as we could from the pier through Havensight Mall to the taxi stand and took a taxi to Charlotte Amalie, which is St. Thomas' downtown area. On the taxi there, we were seated next to another couple on the same cruise and they were also headed to Cuzzin's Caribbean Restaurant, which I had read about. We walked to the restaurant together and also happened to get tables next to each other so we had some nice company to chat with during lunch. Chris ordered the curried mutton and I had curried chicken. It was great but what I loved the most were the sides: fungi (a peppery blend of cornmeal and okra) and local stuffing (a zesty mix of sweet potato, tomato, sugar, cinnamon, and raisins)! Yummo!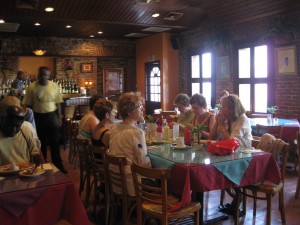 Cuzzin's in Charlotte Amalie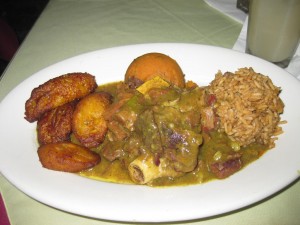 Curried mutton at Cuzzin's
After eating, it was time to shop!! St. Thomas is famous for being the shopping capital of the Caribbean and is specifically famous for great deals on jewelry! You can buy diamonds in St. Thomas for up to 70% less than in the U.S. and the shopping is duty-free up to $1,600! We used the Port & Shopping Map and our Port Shopping Club book as our guide through Charlotte Amalie. We stopped by all the stores to pick up the freebies from the Port Shopping Club book, including 2 pairs of pearl earrings, 1 pair of tanzanite earrings, a loose 2-carat midnight sapphire, 2 colored gemstone pendents, charm bracelet, and a silver sea star pendent. Del Sol is famous for their products that change color in the sun. I picked up a free Del Sol tote bag and lanyard and also purchased some color changing nail polish.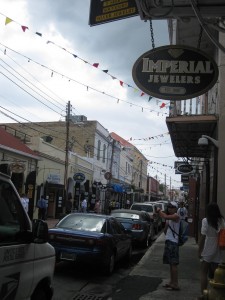 Main Street in Charlotte Amalie
Free jewelry from St. Thomas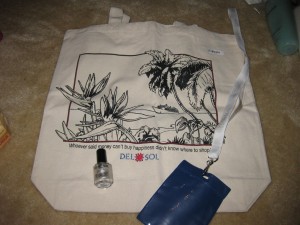 Del Sol tote bag, lanyard, and nail polish
Then came the big ticket purchases. At the Port & Shopping Show, Kat demonstrated Diversa earrings. They are diamond earrings that go from studs to drop earrings. When I saw that, I knew I had to have them so we purchased them at Effy Jewelers. A VIP pass and coupon from Kat saved us $100 and I got a lovely leather jewelry case for free using a coupon from the Port Shopping Club book.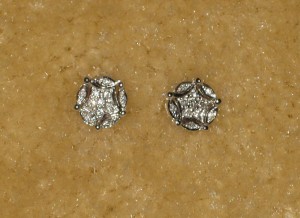 Diversa diamond earrings (collapsed)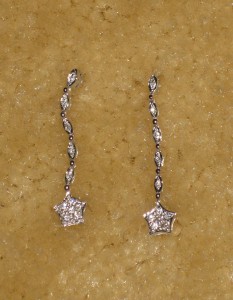 Diversa diamond earrings (extended)
Next, it was time to buy the diamond that Chris promised me at the Port & Shopping Show. At the show and then the Diamond & Gemstone seminar, I started getting interested in colored diamonds, especially blue ones. As I started to look around different jewelers, I definitely gravitated towards blue diamonds.
While walking around, we went into a jeweler that wasn't on the Shopping Map. They showed us some loose blue diamonds and quickly knocked down the price for one of them from $1,200 down to $600 without us having to negotiate. Chris said the diamond had some serious flaws when he looked at it under the jeweler's loop and we had just started to look so we really weren't ready to buy. Plus, I just wasn't comfortable buying from a store that wasn't guaranteed by the cruise line.
Basically, if you buy something at a store guaranteed by the cruise line, you have it appraised at home and it's worth less than what you paid or it falls apart, you can get your money back within 60 days. With the Port Shopping Club book, the guarantee is extended if you just change your mind! I know that the guaranteed stores have deals with the cruise lines to become guaranteed and that might mean they are more expensive than the not guaranteed stores because of the advertising costs but the guarantee really gave me piece of mind, especially since I am not a jewelry expert. I want to know that I won't be ripped off and because the stores obviously want to maintain a good t relationship with the cruise line, it makes me less like to get ripped off.
We looked at a several more (guaranteed) stores, including Venetian Jewelers and Diamonds International, and found the prices out of our budget. Then we walked into Royal Caribbean (not affiliated with the cruise line). I heard Royal Caribbean was famous for a variety of merchandise, including electronics, watches, and jewelry. I honestly didn't think I'd find a piece of jewelry there I would like. It was mostly to see what kind of merchandise they had. But after browsing their jewelry cases, I found a nice collection of blue diamond rings and one ring especially jumped out at me. It was a three-stone ring with a blue diamond in the center and two white diamonds on the sides. The blue diamond was the perfect size and color. (I really wanted a deep sea blue and we were seeing a lot of pale blues and greens.) I also thought the ring was perfect because there were three diamonds, one to represent each year of our anniversary! It also fit my right ring finger perfectly and didn't need to be resized. After talking to the salesperson and then the owner and flashing a few coupons, we were able to get them to knock the price down by almost $300. We also got a free sports watch, free duffel bag, and a black pearl necklace, earrings, and bracelet set for half off. After buying the ring, I just couldn't stop looking at it. It was so beautiful!! I just had the ring appraised at a local jeweler and it appraised for 42% more than we paid for it!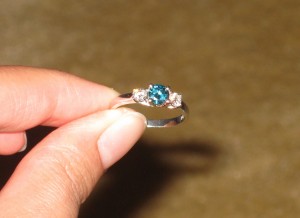 Blue diamond & white diamonds ring
Overall, if you plan to go shopping, I highly recommend attending to the Port & Shopping Show and if you plan to buy jewelry, go to the Diamond & Gemstone Seminar. I would also recommend buying the $25 Port Shopping Club book also! With the combination of the seminars and the book, I saved hundreds of dollars on the items I purchased! I absolutely think the Port Shopping Club book pays for itself and collecting all the freebies was fun! The guarantee from the Port Shopping Club book also provides piece of mind in case you do change your mind on any items you purchased!
After shopping, we decided it was time to catch a taxi back to Havensight Mall to make sure we got back onboard in time. Carnival in St. Thomas just happened to be the week were there! We walked through Emancipation Garden where there were tents set up with locals selling wares and food. There were also rides and steel drum music! I wish I was hungry to eat some of the food and had time to explore the Carnival more but we needed to find a taxi. We went out on to the Waterfront Highway and hailed a taxi, which took us on a nice scenic route along the water back to Havensight.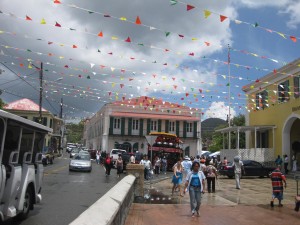 Carnival in Charlotte Amalie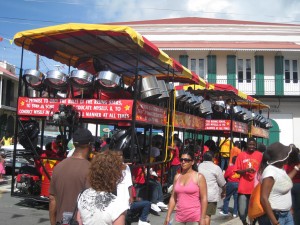 Steel drum bus for Carnival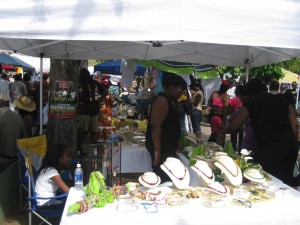 Carnival tents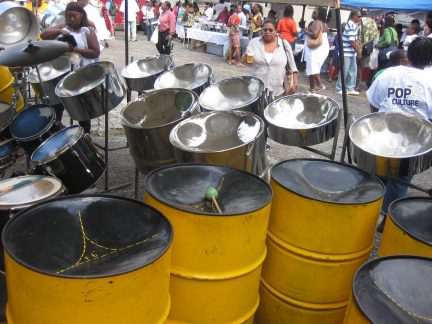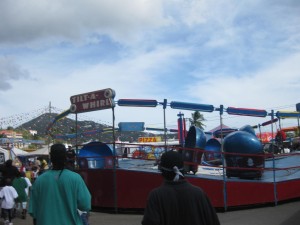 Rides for Carnival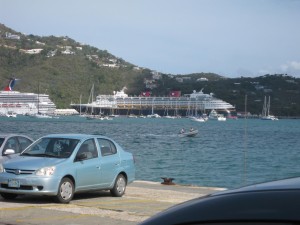 View of Disney Magic from Charlotte Amalie
When we arrived back in Havensight Mall, the ship was only a stone throw away so we knew we had a little more time to walk around. We explored a few shops in Havensight Mall. We walked into a shop called Shopper's Haven and I looked at some of the jewelry there when Chris spotted a blue diamond necklace and earring set marked for $25.95. For a second, he freaked out that a blue diamond set would cost $29.95 when we just spent almost 50 times that for my ring until I pointed out that it said "blue diamond-colored". "It's not real, honey." I told him. Still, we both agreed that it looked nice and it matched my ring in color so I bought it. I also bought a beautiful Australian opal pendant as well as some postcards there. (I winded up finding a matching Australian opal ring on the ship in Treasure Ketch!)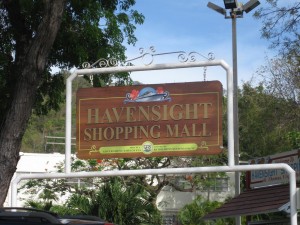 Havensight Mall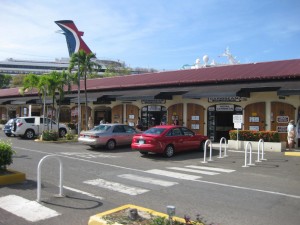 Havensight Mall
Blue-colored jewelry set
Australian opal pendant from Havensight Mall and ring from Treasure Ketch
Chris was pretty beat and he was already whining while I was doing my shopping at Havensight Mall so we headed back to the ship. Whenever we boarded the ship from a port of call, there was a big banner that said "Welcome Home". It was so great to call Disney Magic "home" for this week!!
When we got back to our room, Chris and I admired the view of St. Thomas from our verandah. There were a lot of seagulls flying around too because someone from the upper decks was feeding them.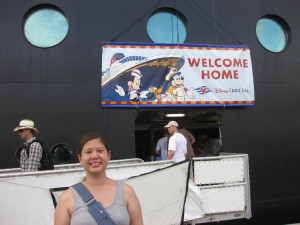 Welcome Home to the Disney Magic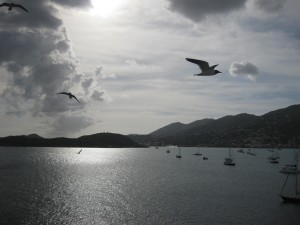 View of St. Thomas from our verandah
We both took showers and Chris already wanted to start doing some packing. He took photos of all my fish extender gifts up to that point. Here is a sample of some of the gifts we got or see all the fish extender gifts we received.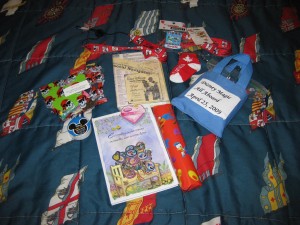 FE gifts: Canadian souvenirs, water bottle lanyard, Magic towels, journal, photo album made out of Personal Navigators, and more!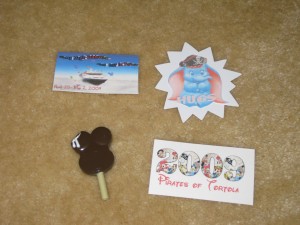 FE gifts: Magnets
We got dressed for dinner and headed down to take are usual pre-dinner portraits. We just happen to run into Belle finishing up her appearance! After taking photos, we hung around the pin trading station to trade pins and then relaxed in the lobby until it was time for dinner.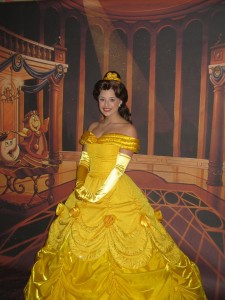 Belle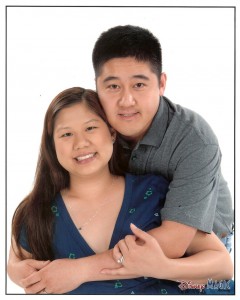 Lifestyle Portrait
Our dinner was at Animator's Palate. This time we finally got the full show/light display, where the restaurant turns from black & white to full color. The servers also time their uniforms to match the change as well. At the end of the show, Sorcerer's Apprentice Mickey Mouse made an appearance!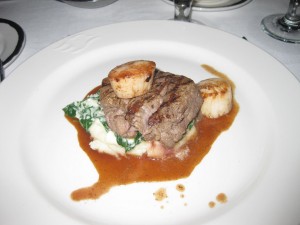 Filet Mignon with Seared Scallops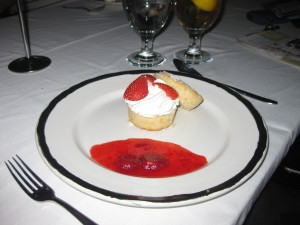 Strawberry Shortcake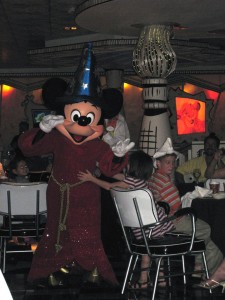 Sorcerer's Apprentice Mickey Mouse at Animator's Palate
Chip and Dale was making a photo appearance in the lobby at 10 pm. I had already missed several opportunities take a picture with them so I really wanted to get to that appearance. We rushed through dessert and quickly left dinner at 9:45 pm. We were the first people in line! Yay! I finally got a photo with Chip and Dale! Then, we also got photos with Donald and Daisy Duck and then Alice from "Alice in Wonderland"! So fun!! It was a long but very memorable day!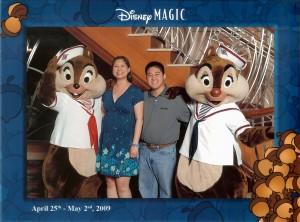 Chip and Dale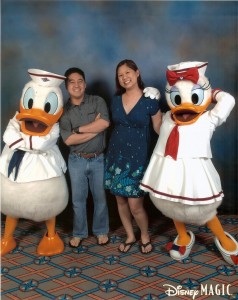 Donald & Daisy Duck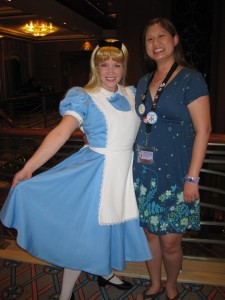 Alice
+ See more St. Thomas & St. John photos
+ Read more about Disney Magic Eastern Caribbean Cruise 2009


Disclaimer: We may earn a commission for products purchased through some links in this article.