Day 5 – Wednesday, April 29, 2009
The ship had already docked in Havensight, St. Thomas when we woke up on Wednesday. It was the earliest morning we had to wake up. Our excursion met at 7:15 am so we were having breakfast as Topsiders by 6:45. Ugh. Waking up so early was horrible.
After breakfast, we met at the Buena Vista Theatre for the "St. John Island Tour" shore excursion. We had to wait longer for everyone in the group to gather as I'm sure people overslept. When everyone arrived (or the tour guides just gave up on them), we all disembarked the ship together and walked over to the ferry that had pulled up next to the ship. Having learned our lesson, we sat inside the ship which protected us from the sprinkling rain and splash from the waves. I took a few photos of St. Thomas as we pulled away from it. I fell asleep during the 40-minute ferry ride and when I awoke, we had pulled into Cruz Bay, St. John.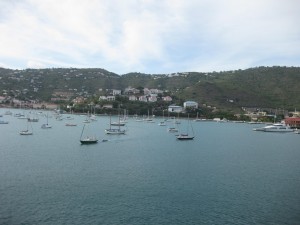 View of St. Thomas for our verandah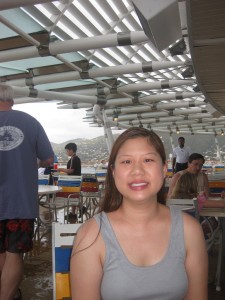 Breakfast at Topsiders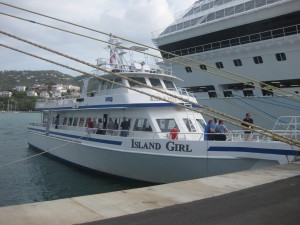 Ferry from St. Thomas to St. John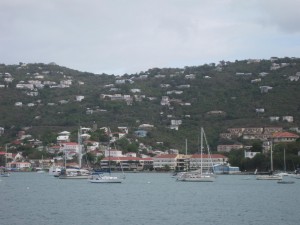 St. Thomas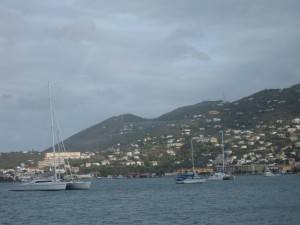 St. Thomas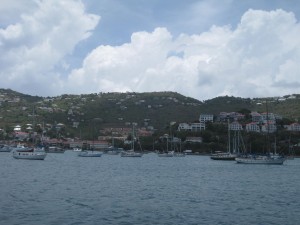 Cruz Bay, St. John
We got off the ferry and boarded open-air safari buses, just like our other excursion. This tour took us up into the mountains and all over St. John Island. The roads were pretty treacherous, steep and narrow. It was amazing these drivers got the buses up these hilly roads! The first overlook was Cruz Bay followed by views of St. John's famous gorgeous beaches, including Caneel Bay, Hawksnest Bay, and Trunk Bay.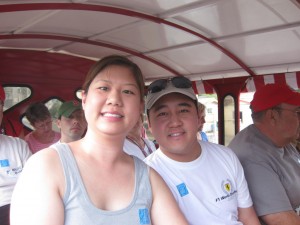 Inside the safari bus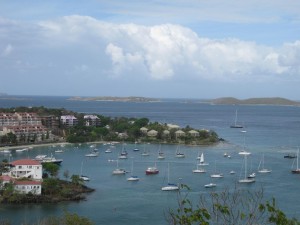 Cruz Bay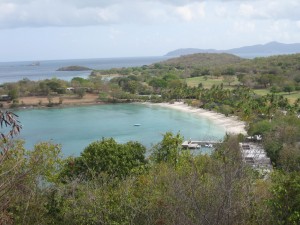 Caneel Bay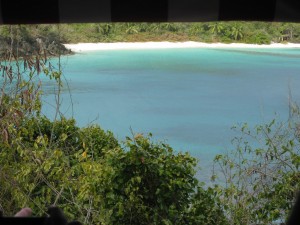 Hawksnest Bay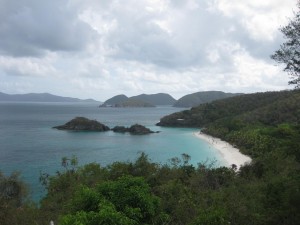 Trunk Bay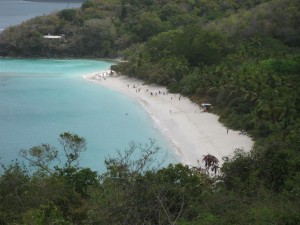 Trunk Bay
Next, our tour actually stopped at the Cinnamon Bay Campground and we had 20 minutes to stretch our legs and check out the beach from up close. While walking down to Cinnamon Bay beach, we passed a few donkeys that were just walking around by themselves! When we got down to the beach, it took my breath away. It was absolutely stunning and almost completely deserted!! It was so gorgeous that it looked like a postcard. Cinnamon Bay was the most beautiful sight we saw during the whole cruise. We took some photos and enjoyed the view. Then we walked back up to the campground area to have a snack before we got back on the bus to continue the tour.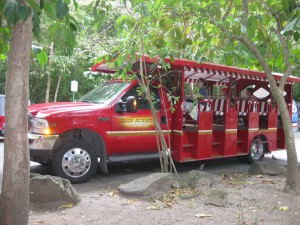 Our safari bus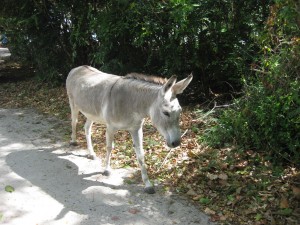 Free range donkey at Cinnamon Bay Campground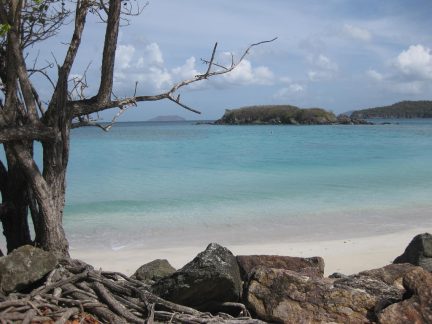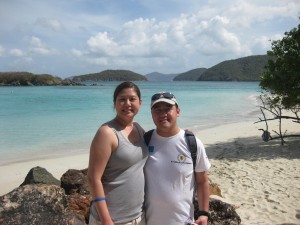 Cinnamon Bay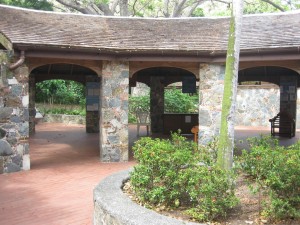 Cinnamon Bay Campground
Our tour continued with a view of Maho Bay and then we stopped at the Annaberg Sugar Mill Plantation Ruins. The Annaberg Sugar Mill was a working sugar mill during the 18th-19th century. The ruins included a windmill, main factory with placeholders for large kettles, kitchen oven, and slaves quarters. It was very neat to explore but walking around was getting hot. The ruins also had a beautiful view of Leinster Bay. Our tour gathered down the road from the ruins on the rocky Leinster Bay so we got to take a few photos there as well.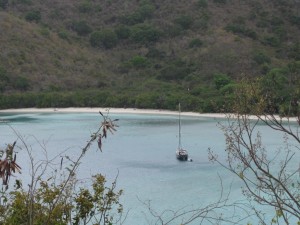 Maho Bay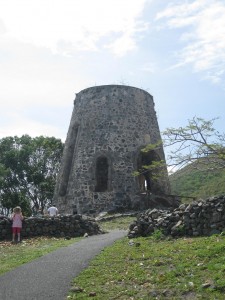 Annaberg Sugar Mill Plantation Ruins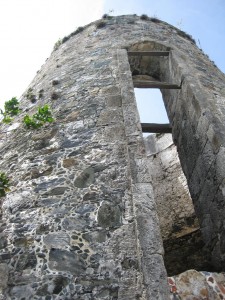 Annaberg Sugar Mill Plantation Ruins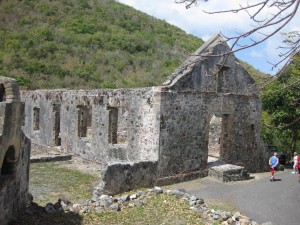 Annaberg Sugar Mill Plantation Ruins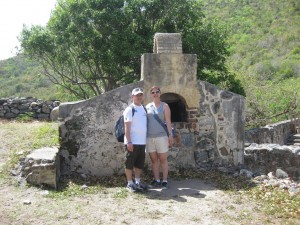 Annaberg Sugar Mill Plantation Ruins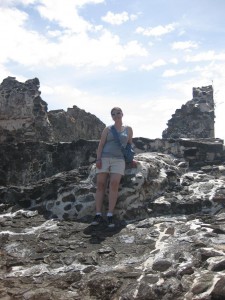 Annaberg Sugar Mill Plantation Ruins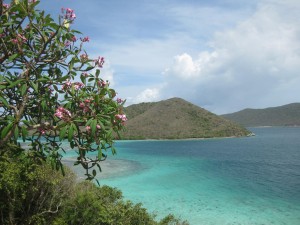 Leinster Bay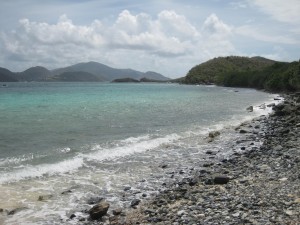 Leinster Bay
Upon boarding the bus again, our guide briefly stopped in front of a poisonous Manchineel Tree. Just touching the tree or leaves can cause skin to blister. If you touch the tree and then your eyes, it can cause blindness and eating the fruit can be fatal! Our next stop was Bordeaux Mountain View Point, where there was a stunning view of Bordeaux Mountain. There were also a couple of shops, where I picked up a hand-painted sand dollar magnet.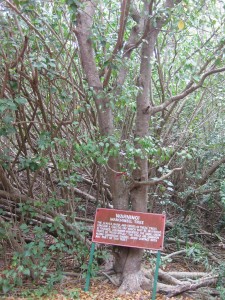 Manchineel Tree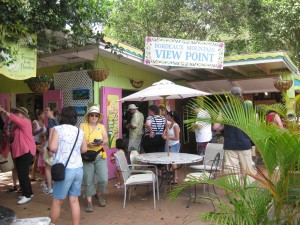 Bordeaux Mountain View Point
Bordeaux Mountain View Point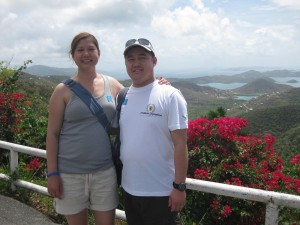 Bordeaux Mountain View Point
The tour drove us back to Cruz Bay and we had about 15 minutes to walk around before the ferry left so I picked up a few postcards, a photo album, and a shot glass for my dad. The ferry took us back to the ship in Havensight, St. Thomas. Overall, I thought the "St. John Island Tour" excursion was great! It was a wonderful way to see a lot of the island and see the world famous beaches without getting your feet wet! I also thought the duration of the tour was good. It left plenty of time to do our own thing in St. Thomas or St. John after the excursion.
+ See more St. Thomas & St. John photos
+ Read more about Disney Magic Eastern Caribbean Cruise 2009