Day 4 – Tuesday, April 28, 2009
It was PIRATE NIGHT!! Arrrrgh! Even though I heard on the DISboards that very few adults dress up in full costume for Pirate Night (some wear a bandanna or pirate shirt, if anything pirate at all), I felt that I had an obligation to go all out for Pirate Night since I was a cosplayer. I wear costumes in my spare time! Why would I be embarrassed to dress up now?! Plus, the idea of a photo with Jack Sparrow in our pirate gear was just too hard to pass up!! I also managed to convince Chris to dress up as well!
After getting into costume, we went downstairs to get photos of course. We took pictures with Jack Sparrow, Pirate Stitch, Christian the Cruise Director, and by ourselves. We got a lot of compliments from guests and Cast Members on our costumes while walking around!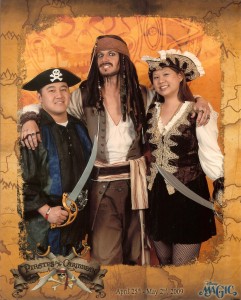 With Jack Sparrow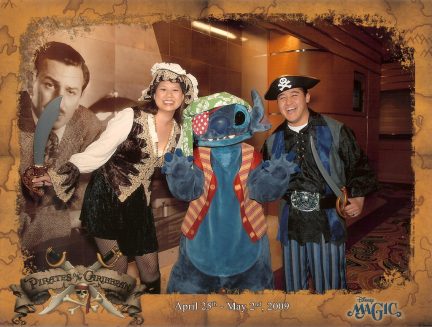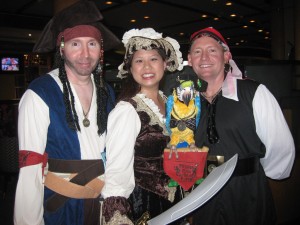 With some other pirate guests!
Dinner that night was at Lumiere's. Knowing that Chris and I were going to dress up, Kip and Paula agreed to dress up too! Kip's wig was so cool! LOL! The servers also wore pirate themed costumes and our dinner was pirate-themed as well. The servers also did a parade around the restaurant waving pirate flags and forming a congo line with all the guests! During the dessert course, Paula, Miki, and other servers surprised Chris and I with a cake for our anniversary and sang "Happy Anniversary to You!" It was great!! Even though there were always several celebrations going on every night, we felt so special!!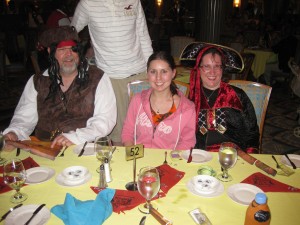 Kip, Casey, and Paula on Pirate Night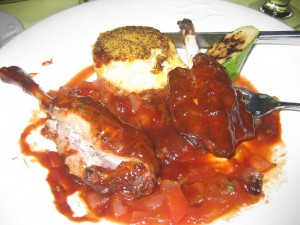 Jerk Chicken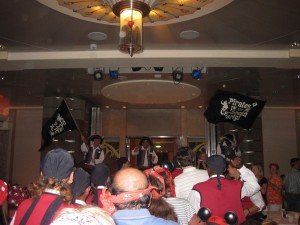 Pirate Parade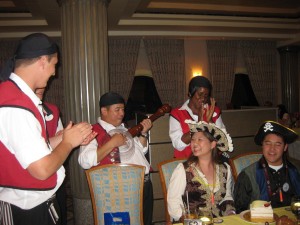 Happy Anniversary Celebration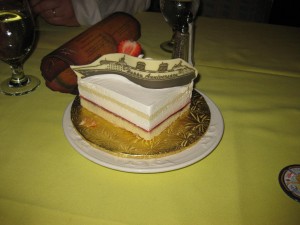 Happy Anniversary Cake
After dinner, we stopped by the room to drop off our cake and then headed up to the Pirates IN the Caribbean deck party! The party/show was already underway when we got a viewing spot on the starboard side of Deck 10. We have a decent view of the stage where the Disney characters were fighting off pirates and regaining control of the ship. After the Mickey and the good guys won, the part that I was waiting for started…the fireworks at sea!! We had an awesome view of the fireworks show over the ocean. It was gorgeous!!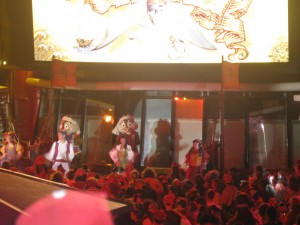 Pirates IN the Caribbean Party
Fireworks at sea
There was a buffet after the fireworks show but we went back to the room to shower and get ready for bed. We were stuffed already. Plus, our excursion the next morning was meeting at 7:15 am!! Insane!!
+ See more Disney Magic photos
+ Read more about Disney Magic Eastern Caribbean Cruise 2009