Day 4 – Tuesday, April 28, 2009
Tuesday was an exciting day for us because it was the first day we would stop at a port of call! This port of call was particularly special because it was the first time EVER that the Disney Cruise Line has stopped at Tortola in the British Virgin Islands (and all the DISers back home were eager to hear our reports as DCL pioneers on this inaugural cruise)!
We got up bright and early because ashore time (when we could get off the ship) was 7:45 am and we wanted to get off as soon as we could to explore the island. When we woke up, we were already docked in Road Town, Tortola and starring at us from our window were passengers of Royal Caribbean's "Grandeur of the Seas" ship! We made sure those curtains were closed when we changed! LOL!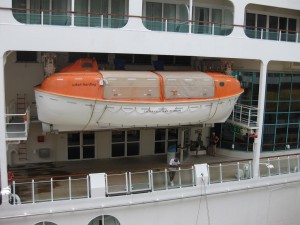 Our view of the Royal Caribbean ship from our balcony
We had the breakfast buffet at Topsiders for the first time and it was disappointing. I know making good-tasting breakfast food in mass quantities is difficult but you'd think Disney would have it down by now? The bacon was limp, oatmeal was runny, the eggs were mushy, and the pancakes (though better than character breakfast) were still thick and dry. But what can you do when you need a big breakfast to get you through the morning and you need it quickly? I took a few photos of Tortola from the outside seating of Topsiders on Deck 9 and then we were probably off the ship by 8 am.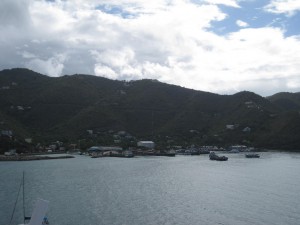 View of Tortola from Deck 9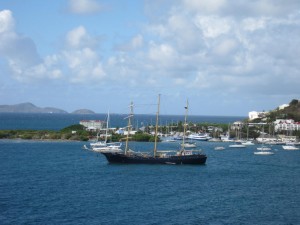 View of Tortola from Deck 9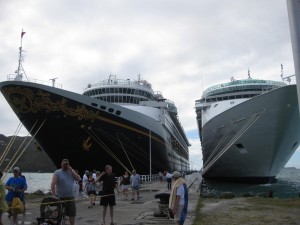 Disney Magic & Grandeur of the Seas in Tortola Dock
Right when we existed the cruise dock, there were a big line of white tents with vendors selling all sorts of souvenirs and jewelry. We passed those tents up in order to save time. We had an excursion booked that met at 12:30 pm back on the ship so we wanted to see as much of Road Town as we could.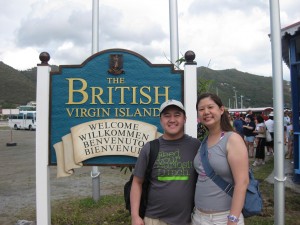 Welcome to British Virgin Islands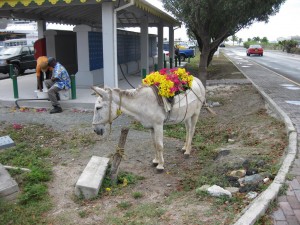 Donkey near the cruise dock
Our first stop was Crafts Alive Marketplace, a collection of colored houses that served as shops selling souvenirs and clothing. After visiting a couple of the shops, it was clear that most of them sold the same stuff. What I loved about Crafts Alive Marketplace were the chickens! Chris has a special place in his heart for the feathered animal. (He has a collection of chickens on our kitchen refrigerator and I have to drag him away from buying more chickens when we go to home decor shops!) I'm not sure why it seemed to strange to me but when I think of the Caribbean, I certainly don't think of chickens or any farm animal but the chickens at Crafts Alive were all over the place and roaming freely. I'm not sure if they even belong to someone.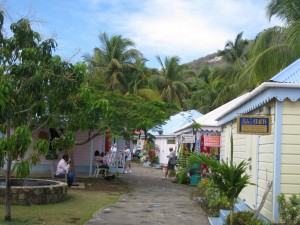 Crafts Alive Village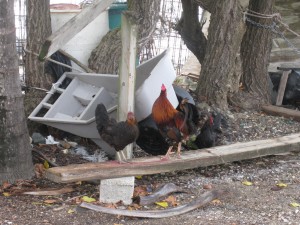 Chickens of Crafts Alive Village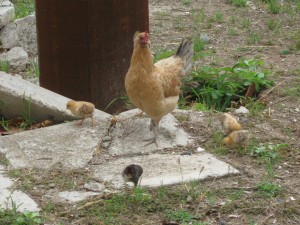 Hen & chicks in Crafts Alive Village
Chicken & the ocean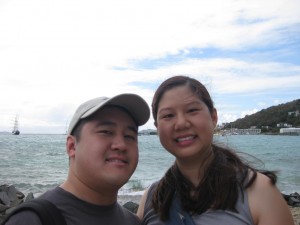 View of the ocean from Crafts Alive Village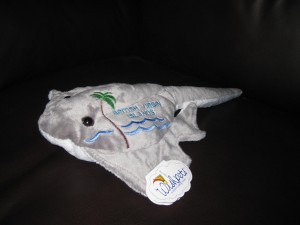 British Virgin Islands stingray plush from Crafts Alive Village
From Crafts Alive Village, we walked up Main Street where there are a lot of different shops. One of the first stores we went to was Latitude 18, where Chris found a new Kipling backpack to replace the broken Epcot backpack. I also bought a sea glass necklace there. We also visited two of Road Town's most famous shops, Pusser's Company Store and Sunny Caribbee. Pusser's rum was the official rum of the British Navy for 300 years. I picked up a Pusser's Rum Painkiller set. Sunny Caribbee is famous for their Caribbean spices, spices, hot sauces, soaps, lotions, herbs, teas, coffees, etc. Since I love tea, I picked up a sack of hibiscus tea and calypso-scented soap. At Samarkand Jewelers, we purchased a green stone-carved turtle.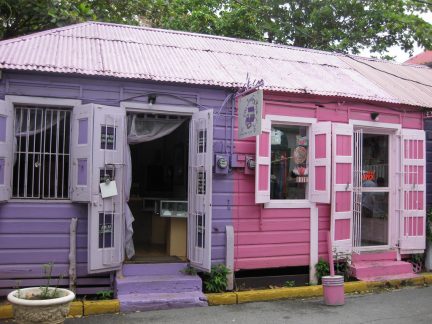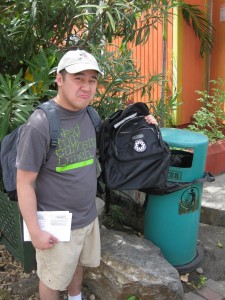 Chris throwing away the Epcot backpack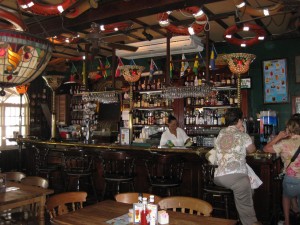 Pusser's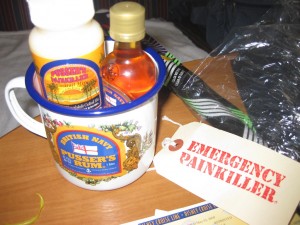 Pusser's Rum Painkiller set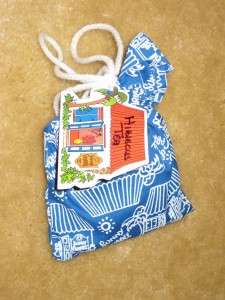 Hibiscus tea from Sunny Caribbee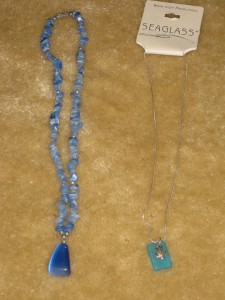 Stone necklace & sea glass necklace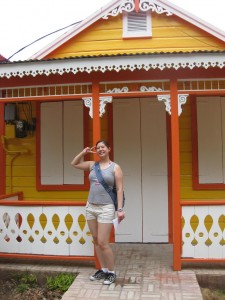 Sailor Venus house!!
Above Samarkand Jewelers is a small kitchen called Roti Palace. Roti is curry & meat filled flatbread and I heard they were awesome. We already had plans to eat lunch at another restaurant so we bought a conch curry roti to go. The lady cooked it to order and it looked delicious. You know how they say that you're getting real food if only locals eat there? Well, it was definitely all locals. Not a tourist in sight, other than us! OMG! The roti was SOOOO good! I wish I could eat another one right now. The conch meat was chewy and reminded me of large chunks of squid. The curry flavor was AWESOME. We didn't eat our roti for a few hours after we bought it so I can't imagine how much more delicious it would have been if we ate it fresh!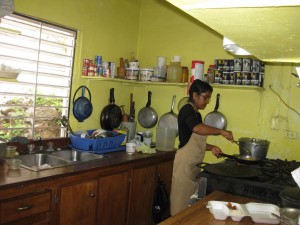 Roti Palace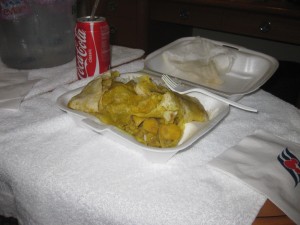 Conch Roti from Roti Palace
After picking up our roti, we headed to our actual lunch destination, Midtown Restaurant. Again, this restaurant had no tourists, only locals. They don't have a standard menu. You order off a chalkboard menu and there are only a few options each day. We got the conch soup and a Johnny cake. Chris also ordered ginger beer for his drink. I was really worried that we didn't get enough food but when we got the conch soup, it was huge!! OMG…it was so delicious too. We had conch chowder in Nassau, Bahamas during our last cruise and it was more like a cream soup. This conch soup was more like a vegetable soup and I LOVED it! We ordered the Johnny cake because of Alton Brown's show "Feast on Waves" and he raved about them. Chris liked eating it with the soup but I don't like dipping bread/crackers into soup so I ate it by itself and it was very bland that way. Chris also liked his ginger beer. But OMG conch soup rocks!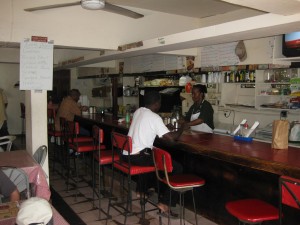 Midtown Restaurant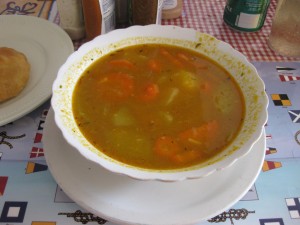 Conch soup at Midtown Restaurant
After lunch, we still had some more time to kill before heading back to the ship for our excursion. We did a little more shopping, stopping at Little Denmark, which is famous for it's room-sized cigar humidor, where we picked up some jewelry gifts for friends & family back home. We also stopped by Colombian Emeralds to pick up a Caribbean Mint collectible coin, which was one of the freebies from my port shopping book. Finally, on the way back to the ship, we browsed the white tents that we had passed earlier and I picked up up a blue stone necklace.
We dropped off our purchases back in our stateroom and headed over to Rockin Bar D for our shore excursion to The Baths at Virgin Gorda!
+ See more Tortola photos
+ Read more about Disney Magic Eastern Caribbean Cruise 2009