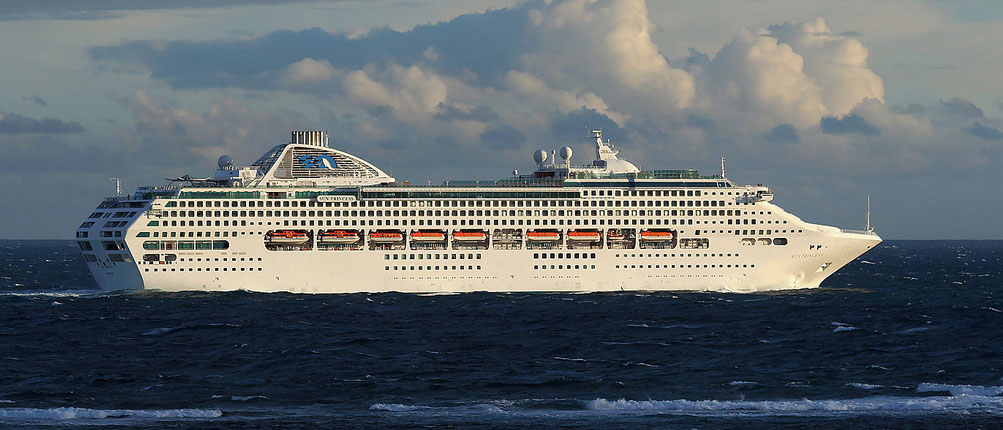 Itinerary
April 27: Yokohama, Japan
April 28: Hiroshima, Japan
April 29: Hiroshima, Japan
May 1: Nagasaki, Japan
May 2: Busan, South Korea
May 3: Hakata (Fukuoka), Japan
May 4: Hakata (Fukuoka), Japan
May 5: At Sea
May 6: Yokohama, Japan
Quick Review
Chris and I had the pleasure of sailing Sun Princess on her inaugural Japanese passenger-targeted cruise. Being the guinea pigs for this cruise, I wanted to share my quick, initial thoughts and experience for those interested.
Overall, the cruise was excellent! The passengers were almost all Japanese. I believe it was just a couple of hundred non-Japanese passengers on our cruise from what the crew told me. We saw the same people on our tours over and over again since they only offered 1 or 2 English tours at each port. There were a few hiccups with getting important docs in Japanese in our cabin (we almost missed immigration!!) but it went better than we expected!
OMG! The sailaway from Yokohama was fantastic. On the pier, they had a school band playing music, balloon release, Princess handed out flags, and people were camping out just see us sailaway. The fanfare was amazing! We also had a Japanese TV crew onboard the whole time.
Most of the crew was still non-Japanese but they would greet us in Japanese since we're Asian-American and would be relieved to hear us speak English. All of the crew speaks English but most of them do not speak Japanese. The crew was fantastic. Same great service and you could tell they were trying really hard with adjusting to the Japanese passengers. We had a great time chatting with many of them about learning about the Japanese culture as we went along!
The food was decent but worse than previous Princess cruises. Prior to the cruise, we heard a lot of hype that the cruise would have a lot of Japanese cuisine options and we were actually very excited about that because we love Japanese food. However, there was only 1 Japanese entree each day on the dinner menu and it was never really exciting/interesting (e.g. teriyaki chicken). Otherwise, it was the usual menu items and the food wasn't great in general. There were fewer and fewer people in the dining room each night because everyone preferred the buffet. The buffet also had more Japanese choices, such as ramen and soba during lunch, which I did like. We ate our 8-person table alone twice before we finally moved to another table for the last 2 nights! I also felt like the portions were smaller (perhaps Japanese-sized portions?).
Princess raised the prices on everything too. They re-printed everything in Japanese and English. Sometimes we were accidentally given the "old" English price lists and the new prices were always higher. Chris and I also stumbled upon the crew raising the prices for the laundry detergent by a quarter in the laundromat! LOL One of the shop employees said all of the gifts and souvenirs were re-stickered with higher prices. I don't think the Japanese knew/cared. I noticed that most of them were first-time cruisers (blue card), while most of the English speakers were repeat cruisers (lots of Plat and Elite) so they knew the prices were higher since they cruise so much.
The Japanese passengers were also very nice to travel with. They are very polite and respectful. You'll learn a few interesting things about their culture just be observing them. WARNING: They have no problems waiting in a long line or crowding an elevator. Their "personal space" size is much smaller than ours so don't be too surprised if you're smashed in a crowd with them. They are BIG on shopping, especially for gifts for loved ones back home. Before and after dining times were extremely crowded at the shops so do your shopping in the day or during a dinner seating.
The ship is not one of my favorites. She got a new Coach Store the sailing before ours but you could see her age all over the ship, especially inside the cabins. I disappointed that the shower didn't have a removable shower head. Our toilet was also very weak and we'd have to flush multiple times just to get down liquids & toilet paper. I understand the ship will be refurbished again but I only heard about the public spaces being updated. I hope they update the cabins too. We also got disoriented a few times when walking around the ship because we're used to the buffet being aft but the buffet was forward on this ship. I did like the smaller size of the ship though. Nothing ever seemed far away like on larger ships.
All in all, I'd definitely do it again. Here are some lessons learned for future cruisers:
If you get a doc in your stateroom in Japanese, immediately call Guest Services / Purser's Office for an English version.
Book your excursions early. There were only a handful of English-guided tours and some were sold out before the cruise began.
Learn a few key phrases in Japanese so you can do some basic interaction with Japanese passengers: Hello, Thank You, and Excuse Me
Cut the crew some slack. This is new to them too and they are doing the best they can.
I'm hoping to do a more in-depth trip report in the future but wanted to pass along at least some of my experience in the meantime.
See all photos from my Japan cruise