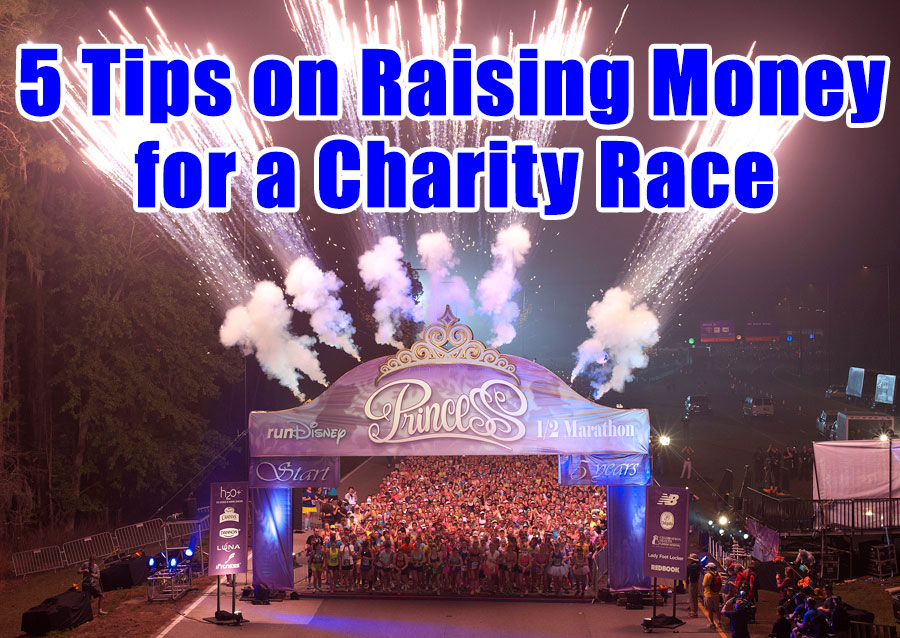 Fundraising for a race can be daunting, whether you're required to raise a certain amount to participate or you've decided to raise money towards a cause that is personal to you. I raised money for charity for 2 races and beat my fundraising goals both times:
Race: Disney Princess 1/2 Marathon 2013
Goal: $1,000
Raised: $2,000
Race: Strut Your Mutt 2015
Goal: $500
Raised: $873
I'd like to share my tips for fellow runners who are hoping to raise money for an upcoming charity race.
Top 5 Fundraising Tips for a Charity Race
1. Set a reasonable goal
We'd all like to give the moon to our charity but setting an unrealistic goal will only discourage you and your friends/family from donating. Think about how many people and how much they are likely to donate to your cause.
2. Customize your fundraising page
Tell the story about why this charity is important to you. I personally like creating a custom logo using some of the official images for the race and charity. Here's an example I created for Strut Your Mutt benefiting SPCA of Texas: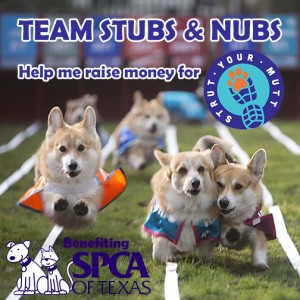 Our team was made of corgis and our team name was "Team Stubs & Nubs". This image helped make the race more interesting to the people I reached out to and I was able to use it in my social media posts as well.
Here's another example I used for Disney's Princess Half Marathon. I used runDisney's cover photo and added the logo of the charity I was raising money for.

3. Email everyone you know
Email often seems like a dead part of the internet these days but email absolutely brought in the most fundraising for my races. Unlike social media posts that easily get lost after you scroll past them, email sits in a person's inbox until they either act on it or delete it. My next blog post, Email Fundraising for a Charity Race, goes into more detail about using email to raise money. Make sure you read that too.
4. Use social media
Plan to make at least 2-3 fundraising posts on Facebook, Instagram, Twitter, etc. Each post should be personally written. Everyone can tell if you copy and paste generic text from a fundraising web site.
5. Get creative and don't give up
Let's say you don't know a lot of people or they're all poor right now. There are other ways to raise money than hitting up your friends. Here are a few ideas:
Craft sale / bake sale / garage sale – Even if your friends can't contribute money, this would be a great way for everyone to pitch in by making something, baking something, or donating something that you can sell. Doing a garage sale is also a great way to clean out all the clothes, accessories, and stuff around the house that you haven't used in years! Crafts and garage sale items can also be sold online in local Facebook groups or eBay.
Raffle – Get prizes to raffle off and sell raffle tickets. Having a grand prize that is worth at least $100 will be more effective in selling tickets, though you can certainly have smaller prizes as well. Ask your friends and family if they have anything they can donate to the raffles. You can even visit local businesses and see if they'd be willing to donate a gift card to your raffle.
Run a Virtual Race – It's a race where participants pay a registration fee for a race that they do on their own at any location. They can walk, use the treadmill, run outside or participate in another race at whatever pace they want. Usually, the only thing that is set is how far to run. Participants earn a medal for completing a virtual race and the medal is the biggest draw of virtual races so it's important to design a medal that will appeal to runners in your social circles. The organizer used the profits from registration fees to donate to charity. Learn more about organizing a virtual race.
Make sure you visit Fundraising for a Charity Race: Part 2, 3 Steps to Email Fundraising for a Charity Race, which includes sample emails and email templates you can use for fundraising.
P.S. I raised money for SPCA of Texas in both races that I did fundraising. It is an organization that is near and dear to my heart. Please visit their web site to learn more.
If you found these tips useful, please let me know in the comments below. Also, let me know if you have other tips to share about fundraising. Best of luck with fundraising and thank you for supporting charities!