These are insider tips and "secrets" to Princess Cruises…
If you know you'll need an internet package, buy it before you go on your cruise and you'll get bonus minutes.
Ultimate Ship Tour
The tour is offered once or twice per cruise on a sea day and allows guests to explore the engine control room, medical center, print shop, laundry, photo lab, bridge, and other areas typically seen only by the ship's crew. The final stop of the tour is the ship's command center, where passengers will meet the Captain, enjoy special refreshments and take in the dramatic views from the bridge's wraparound windows. Participants will also receive a variety of themed mementos at many other stops along the route.
Cost: $150 per person
Reviews:
Space is very limited for this tour. Sign up at the Guest Services Desk as soon as you can to increase your chances of participating.
Chef's Table
Executive Chef Christophe Belin offers a brilliant insight into the workings of the most dynamic, fine dining experience on the seven seas; French champagne and hors d'oeurves at a hot spot in the galley during "rush" hour, followed by a multi-course tasting menu with wine pairing at the V.I.P. Chef's table in the dining room
Cost: $75 per person
Reviews:
Space is EXTREMELY limited for this tour. Board the ship as early as possible and call the DINE line for reservations to increase your chances of participating.
Ultimate Balcony Dining
Enjoy breakfast or dinner on your cabin's balcony hosted by your own dedicated server
Coral Princess & Island Princess
Balcony cabins: Some of the cabins on these ships have uncovered balconies or bump out balconies, offering less privacy than other balcony cabins. Tom O. has done the painstaking job of creating a guide to which balconies to watch out for. Check out his web site: Coral and Island Princess Balconies.
Secret Doors: There are "secret" public decks spanning Decks 8-11 (Emerald/Dolphin/Caribe/Baja) aft and Decks 9-11 (Baja/Caribe/Dolphin) forward that are great for viewing when sailing through the Panama Canal or Alaska.
Forward Secret Decks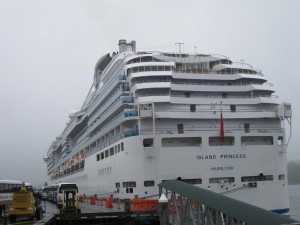 Aft Secret Decks
To access these decks, go all the way forward or aft on one of the specified decks. There may be a sign that says "crew only". Just go through the door and there should be another door that goes directly to the Viewing Deck. Be mindful of the wind as it can cause the door to slam.