Given that flight delays are not uncommon, we always fly in the night before a cruise leaves. When we're sailing with Disney Cruise Line from Port Canaveral and NOT staying at a Walt Disney World Resort prior to our cruise, our favorite pre-cruise hotel is Hyatt Orlando Airport because transfers to the port are so easy! If you are staying at a Walt Disney World Resort, Disney Cruise Line can also pick you up and transport your luggage to port as well.
Port transportation and luggage pickup is not complimentary. You must pre-purchase DCL transfer from airport to ship and add it to your cruise booking. Purchasing one-way transfers is allowed. Just make that clear to your travel agent or the cruise line.
Our flight to Orlando was on Friday, April 24, 2009 in the afternoon so Chris took the day off to finish packing and I worked in the morning. After lunch, our taxi picked us up and took us to DFW airport for our flight. Chris and I were not seated together on the plane. We only had enough miles to get one free First Class ticket and since I've never flown First Class before, I got First Class and Chris bought a ticket in coach.
Flying First Class was sweet. First of all, I got to board first and didn't have to stress out about a long line of people behind me while I tried to shove my luggage into the overhead compartment. The extra legroom was probably the best part. I don't stretch my legs out that much (un-ladylike) but I do have a personal carry-on and it was nice having the carry-on under the seat in front of me and still having plenty of legroom! Next, we got nuts and drinks right after our flight was in the air. Even though I don't drink often, alcohol is free so I felt like I should order something alcoholic. I winded up getting a glass of champagne because I always imagined drinking champagne in First Class like in Fergie's song "Glamorous"! LOL! I also got a glass of ginger ale. We were served dinner. I got stuffed shell pasta and it was pretty yummy. It came with a salad and a piece of cake too!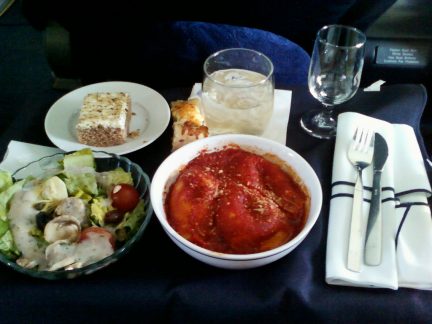 After eating, I tried to nap a little. The plush leather chairs are so much more comfy than the seats in coach! So I loved flying in First Class for the first time! But if I had it to do it over again, I would have waited until Chris and I could both fly together. It was weird having him so far away from me. =(
We landed in Orlando airport around 9:30 pm. IMPORTANT: Since we were not going to the ship that night, we did not put our Disney Cruise Line luggage tags on our suitcases and claimed them all at baggage claim.
Chris grabbed a snack at the food court before we checked into our hotel, the Hyatt Regency Orlando Airport. The cool thing about the hotel is that it's INSIDE the airport so you don't need to take a shuttle or cab there. Inside the hotel lobby, there is a sign tells Disney Cruise Lines guests to identify themselves to the front desk.
We did this at check-in and were given instructions on what to do with our luggage and when to meet the Disney Cruise Line reps in the morning. We stayed at the hotel previously after our last cruise so we knew what to expect. The room was fantastic. We had a balcony that overlooked the Orlando airport so it was a great spot for people watching!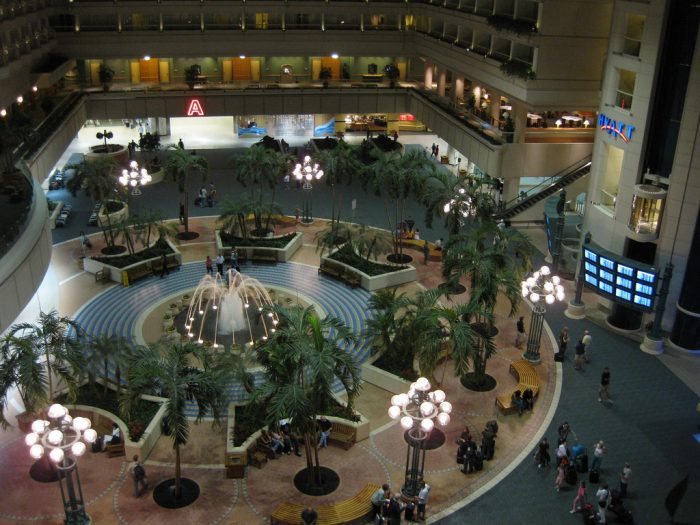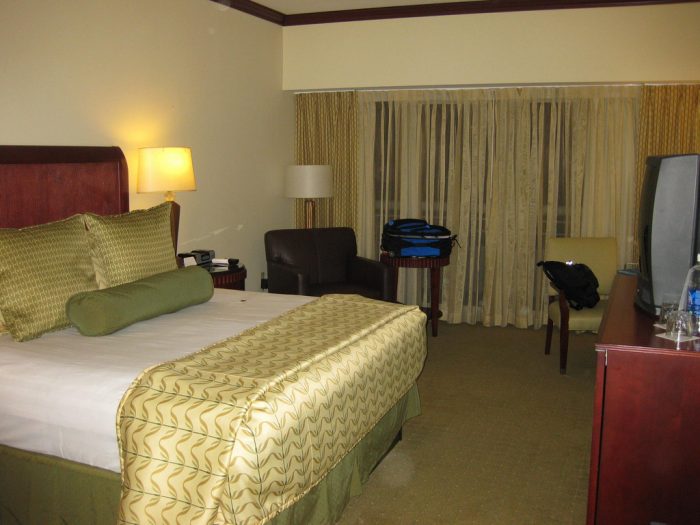 The next morning, we woke up bright and early so our luggage would be ready for pick up and we could meet get to the ship as early as possible. After getting room service for breakfast, we left our luggage in our room, as instructed, for Disney to pick up and take to the ship. It's possible that you may not see your luggage again until after dinner so make sure you keep anything you'll need until then with you in a carry-on. In the lobby, the Disney Cruise Line sign from last night was replaced by one pointing to the DCL waiting area.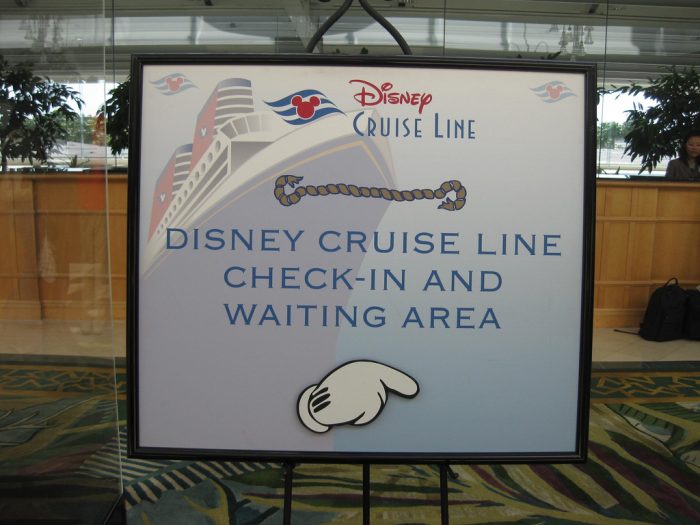 Check-in started at 9 am and we got there at 9:07 am but we didn't make it on to the first bus. We were assigned to the second motorcoach. Our group was escorted downstairs and we boarded the DCL motorcoach.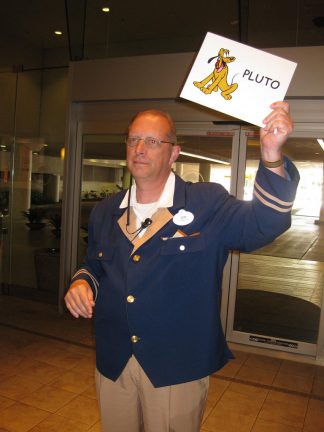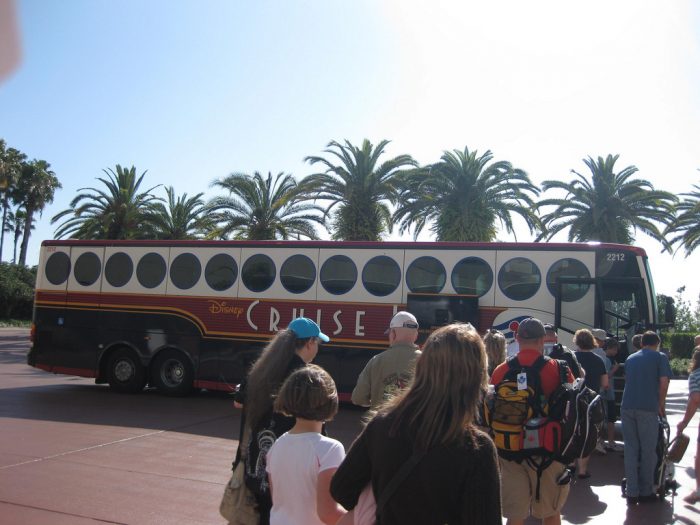 The bus left the Hyatt at 9:45 am and we arrived at the DCL terminal in Port Canaveral at 10:35 am.
+ See more Orlando Airport photos
+ Read more about Disney Magic Eastern Caribbean Cruise 2009
UPDATE: We stayed at the Hyatt Regency Orlando Airport and used Disney Cruise Line transfer to Port Canaveral as recently as April 2017 and found this experience is still mostly accurate, except we didn't find as much DCL signage as before. Make sure you identify yourself as a Disney Cruise Line guest when you check-in and receive the instructions on what to do with your luggage and when to meet for port transportation. Bon voyage!


Disclaimer: We may earn a commission for products purchased through some links in this article.