On Saturday, November 28, 2009, we were supposed to sail into Marseille, France but the captain informed us the night before that our ship was being diverted to Toulon instead because of dock worker strikes. This caused quite a short panic for us since our SSK Dreamliner driver was supposed to pick us up in Marseille for our tour. Luckily, Stan was able to notify them that we were docking in Toulon and they said that would not be a problem. Toulon was only an hour away from Marseille so we were able to do the same plan as we would have from Marseille. Our tour group was the same as our group in Villefranche and just like in Villefranche, I gave the driver a list of places we wanted to see.
Our first stop was Aix-en-Provence and the food market held at Place Richelme. This outdoor market was SUCH a wonderful experience! It had spices, bakery goods, eggs, cheese, produce, dried lavender, soaps, and even a HUGE pan of paella cooking! While walking around Place Richelme, we found a bakery that sold the famous navettes, boat-shaped cookies, I read about. They were delicious!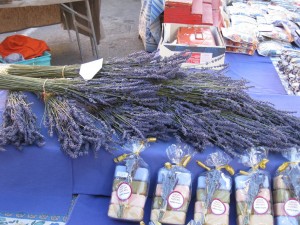 Dried lavender & soaps at Place Richelme market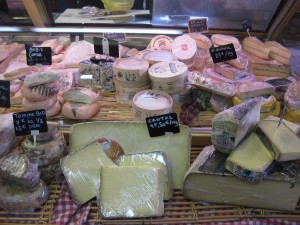 Cheeses at Place Richelme market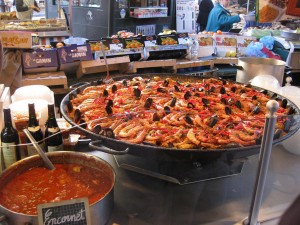 Seafood paella at Place Richelme market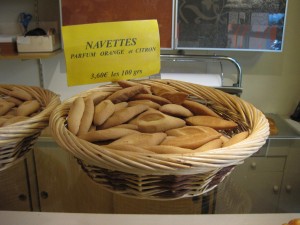 Navettes
Our next stop was the Rodeo Drive of Aix-en-Provence, Cours Mirabeau! Since it was the end of November, there were wooden vendor stands setup along Cours Mirabeau, selling all sorts of gifts for Christmas. There was also an amazing Nativity scene created with little clay figures! It was so detailed!
Cours Mirabeau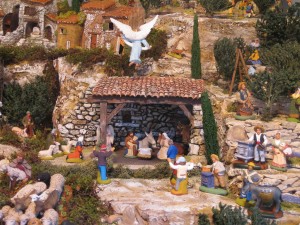 Nativity scene on Cours Mirabeau
After shopping, we drove to Marseille to Basilique Notre-Dame de la Garde. We saw some pretty amazing views during this trip and this had to rank near the top! The Basilique sat on top of a tall hill overlooking Marseille and the Mediterranean sea. Gorgeous view! The church itself was also gorgeous. We are not Catholic but I had a very strong spiritual feeling there, much more so than at the Vatican. It felt very intimate there and seeing the strings of model boats and planes hanging from the ceiling (a prayer for travelers to return safely) really touched me.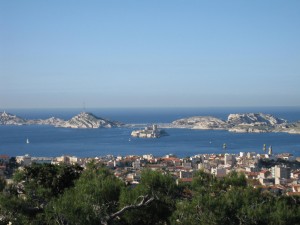 View of Marseille & the Mediterranean from Basilique Notre-Dame de la Garde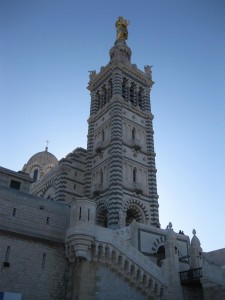 Basilique Notre-Dame de la Garde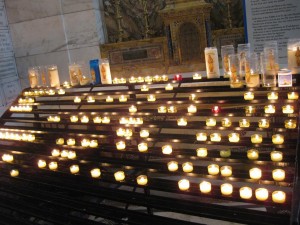 Candles inside Basilique Notre-Dame de la Garde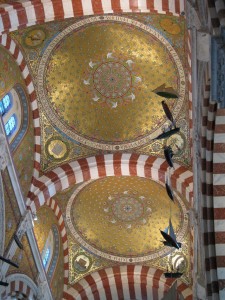 String of boats hanging from the ceiling of the Basilique Notre-Dame de la Garde
Next, it was lunch time! Our driver took us to Niolon, France. Driving in and out of Niolon was really an adventure. The streets were very narrow and only one lane so cars had to take turns traveling up and down them. Niolon is also on a hill so the streets were also very steep. It was an amazing feet watching our driver navigate the roads and then he did it backwards on the way back down! We had lunch at Auberge du Mérou, which sits overlooking the water. It was gorgeous and the food was magnificent! I had a seafood stew and Chris had fish. I'm not a huge fan of traditional French food because the sauces are usually really rich and creamy but loved French Mediterranean food, which is much lighter with a ton of seafood!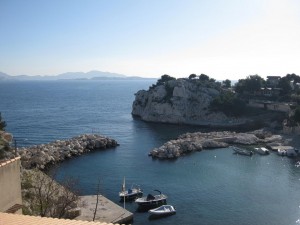 View from Auberge du Mérou in Niolon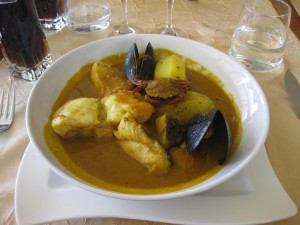 Seafood stew from Auberge du Mérou
On the way back to Toulon, we returned to Marseille to drive by Palais Longchamp, which is a magnificent building! Then our driver took us back to the pier in Toulon. It was the only port where we returned when it was still light out and we saw the sunset from our balcony.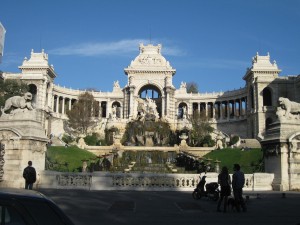 Palais Longchamp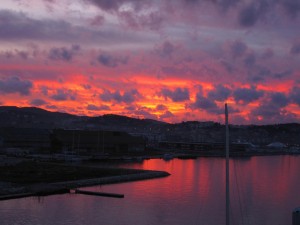 Sunset over Toulon
From Toulon, the ship sailed back to Barcelona and our wonderful, amazing trip was over. I would absolutely recommend this cruise to anyone who would like to see the Mediterranean and I personally would love to do this cruise over again. It's very port intensive so it certainly isn't a relaxing vacation but it was wonderful to see so much of France and Italy in such a short amount of time.
+ See more Marseille photos
+ Read more about Mediterranean Cruise 2009


Disclaimer: We may earn a commission for products purchased through some links in this article.