Day 6 – Thursday, April 30, 2009
Day 6 was our final full day at sea. After such a long day in St. Thomas, we decided to sleep in on Thursday and woke up just before 11 am. It was a beautiful day and the view from our verandah was gorgeous. The water was so blue! We started off the morning by taking a stroll around Deck 4 and viewing the anchor room. Each chain link that held up the anchor was so thick but then again, the anchor does weigh 14 tons!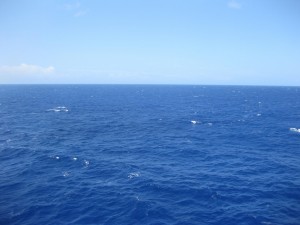 View from our verandah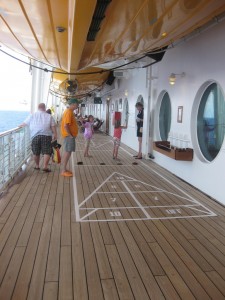 Shuffleboard on Deck 4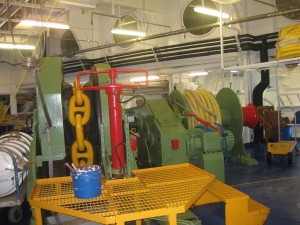 Anchor Room
We then headed to Treasure Ketch to get in line for the Captain's Signing. There was also a sidewalk sale going on so I browsed some of the merchandise while Chris held my place in line. At noon, Captain Tom arrived to sign our stuff. I had him sign 2 postcards.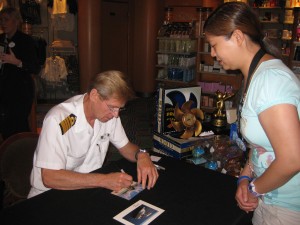 Captain Tom signing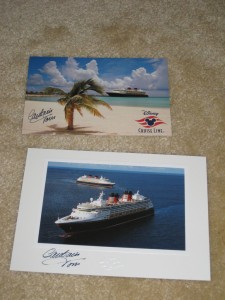 Postcards signed by Captain Tom
It was already the last day at sea and I had not tried lunch at all the restaurants as I had hoped. Since we went to Palo twice, we only ate lunch at Parrot Cay the first day we boarded! I really had my heart set on eating lunch at Lumiere's but I also wanted to see the spread at Parrot Cay. So we went to Parrot Cay and got a small snack of fruit and sushi to take back to the room. (TIP: We asked for kids plates to take back to the room because they are a lot lighter than the heavy glass plates.) It was cool having real sushi with real fish in it but the rice was a little hard.
Then we had our real lunch at Lumiere's! The lunch was really good! Much better than I expect eating at a buffet would be. It was also nice having table service and eating at a slow pace.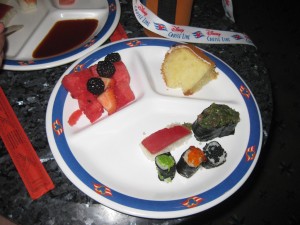 Food for Parrot Cay buffet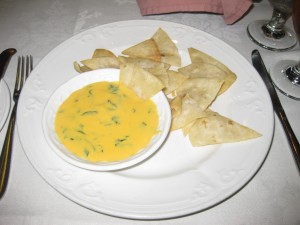 Jalapeno spinach dip from Lumiere's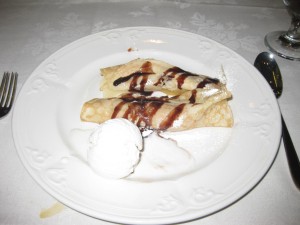 Apple filled crepes from Lumiere's
After lunch, we had a little time to kill before our next scheduled event so I changed into my bathing suit and hit the Quiet Cove Pool, which is the adults only pool. Instead of swimming, what I really wanted to do was sunbathe and I found it very annoying that all the pool chairs had people's towels draped on them. If you know you're going to be in the pool the whole time, why take up a chair?! Grrr…so instead, I went up to Deck 10 and found a nice chair up there to sunbathe for a little bit.
We met at Lumiere's for the Galley Tour. The galley is what they call the kitchen on a ship. We got to see the huge kitchen they have behind Lumiere's and Chef Sandip described to us the process of how they cook and get our meals out to us. It's pretty amazing! We got a chocolate chip cookie from the pastry chef, Chef Brenton! Yum!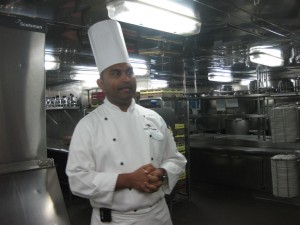 Chef Sandip during Galley Tour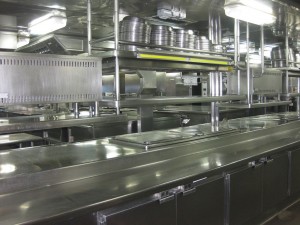 Lumiere's Galley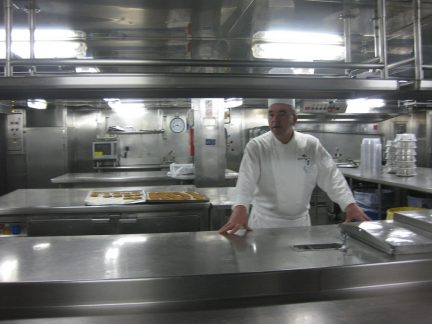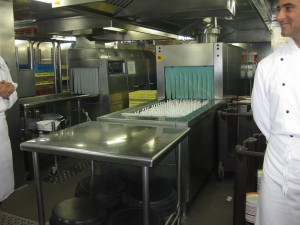 Dishwasher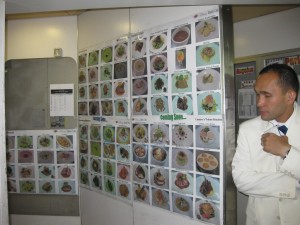 Photos of all the dishes served at Lumiere's
Following the Galley Tour, Chris and I attended beer tasting at Diversions. We tasted four beers: Peroni Nastro Azzurro (a pale lager), Yuengling (a pilsner), Bass Ale (a pale ale), and Guinness (a dry stout). We also combined the Base Ale and Guinness to make a Black & Tan. The guide told us a little bit about how beer is made, what's important when drinking beer, and the differences between the different types. Frankly, I was a bit tired and got a little bored with the informational part but Chris loved it. My favorite beer from the tasting was the Yuengling and least was the Guinness.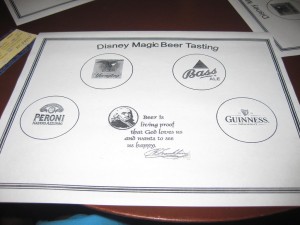 Beer Tasting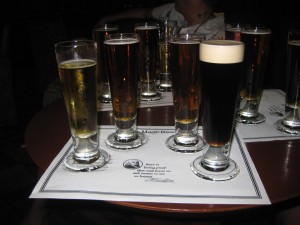 Beer Tasting
After beer tasting, we went back to the room. When we got back to the room, our tip documents were waiting for us. We pre-paid tips for our head server, server, assistant server, and stateroom hostess so we got little tickets to pass out to them, instead of having to hand out cash. We also got little envelopes to give to each person on the last day.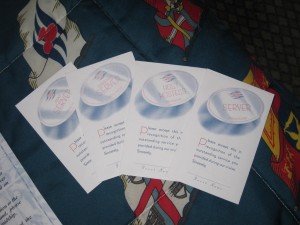 Tip envelopes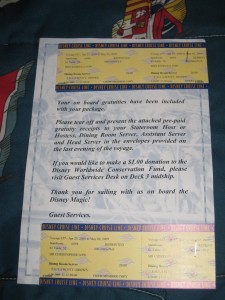 Pre-paid gratuity tickets
We had some time before the stage show so we decided to do laundry. Since it was the last "at sea" day, the laundry room was quite busy but we were able to get a washer on our floor (Deck 6) without waiting. We brought plenty of $1 bills with us to the cruise for tips and stuff so we had no problem using the change machine in the laundry room to get quarters. When it was time to dry our clothes, all the dryers were full but one had already stopped for awhile. Chris took their clothes out and left it on the folding table to use the dryer. We used to do this in the apartment and people would get mad and purposely open our dryer door so the time would run out! So Chris checked on the dryer a few times while it ran to make sure no one sabotaged it. After drying through one cycle, most of the clothes weren't dry but we didn't have time to run it another cycle so we hung up everything throughout the room to dry. (By the way, when our dryer was done, that person still hadn't gotten their clothes from the table!) I felt bad for Air to see all our socks and underwear hanging all over the place! LOL! So if you plan to wash your clothes, it'll definitely take 2 cycles in the dryer so plan accordingly!
We headed down for the final Broadway-style stage show, "Disney Dreams", in the Walt Disney Theatre. It centers around Anne Marie, a little girl, who is led by Peter Pan through a night of filled with famous Disney songs and characters, including
Aladdin, Cinderella, Ariel, Sebastian, Belle, Simba and more! This was definitely the best show out of all of them and it was very easy to see why it won an award for "Best Show" in the cruise line industry.
I finally got to see Ariel too! She had a scene in "Disney Dreams". For some reason, Ariel doesn't make an character appearances for photos during the entire cruise. The Disney Princesses that appear are Belle, Cinderella, Snow White, and Aurora. You'd think cruise = water = Ariel but no! No Ariel! I understand there are difficulties moving Ariel but if she is in her fin, they could wheel her into place or she could just wear one of her human costumes (blue village dress or pink ballgown). Anyway, I was disappointed that I didn't get to take photos with my favorite character.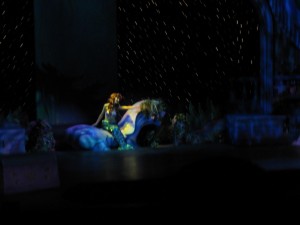 Ariel in "Disney Dreams" show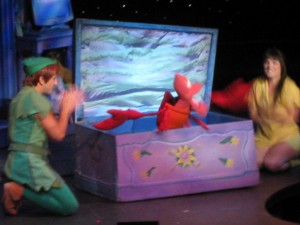 Peter Pan, Sebastian, and Anne Marie in "Disney Dreams" show
It was semi-formal night! After the show, Chris and I went to the Lobby Atrium to take some photos. We then dropped into the "High School Musical Dance Party" in Studio Sea. Cheerleaders from East High taught the kids the dance to "We're All in This Together". After listening to a couple of songs, we left and headed over to Shutters. We went through all the professional photos we had taken and weeded out the ones we didn't want to buy. We purchased the 20 8×10 and 10 6×8 photo packages. They gave us a punch card for the remaining photos we had left for the packages and we got to take the rest of photos with us. We also purchased a nice photo portfolio that had the Disney Magic on one side and a photo of our choosing on the other.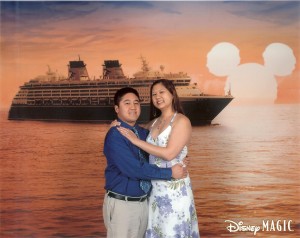 Semi-Formal Night Portrait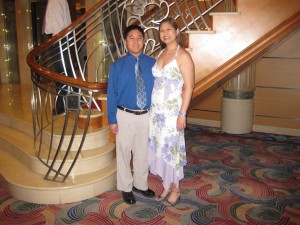 Semi-Formal Night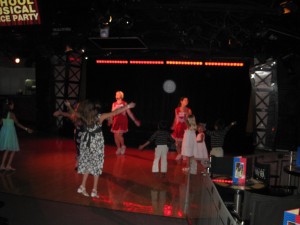 High School Musical Dance Party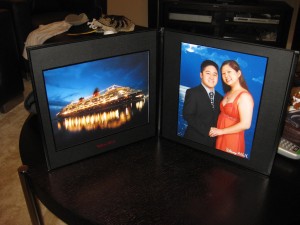 Disney Cruise Line photo portfolio
That evening was the Captain's Gala and our dinner was in Parrot Cay. Captain's Gala = lobster night!! Yay! As I mentioned before, I was starting to feel like the food was repetitive from night to night but the Captain's Gala menu finally broke that cycle for me. I thought there was great variety for all the courses and I loved the baked lobster tail!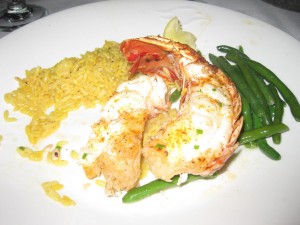 Baked Lobster Tail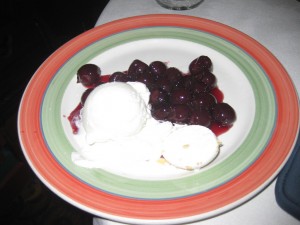 Cherries Jubilee
After dinner, we had a huge dilemma on our hands. There was going to be a dessert buffet from 11 pm until midnight in Lumiere's and I've heard so much hype about the dessert buffet: chocolate fountains and the works. I was already disappointed we missed the Pirate Night buffet too. But the "Hannah Montana" movie was playing at 10:30 pm at Buena Vista Theatre and went until past midnight. I delayed seeing the movie in the theatre because I knew it was showing on the ship. Plus, watching it was free and it would cost us almost $20 to see it back home. We eventually decided to see the movie. We headed back to our room to change into more comfortable clothes. We had a cute lobster towel animal waiting for us when we got back to the room.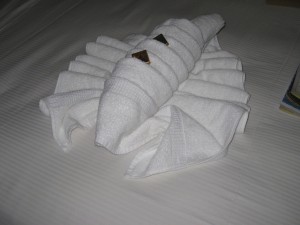 Lobster Towel Animal
As a huge fan of the TV show "Hannah Montana", I was very excited to see the "Hannah Montana – The Movie". (I missed the dessert buffet for it, didn't I?!) Overall, I thought the movie was good but not as good as the TV show. There were definitely parts of the movie, including the ending, that seemed far-fetched to me. Also, it was disappointing to not see more of Oliver. The physical comedy seemed geared toward an audience younger than Hannah Montana's tween following as well. The love story was cute but it was a little bittersweet since you know you'll probably never see that guy on the TV show anyway! In general, I'd recommend "Hannah Montana" fans to see it but otherwise, if you're not a fan, skip it.
So I can't remember what day I acquired this bruise but I know I had it by now so I'll just share about it. One night, Chris and I were walking around the Quiet Cove Pool on Deck 9. It was pretty dark and there wasn't a lot of people around. I slammed right into a lounge chair and bruised my left leg. Poo! The bruise didn't look too bad right away but a few days later, it looked nasty and when I got home, it looked even worse. But it's all healed up now!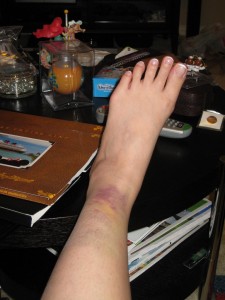 Bruise on my left leg
+ See more Disney Magic photos
+ Read more about Disney Magic Eastern Caribbean Cruise 2009