July 3-5, 2009
So after having planned to go to Hot Springs, Arkansas during 4th of July weekend, we realized we would be walking around in 100 degree heat all weekend and decided to change our plans. We didn't want to cram the whole weekend with sightseeing. It would be nice to just relax.
I did a bunch of quick research on places to go to and settled on Lakeway Resort & Spa in Austin, Texas. While the hotel is officially in Austin, it's actually 40 miles away from the city center and sits on Lake Travis, which is fed by the Colorado River. We drove to the hotel after work on July 3rd and didn't get to the hotel until midnight. When we got up the next morning, we had a gorgeous view out of our hotel room window!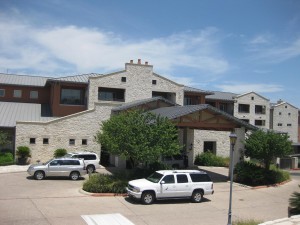 Lakeway Resort & Spa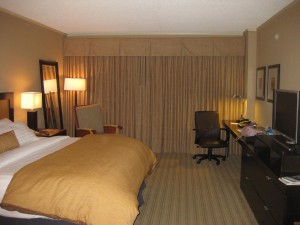 Lakeway Resort Hotel Room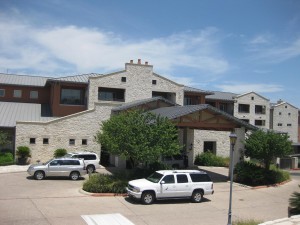 View of Lake Travis from our window
The best feature of the hotel must be it's 3 pools. It has a regular deep pool, a 2-level kids pool with a water slide and splash area, and a 3-level adult pool with swim-up bar! In the afternoon, we rented a cabana next to the pool so we could lounge. It had 2 padded lounge chairs, bottled water, fruit, a ceiling fan, and a TV! It was nice to have our own reserved chairs and shade when we weren't in the pools. We watch the "Hannah Montana" marathon from our cabana TV! The water slide was a lot more fun than I thought it was too! Wee! The adult pool also had an awesome view of the lake. There's something to be said about chilling in a pool, looking over at a lake!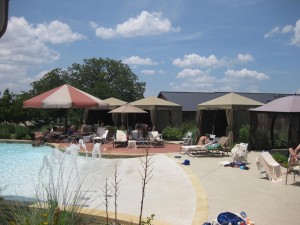 Kids Splash Area & Cabanas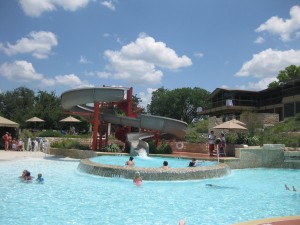 Kids Pool & Water Slide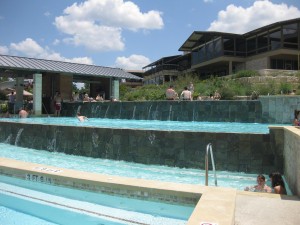 Adult Pool & Swim-up Bar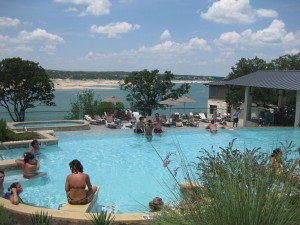 View of the Lake from the Adult Pool
That evening, we had a delicious seafood buffet at the hotel's restaurant followed by roasting marshmellows and making smores at the fire pit next to the pool!
The next day, I had a massage at the hotel spa. It was very lovely, of course. After the spa, we were at the pool again. We didn't have a cabana this time but we were able to snag some lounge chairs and move them into the shade near the bar. Since it was July 4th, there was a live band playing and the pool was much more crowded than the day before. We hung out there until just before sunset. We watched the sunset from our hotel room and it was gorgeous watching it set behind Lake Travis!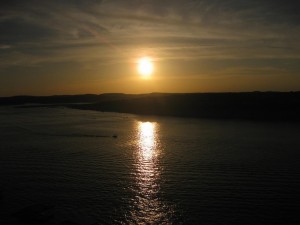 Sunset over Lake Travis
We had dinner again at the restaurant but this time it wasn't as good. Perhaps they knew there were going to be more people and they cut back on the good food. After dinner, we got back into our swimsuits and watched the fireworks from the pool. It was sooooo nice!!!
We departed Lakeway Resort on July 5th and had breakfast at Cafe Lago before hitting the road back to Dallas. There were a few neat things along the way. First, we drove over the Colorado River and saw the Mansfield Dam.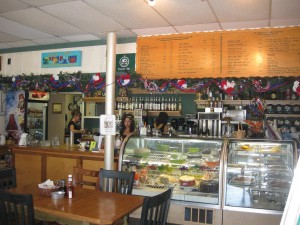 Cafe Lago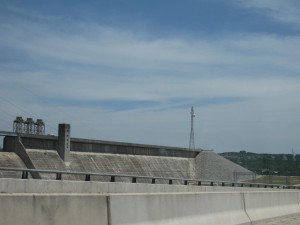 Mansfield Dam holding back the Colorado River
We stopped at this really nice Rest Stop along the highway in Bell County. It had an exhibit, storm shelter, and was overall very fancy. Since I have to use the bathroom every 1-2 hours, rest stops are super important to me! One thing I noticed about Texas is that their Rest Stops are super nice. In California, you're lucky to have toliet paper and there is never any soap or paper towels. In Texas, they've got automatic toliets, sinks, soap dispensers, and paper towel machines! And they're always clean!!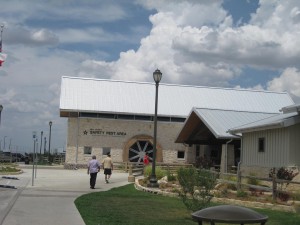 Bell County Rest Stop
We made a stop over in West, Texas because I've heard about the Czech Bakery there and the nom noms inside. The line was wrapped throughout the whole bakery and the place was filled with breads, cookies, cakes, and most of all KOLACHES!!! We bought a box of kolaches to take home. Then, we popped over to the Bush's Chicken next door. I had seen Bush's Chicken restaurants throughout our road trip and thought we should try them out. The fried chicken wasn't bad but KFC is better.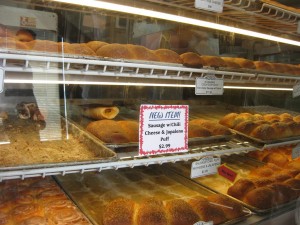 Little Czech Bakery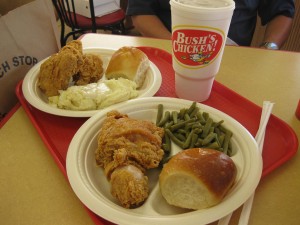 Bush's Chicken
An hour and a half later, we saw the Dallas skyline poking through and we were almost home.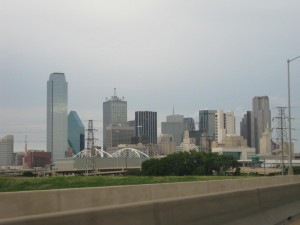 Downtown Dallas
We didn't leave the resort the entire trip and I'm glad. It was nice to just have a relaxing weekend resting up and chilling without walking miles to sightsee. We'll return to Austin to do all the normal tourist stuff of course but the weekend in a pool next to a lake was full of win.