White sand beaches, turquoise waters, cold cocktails, and sweet island music. These are the things that come to mind when we think about a Caribbean vacation. For those looking for an all-inclusive adults-only destination, the Caribbean has numerous options to choose from.
We compiled a list of the 10 best adults-only all-inclusive resorts in the Caribbean, and there is sure to be a resort that will make your Caribbean escape one to remember.
#1: Excellence Punta Cana – Punta Cana, Dominican Republic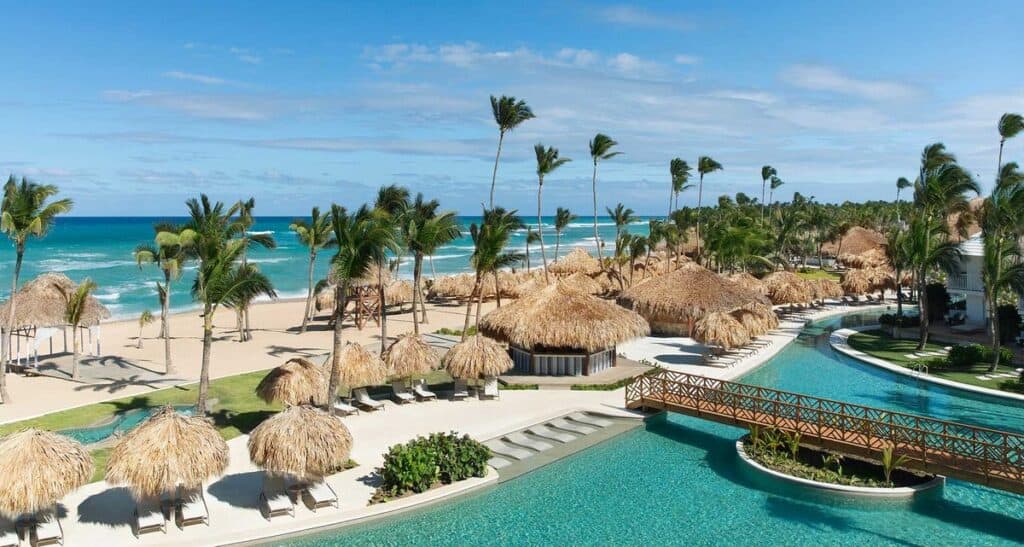 Renovated in 2017, the luxurious Excellence Punta Cana in the Dominican Republic offers modern, high-end touches in a magnificent, natural setting with access to pristine golden sand beaches.
This resort focuses on romantic, relaxing getaways and guests have their choice of suite. Whether they prefer a suite with swim-up access, private pool, rooftop terrace or ocean-view, Excellence Punta Cana has all these options available for upgrade. Additionally, each suite includes rainfall showers, jetted tubs and furnished terraces.
The resort features lagoon-style swimming pools and provides a wide variety of inclusive activities, such as yoga, Spanish and dance classes, beach sports, snorkeling and a fitness center. You will have plenty to choose from at night as well: from outdoor theme night dinners and dance parties to sipping your favorite cocktail while listening to dazzling Caribbean music. Visitors can indulge in gourmet food and drinks at the resort's 10 restaurants and 12 bars on their adults-only vacation.
#2: Sandals Royal Caribbean Resort – Montego Bay, Jamaica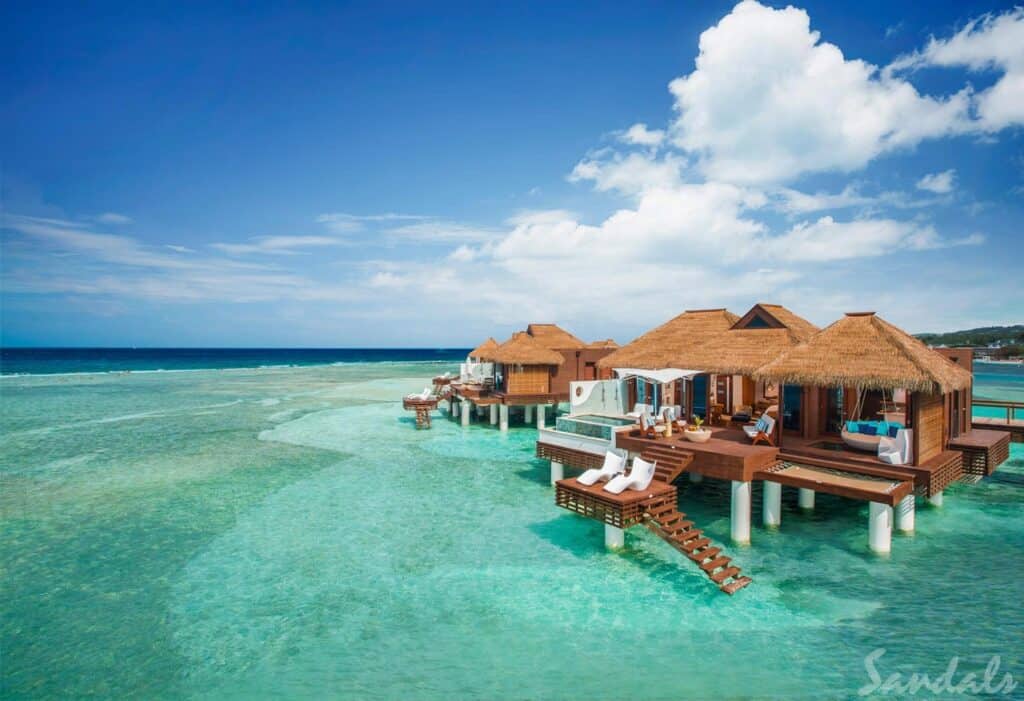 The Sandals Royal Caribbean Resort in Montego Bay was the first Caribbean resort to feature over-the-water bungalows. This resort is truly for those couples looking for a luxury romantic all-inclusive experience.
Each of the splendid bungalows features a private infinity pool, Jacuzzi with outdoor shower, a large soaking tub made for two, an over-the-water hammock for two as well as see-through glass floors and personalized butler service.
Guests can even visit Sandals' private island, which has a private beach, freshwater pool, swim-up bar, Thai restaurant, and island entertainment. Additionally, the resort has nine restaurants, five bars, scuba diving, and numerous daytime and evening activities.
#3: Beach House – Turks & Caicos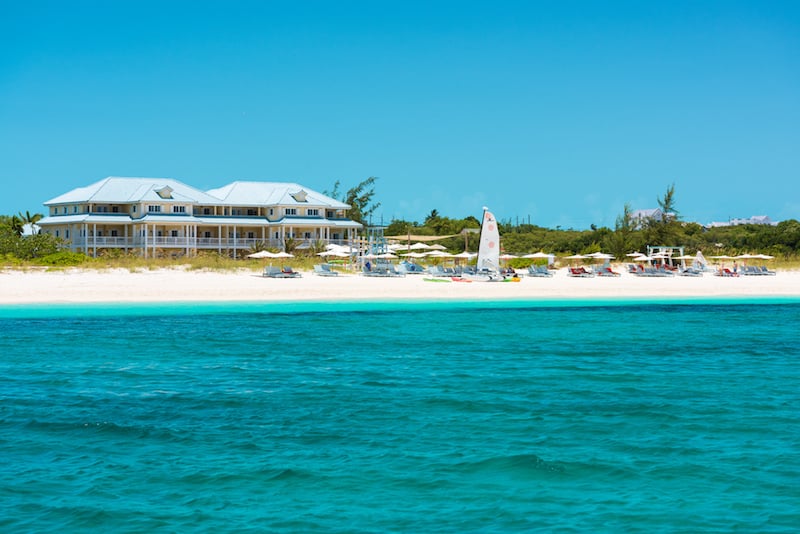 For a boutique, adults only all-inclusive experience, Beach House in Turks & Caicos provides a true beach experience, where you can unwind and relax.
The 21-suite resort is located on a stretch of the world-famous Grace Bay Beach, known for its white sand and turquoise water. The suites are truly massive and start at 1150 square feet. Each suite features a separate bedroom and living area, private terrace and kitchen.
Beach House is home to two restaurants, a farm-to-table restaurant as well as a casual beachfront option. Guests also have dining privileges at the Beach House's sister properties, Blue Haven Resort and Alexandra Resort, with shuttle service provided for those who would like to dine off-property.
In addition to the beach, guests can enjoy use of the water trampoline, snorkeling gear, kayaks, sailboats, stand-up paddleboards, bicycles, fitness center, pool and numerous bars and lounges.
#4: Cocobay Resort – Antigua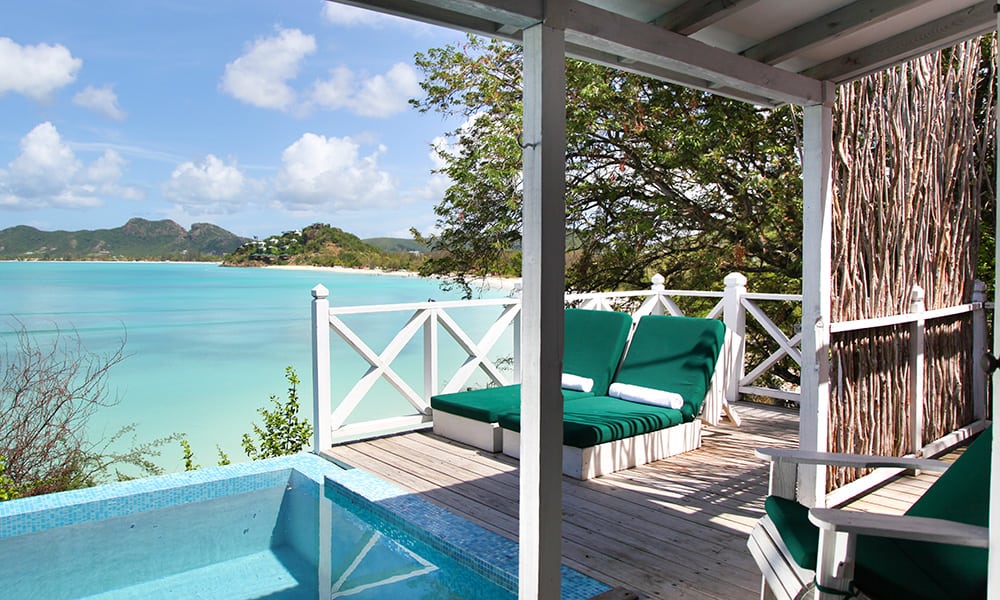 Located in western Antigua, the all-inclusive adults only Cocobay Resort has a reputation for being one of Antigua's most romantic and charming resorts. With access to not one but two white sand beaches, Valley Church Beach and Little Ffryes, Cocobay provides the turquoise waters of the Caribbean beach vacation you have always imagined.
Cocobay Resort's accommodations feature 65 authentic Caribbean cottages, located atop a hillside with stunning ocean views. Each cottage features an elegant-rustic design and has its own private verandahs, creating a romantic, secluded atmosphere that is perfect for couples and honeymooners.
At the resort, guests can enjoy gourmet dining, creative cocktails, access to non-motorized water sports, guided nature walks and hikes, yoga classes, a wellness spa, fitness studio, and four infinity pools.
#5: Serenity at Coconut Bay, Saint Lucia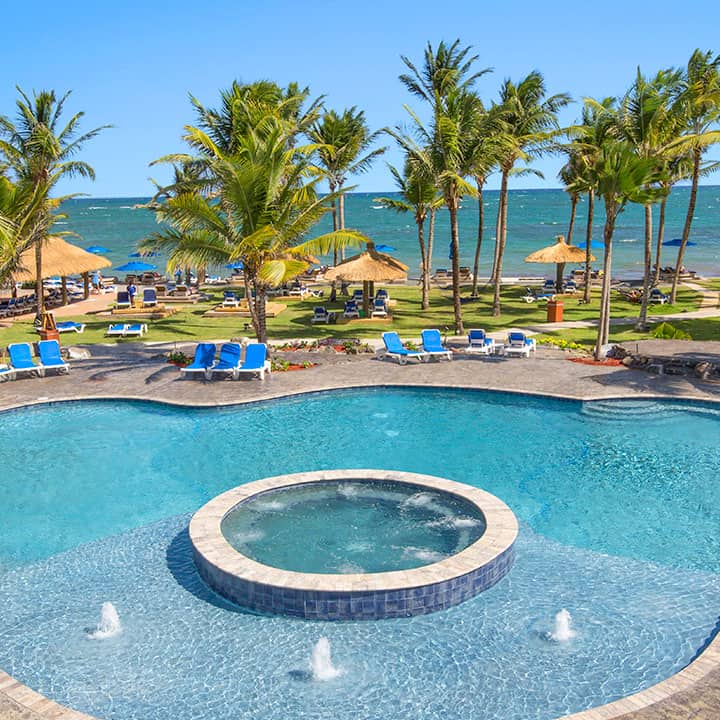 Located in Santa Lucia, the Serenity at Coconut Bay is a new oasis where you will find an incredible environment for a sophisticated luxury adults-only escape.
With only 36 suites, the resort offers tranquility along with privacy. The large suites start at 1,200 square feet and are decorated in a modern Caribbean style. Each one includes private plunge pools and personalized butler service.
Guests can enjoy the Serenity's five pools, fine dining, water sports, and a mile of white sand beach during their stay.
#6: Pineapple Beach Club – Antigua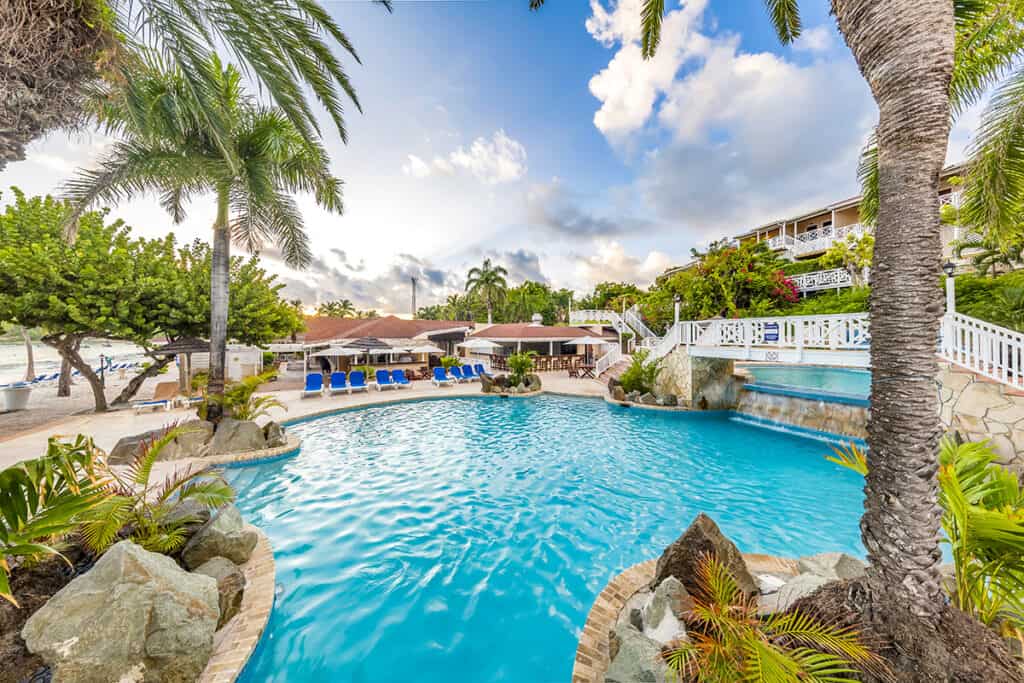 For travelers looking for a laidback vacation while still getting the full all-inclusive adults only experience, Pineapple Beach Club, located on the eastern side of the island of Antigua near Devil's Bridge National Park, may just be the place for you.
The resort is located along a curving quarter mile of beautiful white sand beach. Pineapple Beach Club's 180 rooms each have their own balcony or patio with some beachfront rooms available.
Five dining options available on-property serve a variety of cuisine, from international to Caribbean barbecue. Additionally, the resort features five bars serving cocktails, beer, wine and non-alcoholic beverages. Daytime activities range from fitness classes, yoga, tennis, swimming and water sports. At night, guests can enjoy entertainment, such as live music and beach parties.
#7: Sanctuary Cap Cana – Punta Cana, Dominican Republic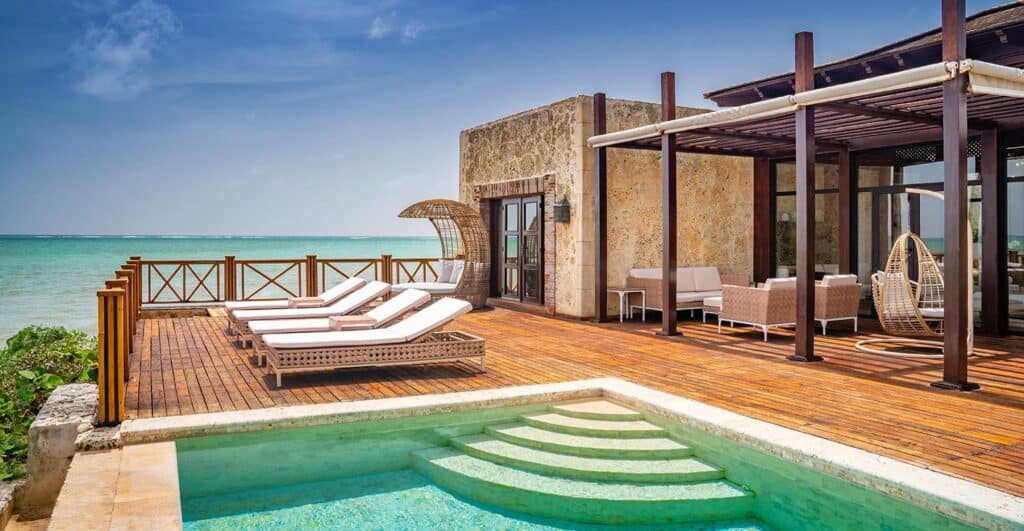 Having undergone a $45M modernization, the Sanctuary Cap Cana located in a private gated community in Punta Cana is one of the Dominican Republic's most exclusive all-inclusive adults only resorts.
Guests can choose from a variety of suites or villas, each including furnished balconies or terraces and featuring a Spanish Colonial design. One of the buildings even resembles a Spanish castle.
Along with access to a white sand private beach, the resort also features five restaurants, six bars, six pools, a fitness center and spa. Visitors can choose from a host of daily activities, such as fitness classes, yoga, and bicycling and nightly entertainment options, like live music, karaoke, and beach bonfire parties.
#8: Galley Bay Resort and Spa – Antigua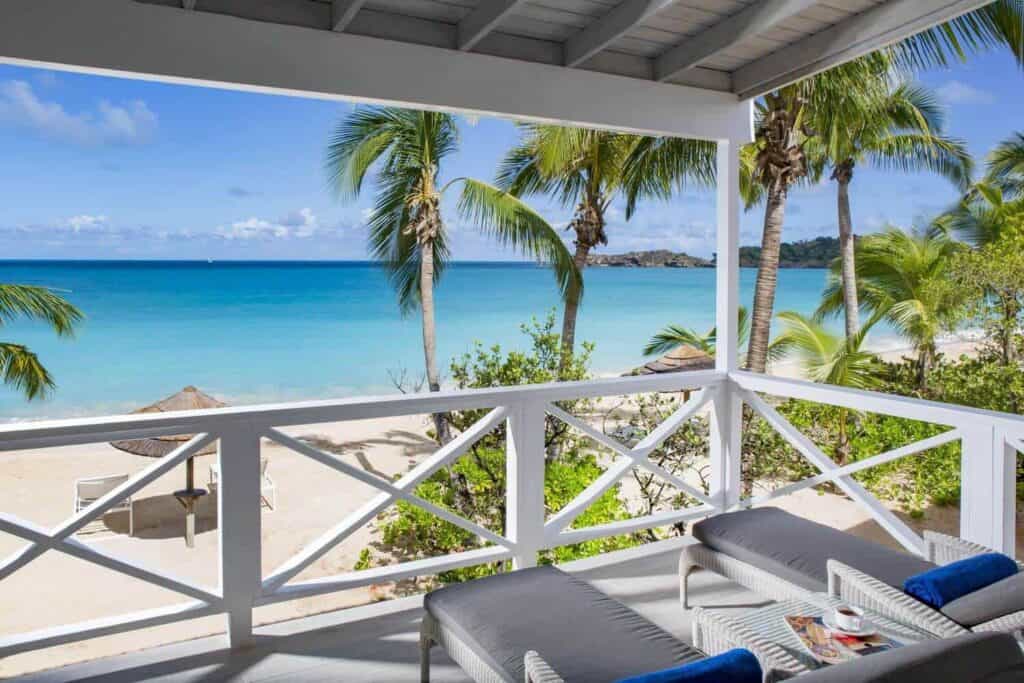 Located on the western end of the island of Antigua, the Galley Bay Resort and Spa offers a tranquil tropical all-inclusive escape for adults only. The beachfront property allows guests to be one with their surroundings and features a bird sanctuary, lush gardens, wooden boardwalks, and an idyllic lagoon.
The property gives guests the choice of beachfront or lagoon-side accommodations. All of the suites are dressed in calming natural décor and have either a balcony or large patio.
The resort features three beachside open-air restaurants, covering Caribbean and international cuisine and a coffee shop with a book library. Additionally, guests can enjoy the resort's bars, one of which is a rum shack. Nightly local music, cocktail parties, beach barbeque nights and movie nights are the perfect way to end the days at Galley Bay.
For some activity, sailing, kayaking, snorkeling, stand-up paddleboarding, bicycling and yoga classes are included in your stay. Or you can workout in the fitness center, take a nature walk around the lagoon, swim in the freshwater swimming pool or simply relax by the three-quarters of a mile of white sand beach.
#9: Sandals Grenada Resort & Spa – Grenada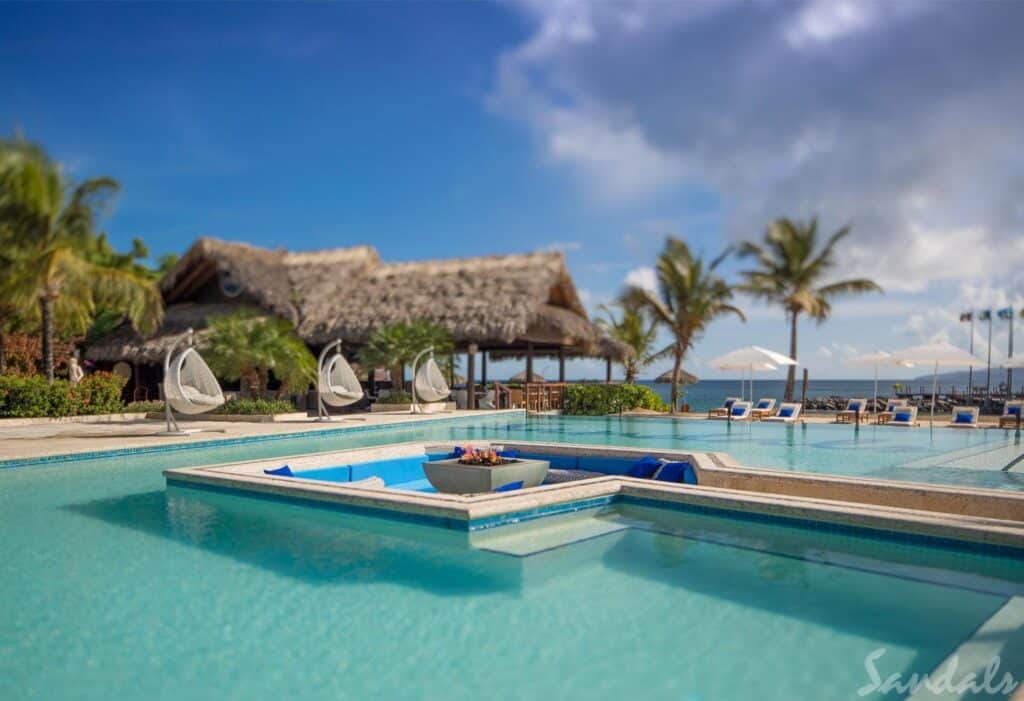 Sandals Grenada Resort and Spa, located on Pink Gin Beach, takes all-inclusive to the next level. The 200-room resort offers modern rooms with rainfall showers and furnished terraces. Upgraded accommodations may include outdoor soaking tubs and personal butler service.
Dining options give guests an abundance of choice with restaurants serving French haute cuisine, Mediterranean seafood, Teppanyaki, regional Italian, wood-fired pizza and Caribbean favorites, as well as a steakhouse, Parisian-style patisserie, English pub, and a sushi bar.
There is plenty to do on-property as well with inclusive activities such as kayaking, snorkeling, paddle boarding, fitness classes and games. Nightly events will also keep guests entertained after dark. Like other Sandals resorts, Sandals Grenada includes scuba diving, and even weddings are included for guests staying a minimum of 3 nights.
Conclusion
Whether you are looking for a romantic, private escape or a laidback getaway, there is an all-inclusive Caribbean resort that will check all of your boxes and make your adults-only Caribbean dream vacation a reality.
If this list has you dreaming of other destinations, check out our list of 8 Best Adults Only All-Inclusive Resorts in Mexico.


Disclaimer: We may earn a commission for products purchased through some links in this article.